Barcelona feeling pressure to sort Lionel Messi new deal, says Guillem Balague
Last Updated: 20/01/17 5:18pm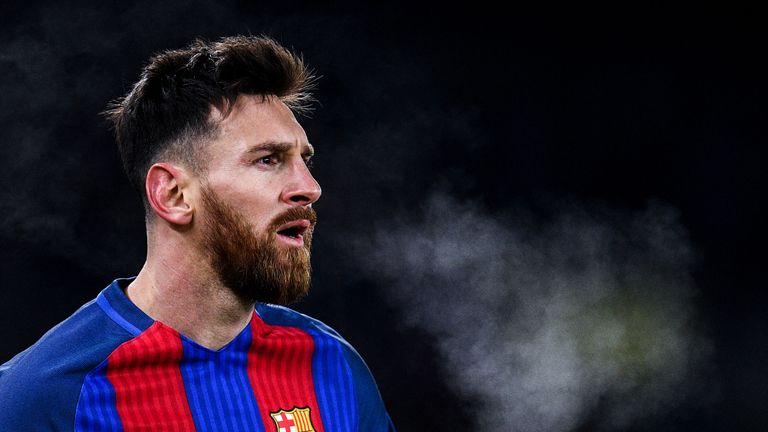 Barcelona are yet to offer Lionel Messi a new contract, but are being pressured into acting soon, according to Guillem Balague.
Messi's current deal with Barca expires in 2018, and he has seen both Luis Suarez and Neymar recently sign extensions until 2021.
Barca president Josep Bartomeu said recently the club will do "whatever it takes" to keep hold of Messi.
But Sky Sports Spanish football expert Balague says there is "no calendar for negotiations yet".
"There has still been no start to the negotiations from Barcelona. They have not put an offer on the table," said Balague.
"The directors of Barcelona are briefing that an offer will arrive at the end of the month. However, nothing has arrived yet, not even that information has been directly given to Messi's representatives or to the player himself.
"Barcelona are saying the fact they are going to put the offer to him at the end of the month has nothing to do with the pressure from everywhere, wondering why it has not been done already when in 12 months he can negotiate his contract with anybody in the world.
"But the pressure put on them by newspapers, media and fans has got to them and now they are acting."
Messi has made more than 500 appearances for Barcelona after his debut in 2004.
And Balague says it is unlikely there will be a problem with his renewal, even though the club have put themselves under more pressure than was perhaps necessary.
"The only way for Messi to leave Barcelona is if he gets really upset with the club's behaviour, in terms of what kind of offer it is," he said. "If they show respect for him, the respect we all know he deserves, then in my personal opinion there won't be a problem.
"They find themselves in a position where the pressure has been so high that they now have to act accordingly with a timing they did not expect.
"Also, the delay and Oscar Grau's comments could have been interpreted that they didn't have the money for it. They actually do have the money for it after new contracts with Rakuten and Nike.
"They will also have a new deal with Qatar Airways soon so all in all they do have the money and I think those words from the CEO were about starting negotiations before actually sitting at the table. He talked about being calm and cool headed but people kept asking, 'why are you delaying?'. Now they feel they have to show their cards because of pressure, not so much because of strategy.
"Those words have backfired because they find themselves under so much pressure to act.
"So much so that the president has said 'I will handle the negotiations personally'. That's not perhaps the cleverest position to be in because he is also implying that if it fails it will be down to him too. He's kind of put himself in an awkward situation."
Watch Eibar v Barcelona live on Sky Sports 5 HD from 7.30pm on Sunday or follow on www.skysports.com.