DFB to investigate Bayer Leverkusen boss Roger Schmidt's refusal to be sent off
By PA Sport
Last Updated: 22/02/16 1:22pm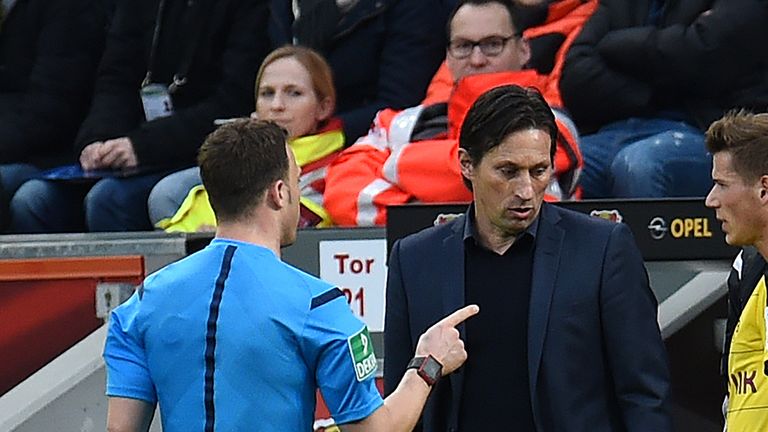 The German Football Association (DFB) have launched an investigation after Sunday's Bundesliga game between Bayer Leverkusen and Borussia Dortmund had to be suspended.
Proceedings at the BayArena came to a halt after 64 minutes, as Bayer boss Roger Schmidt refused to be sent off after protesting too vociferously against Pierre-Emerick Aubameyang's strike for Dortmund.
Schmidt was incensed after calls for a foul on Stefan Kiessling were dismissed in the build-up to the goal and after he refused to leave his position, referee Felix Zwayer took the players off the pitch.
After talks, the teams re-emerged without Schmidt and the match resumed around eight minutes after the impromptu break began.
Aubameyang's goal proved to be the winner, further adding to Schmidt's frustration.
"I was sent a signal from 45m that I should go to the stands. I wanted an explanation," said Schmidt.
"I hesitated too long. It was definitely a mistake of mine. I didn't think the game would be interrupted. I hurt my team through that."
Herbert Fandel, chairman of the German football federation's referee committee, said Zwayer acted according to the rules.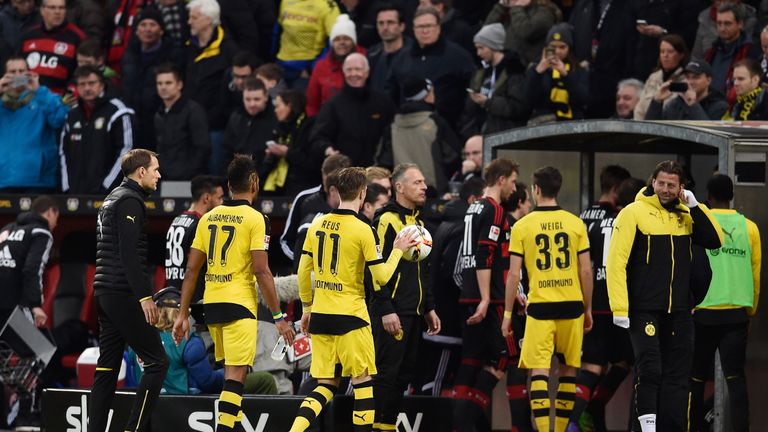 "When a player or even the coach refuses to leave the inner area after a sending off, stopping play and threatening to call it off is the correct decision," he said.
"Whether the referee speaks directly with the coach or sends a leading player is solely at his discretion."
But Leverkusen sporting director Rudi Voeller saw the matter differently.
"To interrupt a game like that and to make things so hectic is completely unnecessary," Voeller said.