Who is Julen Lopetegui? Profile of the Porto boss ready to beat Bayern
Last Updated: 21/04/15 5:07pm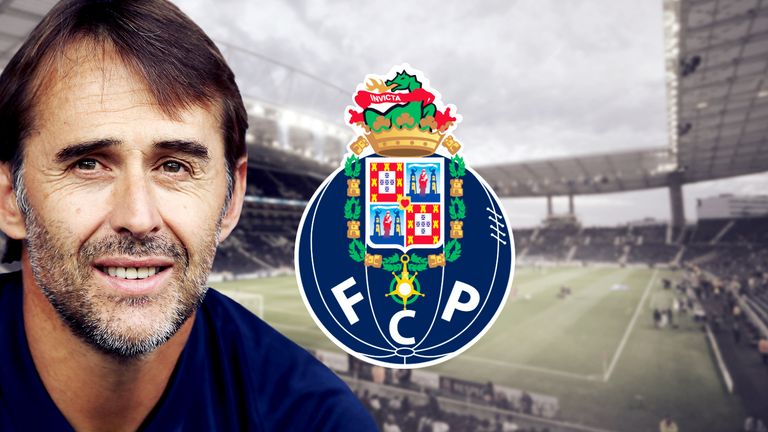 We profile Porto coach Julen Lopetegui as he aims to finish the job against Bayern Munich…
There were two words that Porto coach Julen Lopetegui chose to emphasise in his pre-match press conference ahead of the first leg of their Champions League quarter-final against Bayern Munich: ambition and imagination. Lopetegui has brought both to the Estadio Dragao this season.
The Champions League has been more of a chore than something to celebrate for Porto fans since they lifted the trophy in 2004. In fact, this is only the second time they have reached this stage of the competition in over a decade. "It came to a point where it seemed to be a bad thing that we were playing," said Lopetegui.
But none of that was on show as Porto vanquished Bayern 3-1 to give them real hope of ousting the runaway Bundesliga leaders and erstwhile tournament favourites. It would be a fitting testament to the positive approach that Lopetegui has brought to the club since his appointment last summer, embracing the demands of the supporters in the process. This is the Basque who is basking under the Porto pressure.
After all, the former Real Madrid and Barcelona goalkeeper is used to winning. Moreover, having coached Spain to victory in the European Under-19 Championship in 2012 and the Under-21 version the following year, the 48-year-old is used to winning in style too.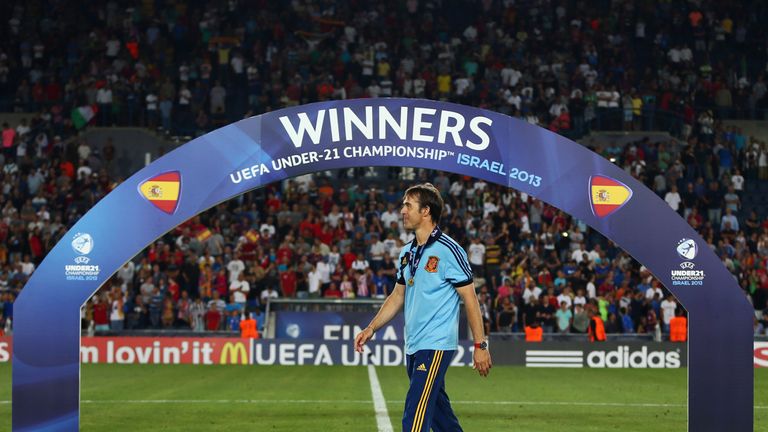 The latter of those squads included the likes of David de Gea, Koke, Isco, Thiago, Iker Muniain and Alvaro Morata as Spain reached the final without conceding a goal before seeing off Italy 4-2 in the final. Lopetegui won all 11 of his matches in charge of the U21 team, bolstering a reputation that has only grown since the side failed to even reach the tournament to defend their title following his exit.
Passing principles
Lopetegui has now taken those principles of passing football into his club coaching career with Porto. In some respects, the Spanish influence is obvious in Portugal's second city. Oliver Torres was a part of his U19 squad and has joined on loan from Atletico Madrid. Ex-U21 star Cristian Tello has been borrowed from Lopetegui's old club Barca and there are now seven Spaniards on the playing staff.
But it's about more than the personnel. The trademarks of that philosophy are evident too. Porto have dominated the ball for much of this Champions League season, boasting 57.9 per cent of possession over the course of the campaign. Only Bayern, Barcelona and Juventus can better that, which is what makes the manner of their first-leg victory over Bayern all the more impressive.
Porto had 38 per cent of the ball against Bayern last week but found a new solution nevertheless. By retaining a compact shape and showing the intelligence to press their opponents at the right times, they were able to cause all sorts of problems without exposing themselves. Porto restricted Bayern to just three shots on target with the second not coming until midway through the second half.
Pep Guardiola might have blamed the medical staff for the defeat but it was Lopetegui who came up with the strategy that left Bayern floundering. Not that the Bayern boss would have been too surprised to find his Porto counterpart such a tricky opponent. The two men remain close from their playing days together at Barcelona with both men also in Spain's 1994 World Cup squad.
"He's a friend," said Guardiola, who even sat with Lopetegui to watch Atletico Madrid take on Bayer Leverkusen in the previous round of the Champions League. "He's worked very hard and his team plays really good football." Perhaps as a result, he was happy to praise Porto following the defeat.
"We were not surprised by Porto's start to the game," said Guardiola after seeing his side concede twice in the opening 10 minutes. "I knew we were going to face a very good team, we knew they had a good attack. The quality of this game was at the highest level. Jackson Martinez is a top player. Casemiro and (Hector) Herrera played very well."
Improved
Lopetegui has improved them all with two-goal Ricardo Quaresma also proving a revelation given his dramatically improved work rate. "He is one of the players I'm most proud of this year," said the manager recently. "He understands that a player will be better when he serves the team."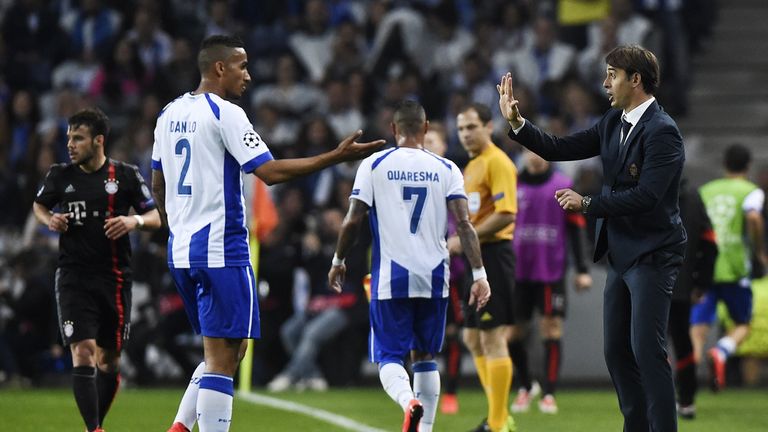 Quaresma remained on the bench alongside fellow star Yacine Brahimi as both were unused substitutes for the weekend win over Academica Coimbra - Lopetegui is clearly steeling his players for another huge effort in Munich on Tuesday. Key full-backs Danilo and Alex Sandro will be missing through suspension but the coach is already working on the answers.
"The match in Munich will be different and we will not be able to count on two important players, so we will have to find solutions," he said. "It will be a very difficult game, we are still only halfway through this tie against one of the best teams in Bayern's history."
This team has lots of ambition. We are not dreaming, we are just working hard everywhere, in every area of our play, defensively and offensively.
Julen Lopetegui
Lopetegui is unlikely to be complacent, but nor is he a man to downplay his side's chances. Porto travel to Bavaria determined to finish the job. "This team has lots of ambition," he added. "We are not dreaming, we are just working hard everywhere, in every area of our play, defensively and offensively."
That hard work could yet make Lopetegui the first coach to take Porto into the last four of the Champions League since Jose Mourinho in 2004. And nobody at the club needs an excuse to remind people how that particular adventure turned out.
Watch Bayern Munich v Porto live on Sky Sports 1 HD from 7.40pm this Tuesday