Manchester United failed to create against impressive Olympiakos, says Tony Cottee
Manchester United looked like a non-league team in their defeat at Olympiakos, says Tony Cottee.
Last Updated: 26/02/14 9:59am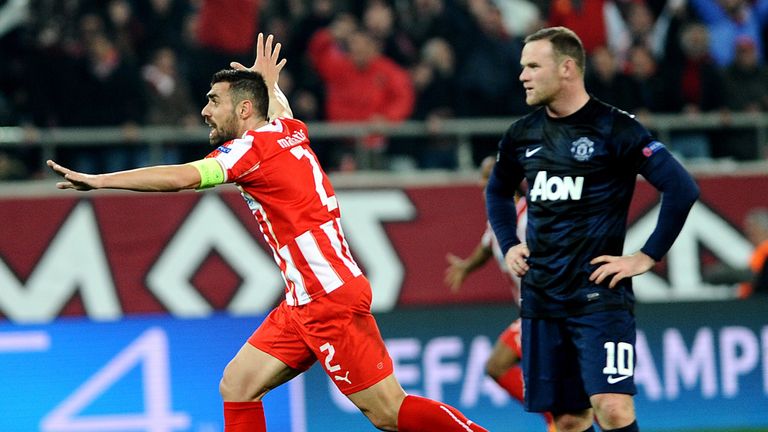 David Moyes has endured a frustrating first season in charge of the Old Trafford outfit and the under-performing Premier League title holders once again produced a below-par display on Tuesday night to leave themselves with an uphill battle to reach the Champions League quarter-finals.
Goals from Alejandro Dominguez and on loan Arsenal youngster Joel Campbell did the damage for the impressive hosts, but Cottee told Soccer Special the visiting team were a long way off the required standard.
"First of all, I have to say Olympiakos were fantastic," said Cottee. "They did to Manchester United what Manchester United should have done to them.
"From the first moment they got amongst them, put them under pressure, looked like they were going to score, won the midfield battle and defended for their lives - exactly what Manchester United didn't do.
"United were off the pace from the start, couldn't get hold of the ball and gave it away all the time.
"Quite rightly David Moyes will get it in the neck because he's the manager and you take responsibility for the team, that's how it works. But the players have to take responsibility as well.
"If you were a neutral, didn't know anything about football and turned up to watch that game you'd have said it was like an English Premier League team playing an English non-league team, that was the difference in class. It was incredible."
Cottee poured particular scorn on United's defence but also had strong words about their midfield and forwards, who only managed one shot on target all night.
Aside from finally warming the hands of Olympiakos keeper Roberto in the final minute, Robin van Persie also blazed an opening over the bar late on - but former West Ham and Everton striker Cottee says United must find a way to be more creative in front of goal.
"Defensively United were all over the place," he said.
"It's the worst I've seen Chris Smalling play, Rio Ferdinand had a poor game, Nemanja Vidic made last-ditch tackles all the time and Patrice Evra was poor. As a unit they were all over the place.
"Wayne Rooney was coming deeper and deeper trying to look for the ball while Michael Carrick and Tom Cleverley were totally outnumbered, even though the two teams were playing the same formation.
"Their best chance was a Van Persie effort. It was crossed into him, he had a couple of good chances, leaned back and with his right foot put it over the bar. On another day it goes in, they lose 2-1 and they say 'we didn't play well but we got an away goal'.
"But they just didn't create. The crossing was poor - I don't know what's happened to their crossing. It hits the first man or goes behind the goal. You can't blame the pitch, it was a fantastic pitch. There are no excuses it was just dreadful.
"There was also a lack of determination to win the ball back, they dropped off and let them turn and run at them. Everything that could have gone wrong went wrong for them.
"I can't really see what David Moyes can take from it, other than the fact it's only 2-0. If they get the fans behind them at Old Trafford and do the opposite of what they did tonight they'll have a chance. But it was a dreadful performance and Moyes is going to get some stick, without a doubt."
Pressure
Greek side Olympiakos have lost all 11 of their away games against English sides in this competition - however, even that statistic doesn't convince Cottee United will be able to overturn a 2-0 deficit in Europe for the first time since 1957 when the sides meet again in the second leg on March 19.
"United will have to get amongst them, right from the first minute," he said.
"They've got to put them under pressure and they've got to create some chances. But Olympiakos are a decent side and will be threatening on the counter-attack.
"The worrying thing for me is Manchester United's form this year at Old Trafford. They've lost miles too many games and there's going to be real pressure on the night.
"It's alright blaming David Moyes but those players have to stand up and be counted."
Watch the second leg between Man Utd and Olympiakos live on Sky Sports 1 HD on March 19 from 7pm