Craig Bellamy tips Harry Wilson to be a top player for Wales
Craig Bellamy believes Harry Wilson has a big future ahead of him after becoming the youngest player to represent Wales.
Last Updated: 17/10/13 12:06pm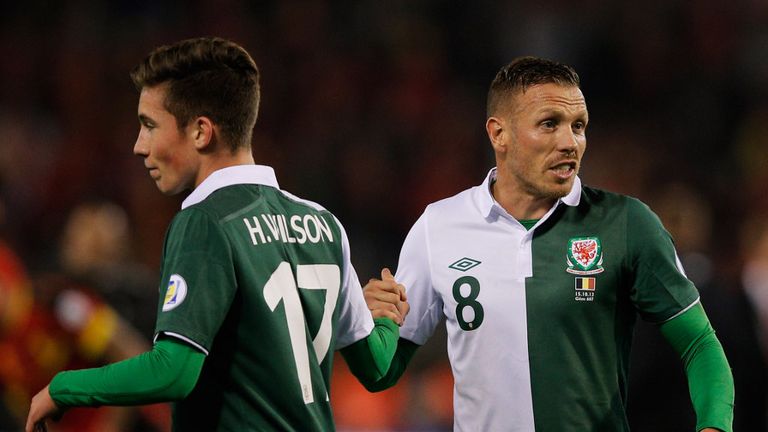 Bellamy won his 78th and final cap in Tuesday's 1-1 draw against Belgium in Brussels, and his last telling contribution in a Wales jersey saw him pick out Aaron Ramsey for the Dragons' late equaliser, as they ended a disappointing World Cup campaign on a positive note.
Liverpool winger Wilson, aged 16 years and 207 days, was introduced for the final few minutes of the Group A qualifier by Chris Coleman, meaning he broke Gareth Bale's previous record for the most youthful Welsh cap by 108 days.
While Wilson was born in Wrexham and both his parents are Welsh, he has an English grandparent. But his cameo in Brussels means he is now tied to Wales and cannot represent the Three Lions.
Bellamy has no doubt Wilson can go on to be a Wales regular, but admitted he has reservations about capping a player to prevent him from potentially representing another country.
"I'm not too sure about that one," said Bellamy. "I think he's a talent, I think he's going to do well in the years to come, but I'd like to see him do well first (before being capped).
"I don't mean that in a bad way, but 16 is young, it's young. He can't play for anyone else now, but is that really the most important thing? I don't know.
"I take an interest because he's my boy's age, it's one of those. It probably brought home a little bit how old I really am!"
Bellamy admits he will look back on his 78 caps and 15 years of involvement with the Wales national team with fond memories.
"I hadn't thought too much about it being my last game, but then it probably sunk in during the national anthem because I knew it would be the last time I would ever be in that position as a player," added Bellamy.
"The anthem is something that leaves me speechless to say what it means. It's important to me, something I cherish.
"So it did hit home a little bit then that I'm never going to be this side of things ever again, but I've enjoyed every second of it.
"To reach 78 caps, with the injuries I've had over the years, is special to me."