Northern Ireland boss Michael O'Neill unable to expand player pool
Northern Ireland boss Michael O'Neill admits he has been unsuccessful in his efforts to expand the nation's player pool.
Last Updated: 17/11/13 9:37am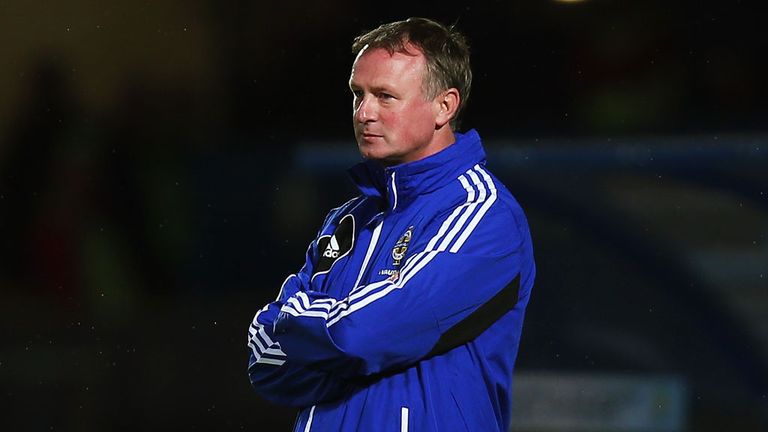 O'Neill has clocked up significant hours poring over lists of uncapped players from the home nations to see if they are eligible for Northern Ireland.
However, apart from the addition of Scotland-born defender James McPake, O'Neill has found the process a frustrating one.
"There are none in the Premier League who are eligible and are prepared to come and play for Northern Ireland," admitted O'Neill.
"When I got the job, I went through every Premier League squad to find out those players who are not playing international football somewhere else.
"The nature of the game has changed. There are not many Premier League players who don't play international football already.
"If they don't, they probably feel as though they don't need it. It's not a career enhancer to them.
"We contacted all the agents at the beginning. The process originally was to look at all players from England, Scotland and Wales. We also looked at the Republic of Ireland.
"To be honest, the likelihood of finding a French player or a Nigerian with a granny from Belfast is pretty slim.
"I would love to tell you there are some hidden gems out there, but there just aren't.
"They just weren't there for us and that is why my main focus now is on the group we do have."
O'Neill came close to adding four players from the lower divisions in England but a variety of stumbling blocks got in the way.
Watford striker Troy Deeney's family link was too distant, Huddersfield's Sean Scannell has yet to commit, while Notts County's David Bell and Millwall's Liam Feeney have suffered dips in form since being identified.
"We have gone down a lot of roads and made a lot of calls about players," said O'Neill.
"Troy said his grandfather was from Northern Ireland and we were delighted at the thought of bringing him in but at the last minute it turned out to be his great grandfather, so he didn't qualify for us.
"David Bell and Sean Scannell are two players who came through that eligibility category. If Sean Scannell said he would like to come and play for us, we would welcome him with open arms.
"David indicated he would be very keen to play for us but he has had a difficult 18 months; Liam Feeney is another player I spoke to. I met him in Dublin when he was on tour with Millwall but again, he has had a difficult last 12 months.
"It's not a case of just saying 'right, who is eligible?' and then bringing them into the squad. For us to bring someone in, they have to be on the up."