Guillem Balague: How Barcelona beat PSG on 'extraordinary' Champions League night
Last Updated: 09/03/17 6:19pm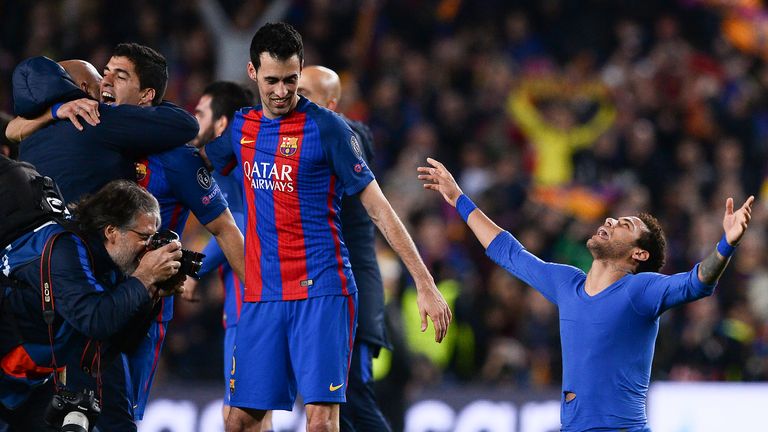 How did Barcelona pull off the greatest Champions League comeback in history? Sky Sports Spanish football expert Guillem Balague reflects on an "extraordinary" night at the Camp Nou...
I watched the Barcelona-PSG game in the studios of Norway TV2 channel where I worked as a pundit. Leaving Oslo this morning I went through security control.
A serious policeman got hold of my passport and asked, without thinking, where I was travelling to. Just before I answered 'Manchester', where I will be working on a documentary on City for TalkSPORT, he lit up.
"Ah, you are from Barcelona! Barcelona! Last night! Wow! Amazing, you must be so happy, of course you going to Barcelona. What a team!".
I laughed and walked through. I am an Espanyol fan but I can't fail to be amazed at the effect a football game (an extraordinary one in this case) can have on people.
When Sergi Roberto's goal went in, the whole crew at the TV2 studio jumped, shouting crazily. I have seen pictures and videos of the fans. Of Lionel Messi running towards the stands holding his shirt. Of Luis Enrique. Of other TV studios all over the world. I have heard the tragic "This is not possible, not possible. This is not happening" of French television.
The game will stay forever in the mind of those who watched it. And will change careers. Barcelona have added an epic historical comeback to a decade of unparalleled success. PSG players and head coach Unai Emery know the result will haunt them 'till their last day.
It all happened, and was all possible, for a number of reasons.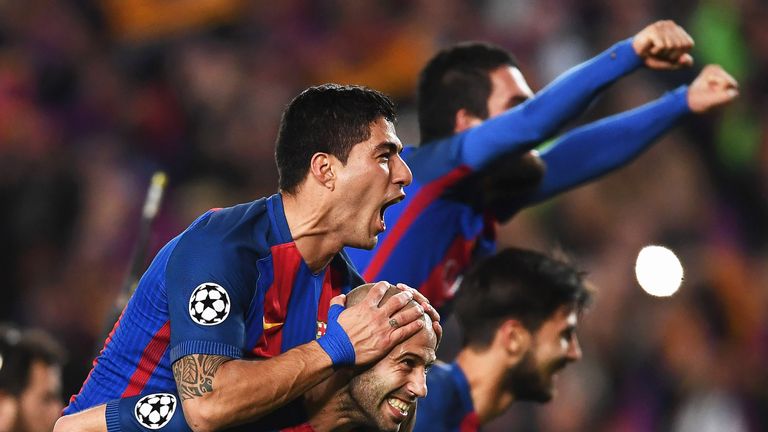 Firstly, there was faith among the fans, head coach and players.
There was a collective plan, with high pressure and Barcelona creating enough opportunities to get the goals they needed even though they rushed with the ball.
Barcelona were effective, although two goals were PSG mistakes, two were penalties and one was a free-kick. It wasn't the way Barcelona normally win games.
There was luck - Edinson Cavani and Angel di Maria missing good chances - and mistakes - defensively from PSG and also from the referee. But find me one single historical comeback that did not need that kind of luck or unintentional help.
Barcelona have added an epic historical comeback to a decade of unparalleled success. PSG players and head coach Unai Emery know the result will haunt them till their last day.
Guillem Balague
There were also good decisions and an opponent who froze at the end of the match. PSG touched the ball four times after the 88th minute and three of those were from the kick-offs.
Messi was subdued, helping with the fluidity of the game but unable to find openings. Neymar was a huge influence, keeping the tension in every move, adding intensity with and without the ball.
Andres Iniesta might not score lots of goals but he makes Barcelona's football much better and he was influential again. Goalkeeper Marc-Andre ter Stegen did not make a single mistake and was crucial to stopping PSG.
Sergi Roberto has had an inconsistent season, fantastic as a right-back for most of the campaign but destroyed by PSG in the first leg, so scoring the winner must have felt amazing for him for many reasons.
Luis Enrique started this match three games ago when he moved the team to a 3-4-3 formation that helped build from the back, added a midfielder, linked with Messi better and finally made Barcelona recognisable - and made the players enjoy their football again.
What a way to reclaim your place in history, Luis, even though we all know you don't care at all how you are being perceived.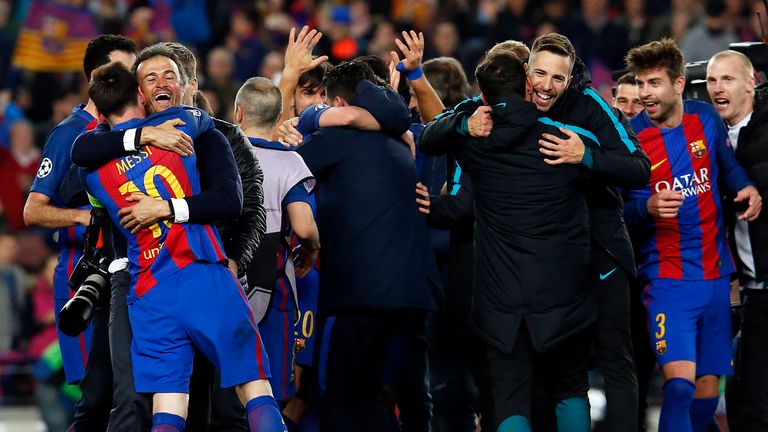 I have heard the complaints about referees and cheating. And it is true that Luis Suarez's penalty should not have been given and Javier Mascherano fouled Di Maria in the box.
But for something extraordinary to happen, in life and in football, (unintentional) errors usually have to be present. But if you focus solely in that, I think you have lost your childish enthusiasm for this game.
This is a match that needs Barca to reach to the final so it doesn't end up being an anecdote. But, to be honest, as anecdotes go, this is the one of the most extraordinary ones I have ever experienced, up there with Spain winning the World Cup in Johannesburg and of course that night in Istanbul in 2005.