Quality of the Premier League scuppers English clubs' chances in the Champions League, says Jeff Stelling
The quality of the Premier League scuppers English clubs' chances in Europe, says Jeff Stelling.
Last Updated: 28/02/14 7:40am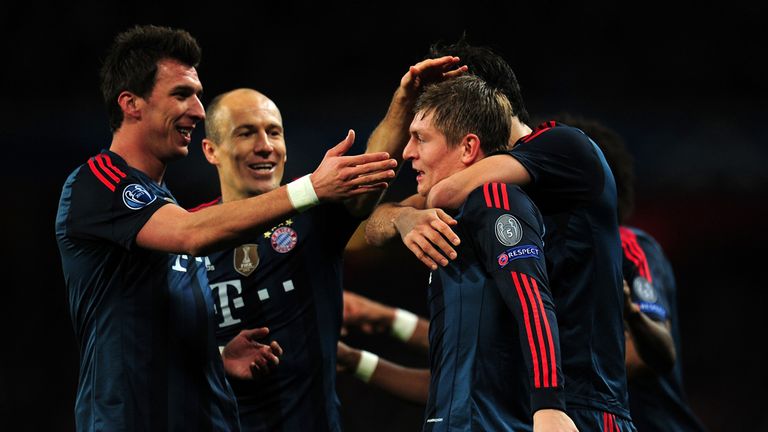 I've heard people on phone-ins saying: 'All the world class players are playing elsewhere', and when you look at Cristiano Ronaldo, Gareth Bale, Lionel Messi, Zlatan Ibrahimovic, Robert Lewandowski, Thomas Muller, Arjen Robben you can see the point they're making.
But on the other hand I think it would be wrong to think that the Premier League isn't still a huge force in European football.
Nobody can tell me that Sergio Aguero isn't world-class, or Yaya Toure for that matter, and then there's Eden Hazard who has the potential to be a world superstar. Next season it looks like you'll see Luis Suarez playing in the Champions League and in terms of quality Daniel Sturridge and Steven Gerrard aren't that far behind.
We have plenty of top quality players in the Premier League and it's still a fantastic league.
Intense
One of the reasons that the English sides suffer when it comes round to this phase of the Champions League is because of the intensity of our league.
Week in, week out we see the top sides being beaten by clubs at the bottom of the table and this doesn't happen in Spain, this doesn't happen in Germany; if you look at the positions of their leading teams they're light-years clear whereas here, Chelsea lost to Stoke who are battling against relegation, Manchester City lost at Cardiff who are second from bottom of the table, Arsenal lost at home to Aston Villa - those sort of results don't happen in the continental leagues.
When it comes to this stage of the season our sides are not at their best any longer simply because of the competitiveness of the Premier League and that intensity.
Our players have picked up a myriad of injuries along the line, while others such as Mesut Ozil are finding it difficult to cope playing week in, week out at such a high physical level. That puts us one step behind.
Ahead
It's not the only reason, of course. I'm not pretending that Bayern and Real Madrid aren't ahead of us at the moment - because they are, there's no doubt about that - but I don't think the Premier League should be written off.
Bayern broke something like 25 different Bundesliga records last season and it looks like they're going to break a lot of those again this season because they are so dominant which, from the club's point of view is a wonderful position to be in. But if you are a fan of the league, is that what you really want?
Do you really want to see the top teams thrashing sides every week because they've got such a huge squad that they can effectively put out two different teams and still beat everybody in Germany?
Bayern haven't dropped a point at home this season, they're 19 points clear at the top now, and we're not even in to March.
This season they've been to Werder Bremen and won 7-0 away, they've been to Hamburg and won 5-0, they beat Frankfurt 5-0, they beat Freiburg 4-0 and they beat Hannover 4-0 in their last match; I don't think anyone would want the Premier League to be that uncompetitive.
Borussia Dortmund have had a slightly harder time this season but they're still a fine footballing team - but outside of those two clubs you'd expect any of the elite Premier League teams to beat any of the other Bundesliga teams and I think if you take away the top three in Spain you'd say exactly the same thing.
To be honest, if you put a mid-table side in Spain or a mid-table German club up against an equivalent side in the Premier League my money would be on the English club nine times out ten, I just think we are that much stronger in terms of depth.
But that of course doesn't win you European Cups and doesn't win you Champions Leagues.
I'm happy to be watching one of the most exciting Premier League seasons ever with the bonus of seeing four of our sides in the last 16 of the Champions League - that's not a bad effort.
JEFF'S GEM OF THE WEEK
I have to pick Wolves for winning at Brentford - it was a key a game at the top of the table.
The Bees were unbeaten under Mark Warburton but Kenny Jackett has proved an inspired appointment at Wolves; I imagine that Millwall fans are regretting the fact that he's not there any longer because he did a great job and they're on a fantastic unbeaten run at the moment. They've also survived selling Leigh Griffiths to Celtic without breaking a stride.
That's six straight league wins for Wolves now and the latest featured a couple of goals from Michael Jacobs as well - and they were right 'crackers'!
They've put themselves in pole position for an automatic promotion spot and that's some achievement because - I know it's a cliché - every team that plays Wolves feels like it's a cup final because Wolves are such a big club.
It's nice that after so many years of abject misery their fans have got something to shout about.