Juventus goalkeeper Gianluigi Buffon hails Thibaut Courtois of Chelsea
Italy goalkeeper Gianluigi Buffon has said that he is very impressed with the performances of Thibaut Courtois.
Last Updated: 05/06/14 10:15am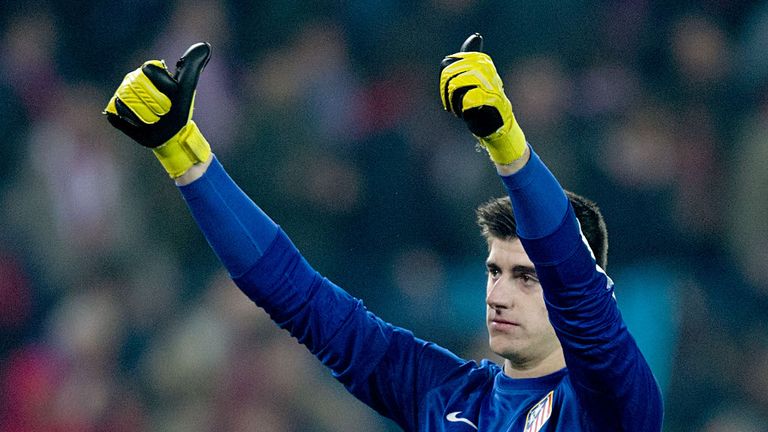 The Belgium international has established himself as one of the best goalkeepers in the world following his displays for Atletico Madrid over the last three seasons.
Courtois joined Chesea from Genk in the summer of 2011 and was immediately loaned out to Atletico.
He has been on loan at the Spanish club ever since, and has played an important role in Los Rojiblancos winning the Europa League in 2012, the Copa del Rey in 2013 and La Liga last month.
The 22-year-old, who helped Atletico reach the UEFA Champions League final this season, is scheduled to return to his parent club Chelsea in the summer.
Buffon has now revealed his admiration for Courtois, while also stating how highly he rates both Manuel Neuer of Bayern Munich and Manchester City's Joe Hart.
"Right now there's Manuel Neuer," the 36-year-old told The Guardian when asked which goalkeepers he admires.
"He's definitely a very good keeper. There's Joe Hart too. But the youngster I like a lot is the Belgian, Thibaut Courtois. I like him a lot."
Buffon will come up against Hart on June 14 when Italy face England in their opening Group D game at the World Cup in Brazil.
Uruguay and Costa Rica complete what is a tough group, but the Juventus goalkeeper insists that the result in Manaus is not going to determine which teams progress from the group.
"It's the first game," said the former Parma player. "Then there's another two. It's an important game, not a play-off."