Eden Hazard enjoying his freedom at Chelsea under Antonio Conte
Last Updated: 19/10/16 12:55pm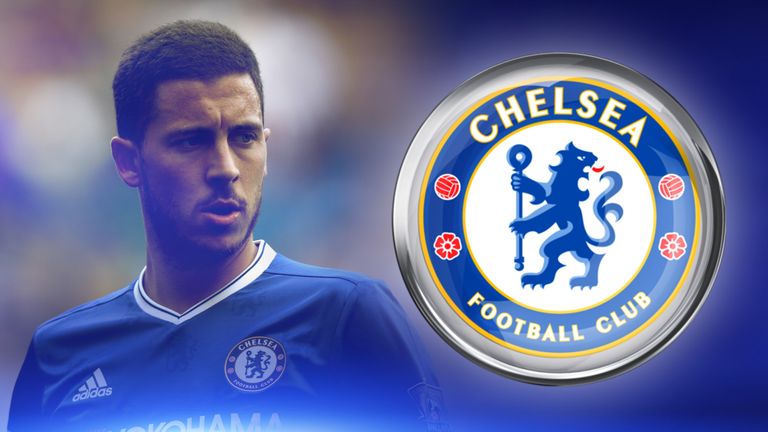 Eden Hazard is loving his new Chelsea role but can he make it work? Ahead of Hazard's reunion with Jose Mourinho, Adam Bate looks at why it could be a brilliant move…
Hinting wouldn't do it justice. Pleading might be more accurate. But Eden Hazard has finally found a receptive audience. The Chelsea man's longstanding and oft-stated desire to play as a No 10 is close to being realised under Antonio Conte.
The change of shape for the victories over Hull and Leicester has allowed Hazard to move from his station on the left wing to a more attacking position in support of - and frequently in advance of - centre-forward Diego Costa.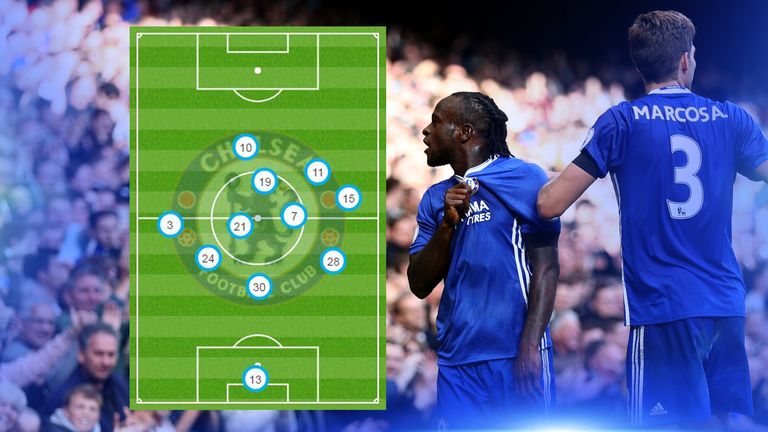 It's similar to his role with Belgium, where the "full-backs run hard and create a lot of space" in which he can work. Marcos Alonso's arrival opens up the same possibilities with his club. "It is a good system for Chelsea," said Hazard. That it is also good for him is implicit.
It's working so far. He's responded with two impressive performances, causing problems for the opposition "more inside the pitch" as he put it. It's not quite the '10' role that he craves but it's close enough. "I think I have more freedom offensively," he explained.
Giving Hazard freedom hasn't always been the ideal solution for Chelsea. Harnessing his talent rather than unleashing it was Jose Mourinho's focus. He sought to channel the player's obvious ability and sculpt him into a reliable match-winner.
It wasn't without its difficulties. Most notably, Mourinho was left frustrated by Hazard's failure to track Juanfran during the second leg of Chelsea's Champions League semi-final defeat to Atletico Madrid in 2014. He re-emphasised his demands the following season.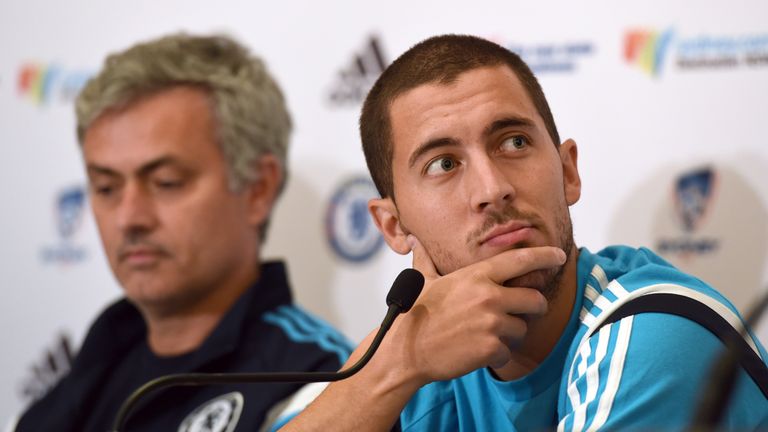 A Premier League title and player of the year awards followed. Hazard took the plaudits but, in hindsight, it was a case of compromise rather than a complete rewiring. The issue re-emerged last season with Hazard dropped in October as Mourinho tried to regain control.
"I left out Hazard because we are conceding lots of goals," said Mourinho after a win over Aston Villa. "We need to defend better. It was just a tactical decision, leaving super quality on the bench, but bringing tactical discipline and hoping that the team could be solid."
Upon being restored to the team, Hazard shone when given the chance to play off Costa in a home win over Norwich the following month. His total of nine completed dribbles proved to be a season's best but Mourinho was still unwilling to fully acquiesce.
"I think his best position is the position where last season he was the player of the season," he maintained afterwards. "But, obviously, when the player is not playing well we have to try solutions to help him recover his confidence."
Mourinho's argument was that when Hazard played as a No 10, he found himself running into congested areas and was thus swamped by opponents. Playing on the left opened up one-on-one situations where he could "attack defenders more in an individual way" instead.
There is logic to the theory. Much of Pep Guardiola's build-up work is designed to isolate his wide men against their markers. But the counter-argument is that allowing Hazard to dribble at defenders in central areas only adds to the imminence of the threat he can pose.
While 29 per cent of Eden Hazard's touches of the ball came on the left wing last season, only 15 per cent of his touches came in that zone in the 3-0 win over Leicester on Saturday.
He has the technique to elude close attention, after all. Recent evidence suggests that letting Hazard roam isn't damaging his dribbling. His numbers are up this season. In fact, he has completed more dribbles than any other Premier League player in 2016/17.
It should be noted that Conte's decision has not been made because of any high-minded notion of expansive football. He is sure to have been troubled by the same concerns over Hazard's defensive deficiencies that occupied the thoughts of his predecessor.
Premier League dribbles 2016/17
| Player | Team | Dribbles completed |
| --- | --- | --- |
| Eden Hazard | Chelsea | 34 |
| Wilfried Zaha | Crystal Palace | 27 |
| Andros Townsend | Crystal Palace | 26 |
The game that appeared to crystallise Conte's views on the matter was the 3-0 defeat to Arsenal last month. In particular, the second goal by Theo Walcott for which Hazard failed to sense the danger in allowing Hector Bellerin the freedom of the right flank to deliver a cross.
The difference between Conte and Mourinho is in their respective solutions to this problem. The Italian seems to have abandoned any attempt to drill defensive instincts into the player. Instead, Conte the tailor has soon decided to cut his cloth accordingly.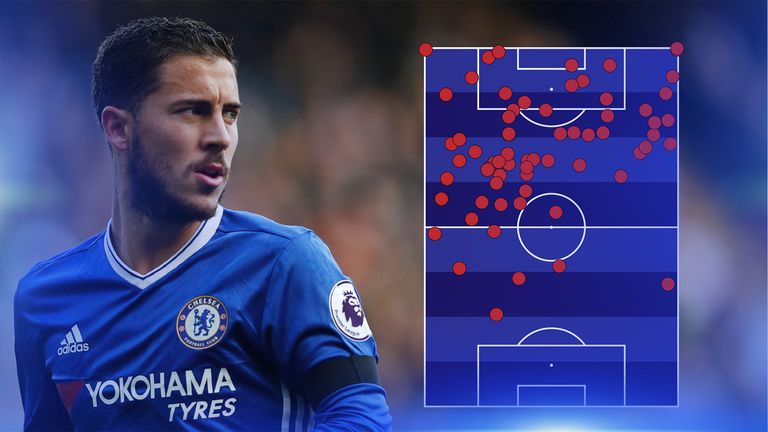 "I don't think Chelsea want to change just for me to play as a 10," said Hazard recently. Perhaps he's wrong. As early as July, Conte spoke of the importance of getting Hazard back to his best - "technically, tactically, physically and with a good mentality". This helps.
There are other factors, of course, but when Conte speaks of this squad being able to play "3-4-3 not 3-5-2" because of the "characteristics of the players" it's with a view to getting the best from the most gifted among that number.
Which is what makes Sunday's reunion so intriguing. Mourinho returns to Stamford Bridge on the back of Monday night's goalless draw at Anfield in which he asked Ashley Young to sacrifice his attacking instincts on the left flank in order to stifle the opposition.
It's a familiar Mourinho ploy in big games and precisely the sort of job Hazard would not do. Fortunately, he'll have a different role this weekend. And if Hazard punishes his old boss by exploiting the freedom he's now afforded, it must go down as a smart move by his new one.
You can watch Premier League football, plus England's tour of Bangladesh and the US Grand Prix on Sky Sports. Upgrade now and enjoy six months at half price!