Premier League: Questions over Roberto Martinez's tactics as Everton struggle for balance in his second season
Last Updated: 16/01/15 11:00am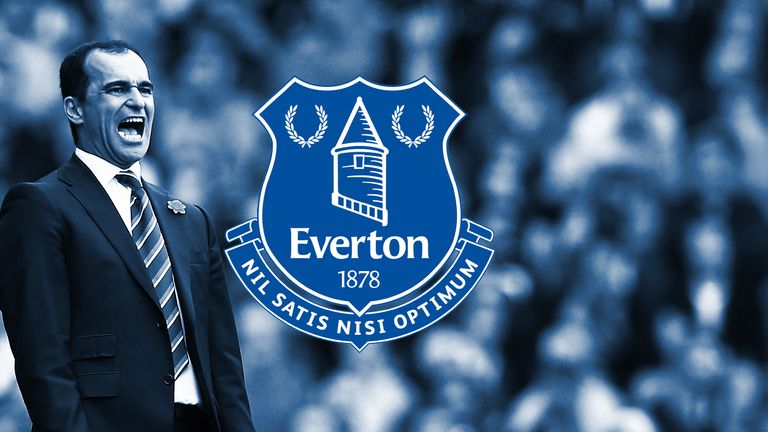 Adam Bate looks at the numbers behind Everton's stuttering form under Roberto Martinez.
Life is about checks and balances. Equilibrium brings harmony. And so, as the influence of David Moyes and his yin fades from Finch Farm, thus Roberto Martinez's yang loses its effectiveness.
When Martinez arrived at Everton in the summer of 2013, grown men were getting giddy at Goodison Park. A campaign that began with skipper Phil Jagielka calling it "exciting", soon had Leon Osman recalling his predecessor's negativity and culminated in goalkeeper Tim Howard comparing Martinez to the genius in the movie A Beautiful Mind. Like another Oscar-winning film, it was as though the witch was dead and Martinez's munchkins were ready to party.
The enthusiasm was understandable. Everton recorded their best ever points tally last season and anyone pointing out a fifth-place finish was one below Moyes' best effort was missing the point. With an expansive style and the emphasis on attack, Martinez had tapped into a history some supporters felt had been forgotten. The School of Science was ready to graduate to the next level and finally they had a leader who dared to dream.
Struggles
The flunk-out that's followed wasn't part of the plan. Everton find themselves in the bottom half of the Premier League and on course for their lowest league finish in more than a decade. The Toffees have won just once in 12 matches and given that this was a home fixture against the walking wicket that is Queens Park Rangers, it's questionable whether that one should count.
As a result, the search for answers is well underway and while an exhausting Europa League campaign might provide a handy explanation it feels insufficient when delving deeper. After all, Everton conceded 10 goals in their opening three Premier League games before they'd so much as heard the Europa League anthem. There was just one league win from seven attempts prior to their first European away day of the season.
Where Martinez might have hoped for improvement he's found fading form. Those underwhelming efforts have only served to emphasise how reliable so many of the senior pros had been for so long. The Opta statistics show that Gareth Barry has made two errors leading to goals so far this season, while Sylvain Distin has erred too. Both men went blemish free throughout 2013/14.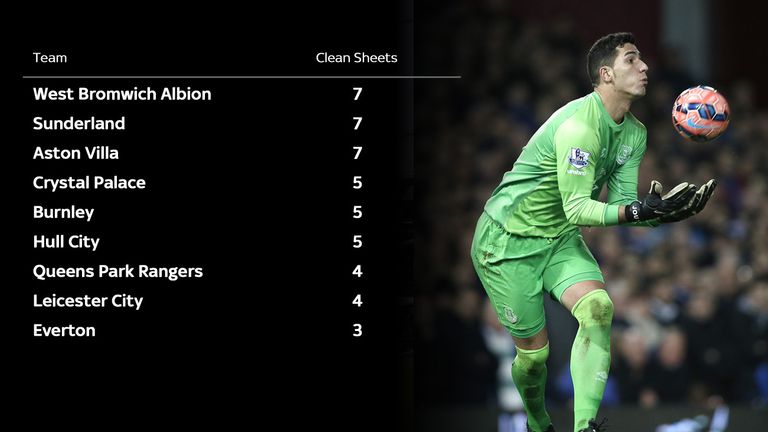 Barry's sluggishness, in particular, could hardly have been anticipated. Certainly not at a club that rewarded him with a three-year deal in the summer and by a manager who'd claimed the midfielder could play on until he's 40. A symbol of the intelligent passing game that Martinez had looked to introduce, Barry now looks like he could lose his place before the season is out.
Distin turned 37 last month and was culpable in shaky defensive performances in the opening two home games of the season. Even Jagielka is 32 and with Howard, 35, barely recognisable from the man who performed such World Cup heroics, the aforementioned foursome have each made more errors leading to shots so far this season than they let slip throughout the whole of last term.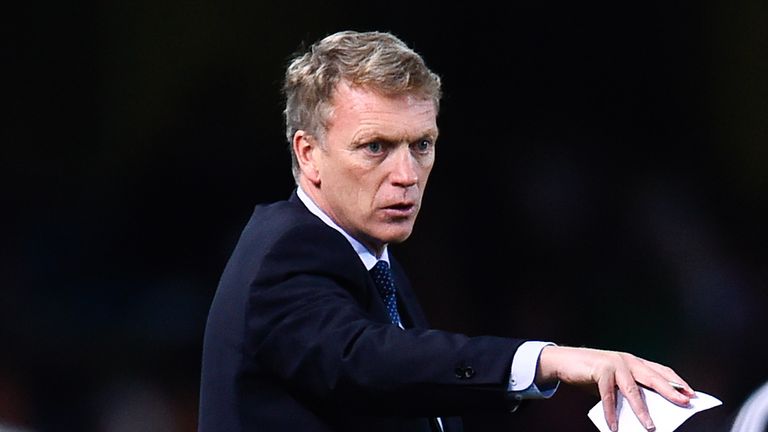 The stats are damning. Everton's 11 errors leading to goals sounds bad in isolation but when you consider that no other team has made more than seven such mistakes it gets worse. If those numbers are too artificial to hit home, the fact that Martinez's men have kept fewer clean sheets than anyone else tells the tale nice and clearly.
This tag of being the Premier League's most error-prone team forms part of an alarming trend, especially given the starting point when Martinez took over. Only four teams conceded fewer goals than Everton in Moyes' final season in charge, a statistic indicative of the risk-free football that the Scot demanded from his players.
That approach was part of the reason why Evertonians were so keen for someone to sprinkle some sparkle on their team and that's precisely what happened last season. But the underlying data suggests there are now just too many measures on which Everton are going in the wrong direction.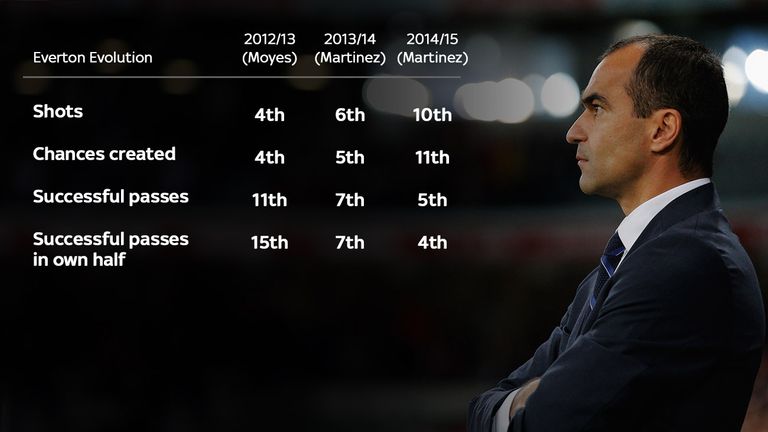 Martinez's team are shooting less often and creating fewer chances. On the other hand, the number of passes and, significantly, passes in their own half are going up. Looking at the trend, it seems reasonable to wonder whether compromise might be on the agenda in order to arrest the decline. But Martinez is adamant. "You don't win games by changing the style," he says. "You win games by being very good at what you do. Changing only brings doubts."
The players were asking about going more direct.
Romelu Lukaku
But what if the doubts are already there? According to £28million striker Romelu Lukaku, Everton's players asked to go more direct in the recent FA Cup tie against West Ham and followed it up with more long balls in the draw against Manchester City. Interestingly, Joel Robles has averaged nine passes into the final third in each of the last two Premier League games - Howard had not completed more than eight of them in any of his 18 appearances this season.
"The players were asking about going more direct," said Lukaku. "We all said to the manager, 'Can we play a bit more direct sometimes?' We have a style of play where we keep the ball a lot, but knew we needed to take more responsibility, play to my strengths more, and they did it perfectly. We mixed up how we played a bit more, at times we were a bit more direct. For me that makes it easier, because when I am one v one, running on a defender, that gives me a better chance."
Whether it convinces Martinez remains to be seen but it would appear highly unlikely that any changes will be too drastic. "I've been in this situation too many times," he added. "Maybe when I was a young manager starting out you would start thinking about it after a run like this but it is very clear – in football you need to be outstanding at what you do. I have been here long enough and I'm not someone who works in percentages."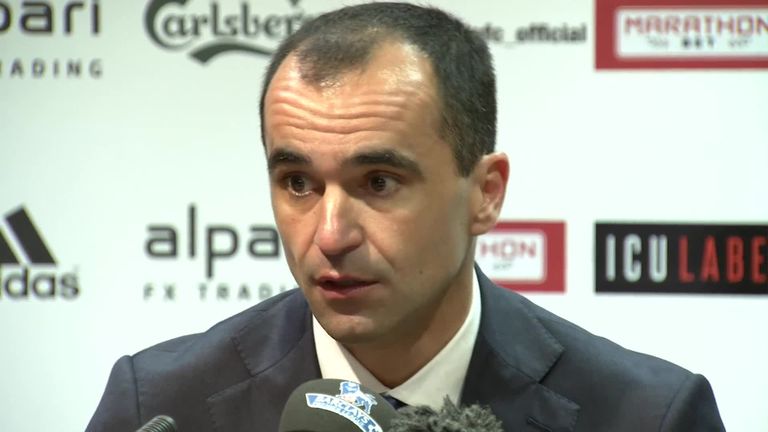 After having his ambitious approach applauded, it might seem churlish to point to Wigan's relegation - especially given that Martinez has already justified his appointment. However, there can still be lessons to learn from a season that brought two glorious visits to Wembley and one rather less inspiring trip to the Championship.
Martinez's search for perfection was rewarded on a May afternoon against Manchester City, but his players fell too far short of his expectations too often. Wigan made the most errors leading to goals of any team in the Premier League that season. Their tally of 834 failed passes in their own half – 60 more than any other side and over 300 more than Moyes' Everton – highlights the risks that come with the style he'd instituted.
Of course, it's unthinkable that relegation could be the outcome for Everton - there's simply too much quality in the squad for that scenario to come to pass. However, supporters are entitled to wonder which direction the team is now headed. Might those Moyes traits that had become so tiresome be a little more welcome now? Does the saviour need saving from himself?
There is no going back for club or manager and faith in Martinez is sufficiently high to ensure there is no such appetite to abandon the project just yet. But there is a growing awareness that somewhere along the journey, the right chemistry has been lost. Life is about checks and balances. Equilibrium brings harmony. And Martinez must discover the yin to his yang.
Watch Everton v West Brom live on Sky Sports 1 HD this Monday from 7pm