Sky Sports Scout - Andriy Yarmolenko
Sky Sports Scout is where we scour the globe looking for the best talent, next up is Andriy Yarmolenko.
By Sky Sports Scout - Tweet me: @skysportscout
Last Updated: 21/05/14 11:06am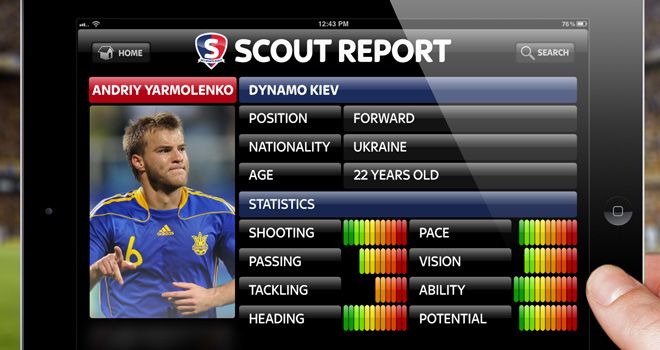 Sky Sports Scout is our exciting feature where we scour the globe looking out for the best talent and bring you a report on what we find.
Our Scout will report back and you can comment on what you think of our appraisal.
Also, in association with Football Manager, we give all readers the chance to win a copy of the latest game by nominating a player.
You can only nominate a player by emailing here, including the word 'Scout' in your subject line and please check to make sure we have not already covered the player.
Should your player get reviewed by our scout, and you were first to send in his name, then you will win a copy of Football Manager 2012.
You can also now interact with the scout via his all new Twitter feed! You can get in touch with him and interact here or just search for @skysportsscout!
Latest under our scout's gaze is Dynamo Kiev's Andriy Yarmolenko - recommended by Sky Sports reader David Hpa.
The scout reports...
Andriy Yarmolenko grew up idolising Andriy Shevchenko at Dynamo Kiev. He is now playing alongside his hero and is being tipped to follow his path to world footballing stardom.
Born in St Petersburg, Russia, Yarmolenko moved to Ukraine aged just three when his family settled in the city of Chernihiv.
As a youngster, Yarmolenko was quickly recognised as one of the brightest talents in Ukraine and, aged just 13, he was snapped up by Dynamo Kiev's youth set-up.
But he failed to settle with Dynamo and left the capital just 12 months later to return to Chernihiv, joining local side Desna.
His failed move to Dynamo's youth side did little harm to his development and he was soon making a goal-scoring first-team debut aged 16.
In December 2006, a return to Dynamo occurred as they snapped him up on a five-year deal, beating Shakhtar Donetsk to his coveted signature.
Once back in Kiev, a more mature Yarmolenko settled into life in the capital and after two years progressing through to their reserves he made his first-team debut in 2008.
Within 12 months he was a first-team regular - playing anywhere down the left - and he scored seven goals. It was this form that saw him called up to the Ukraine national squad, making his debut in their World Cup qualifier against Belarus.
Now a regular for both club and country, it is little surprise that Yarmolenko is being described as the new Shevchenko. But is there a comparison to be drawn between the two? Well, not really.
Shevchenko was the archetypal No.9, a fox in the box and one of the most lethal finishers of his generation. But Yarmolenko has much more to his game, mainly due to his wand of a left foot.
Yarmolenko was often played at left-back and on the wing during his younger days, but his finishing prowess has seen him settle in a forward role, and his 6ft 1in frame is also a useful weapon in his armoury.
Powerful, pacey, skilful and with the ability to finish, it is clear to see why there is so much excitement about Yarmolenko.
Rubin Kazan and Napoli both saw bids of around £10million rejected last year, with Dynamo looking to build their side around Yarmolenko.
Yarmolenko is set to lead the line for Ukraine at this summer's European Championships, and England will be one of those teams in his sights.
The scout says...
Yarmolenko is a terrific young player and a good showing at Euro 2012 could see his value soar.
Should he perform as Ukraine expect this summer, Dynamo may struggle to hold on to him.
The Scout rating...
Shooting: 8 out of 10
Passing: 8 out of 10
Tackling: 6 out of 10
Heading: 7 out of 10
Pace: 8 out of 10
Vision: 8 out of 10
Current ability: 8 out of 10
Potential ability: 10 out of 10
OVERALL SCOUT RATING: 63/80
Current value: £15million
Potential value: £60million
Your opinion...
You have read our opinion of Andriy Yarmolenko - now we want your views. Have you seen Yarmolenko in action? Do you agree with our assessment? Do you think he will make it?
Get in touch, either using the form below, email or the scout's Twitter feed - @skysportsscout
And if you have spotted anyone you think we should feature then please get in touch using the same form. We will look to send out the Scout to follow up your leads.