Arsene who? The man who brought Arsene to Arsenal
Sky Sports News' Adam Craig went to meet David Dein - the man who brought Arsene Wenger to Arsenal.
By Adam Craig
Last Updated: 30/05/14 2:24pm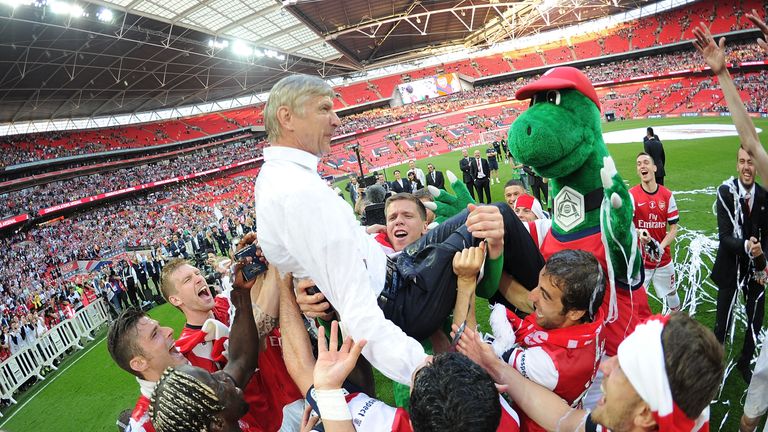 Back in March, with Wenger on the eve of his 1,000th game in charge of Arsenal, Sky Sports News' Adam Craig went to meet David Dein, the man who brought Wenger to Highbury.
Twenty-five years ago the then vice-chairman of Arsenal coerced a stranger into joining him and his wife at a dinner party. Several hours later the stranger found himself acting out A Midsummer Night's Dream during a game of charades.
This season the stranger, who at the time counted English as his third language behind French and German, passed the milestone of 1,000 games in charge of Arsenal.
"It came to me during that game of charades," recalled David Dein when I sat down with him earlier this week. "It was like a bolt of lightning. Arsene for Arsenal. It was written in the stars. It has to happen one day."
That day came eight years later. Having maintained a close friendship during Wenger's time in charge at Grampus Eight, Dein persuaded the Arsenal board to take a chance on the little known Frenchman.
One national newspaper reported how the Arsenal fans were planning a protest against Dein and the board because of Wenger's appointment.
Dein was adamant it was the right choice: "I did my due diligence. I spoke to my very good friend Gerard Houllier who'd known Arsene since 1983. They were at coaching school together. Gerard told me that he was first rate. I also spoke to Glenn Hoddle. Glenn had played for Arsene in Monaco. So I had his references!"
Wenger has gone on to become the most successful manager in Arsenal's history and his friendship with Dein has endured a quarter of a century, the last seven of which he's spent without Dein at the club.
This period has coincided with a lack of trophies and, according to Wenger's critics, a lack of big name signings.
"Arsene will only buy a player if he really thinks it's a player who will improve the squad and is better than who we've got at the moment without frustrating the development of a younger player" says Dein. "It's a balancing act. It's not a lack of willingness to buy players, it's identifying the talent that's right for the club"
During our conversation Dein reveals what persuaded Theo Walcott to sign for Arsenal and what Wenger really thinks about Jose Mourinho's 'specialist in failure' comments. He also addresses Arsenal fans' concerns over the lack of major honours.
"It hurts him. He's a football purist and this is his life. He's still got the fire in his belly. I can understand people being anxious about not winning trophies, but nobody more than Arsene himself."
Sign in to watch 'Arsene who?' - a rare insight into Arsene Wenger by the man who brought Arsene Wenger to English football.