Football Expert & Columnist
Jose Mourinho must choose between Wayne Rooney and Zlatan Ibrahimovic, says Jamie Redknapp
Last Updated: 24/09/16 12:48pm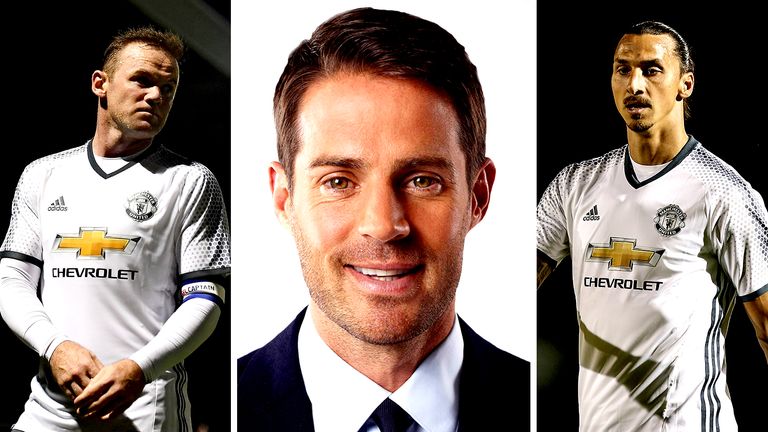 Ahead of Manchester United against Leicester on Sky Sports on Saturday, Jamie Redknapp explains why United are facing a "reality check" and either Zlatan Ibrahimovic or Wayne Rooney will become surplus to requirements...
When you bring a lot of players together, as Manchester United have done this season, it's never going to be perfect, but we are all guilty of jumping to conclusions so early.
I remember doing the Friday night game against Southampton and whenever it's your first home game there's a massive wave of adrenaline. That was the case for a lot of the players then and they played really well.
Now, it's a bit of a reality check that it might take time for United to play to their full potential. The biggest problem for Jose Mourinho is how he fits everyone into the team. Without upsetting some really big egos, I don't know how he can get his best XI on the pitch.
I'm talking about Wayne Rooney and Zlatan Ibrahimovic, because Marcus Rashford has to play. Sometimes you have to upset people to get what is best, even if that means leaving out Rooney, Ibrahimovic or Henrikh Mkhitaryan, who is probably on his phone to agent saying 'this isn't what I signed up for'.
The problem for Rooney is they have a lot of players like him. Ibrahimovic does the same job and without Rashford you are pretty much the paceless team you were under Louis van Gaal.
Mourinho can't make those players quick unless you add someone like Rashford to the equation. They need players like that. People talk about Rooney being dropped and I think it's a straight fight; either Rooney or Ibrahimovic will become surplus to requirements very quickly. One will probably get left out to get this team playing their best.
We always love to have a go at Rooney, that's part and parcel of who he is, he is quick to be criticised. But if Rooney is dropped there will be a fallout, the press will lap it up, and it will be a huge story. 
It 's a straight fight; either Rooney or Ibrahimovic will become surplus to requirements very quickly.
Jamie Redknapp
Ibrahimovic made a good start and has got goals, but his performances have not been amazing. If you look at what he has done he has been very economic, scored goals but not a great deal else.
Whatever Mourinho chooses it will be a problem because you are going to fall out with a big player. That's not what he wants to do, but it's the only way to get his best team on the pitch.
I always think Jose is fantastic when he has a squad he can work with, but this is a bigger test than normal for him because they don't have the right recipe. They have too many players who are the same, they don't have enough pace and Mourinho has to make some massive decisions that I don't think he wants to make.
You don't want to leave out your captain or Ibrahimovic, but if he wants to get United back to where they belong he has to make those decisions.
One or two big players will have to be rotated or dropped and that's very difficult for a manager because they are big egos and they will feel they should be in the team. He feels he can leave out Mkhitaryan but he looks like a confidence player and he should in the team - they paid a lot of money for him.
Mourinho talks the talk. He is very quick to tell us when everything is good and going well, so you have to accept you are going to get a bit of stick. I am not surprised this has happened so early, but we have to be careful because it's so early in the season and there are a lot of new players. It will take time for them to gel.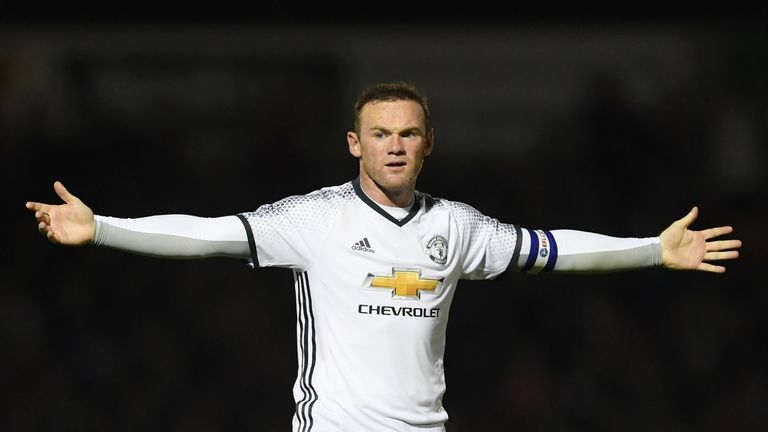 Paul Pogba can get fitter and you have to find the right way of playing him. Do you drop Rooney or Ibrahimovic? How does Rashford get into the team? There are more questions for Mourinho to answer than Pep Guardiola at Manchester City by a long way.
There's also a problem in midfield. Michael Carrick has to play. Marouane Fellaini is not a Man Utd player, he slows up the play and he's not quick enough with the ball.
United need pace up front and they need to pass the ball quicker. When they were at their best they had Paul Scholes and the ball would move through midfield so quickly, you can't do that with Fellaini. He is a good player in the right team but not for Man Utd. It has been a surprise that Mourinho has stuck with him. He doesn't do enough for me.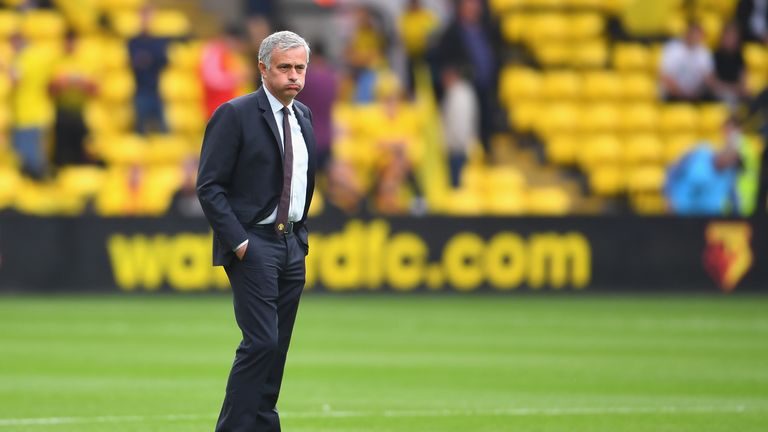 It has been more difficult for Mourinho, he has almost had to repair some of the damage done by the previous manager and the negativity surrounding the club. He has to be careful, the lashing out at players will not go down well with the Man Utd hierarchy.
All their fears will come back, all the doubts they had about Jose when they decided to hire him, there will be a few people worried they have made the wrong decision because of how he struggles when things are against him. When his back is against the wall he will lash out and there will be collateral damage which isn't healthy.
United should be looking forward to the game this Saturday. Leicester are not at the level they were last year and I think United will scrape through in a tight game. There will be a few nerves. Man Utd fans know when things are right and they will be thinking the balance isn't right so there is a lot of hard work for Jose and some big decisions coming.
Watch Man Utd v Leicester, the Ryder Cup and the EFL Cup as part of our three months' half-price offer.