Football Expert & Columnist
Jamie Redknapp on the dentist's chair and Jamie Carragher pinching sunglasses
Last Updated: 01/12/16 11:58am
As part of our build-up to Bournemouth v Liverpool on Super Sunday, The Fantasy Football Club caught up with a man who played for both clubs - Jamie Redknapp.
The Sky Sports pundit looked back at some famous pictures from his career and told us some great stories - including the tale of the dentist's chair celebration at Euro 96 and the time a cheeky Jamie Carragher pinched a bunch of Ray Ban sunglasses.
Check out Jamie's 'In The Picture' here and see the full version on The Fantasy Football Club from 6pm, Friday on Sky Sports 1.
Then tune in to Bournemouth v Liverpool from 12.30pm on Sky Sports 1 on Sunday.
FA Cup Final - May 1996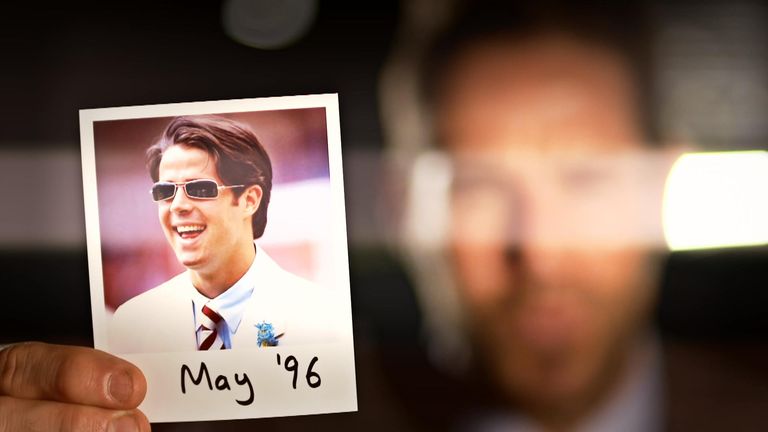 We'll always be remembered for the white suits and I've listened to so much rubbish from ex-players. People say Sir Alex Ferguson said that when they saw us in the white suits they knew they were going to win. Trust me, Man United were useless that day. They were about as good as we were. We had more chances than them in that game and if we'd scored I'd have that white suit on now! Sometimes circumstances go against you and if it wasn't for that Cantona goal, which was a mistake from our point of view, it would have been totally different.
Those sunglasses are Ray Ban believe it or not. They are just terrible… Ray-Ban came down to give us lots of sunglasses and Jamie Carragher was about 16 or 17 at the time. Every time someone spoke to the guy and had his attention, Carra would sweep about eight pairs off the shelf and put them in his pocket and do a runner! I saw him about four weeks later walking around Liverpool with a really nice pair on. I got lumbered with those mingers!
Posing with Steve McManaman - October 1995
I did like that sweatshirt, it was Ralph Lauren, but I don't know why I bought it two sizes too big. In those days we used to wear everything big! Macca was one of the coolest footballers you've ever met; he was so intelligent with about 24 A-Levels. He was so much brighter than all of the other footballers. The older players never gave him any stick because he was too sharp for that.
FA Cup Final - May 2001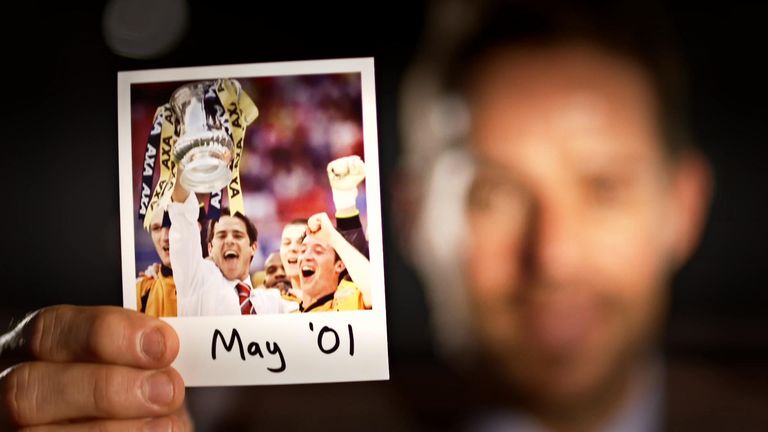 It was great to be involved. I'd been made club captain the season before when I was scoring goals and playing well and I picked up a really unfortunate injury where I didn't play for about a year and a half. It was a career-threatening injury and I never really got over it to be honest. Robbie Fowler was my big mate and he said if they won the trophy then I'd lift it. Sami Hyypia was a great lad and I caught Gerard Houllier telling him to go and lift the trophy and I thought 'oh yeah, we'll see about that'. Robbie told me to come up and so I went up with him and the boys. It was a great moment.
Liverpool v Arsenal - October 1993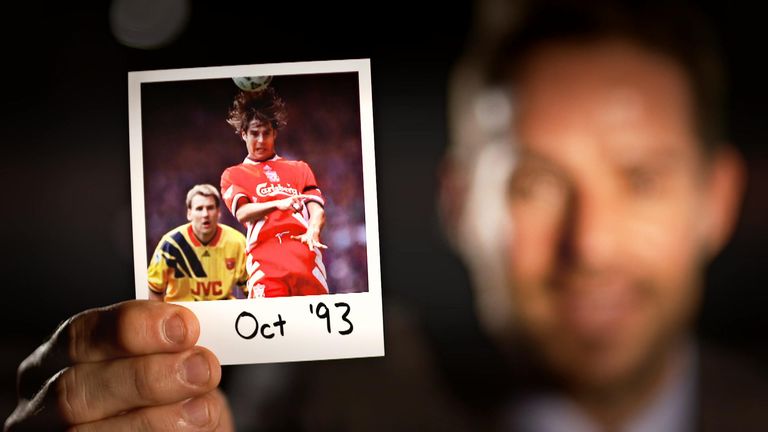 I loved Paul Merson. He was a great player. I always enjoyed playing against Arsenal and against Merse; he was one of those players who you could have a bit of a laugh with on the field. He always wanted to win, but he always used to say something that made me laugh.
England v Scotland - June 1996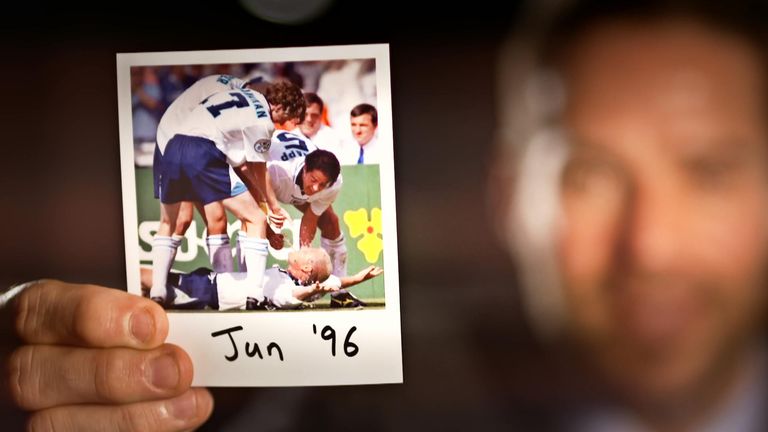 I would go as far to say as that is the greatest football picture of all time for England. I'd put it alongside that beautiful picture of Bobby Moore swapping shirts with Pele. That is the iconic photo, but as photos go this is hard to beat. I was so pleased that I was quick enough to get there and be in that celebration. Before the game we'd obviously taken a lot of stick because of the dentist's chair and what had gone on before it and Paul Gascoigne said 'I'm going to score today and when I do, make sure you get over there because we're doing the dentist's chair celebration'.
I came on at half-time and he flicked it over Colin Hendry's head with a brilliant piece of skill and hit a dipping volley into the corner. I could see him pointing so I sprinted over with Steve McManaman and Alan Shearer and we got the water bottles. I was laughing so much. Being in the actual dentist's chair was good fun as well, trust me!
Upgrade to Sky Sports now and get 12 months half price. Hurry, offer ends December 4th!