Football Expert & Columnist
Alex Schalk penalty: Andy Walker gives his views
Last Updated: 08/05/17 3:45pm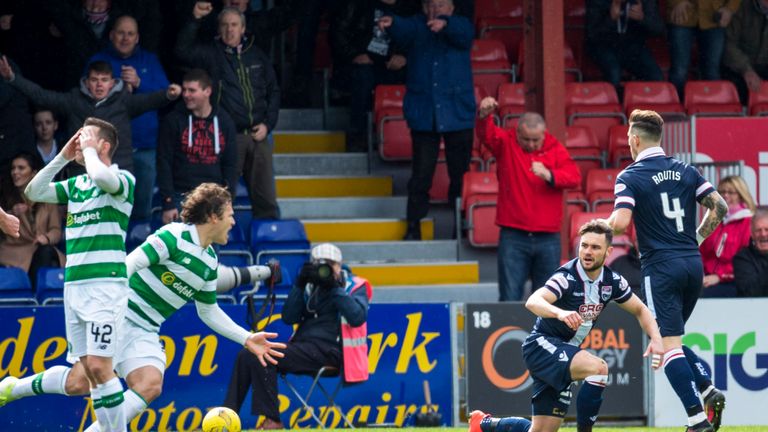 Andy Walker airs his views on the Alex Schalk penalty saga and gives his take on penalties, diving and more...
Forgive me for not joining in the condemnation of Ross County player Alex Schalk when his outrageous attempt to win a penalty was rewarded on Sunday against Celtic.
Should he be embarrassed? Not at all.
Of course, Brendan Rodgers was right when he referred to it as "blatant cheating" but he also said that "players will do that, it's always happened".
Believe me, there is not a club in the land who doesn't have a player or two capable of winning dubious fouls and putting officials under pressure to make big decisions, Celtic included.
Commentating at the game for Sky Sports, I was bracing myself for the referee to immediately show a yellow card to Schalk, given the amount of daylight between both players.
Erik Sviatchenko read the situation well by realising that he was in the most delicate area of the pitch but more importantly, the most rewarding for the opposition. Stepping away from any sort of contact was good play on his part. No wonder he couldn't believe it when he was unfairly punished.
As a former player who won around half a dozen penalties in my 16-year playing career by claiming for dubious fouls, I am neither proud nor embarrassed by it.
It's professional sport, it's the game I played for a living and like Brendan Rodgers I'd agree that for as long as I can remember, cheating has been part of the game. It's a very distasteful and unpleasant aspect of the sport but never too far away from rearing its ugly head.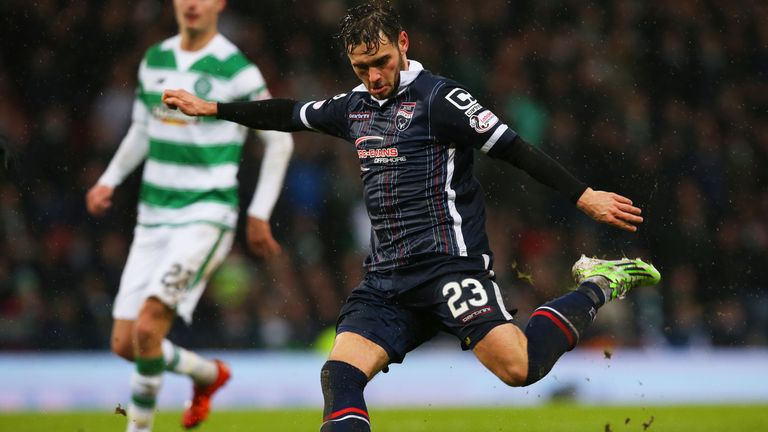 It has to be said though that this was not a difficult decision for the officials to get right. Most referees I speak to accept that players will look to gain any sort of advantage and at times there are very difficult calls to be made.
This was an easy decision. It's simply not good enough for Don Robertson to make such a wild and high-risk guess when it's not even a close call. In short, his team lost their concentration and now look foolish.
You can also count me out of those who say Schalk will be embarrassed by his actions.
Undoubtedly, he'll pick up a retrospective two-game ban but I`d argue that in Ross County's position, it was well worth it.
A point against the champions at this stage of the season may well prove to be priceless, possibly enough to secure his team's status in the top flight, maybe even the jobs of those in the background of the club that would take a massive financial hit if they were to be relegated.
If he was a teammate of mine, I'd shake his hand and thank him for getting us an unlikely point.
Why do players cheat?
In all honesty, first and foremost they go out to play hard and win but over the course of 90 minutes, big moments happen in a game that can have huge consequences.
Instinct takes over, it dawns on a player that a big call has to be made and they want to benefit.
As long as players play for pride, points, money, prestige and future contracts, you will continue to see them claiming for every decision, putting officials under pressure and trying to win dubious fouls.
And let's not kid ourselves; we're all guilty of hypocrisy surrounding cheating in the game.
Would any Hibs, Aberdeen, Celtic or Rangers fan really complain if a Schalk type incident takes their team to a Scottish Cup final this weekend? Not a chance, they'll celebrate their good fortune and take great delight in ridiculing their opponents.
Nor will you hear any writers, bloggers or fans complain if a Scotland player wins a dubious foul to secure our place at a World Cup finals or European Championships.
One big call that Don Robertson did get 100 per cent right was the red card for Celtic captain Scott Brown. But his club are absolutely right in taking advantage of the system by appealing it.
Those required to make a decision on the card will not meet up before next Sunday's semi-final clash - now that is embarrassing.