Chelsea & Tottenham feature twice on Sky Sports in penultimate week of season
Last Updated: 12/04/17 2:42pm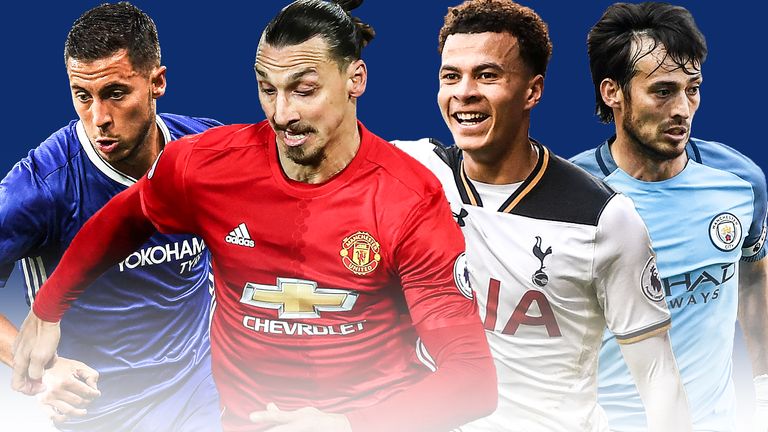 Sky Sports will show a mouthwatering 10 Premier League games over seven days as the season reaches its climax.
League leaders Chelsea and their closest title challengers Tottenham feature twice live on Sky Sports during the penultimate week of the campaign.
And we'll also have an eye on the battle for the top four as Manchester City host Leicester and West Brom and Manchester United travel to Tottenham and Southampton.
Newly-announced Premier League matches live on Sky (May 12-18)
| Date | Match | Kick-off time |
| --- | --- | --- |
| Fri May 12 | West Brom v Chelsea | 8pm |
| Sat May 13 | Man City v Leicester | 12.30pm |
| Sat May 13 | Stoke v Arsenal | 5.30pm |
| Sun May 14 | Crystal Palace v Hull | 12pm |
| Sun May 14 | West Ham v Liverpool | 2.15pm |
| Sun May 14 | Spurs v Man Utd | 4.30pm |
| Mon May 15 | Chelsea v Watford | 8pm |
| Tues May 16 | Man City v West Brom | 8pm |
| Wed May 17 | Southampton v Man Utd | 7.45pm |
| Thur May 18 | Leicester v Spurs | 7.45pm |
| | | |
| *Wed April 26 | Palace v Spurs (replaces Arsenal v Leicester) | 8pm |
United's trip to Spurs on Super Sunday could be Tottenham's final match at White Hart Lane ahead of their proposed move to Wembley Stadium.
The fight for Premier League survival looks set to go down to the wire too and Sky Sports will be showing Crystal Palace's crunch clash at home to Hull City on May 14.
In all there will be 10 live Premier League matches during a seven-day period, kicking off with Antonio Conte's Chelsea heading to West Brom on Friday Night Football on May 12.
There will be two games on Saturday May 13, including Arsenal's visit to Stoke, before a Super Sunday triple-header on May 14 culminating with Tottenham v Man Utd.
The live football continues during the week with matches on Monday, Tuesday, Wednesday and Thursday ahead of the final Sunday of the league season on May 21.
In addition to the above, Crystal Palace v Tottenham will be shown live on Sky Sports on Wednesday April 26 instead of Arsenal v Leicester.
Sky customers can now upgrade to Sky Sports and get 12 months for just £18 per month. Upgrade now!
Sky Sports' live Premier League schedule
| Date | Match | Kick-off time |
| --- | --- | --- |
| April | | |
| Sat Apr 15 | Spurs v Bournemouth | 12.30pm |
| Sun Apr 16 | West Brom v Liverpool | 1.30pm |
| Sun Apr 16 | Man Utd v Chelsea | 4pm |
| Mon Apr 17 | Boro v Arsenal | 8pm |
| Sun Apr 23 | Burnley v Man Utd | 2.15pm |
| Sun Apr 23 | Liverpool v Palace | 4.30pm |
| Tues Apr 25 | Chelsea v Southampton | 7.45pm |
| Wed Apr 26 | Palace v Spurs (replaces Arsenal v Leicester) | 8pm |
| Thur Apr 27 | Man City v Man Utd | 8pm |
| Sun Apr 30 | Everton v Chelsea | 2.05pm |
| Sun Apr 30 | Spurs v Arsenal | 4.30pm |
| May | | |
| Mon May 1 | Watford v Liverpool | 8pm |
| Fri May 5 | West Ham v Spurs | 8pm |
| Sat May 6 | Man City v Palace | 12.30pm |
| Sun May 7 | Liverpool v Southampton | 1.30pm |
| Sun May 7 | Arsenal v Man Utd | 4pm |
| Mon May 8 | Chelsea v Boro | 8pm |
| Fri May 12 | West Brom v Chelsea | 8pm |
| Sat May 13 | Man City v Leicester | 12.30pm |
| Sat May 13 | Stoke v Arsenal | 5.30pm |
| Sun May 14 | Palace v Hull | 12pm |
| Sun May 14 | West Ham v Liverpool | 2.15pm |
| Sun May 14 | Spurs v Man Utd | 4.30pm |
| Mon May 15 | Chelsea v Watford | 8pm |
| Tues May 16 | Man City v West Brom | 8pm |
| Wed May 17 | Southampton v Man Utd | 7.45pm |
| Thur May 18 | Leicester v Spurs | 7.45pm |