Football Expert & Columnist
Jamie Carragher on Arsenal's 'huge' win at Middlesbrough
Last Updated: 18/04/17 12:01pm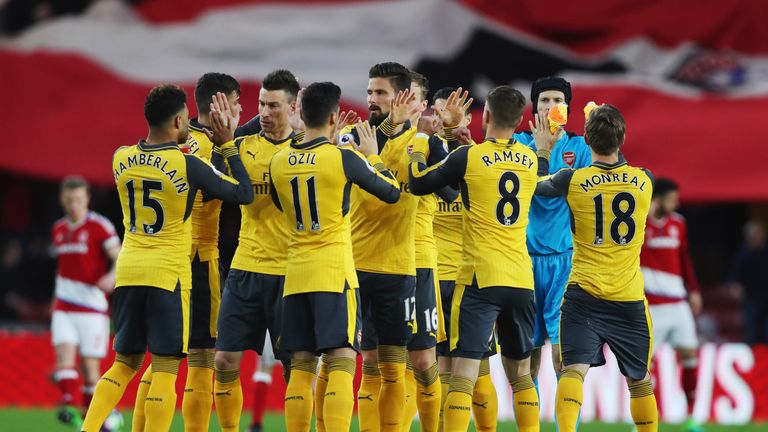 Jamie Carragher hailed Arsenal's 2-1 victory at Middlesbrough as a "huge win" but thinks the Gunners were still far from their best at the Riverside.
Mesut Ozil fired home a 71st-minute winner to finally kill off battling Middlesbrough, who had dragged themselves back into the game when Alvaro Negredo cancelled out Alexis Sanchez's first-half free-kick five minutes after the restart.
The triumph lifted Arsene Wenger's men seven points behind fourth-placed Manchester City, with a game in hand and Carragher thinks they still have a chance of securing Champions League qualification.
"It wasn't a great performance from Arsenal," Carragher told Monday Night Football.
"But I've always said that, not just at this stage of the season but at any time of the season, it's more important to get the result.
"A couple of set pieces could have dropped for Middlesbrough and Arsenal have had problems with that before, but it was a huge win.
Victory at the Riverside was the Gunners' first league away win for three months and it was just their third victory in their last nine games in the Premier League.
"They were never going to be at their best after the run they've been on," Carragher added.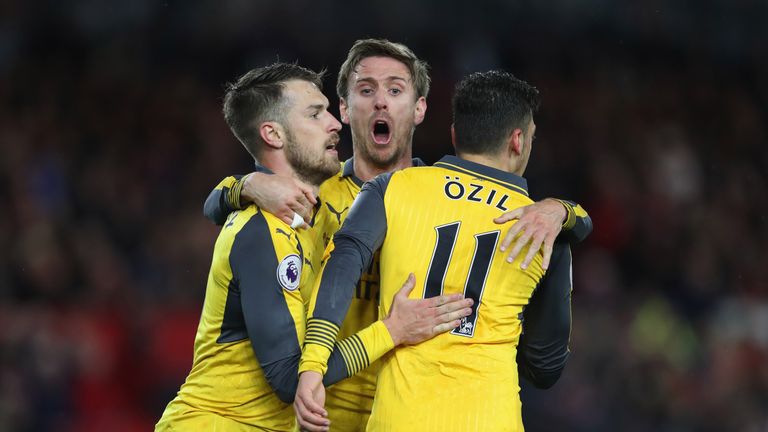 "No matter how good a player you are - and Arsenal have got some top players - your confidence will take a heavy knock.
"It wasn't just the performance last week, it was the reaction of the supporters, especially towards Bellerin. I think that's maybe why he was taken out of the team.
"You couldn't expect a great performance and we never saw that, but it was a huge win and it gives them a fighting chance for the top four."
Carragher had some strong words last week on MNF as he discussed the state of Arsenal following their 3-0 defeat to Crystal Palace last Monday and the former Liverpool defender thought the players' reaction at the final whistle was telling of just how big a win this was for the Gunners.
"They'll have been stung by the criticism this week," he said.
"We've been there ourselves when you come into the training ground the day after the game and it's difficult to lift yourself. The training ground becomes a dark place with everyone coming in very down and very flat.
"Arsene Wenger may have thrown the new system in and sometimes it just sparks something. It's something different and something to get behind.
"It was telling that coming together at the end because there some big characters there and it felt like a big win for them, not just because of three more points in the race for the top four but to quell the criticism they've had."