Man Utd's Jose Mourinho awaits news of possible charge after sending-off at Southampton
Last Updated: 25/09/17 12:01pm
Jose Mourinho is waiting to find out if he will face action from the Football Association following his sending-off on Saturday.
The Manchester United boss was left perplexed near the end of the 1-0 Premier League win over Southampton at St Mary's when he was sent to the stands by referee Craig Pawson.
Mourinho had stepped out of his technical area onto the edge of the pitch, only to be pulled back by fourth official Mike Jones, who then called Pawson over once play had been stopped.
After being told to leave, Mourinho shook hands with members of the Saints staff and said afterwards of the incident: "I don't know. I don't know. Craig [Pawson] told me to leave, and I left."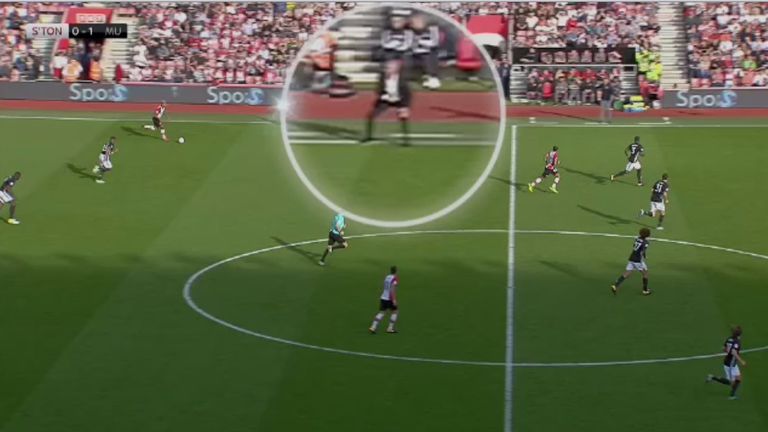 Mourinho now has to wait for Pawson's report to land with the FA and find out whether he has filed an extraordinary incident report.
That report could then lead to a charge, a warning, a reminder of responsibilities, or no action depending on how serious the incident was viewed.
The United boss was sanctioned twice last season, being given a touchline ban and a £50,000 fine for two incidents in November - he was sent to the stands by Mark Clattenburg during their clash with Burnley and fined for comments he made about another official, Anthony Taylor, before United faced Liverpool.
Those charges could also be taken into account as they happened in the previous 12 months.
However, speaking on Sunday Supplement, The People's Steve Bates said: "It's hardly crime of the century. The game was in its closing moments and I don't think there was any intent by Mourinho to create a situation.
"I think he was just wrapped up in the fact that his team were under the cosh a little bit and he wanted to see the game out. I'm not certain it will lead to any huge ban. He might get one match."
Former United captain Bryan Robson also felt there had been an over-reaction, and he told ManUtd.com: "When I saw it on TV, I thought it was an absolute joke. I'll be amazed if he gets a ban or a fine for that. I think the officials went way overboard by sending him to the stand.
"I don't know what the officials are thinking about. Throughout the last year or so, I've seen managers like [Jurgen] Klopp and [Antonio] Conte run about like lunatics, out of their box, down the side of the pitch and not a thing has been made of it - it's called passion for the team.
"But because Mourinho stepped just over the touchline, they sent him to the stands. It'll be a disgrace if he gets fined or banned and made to watch games from the stands over the coming weeks."