Thierry Henry's combined XI from Leicester, Arsenal, Tottenham and Man City
Last Updated: 14/02/16 3:46pm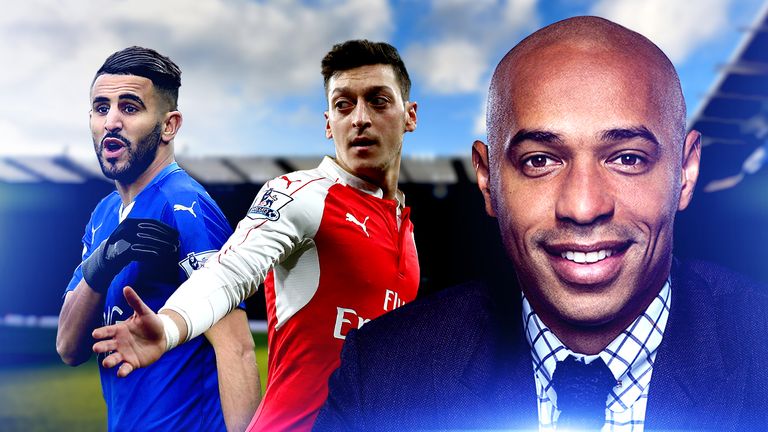 The Premier League title contenders go head-to-head live on Sky Sports on Sunday.
Ahead of Leicester's trip to Arsenal and Manchester City's home game with Tottenham, Thierry Henry has named his combined XI from the Premier League's top-four.
Read on to see who made the cut and why...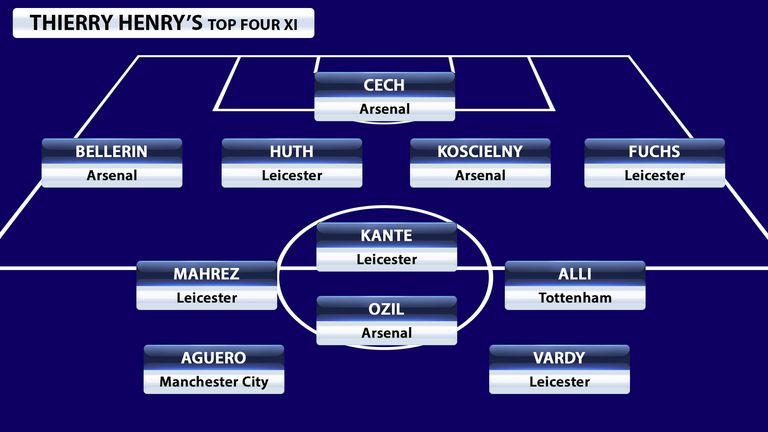 GOALKEEPER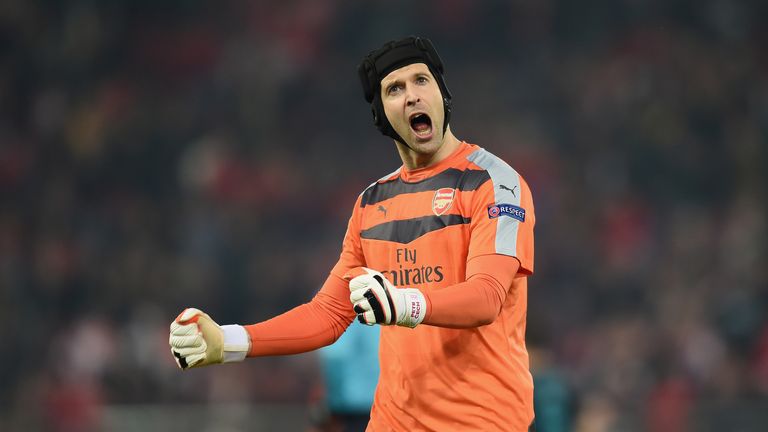 "I think Petr Cech has been tremendous for Arsenal - especially after the start he had against West Ham, which made you wonder whether he was going to be the goalkeeper he was. He's proving that he's still the guy. I struggled over Cech or Hugo Lloris but I've gone for Cech. He knows how to win and he's saved Arsenal so many times this season. You need a top goalkeeper if you're going to win the league."
DEFENDERS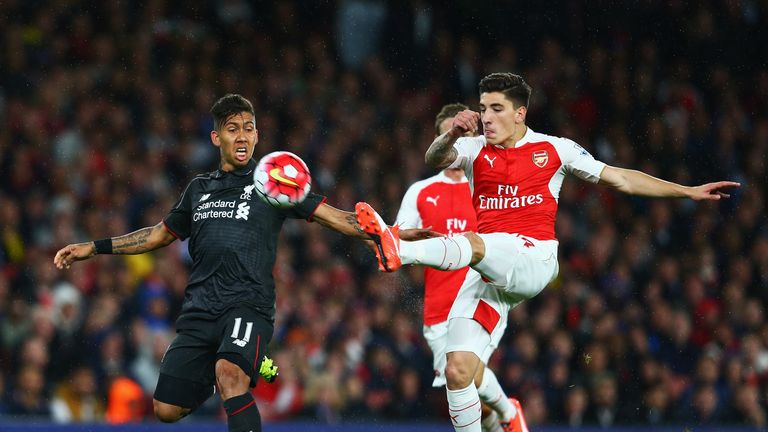 "Hector Bellerin is a simple choice for me - I think he's the best right-back in the league. He deals with counters and two-on-one situations very well, on top of bringing something going forward.
"I can hear the Spurs fans asking why there are no Tottenham players in there. Jan Vertonghen was in a team of the year I selected recently, but Robert Huth is just edging it at the moment. He's scoring important goals as well as defending well.
"Vincent Kompany could have been in there, too, but I'm picking Laurent Koscielny - he's the best defender in the league for me.
"And Christian Fuchs is having an amazing season - great left foot, amazing vision and a good defender too."
MIDFIELDERS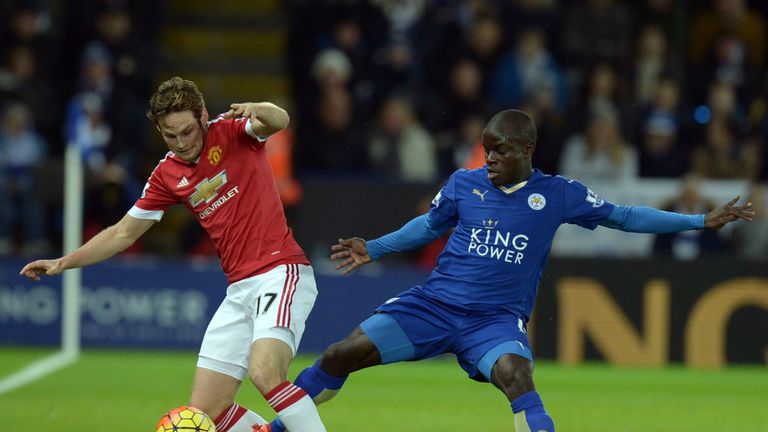 "I'm sure Spurs fans would tell me Eric Dier should be there but N'Golo Kante is my signing of the season so he should be in this team. I think he's been tremendous. We always like to praise people who are doing step-overs, nutmegs but we sometimes don't give enough praise to the guy who covers, who makes a foul when it's needed. Maybe it's a bit too early to say this but he reminds me of Claude Makelele by the way he plays - can he carry on playing like that? 
"Riyad Mahrez is my player of the season. He entertains, he scores, assists… he does it all and when he let Jamie Vardy take a penalty that meant he scored in nine consecutive games, that showed me he was a team player, too. He's been unbelievable this season.
"Dele Alli can score and see a pass but what I love about him - maybe it's because he played in League One with MK Dons - is that he can also put a tackle in. He works hard, he's in your face sometimes. I like that.
"What more can I say about Mesut Ozil? He scores goals but it's the way he takes care of the ball. There's always an idea behind what he's doing before he does it. He has a football brain. We need to educate the kids to play like him. We had a go at him when he wasn't performing - sometimes it takes a while - but I hope he can be the guy for Arsenal for a long time." 
STRIKERS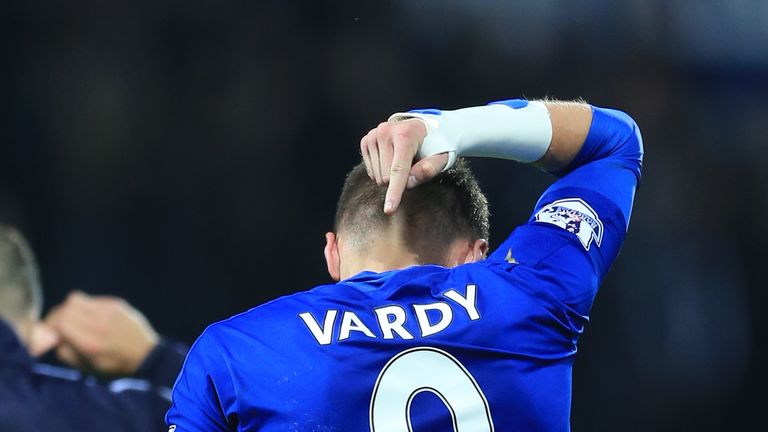 "The man of the season, the story so far, a story that I think will go down in the Premier League for a long time: Jamie Vardy. It doesn't matter which path you take - work hard and with the right attitude and commitment, you can succeed. He's a great example. 
"Harry Kane could have made it because he's a great striker - and I can finally say that because he's backed it up after last year - but Sergio Aguero has scored 14 goals in 18 games. If he wasn't there, I don't think Man City would be in the top four. I'd say they'd be far away. 
"That's my team but football is all about opinions and that's why we love it!" 
Who would make your combined XI? Let us know by leaving a comment or by tweeting @SkyFootball
Watch Arsenal v Leicester from 11.30am and Man City v Tottenham from 4pm, live on Sky Sports 1 HD on Sunday.  Or watch all day for £6.99 without a contract, on NOW TV