Thierry Henry on Alvaro Morata, Sergio Aguero, Harry Kane and Romelu Lukaku
Last Updated: 26/09/17 12:59pm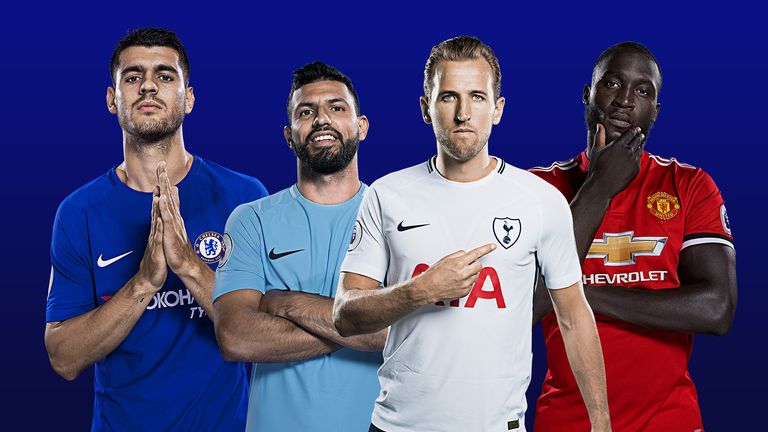 Thierry Henry and Jamie Carragher agreed Sergio Aguero is world class - but Alvaro Morata, Harry Kane and Romelu Lukaku aren't there yet.
All four strikers scored at the weekend to continue their blistering starts to the season with Aguero, Morata and Lukaku locked at the top of the Premier League scoring charts with six goals apiece, while Kane is not far behind on four goals.
Speaking on Monday Night Football, both Henry and Carragher agreed Aguero is world class because of the longevity of his career.
And while Arsenal legend Henry doesn't think Morata, Kane and Lukaku are quite there yet, he thinks they will all be world-class strikers given time.
"The closest to being world class, or is world class, or has been world class is Aguero because of the longevity of what he has done in the Premier League year in, year out," he said.
"He's won the league here and got to the final of the World Cup. He's been doing it the longest so you have to give him a bit of credit. I think we sometimes bypass Aguero like he didn't happen but we all agree that stats show he's the best.
"The other three, they will be [world class] but they are not yet. Lukaku has only just arrived at Manchester United and he's not played in the Champions League.
"We always talk about world class and the debate is always there, but Aguero is the closest to it.
"The others, I have no doubt will be. Kane himself said he's not in that bracket yet because of the reasons I mentioned.
"We should be happy to have these guys in the Premier League."
For Morata, Kane and Lukaku to become world class, Henry insists all three need to perform consistently in Europe and at international level, not just in the Premier League.
"For Kane, unfortunately for him, it was a short Champions League campaign with Spurs and a short Europa League. The Euros were short also for him.
"Morata, more often than not, came off the bench for Real Madrid and when he was at Juventus he had a good year but playing with Carlos Tevez or Fernando Llorente that wasn't his team. He's trying to make Chelsea his team just like Lukaku is trying to make United his team.
"With Kane it is his team but we don't know how good he is in terms of Europe. Aguero hasn't won the Champions League yet but we all know he's won the league already and it is his team.
"We are not saying they will never be [world class], I think they will be," he added. "They are just not there yet. It is not just at domestic level, you have to perform every time you step on the field.
"It doesn't matter what shirt you are wearing you have to perform in every single game whether it's a little game or a big game."
Carragher agreed with Henry, saying Morata, Kane and Lukaku are just below the level of Barcelona's Luis Suarez and Bayern Munich star Robert Lewandowski, and of course Lionel Messi and Cristiano Ronaldo.
"People define world class differently," Carragher said.
"I think you've got to do it in the Champions League or a major tournament, you can't just do it domestically.
"Straight away in that position you are looking at Luis Suarez and Robert Lewandowski.
"Some people say lots of players are world class, while others say it's only Lionel Messi and Cristiano Ronaldo. I think you've probably got 25-30 players at any given time that are world class. If you are in the top two or three players in your position over a period of time, that's world class.
"At this time there's Suarez, Lewandowski, Neymar and the other two, who we can't even mention because they are so far ahead of the rest. Lukaku, Morata and Kane are just below that level but they are still young men.
"Over the next few years if we see them do it at a major tournament or the Champions League that's when you'll say they are world class."