Blogs & Opinion
Guillem Balague:
Most Popular Posts:
Recent Comments:
"Hi Guillem, all of this hype sourounding jose mourinho and the saying that the wave is swinging for real madrid right now. But once Jose leaves and it does seem that he will if not this... " View all comments
"wonderfull column as always...I think Madrid have a better chance of winning the Cup game in all of these 4 games. This is because Mourinho can play any system and not worry about how ... " View all comments
Opinion Archive:
January (2 posts)

December (3 posts)

November (1 post)

October (2 posts)

September (5 posts)

August (4 posts)

July (5 posts)

June (12 posts)

May (3 posts)

April (6 posts)

March (4 posts)

February (4 posts)

January (1 post)
Guillem Balague: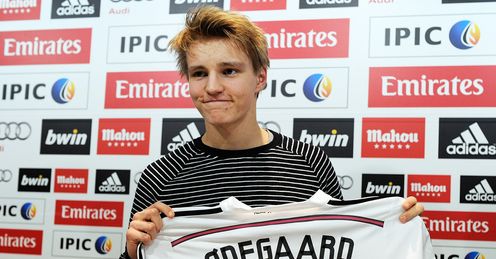 Guillem Balague
Guillem Balague believes Martin Odegaard will be a top star at Real Madrid, and Lucas Silva will be thrown into action.
Other Football Experts:
Latest Posts in Football:
Latest News
Follow the latest news and gossip, as Chelsea close in on Fiorentina's Juan Cuadrado.
Sky sources report Chelsea have agreed a deal for Juan Cuadrado and may play him on Saturday against Manchester City.
All the team news and manager previews ahead of a big Premier League weekend in our Sky Sports Today blog.
Diego Costa will hear today if he is to get a three-match ban that will keep him out of Chelsea's Manchester City clash.
The deadline for FIFA presidency nominations has passed and candidates must wait to see if they can stand for election.
Features

Frank Lampard returns to Stamford Bridge as a legend but could he trouble his old team? Adam Bate looks at the curious case of the former Chelsea hero's move to Manchester City...

Ahead of Saturday's title showdown between Chelsea and Manchester City, we look back a five classic Premier League matches between the two teams at Stamford Bridge.

In part three of our series, we look at seven more reasons which set Chelsea and Man City apart from the pack...