It takes a special kind of talent to overshadow your flagship event with the kind of bombshell that comes straight from the Gerald Ratner school of PR.
But that is what happened last week, when the UCI world road championships coincided with the news that a journalist, Paul Kimmage, is being sued by Pat McQuaid and Hein Verbruggen, respectively the president and honorary president of cycling's world governing body.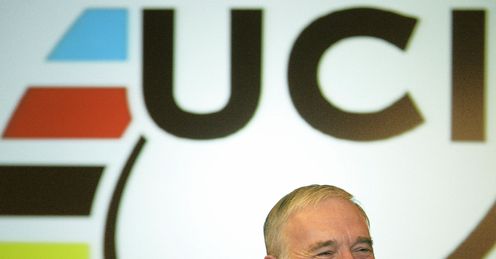 Kimmage is accused of having been 'dishonest' in a couple of interviews, in which he charged the UCI with "having knowingly tolerated [positive drugs] tests, of being dishonest people, of not having a sense of responsibility, of not applying the same rules to everyone." McQuaid and Verbruggen are seeking 8,000 Swiss francs in damages, and want Kimmage to take out full-page apologies in the Sunday Times, for which he used to work, and L'Equipe.
Perhaps the most remarkable aspect of the UCI action against Kimmage, who has consistently written about and exposed doping in cycling, is what it says about their priorities.
Richard Moore
Quotes of the week
The action against Kimmage was mooted some time ago, but news of his summons by a Swiss court, where he is due to appear on December 12, was met with bemusement, turning quickly to widespread anger. By the end of the week there was a groundswell of opposition as fans of the sport rallied to his support and established a defence fund that, at the time of writing, has raised over $20,000.
Coincidence
It may have been a coincidence that McQuaid was booed when he stepped up to present the medals at the end of the men's road race, or it may have been the verdict of a large section of the crowd on his tenure as president.
What is certain is that both that and the defence fund, not to mention the reaction on social media, amount to a resounding vote of no confidence in McQuaid, Verbruggen - president of cycling's governing body from 1991-2005, and an honorary member of the IOC - and the UCI.
Perhaps the most remarkable aspect of the UCI action against Kimmage, who has consistently written about and exposed doping in cycling, is what it says about their priorities.
After all, you would have thought that the Lance Armstrong case, with the US Anti-Doping Agency's contention that he doped to win his seven Tours de France, and their decision to strip him of those titles, might be worthy of the governing body's full attention.
In an interview in L'Equipe on Monday, the head of the USADA, Travis Tygart, said that the file containing the evidence against Armstrong and the US Postal Service team will be with the UCI by the end of the month - meaning this week.
It will be interesting to hear their response, in particular to the allegations made by Tyler Hamilton and Floyd Landis that Armstrong tested positive for EPO in 2001, but colluded with the authorities to have it suppressed. Shortly after, Armstrong made two financial donations, totalling $125,000, to the UCI. Some have alleged a link.
Whether or not that is the case, few can now be in much doubt about the pervasiveness of the doping culture in professional road cycling in the 1990s and into the 2000s. The crucial questions are, how much did the UCI know, and how much are they to blame?
During his 14 years as president of the UCI, Verbruggen could seem ambivalent, at best, on the subject of doping. When riders spoke out - an early example being Kimmage, a professional in the 1980s who wrote about the drug-taking culture in his book, Rough Ride - Verbruggen tended to dismiss them.
"They are the outspoken statements of frustrated people," he said of two such riders, Gilles Delion and Graeme Obree, when they claimed in the mid-1990s that doping was the norm rather than the exception.
Yet in Armstrong Verbruggen has consistently expressed absolute confidence, asserting as recently as last year that he had "never, never, never" doped. Why such faith in Armstrong and so little in Delion and Obree?
Fearless
Reading Hamilton's book, The Secret Race, reinforces a sense that Armstrong, whether protected by those in power or not, certainly felt invulnerable. It perhaps says something about his character, too, but, according to Hamilton, Armstrong was fearless when it came to doping, as in so much else.
It might also tie in with the sense that, by the early 2000s, as the Armstrong story of conquering cancer and winning the Tour captured the world's attention, attracting hordes of new fans, he began to transcend his sport.
By 2004, and his sixth Tour, he seemed bigger than the Tour and bigger than cycling. Arguably the sport now needed him more than he needed the sport: a situation fraught with danger for any sport
Yet, equally, there is now a danger that the discussion focuses too much on Armstrong, the obsessional champion who has, rather neatly, become an object of obsession for so many. He looms on almost every page of Hamilton's book as a commanding figure who inspires fear, awe, revulsion and even some admiration, yet it seems that Hamilton has won redemption, verging on beatification, less for being honest about his own drug-taking than for providing so much damning information about his former teammate.
It is conveniently overlooked that Hamilton was doping before and after he was a teammate of Armstrong; indeed, that his own doping became even more sophisticated, more hardcore, after leaving Armstrong's team.
Hamilton himself has said that it is not all about Armstrong; that Armstrong, like him, was part of a system, even if he became the most powerful player within it.
Which brings us back, in a roundabout way, to the UCI. In an interview with L'Equipe on Monday, Tygart pointed out the inherent problem in sports policing themselves, and the scandals - from athletics after Ben Johnson in the 1980s, to cycling and the rampant use of EPO in the 1990s, to tennis, football and rugby - that have led, at best, to conflicts of interest and states of collective denial, and, at worst, to cover-ups and corruption.
"We either bury this case or we do our job," said Tygart, adding: "We do this because the federations can't do it. It's contradictory to promote the sport and be in a position to sanction the athletes at the same time."
The truth of this was borne out at the world championships in Holland last week, as the UCI staged their showcase event and justified their legal action against an anti-doping journalist, while having remarkably little to say about the revelations concerning widespread, systematic cheating, and the star whose mythology helped cycling leap from the backwaters into the mainstream.
Comments (2)
Paul Gardner says...
Great article Richard,UCI have built there house on sand and one day that house will fall down and i believe that day is coming soon.Paul Kimmage fight against doping will be successful and i hope is lauded as the saviour of pro cycling,he has spent most of his life fighting on his own against doping in cycling.
Posted 11:53 27th September 2012
Cathal Fol says...
Just goes to show where McQuaid's priorities are. He is a disgrace and will get found out.
Posted 17:22 25th September 2012