I felt bruised just watching the New Zealand versus South Africa clash from my living room in Wiltshire.
It was one of those games. Powerful and pulsating throughout, this could have been one of the most memorable internationals of recent years.
Unfortunately déjà vu struck and for all the excellence of so much of New Zealand's game, it will be remembered - certainly in South Africa - for yet another refereeing display where the key decisions again broke the way of the All Blacks.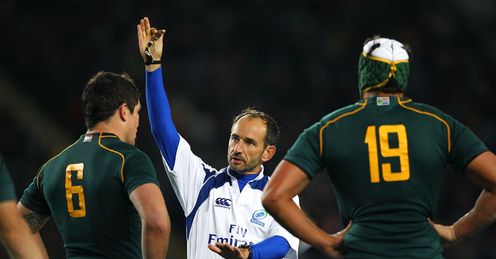 Australia were on the wrong end of some atrocious refereeing a few weeks ago in Wellington and the Springboks found their more realistic hopes of a first win in Auckland since 1937, undone by Romain Poite.
The Frenchman is one of my favourite referees, but like the majority of his colleagues who blow down south, somehow the whistle always goes New Zealand's way.
Yet another refereeing display where the key decisions again broke the way of the All Blacks.
Stuart
Quotes of the week
Maybe it is time for All Blacks fans and coaches to forget about 2007 and Wayne Barnes; time to accept that the wheel has turned full circle in their favour.
Bismarck Du Plessis was yellow carded for a beautifully timed tackle that took Dan Carter out of the game. It was neither a shoulder charge, like Ma'a Nonu's dangerous late hit on Jean de Villiers later in the game, nor was it high. It appears he was sin binned for having the temerity to flatten the great fly half.
In the second half Du Plessis was yellow carded for dangerous play with a forearm that was high - this would be given as yellow card in possibly one in five games. Two yellows make a red and the game was all but over with the Springboks trailing by just seven at the time.
The breaks going the way of New Zealand are becoming too familiar a pattern in New Zealand. They are the world's leading team and the best benefit from sympathetic officiating in all sports but this pattern is disturbing.
Justin Marshall, a distinguished All Black, was struggling for words when Jannie Du Plessis was penalised for what Marshall saw as a decision of pure pedantry but minutes earlier, when Ruan Pienaar rightly charged a free kick as Beauden Barritt advanced forward, the referee simply sent the South African backwards when the scrum half was within his rights to play the man and ball.
Every small decision seems to be interpreted New Zealand's way. Even when the All Blacks suffered two indisputable yellow cards in the last 10 minutes when the game was won the referee took their side. Nonu went for the aforementioned late charge, but Conrad Smith escaped a cynical hand in the ruck metres from the line.
It was pure yellow and de Villers quizzed the French referee as to whether Smith too should be sin binned. Poite disregarded him when the New Zealanders should have been down to 12 men for the misdemeanours. But that was a correct decision too far for the Frenchman.
It is difficult to beat New Zealand anywhere and anytime, let alone in New Zealand, but when the referees are subconsciously leaning their way it becomes all but impossible. South Africa, with some even breaks, fifteen men and the Johannesburg altitude will believe they can turn this result around. They will take the field believing they were hard done-by in Auckland which is going to make this match something else.Fire and fury in Auckland, but in Perth the affair was altogether lower key. The match was damp, tight but nothing memorable - with a far from packed Perth house a concern for the Australian union.
The sport lacks powerhouse national teams and, whilst many who have suffered at the hands of Australian sporting excellence in the past may gloat at their current travails, the sooner the Wallabies are competing with the best the better. Union is fragile in the land of league; victories in style are needed and fast if Australia is not to fall from their perch at the top of the game where they have been throughout the professional era.
Rugby needs more not less competitive teams if it is to continue to grow as a global sport. That is a lesson to be learned and reiterated in both hemispheres in these troubled times.
Click here to watch highlights of New Zealand v South Africa
Stuart answers your emails...
Got a question for Stuart? Email him at skysportsclub@bskyb.com or use the feedback form below...
Why does Richard Cockerill think that only Premiership Clubs should have been consulted over the new laws? There are hundreds, sorry thousands of clubs playing the game of rugby union each week. If any referendum or consultation should take place then surely this would involve each club taking part? It is typical of the man and his over-rated opinion of himself that he thinks that the game revolves around a very small proportion of rugby union clubs.Howard Cooper
STUART REPLIES: Howard, Coaches at the higher end of the game have a greater financial interest in laws, not for the sake of the game but the sake of their team's prospects. There is nothing wrong with consultations - and there have been many - but the lawmakers should make the laws and the coaches should stick to coaching their teams. I don't suppose many coaches would like administrators interfering with the way their team is coached. The laws are for the benefit of the game not specific teams and styles. Right now we are witnessing some serious overreach in the sport. This is perhaps symptomatic of the current mood.
Hi Stuart. Following the injury to Brad Barritt, who do you see as next in line for the England No.12 shirt? Could Kyle Eastmond jump ahead of Billy Twelvetrees in the queue? Dirk
STUART REPLIES:Dirk, it is possible. It depends upon the style England wish to adopt. The centre who is catching my eye is Henry Trinder. Fully fit (although he did limp off at Saracens) he is looking fabulous. I don't think England can win a World Cup with Brad Barritt and Owen Farrell in the same midfield so a change needs to be made somewhere and with the World Cup two years away, sooner rather than later.
After our big win over Leicester, do you think Bath can break into the top four this season? And can George Ford, with his ability to play on the gainline and drop deep to control a game, jump ahead of Burns and Farrell for England?Ally
STUART REPLIES: Ally, Early days. I was in the press box at the Rec and enjoyed the atmosphere and the game, but remember Leicester had nearly half of their best team missing and were closing in on Bath at the end. I don't think Bath will overtake Leicester this season but they are contenders for the top four (probably the fourth spot) and they look very promising for the longer term future.
Before I discuss Ford, a quick mention for Anthony Watson; the full back could be one of the most spectacular talents ever seen in Bath. The glimpses I saw in the flesh were enough to convince me that the 19-year-old is destined for great things. As for Ford; I'm very impressed. Calm, composed, a rugby brain; there is a lot to like. If he keeps improving from the foundations set Saturday, he has to be taken seriously.
He might not have Farrell's iron will and Burns' flair, but his ability to see the whole field is a priceless edge that he seems to possess. Very exciting times for Bath fans, although I don't see the championship returning to the Rec this season.
Comments (32)
Paul Schultz says...
A great deal of Northern Hemisphere negativity from what I've read. Ok sure, maybe the referee's do favour the All Blacks, tall poppy syndrome maybe, but let's remember that NZ and SA play a game of rugby so far superior and spectacular than anything the Northern Hemisphere can deliver. An example being that Dan Carter has only ever attempted 4 drop goals in his career. Poofter rugby is not what NZ does, the try line is that way so please excuse us for being enterprising and entertaining. Also can someone please tell me where these referee's congregate to conspire and facilitate this abhorrent injustice on all other nations. After all referee's are judged themselves on there performances which affect their future. I watched the second test NZvsSA and did notice a blatant attack to the head of Richie MaCaw by The Beast, good lord no one's ever done that before and gotten away with it have they. I'm not saying that the Franks send off was unjust but there was only 20% of the malice in it that The Beast displayed and he remained on the field. But hey NZ played well and won the game against a hot SA side.
Posted 11:36 16th October 2013
Rugby man says...
Good comment Stuart - As a Bok fan I am obviously not happy but it is true - they do get the rub of the green. Not their fault - they play the game on the edge and only play to win but there is no doubt that thay are favoured by the refs - including some SA refs.Problem is that to beat them you have make tackles like Bismarck made on Carter without the fear of being killed off by being extremely abbrasive within the rules... Sad day....
Posted 12:24 27th September 2013
Allen Smith says...
Sorry about the late post, just come in off the beach. On the whole I think the referee spoilt the game. It certainly seemed to be a fascinating contest. Great forward try by the SA forwards who had a slow start but made up for it. I have to say it wasn't the ABs who sent him off. They just exploited the situation which is what winning teams do and should do. I don't understand why he was yellow carded in the first half and nor as far as I can make out does anybody else. Rugby Union needs more supporters internationally The Rugby Championship and the Six Nations sells Rugby Union to the world. Rugby is a complicated enough game without the added complication of inconsistent decisions making it difficult to follow and understand what is happening. Enjoy the rest of the Championships. Come on the ABs!
Posted 23:08 25th September 2013
Rob Rob says...
Pity we have such bad refereeing. Could have been a great game.All blacks will win tournament again it seems. If ref''s persist in blatant bad decision making perhaps a strike or red card should be applied to them. Makes one wonder if there is any point watching when one knows that it has already been decided as to who will win.
Posted 12:27 21st September 2013
Colin York says...
The Rugby Championship is being ruined due to NZ not being fairly ref'd. NZ would not win as many games if not for the way the ref is allowing them to constantly infringe and not get penalties against them. Against Australia in both games they were constantly infringing. Australia weren't playing great but the ref not doing his job properly made it look worse.
Posted 01:25 21st September 2013
Barry Nichols says...
By all means forget 2007, the quarter final that was the greatest highway robbery in Test Match and World Cup history. Forget George Clancy and the TMO breaking allowed protocol to disallow the All Blacks a try in South Africa. Forget the 3 yellow cards game at Twickenham, two that were not even penalties (NZ still won) . Forget Andy Powell's vicious front on head high tackle on Ritchie McCaw right in front of the referee, that earned Wales a scrum for the knock on !! Forget Another game at Twickenham where the hookers Mealamu and Hartley both committed acts of foul play, only one was cited, that really beggar's belief. Forget earlier this year when Picamoles took Dagg out in the air in front of the ref, he put his hands up , yet no action taken ! Forget the World Cup final of 2011, the head butt AND eye gouge on McCaw that did not get a citing display it being clear and obvious (oh it was reported out of time and nothing could be done about it, but we learn from Horwill this year that that is not the case, the IRB could do something if they wanted to) Even this year, vrs Argentina their only try, the first pass was clearly forward, not even rating a mention. Forget many other examples, I am running out of space, so get to this game. No New Zealander is denying that the decision was wrong to sin bin du Plessis, not the commentators or the All Blacks camp, in fact they affirmed it. Later in the game Poite obviously new he made a mistake, because he did made "make up for it" refereeing. "Indisputable yellow cards" I dispute that ! Keiran Reed was clearly an even up call, a joke yellow, given without a warning (I don't believe in warnings, if it's a bin just bin, but it is how it is reffeed), in turn that probably lead to Conrad Smith not being sin-binned later (end part one)
Posted 20:24 19th September 2013
Johan Fleischmann says...
We were deprived of an epic game. For the 33 odd minutes both teams had 15 players on the park, the score was 10-10. The 40 odd minutes NZ had one player advantage, NZ won 18-0. The 7 odd minutes SA had one player advantage, SA won 5-0. The intense respective emotions of frustration and joy in the aftermath of the game bear testimony that both sets of supporters knew this game was to be something else...
Posted 16:53 18th September 2013
Johan Schreuder says...
Great article. Thank you for having the balls to say what EVERYONE ELSE is thinking and feeling. Regards from Cape Town J
Posted 12:31 18th September 2013
Jono Nicholls says...
Contrary to the New Zealand supporters belief. Bismark's second should not have been a yellow either... Let me remind the England supporters of how 'clean' the All Blacks play... Check the evidence that Mr. Messam also elbowed Danny Care in the throat with no card given...
Posted 10:55 18th September 2013
John Kemp says...
Forget the referee issue - look at the stats of the game. Boks superior in rucks, scrums, turnovers - despite 14 strong. NZ could only manage 29-15 with home ground advantage and 15 men. I'd say someone is worried about Ellispark - and it's not SA.
Posted 10:54 18th September 2013
Willie Smit says...
Good article. What we need to bring in is a review system on the field like in Cricket (and tennis) where a captain / player does have a chance to challenge a decision during the game. This should and hopefully would counter and remove any possible favoring by the referee, regardless of the team.
Posted 03:41 18th September 2013
David Jones says...
Fair enough call Stuart, your research into the last 100 rugby internationals the All Blacks has produced data to back up your theory of referee bias. In last weekend's test what team conceded the most penalties? Were there any 50/50 decisions go towards the BOks? So Stuart how did this bias towards the All Blacks begin? Do international refs get together and decide to show bias towards the ABs? Maybe they role play situations where they can show bias? What reward do the refs get from showing bias? If the All Blacks were not winning rugby at the moment impartial observers would not notice bias towards them?
Posted 23:31 17th September 2013
Andy Moelie says...
Thanks for the article - pathetic that the refs do not use the technology available to them, including input from the TMO. I think that a change to the rules is needed to stop key contests being turned into a farce as this one was - if a player is red carded, he is off for the rest of the game, (and banned for +3 weeks, subject to a review process), BUT a replacement must be allowed onto the field to bring the side back to full 15 men - at least a competitive game can continue and all fans can get their money's worth.
Posted 22:29 17th September 2013
Kevin Mitchell says...
Be very careful what you all wish for.After all Wayne Barnes is still a ref and all 6 nations teams adhear to all the rules all time don't they.The rugby world through rose tinted glasses. If you all want it cleaned up great lets start with slowing ball down , laying around the ruck , slow getting on side many of these things consistantly done by teams trying to slow down the tri nations teams. Lets then apply all the rules evenly no matter when , what or who.But just remember that come November you do not put out a set of angels yourselves so lets hope your hotheads in particular do not get on these pages and that some of you will regret jumping the gun.
Posted 19:53 17th September 2013
Stix Stix says...
@James Kemp. That is the whole point of the article. It was NOT a superb test match! And not a patch of what it should have been. ABs winning does not guarantee a good game in the impartial view, and I am sorry of you cant see that. As a third party viewer I stopped watching when Bismarck got sent off and the game inevitably deteriorated. Such a pity and totally avoidable disaster for rugby (and especially NZ Rugby).
Posted 19:36 17th September 2013
Marcin Kisi says...
Great article Stuart. Exactly what I have been saying the last few days but without the voice of having my own column. The fact that Roman Poite got that first yellow card was NOT the only error of judgment that he made in that game. There were numerous more which just cried out of inconsistency and questioned whether there was leniency when interpreting the law. The penalty against Janie Du Plessis for standing his ground at the ruck, the charge by Ruan Pienaar that was legal, unwilling to sin bin Conrad Smith. If you rewatch the game you will even notice that for the majority of the AB's lineout's the hooker was not in the middle but closer on the AB's lineout side (in one case he was directly in front of his own line out), yet the Boks were blown a few times for not throwing in straight? In this day and age with some much technology you would think refs would at least be briefed to keep a look out for some of the more common offences each team is likely to perpetrate based on recent performances - with 2 line judges to assist this isn't an added burden on the ref, it's actually the opposite.
Posted 14:20 17th September 2013
John Cowper says...
Great article Mr Barnes, and, if anything, it was understated. The thievery and bias in favour of the All Blacks was at its most blatant during the World Cup Final against France - Craig Joubert's raw favouritism was evident throughout, but most spectacularly when he ignored FOUR infringements in a single ruck by the Kiwi forwards - he even told Keino, playing the ball on the ground, to let go of the ball. The NZ posts were right there for a penalty kick with just one point in it and only a few minutes to go. Paddy O'Brien of New Zealand was in charge of the Referee Panel at that time but has now gone. On the plus side EVERYBODY has cottoned on to this despicable trend blighting the great game and I can't see the British Press rolling over should these shenanigans persist into World Cup 2015 at Twickenham.
Posted 13:49 17th September 2013
Richard Paterson says...
Some interesting comments and food for thought. The last England game vs the All Blacks back in December 2012 was the only time i could recall the All Blacks being blown in the correct manner. The referee was not intimidated by the All Blacks and we all know what happened .
Posted 13:10 17th September 2013
Clive Scott says...
Am I being one eyed or do the AB's, on a regular basis, seem to flop over the ball in the loose scrums? They always seem to be on the wrong side and interfering with the ball and the opposition. That is not to say that their counter rucking is brilliant
Posted 12:39 17th September 2013
Sean Bowman says...
What a fantastic article Stuart, everything you have highlighted needed to be said by a partial observer. No doubt the kiwis will take offense at this however you have highlighted very true points and the IRB should address this problem. The red carding of one of the most influential players on the park at the time was a huge injustice and an utter disgrace, the sending off ended the contest and most likely championship. NZ scored 19 points with a man up and essentially secured the bonus point off the back of it. The sending off also negated our key small advantages( Set Piece, Lineout, rolling maul, loose forward trio and scrum). Those kiwi fans who think it was a good match are kidding themselves, it was an unfair contest where NZ didn't have to face the Boks strenghs and only had to play against 14 men.
Posted 12:30 17th September 2013