Every Saturday afternoon, Chris Kamara heads to stadiums up and down the country to deliver his unique match reports for Soccer Saturday.
On Sundays you can see him back in the Sky Sports studios as he brings you all of the highlights as well as in-depth analysis of all the action on Goals on Sunday.
And then on Mondays you can find Kammy right here on skysports.com as he brings you his views on the weekend.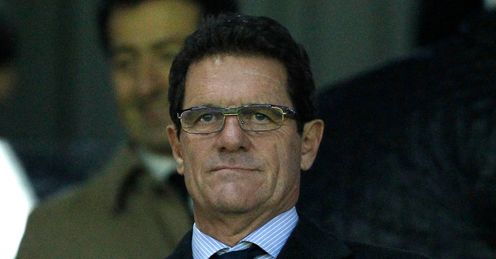 Join us every week as he runs through his highs and lows of the Premier League...
I suppose you couldn't name the whole stadium after Sir Alex Ferguson...
... but naming a stand after him is the least they could do after all he's done for that football club. Bob Paisley and Bill Shankly were great managers, but Ferguson is the best I've known in my lifetime. Sir Alex has constantly rebuilt teams and has fought off the likes of Blackburn, Newcastle and Chelsea when they came in with loads of money and now they're battling Manchester City. If they lose the title to their rivals this year - and there's no guarantee they will - it will only make him more determined next year. Whenever the new kids on the block come along he's always maintained a winning team.
We'll soon know for sure if Newcastle are serious contenders...
People say they are riding their luck, but anyone who saw them against Stoke City will have been given a wake-up call over how hard this team works. You can't buy team spirit and desire like that. The next three games will tell us a lot and if they can get five points against Man City, Man Utd and Chelsea then I'd say they are contenders for the top four alongside Arsenal who seem to have got themselves on track again. Tottenham are in good shape too. I was with Harry Redknapp last Sunday and I knew he was going in to have his pipes cleaned out, so I was pleased his team gave him a good result.
It's right to put John Terry in the England squad ...
At the end of the day, he's innocent until proven guilty. I know John Terry, he's a friend of mine and you have to treat people as you find them and I wouldn't go for a drink with someone if I thought they were racist. I don't know if he said what he's been accused of saying, but if he did then does that make him a racist or does it make him guilty of racist abuse? People might not think there's a difference, but of course there is. We'll find out when the inquiry is complete if he's innocent or guilty, but at this moment in time it's right to put him in the national squad.
I understand why Capello has left out Rio Ferdinand and Wayne Rooney...
I think Sir Alex probably made Fabio's mind up over Rio when he said he doesn't have the pace he once had. I don't think he's been 100 per cent fit for a while and once he is then he'll still have enough pace to play for England. I know what it's like to have a niggling injury and you do lose your sharpness but if you get games under your belt it's amazing how it comes back. The Spain players are lightning quick and you risk opening yourselves up to that if Terry and Ferdinand are in the same team. As for Rooney, we know what he can do and Capello needs to figure out how to play without him for the first three games of Euro 2012. If the ban is upheld then we need to look at other options.
Andy Carroll probably isn't in international form right now...
Kenny Dalglish has been patient with him and 99 times out of 100 he would have scored that great chance against Swansea and all would have been rosy in the garden. But because he missed it, people are saying he's not good enough and he wasn't worth the money. That's football, but from what we've seen so far he probably shouldn't have been called up for England. Fabio Capello likes a big striker though, so in some ways you could say it's a strange omission because he could have found reasons to pick him.
Gabriel Agbonlahor is the real deal...
I saw him against Norwich on Saturday and he was the one class player on the pitch. There were good performances from Anthony Pilkington and Daren Bent, but the reason Aston Villa won the game was Gabriel Agbonlahor. He's got pace, his technique is great, he's got two good feet and he can finish, so I don't see why he shouldn't play for England. I spoke to Alex McLeish before the game and even he said he was a better player than he realised he was.
Why would the FA want to comply with Fifa's poppy ban?
This situation is a disgrace. It's the first time England have been playing the day before Remembrance Sunday and it seems that the players may not be allowed to have poppies on their shirts because of an old rule about political, religious or commercial messages. Well, this is 2011 and while you don't want to flout the laws, this is a draconian rule and who is going to punish us if we do wear poppies? Maybe they could wear black armbands with poppies on or something like that?
Stephen Hunt showed why players have to go down sometimes...
The Wolves player was fouled in the box at the start of their game with Wigan, but because he didn't go down the penalty wasn't given. His courage and desire cost his team a certain penalty. People criticise the likes of Luis Suarez for going down too easily, but you've got to look at it both ways. Sometimes you only get the decision if you go down - and you can't say it's cheating because it was a foul. On Saturday, you'd have to say Suarez was pushed, although we don't know if it was sufficient to knock him off his feet.
That was a very important win for Mick McCarthy...
The Wolves fans have shown their dis-appreciation towards Mick this season and a home defeat to Wigan would have made things even harder, so it was a mega result for them. I'm sure chairman Steve Morgan isn't questioning him, but that win really eases the pressure. It's a desperate situation for Wigan, but not so for Roberto Martinez. Dave Whelan has come out and said publicly that he's the man for that job and he's behind his man all the way.
I'm glad Owen Coyle never lost belief at Bolton...
I think he was scratching his head over why his team was playing so poorly, but he has been rewarded eventually for his belief with a 5-0 win over Stoke. I feel sorry for Tony Pulis though because even though he has strengthened his squad, it is very tough to cope with playing in Europe in midweek and then playing in the league on the weekend. Stoke fans should appreciate that scenario and I hope they don't question him because he's done a brilliant job. This season will be a bit topsy-turvy because of the disruptions of the European campaign.
Comments (20)
John Mcphee (Blackpool fan) says...
England should turn out against Spain on saturday with the poppy embroidered on their shirts as planned. The FA must ignore FIFA, who the hell do they think they are? We all have a right to show respect for and remember our heroes in whatever manner we see fit, it's our right. All those lives given in a war against tyrany, what must they think of us now when we can't even stand up against 1 bitter little man with a grudge against England? This is disgusting! We must wear the poopy come saturday and if they try to take action against us afterwars then we'll see them in court!
Posted 13:13 9th November 2011
John Wall (Leicester City fan) says...
Am I missing something? when has a poppy been religious, political or even racist? I live in Spain and will be wearing my poppy while watching the match in a predominently Spanish bar
Posted 10:14 9th November 2011
Karan Kapoor (Manchester United fan) says...
The poppies issue is a total disgrace, i dont see what say FIFA should have on the matter, it is our national day not the rest of the worlds'. Therefore the matter shouldnt even be discussed, we've worn them in the past and we should continue wearing them. It is not a political statement about winning a war, it is purely giving thanks to those who served our country. Once the FA gives in about wearing poppies whats next? holding a 3 min silence? black arm bands?
Posted 06:55 9th November 2011
Mark Harvey (Plymouth Argyle fan) says...
Under no circumstances whatsoever should we allow FIFA ( probably the most corrupt corporate body ever known to man ) to prohibit our national team from wearing a Poppy on Saturday. There are issues more important than football and this is one. Looking to the future - please lobby the FA to open talks with Germany to establish a new governing body for the honest and law abiding football associations and exit this shambolic organistaion as quickly as possible. PLEASE GOD LET US SHOW SOME BACKBONE !
Posted 18:27 8th November 2011
Ben Kelly (Tottenham Hotspur fan) says...
I am in full agreement with Fifa,an d their laws against political 'showboating' during football games etc. Why not wear Nazi or KluKlux Klan (similar icons of oppresion, to millions around the globe). Perhaps Britain should respect the feelings of other nations and understand that, for many, a Poppy can cause as much offence as does the Facist emblems of the 1940's. Grow up and smell the roses, in 2011 Europe!
Posted 15:43 8th November 2011
Bob Richardson (Liverpool fan) says...
Why are we listening to FIFA, this is a friendly, let people remember the dead and missing how they want, surely FIFA are infringing somebodies human rights and we could threaten them with that, lol. Ignore and wear the POPPY with pride
Posted 15:18 8th November 2011
Michael Sutcliffe (Tottenham Hotspur fan) says...
Wearing a poppy is neither political, religious, or of any commercial interest to England, or any other footballing nation for that matter, so that argument is pure "Poppycock" The F.A should stand up to FIFA, & stand up for ALL of Europes fallen heroes, I'm pretty sure that no true football fan would be offended by the wearing of a poppy, Show some spine F.A & stick 2 fingers up to FIFA, PLEASE!!!!!!!!
Posted 14:18 8th November 2011
Paul Allen (Arsenal fan) says...
What a bunch of numpties FIFA are!! FIFA have told the FA no to poppies on shirts etc so will FIFA also have told the FA that they cannot hold a minutes silence at the start of the match? If anything this is as much a political statement as wearing a poppy. I think the players should make the choice to wear poppies and t-shirts with giant poppies on the front. Stick one in the eye of the little Hitlers at FIFA the same way we did during the war! They don't like it up 'em!!!
Posted 14:15 8th November 2011
Brendan Cosgrave (Aston Villa fan) says...
First of all I'd like to second what Derek Brttian had to say! FIFA DISGUST ME! On your thoughts about Agbonlahor his exactly what you said he is but Villa play him out of position.If the insist on playing him as a winger they should play him on the right, I know he likes to cut in on the left but after half time that ship is sold!
Posted 11:35 8th November 2011
David Williams (Aston Villa fan) says...
sometimes i just think FIFA doesnt like us. its disgraceful and i doubt they would have prevented another country respecting people that lost their lives to protect their country. can someone tell me the point of FIFA? i cant really understand what they actually do, apart from annoy everyone and do the exact opposite of what everyone in football actually wants. i.e. qatar, technology, corruption and now this.
Posted 11:13 8th November 2011
Dave Wright (Liverpool fan) says...
I for one will turn this match off if i do not see the England team wearing poppies. Enough said.
Posted 08:20 8th November 2011
Gareth Payne (Tottenham Hotspur fan) says...
Football was founded in England. Why can't the pride of the nation be warn on the arms or chest in the form of poppies? This is absolutely barmy. Once again europe rules over a british thing
Posted 05:39 8th November 2011
Danny Burke (Manchester United fan) says...
The FA should back down against FIFA right now, if they do maybe they will ease up on Rooney! But in all seriousness people have to understand the political nature of celebrating and commemorating those who lost their lives in a war with another nation. If we played Germany on their day of rememberance and they came in doing the same thing I know every Englishman would not be happy, I wouldnt for starters. All the crowd at the game need to wear them, perform respectfully in the moments silence and get behind our country like the people did in war time. Not sit here and whine because of the bigger boys.
Posted 19:25 7th November 2011
Jim Hartnell (Newcastle United fan) says...
This Fifa rule with regard to poppies surely does not apply as it is neither polical, religious or commercial.
Posted 16:50 7th November 2011
Mike Allen (Manchester United fan) says...
I totally agree with the comments regarding the wearing of poppies. It is not a political statement, it is a statement of remembrance, just as a minutes silence or a minutes applause is. FIFA need to look very carefully at themselves, the corruption within the corridors of power is there for all to see and for FIFA to even contemplate let alone instigate such a draconian rule is the height of hypocrisy. The FA needs to grow a backbone and just let the players wear the poppy, it is not just about the brave men and women who lost their lives in WWI and WWII but those who have served so bravely in the current conflicts around the world, who are fighting for everybody¿s freedom. As an ex-serviceman I know what it is like to know that you will be remembered should anything happen. Shame on FIFA and if the FA does not show some spirit as our servicemen and women have done double shame on the FA!!!!
Posted 16:47 7th November 2011
Alan Lucas (Chelsea fan) says...
How is repecting the dead a political statement - it is not judging the wars they fought in but respecting the sacrifice of all sides. More fool the FA for even asking. The FA should show what the fallenhad - more courage. Who would look sillyer - FA for wearing the poppy or FIFA for taking post match fine!
Posted 13:18 7th November 2011
John Smith (Queens Park Rangers fan) says...
Finally some intelligent comments regarding John Terry. Who would have thought Kammy to be the voice of reason within the entire English media?
Posted 13:15 7th November 2011
David Smith (Tottenham Hotspur fan) says...
This is what i cannot understand Cammy blaming Stokes involvement in Europe has the excuse for a tired performance. If this is true then why did Fulham outrun Spurs in the second half when they should be tired not full of tempo .They had 57 percent of the play very strange unless you know what going on in the changing rooms at Half time.when teams are coming out full of boosted energy levels. Wigan Blackburn Newcastle OPR Fulham all where behindon the score board all came back with early goals and all of them left Spurs hanging on right till the whistle this is strange in any sport .
Posted 12:48 7th November 2011
Andy Penman (Wolverhampton Wanderers fan) says...
Re Stephen Hunt. I have read a number of newspaper reports 'praising' Hunt for being honest. But it cost Wolves a clear cut penalty and possibly playing for 80-odd minutes against 10 men. Given the ref was no more than 10 yards away and had a clear view (plus the fact Hunt appealed for the foul whilst still on his feet) then not only was Hunt in the wrong but the ref in this instance is effectively telling players that they have to go down in these situations. As I said, I've seen plenty of praise for Hunt but not once have I seen any condemnation of the ref for not giving it despite his clear view.
Posted 11:51 7th November 2011
Derek Brittain (Aston Villa fan) says...
if the FA bow down to this issue because FIFA have said so then sack every one at the FA we have a right to show respect to all that lost their lives in all war's not just the first and second world war's. it's our god given right and no one and i mean no one should tell us what to do on this point. rest in peace and god bless you all.
Posted 11:41 7th November 2011