The agony that Arsene Wenger was going through after Arsenal's Capital One Cup defeat to Bradford was clear to see in his tortured post-match interview - and I have to admit, I felt for him.
Even though he hasn't guided Arsenal to a trophy since 2005, it's hard to watch him going through the ringer because since he first arrived at Highbury over 12 years ago he has brought so much to the English game.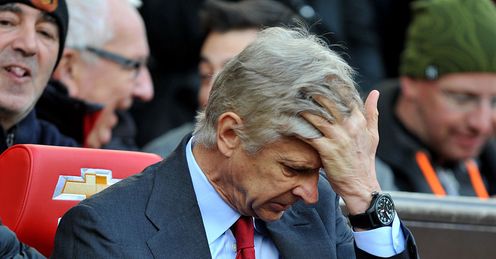 Back then he was a real innovator and went on to create a team unlike any other; he brought a freshness and a joy to the game, playing in a style that a lot of other teams are now imitating.
I've never believed that the day would come when I thought Wenger might walk away from the club but looking at his body language the other night I honestly think that could happen.
I've never believed that the day would come when I thought Wenger might walk away from the club but looking at his body language the other night I honestly think that could happen.
Jeff Stelling
Quotes of the week
He still has a year-and-a-half left on his contract but it's abundantly clear that he isn't enjoying his football at the moment and as things stand I think there is a real danger that he might not see out those 18 months.
So Arsenal fans - particularly those who are protesting against Wenger now - be careful of what you wish for. Those fans should be asking themselves 'how many managers are there out there who could replace him and do a better job?'
If pushed I can think of only one and that's Pep Guardiola, who seemingly wants to manage not only in England but at a London-based team. Everybody has jumped to the conclusion that will be Chelsea but I'm not so sure.
But apart from Guardiola, who do you want Arsenal fans? Do you really want Jose Mourinho with his 'win at all costs' approach? Maybe you do - but do you really want a manager who pokes opposition coaches in the eye when things are going badly? Let me know if you like by using the feedback form at the bottom of this page.
Blame
In the past people have criticised Wenger for sticking by his principle of playing kids in the League Cup's various guises, so it must have been particularly galling for him to put out a strong team against Bradford, to lose and still end up taking plenty of flak.
But when you consider the players who were out there on the pitch, I don't think you can level the finger of blame at Wenger this time - not when he selected the likes of Jack Wilshere, Santi Cazorla, Gervinho, Lukas Podolski, Wojciech Szczesny, Per Mertesacker and Thomas Vermaelen.
Wenger has been criticised in some quarters for failing to motivate his players but when it comes to the quarter-final of a cup competition - particularly a match that could see them on the wrong end of a potential giant killing that would be a blot on their CV forever more - the players should be able to motivate themselves.
I'm not going to be a total apologist for Wenger, though, because one of the things that puzzled me about Tuesday's match - and I'm sure it puzzled Arsenal fans as well - was how Wenger set up the team.
Podolski is effectively a central striker yet he was playing out wide; Gervinho is a wide player but was playing as a central striker; Aaron Ramsey is a central midfielder, yet took up a wide role.
Maybe Wenger, after so successfully transforming Thierry Henry from winger to striker, thinks he can do it again? But it rather smacks of square pegs in round holes, I'm afraid, and it causes a fair amount of dissatisfaction.
Trouble
The question, with the January transfer window approaching, is can things really continue like this at Arsenal? Disgruntled fans will say 'no' but there's still a very good chance that Arsenal will finish in the top four at the end of the season and, if that's the case, I know of 88 other league clubs who would love to be in that position.
At present Arsenal are a soundly-run club. Some supporters will say they err too much on the side of caution but Arsenal did spend significantly in the summer and it amazes me when I hear people say that Arsenal need to go out and buy players for the present, not the future.
Have those same people not looked at the ages of Olivier Giroud, of Podolksi and Mertesacker? Wenger did go out and buy established players in the transfer window.
The trouble is that this time around the younger players haven't really flourished for one reason or another; I'm thinking of Wilshere, in particular, and before that, Kieran Gibbs. The Emmanuel Frimpongs of this world who were supposed to be 'the next generation' are struggling to deliver.
Frimpong, currently on loan at Charlton, is just one of a phenomenal number of players at Arsenal who haven't quite made the grade there and perhaps never will.
Structure
I've read reports this week that Arsenal chief executive Ivan Gazidis has promised to make 'significant funds' available to Wenger in January so that he can strengthen the squad but the club's recent lack of success means that attracting high-calibre players will be difficult.
Moreover, Arsenal's commitment to a rigid pay structure is a major stumbling block - one that cost them the services of Robin van Persie and probably Samir Nasri too. Who knows - it may cost them Theo Walcott in the not too distant future as well.
So how are Arsenal going to attract the superstar names unless they break that structure?
Every manager out there will tell you that January is the worst time to buy, and in Arsenal's case it's hard to see how they can achieve immediate returns because there aren't many players eligible to play in the last 16 of the Champions League who will sign for a wage that is less than they believe they are worth.
For my money, Arsenal simply have to give the players who are there right now more time to prove themselves. Giroud has barely had a decent run in the team. Likewise, Podolski has been in and out.
Yes, they've just got Wilshere back but only because he's playing at 90 per cent and the return of Abou Diaby, who was fantastic when he was fit earlier in the season, still seems some way off.
Personally, I think Arsenal should be reluctant to go out there and spend for the sake of spending.
The club is being carefully run and they shouldn't ruin that with a kneejerk, panic spending spree. Instead they should wait until the summer and if things are no better by then, Wenger - if he is ready for the challenge - will have a far greater number of players to choose from.
Jeff's Gem of the Week
Sorry Arsenal fans, but you know what is coming - yes, it's Bradford. It was quite something for a team of lower league pros who have been around the block a couple times to produce a performance like that. They were outstanding throughout the whole 120 minutes even if for much of the second half it was backs-to-the-wall stuff. They showed terrific resilience and when Arsenal equalised I don't think there was a football fan in the land - not even in Bradford - who did not expect them to capitulate in extra time, but they didn't! The bottle they showed was something else. Alan Connell's penalty, which put them 3-1 up in the penalty shoot-out, was absolutely fantastic. Bradford have always had fantastic support and rightly so because they were one of the very first clubs to introduce an innovative scheme where you could buy a season ticket for a ridiculously low price. They did it just to fill the ground and they did so successfully that a lot of clubs have followed their example. There are obviously good people running the club. I'm so pleased for the manager Phil Parkinson because he hasn't had the easiest of times since his success at Colchester. Meanwhile Bradford have spent years in the doldrums and it's so good to see them on their way back. They've got a good ground, a fantastic fan-base and a good manager. Hopefully, from their point of view, they can go further in the cup and secure promotion as well.
Comments (54)
Richard Barker (Arsenal fan) says...
I still think Wenger is the best man for the job however if he does walk Pep would be the only replacement I would consider good enough. There are other good managers out there that wouldn't be so bad, Moyes could keep Arsenal in the top 4 consistently. At the moment I think It is a tactical problem, the 4-3-3 formation just isn't working anymore since we lost song,fab,nasri and RVP. Arsenals back 4 is the best I have seen in the last few seasons Gibbs is outstanding and Sanga gives so much to the team its unbelievable.Thomas V's tackling is up there with the best in the world. I was worried about Per last season because he was getting caught so far up the pitch however this season he has been the difference of arsenal conceding from every set piece. I think Wenger should consider playing Giroud up front with Theo/podolski of him and wilshere,arteta,carzola and rosicky in the middle. This gives the opportunity to rotate players easily in the middle and have real strikers on the bench like Podolski to come on and be an out and out striker instead of him having to cover the left constantly. If Theo doesn't deliver up front you could easly just drop him into the midfield without making any subs and put him on the right Carzola on the left and push Wilshere further up the pitch. With those 4 in the middle and Gibbs and Sanga delivering the width, I think you would see an Arsenal side that could rip a defense out of position in 5 passes.
Posted 15:40 14th December 2012
Williams Gallas (Tottenham Hotspur fan) says...
Joe Dean (posted at 21.08 on 13 Dec) - are you serious? The team of invincibles won nothing? You may want to check again. A goal difference of +47, 73 goals scored, 26 wins and 11 more points (total of 90) than Chelsea who had spent £100m that season on player transfers alone. Your spending has now surpassed £1 billion. Go figure why Wenger can't keep his best players or build a similar team to the one that was the best attacking side England has ever seen and became invincible.
Posted 14:59 14th December 2012
Sebastien Brady says...
Jeff, I must say I'm a huge fan, Nick just hasn't lived up to expectations on countdown. i must say, I disagree with your opinion that Pep is the only man who can successfully replace Wenger. Since Guardiola left Barcelona, they've been running away with la liga, a title which he failed to win last year. I think I could win the CL in charge of Barca. I'd like Mourinho, winning is the main objective, winning in style is just a welcome bonus. If not Mourinho, It would be nice to see someone from the old guard take the reigns. Steve Bould perhaps? Or maybe even The Iceman Bergkamp? If Bergkamp took over and did well that would be so so so so cool!
Posted 14:35 14th December 2012
Terry Thomas (Arsenal fan) says...
the situation at Arsenal has deteriorated since we had an American owner.We have become a selling club - Van Persie wanted to go whatever but to sell him to your biggest rival was ludicrous sell him abroad and take a lesser sum because when we don't qualify for the Champions League next season the financial damage will be much greater - the same reasoning applies to Nasri and to Walcott - Alex Song who was immense last season as the holding midfielder wsa sold to balance the books . Wengers hands are tied by the financial constrictions he has to operate under.
Posted 14:17 14th December 2012
Chinedu Ngaranwere (Arsenal fan) says...
Arsene Wenger Has reached the peak of his career and I the best would have been for him to leave. His coaching pattern is currently out of vogue. A situation where you continue to encourage your team to dribble into the net is absolutely rubbish, that is why when oppossing teams shoot from outside the 18yard box they always score against Arsenal because the goolkeepers are not used to long range shots. Even if he buys the best players in the world their performance will be limited by his deficient pattern of play. Second, always likes experimenting with players and therefore brings in a lots of inconsistencies in the team. The physical fitness of these players is another aspect that makes it difficult for the players to deliver. Arsenal Players are too soft and prone to injuries.
Posted 22:58 13th December 2012
Dan Evans (Arsenal fan) says...
i dont think wenger should leave just change his tatics. Its true know one can do what he does but its proved for years now his tatics cant win trophys. Change a few things around and im sure things will change
Posted 22:57 13th December 2012
Colin Nunn (Manchester City fan) says...
Arsenal fans need to consider themselves lucky to have a management team the caliber of Arsene Wenger's --I would like to see the same management team at my club (Manchester City) -- Arsenal play a blend of 'one touch foorball' that can only be gazed at and admired -- MC may well have won the Premieship last season and could well do the same this year; however, their current blend of football is nowhere near that beautiful game played by Arsenal.
Posted 22:53 13th December 2012
Shane Kavanagh (Arsenal fan) says...
the fact you even rated the likes of Gervinho and Ramsey astonishes me! severe lack of quality. Wenger did a great job in transforming Henry from a winger to a CF, but why is he doing so with Gervinho(who in my opinion wouldn't make the Bradford reserves-no disrespect to Bradford) when he plays a CF, Podolski, out the left?! Wenger has done so much for the club and I respect that as much a the next fan, but the way I see it is: football moved on and left Wenger behind; old dogs dont learn new tricks!
Posted 22:53 13th December 2012
Paul Nicholson (Liverpool fan) says...
Not really right for me to comment being a Liverpool Fan but for me Mr Wenger is a genius. Maybe the fire has dwindled in him a little bit but to get CL qualification via top 4 year after year and not spending mega millions is amazing. Fully appreciate Arsenal fans want ztrophies but who doesnt? If Chelsea, City, Man U had spent the same who would have won more?
Posted 22:39 13th December 2012
Ross Matthewman (Aston Villa fan) says...
I actually felt compelled to post a comment on this piece. I normally very much agree with you Jeff, but on this case I'm afraid I believe you are wrong. This article is clearly an apologist's view of Wenger. I am not an Arsenal fan, so am free of any rose-tinted goggles or sentimentality. The "established" players you mention are all blazingly obviously sub-standard. And there is no escaping the fact that these players were all brought in by Wenger. Either Arsenal's scouting network has keeled over and died, or Wenger has lost the ability to judge future transfers with any form of logic. His tactics are misguided, to say the least, his purchases are appalling, and his denial of where Arsenal are is quite frankly hilarious. I would like to see Arsenal where they once were. But now they are a pale imitation of their former selves and are in a state of exponential decline.
Posted 22:36 13th December 2012
Allen G (Arsenal fan) says...
As an Arsenal fan, the way forward for me is Arsene becomes Director of Football and Guardiola manages.
Posted 22:27 13th December 2012
Abi Moe (Arsenal fan) says...
You are absolutely correct here people should be careful for what tI doubt no arsenal fans wish for Wenger to leave but why cant the man just buy players who are proven, he didnt know berbatov was for sale? i hope wenger reads this. Monsieur Wenger, Huntelaar is for sale, Affelay is for sale, D, Ba is for sale Lewis Holtby is for sale, llorente is for sale. Come on this is Arsenal Football Club, not Ajax...we are not a feeder club so wake up!
Posted 22:06 13th December 2012
Adrian Page (Charlton Athletic fan) says...
Firstly, this Arsenal team is completely different to his successful one, which was built around pace and power. Secondly, how can anyone know how good Guardiola actually is as a manager? Thirdly, Arsenal have a wage bill higher than the income of 14 of the 20 premier league clubs. It's not that big a challenge for Arsenal to be in the top 4
Posted 22:06 13th December 2012
Craig Taylor (Arsenal fan) says...
Wenger will never walk,he will see out his contract and if he feels he can no longer help Arsenal then he will not renew his contract,i hope he makes use of the funds and rebuilds the team,having to buy weak players because the board did not give him the money,it will be sad to see his career end that way.I think he will come back as strong as ever and will never walk.
Posted 22:03 13th December 2012
Stefan Bryson (Arsenal fan) says...
As the son of two coaches, I see Arsene as a great manager. I think the only issue he has is that he "sees" the potential in his players and bases his workouts, team line ups and system on that potential he is trying to develop. When you keep established Veterans, its much easier because their maturity and positive influence (hence Henry's necessary 3rd stint coming up) help develop good potential into great players. With players fleeing like there is a fire for whatever reason, players like Chamakh, Arshavin, Ghervinho and others cannot develop from average into excellent, which they all could if they were pushed. I think that the side has bled their best players because the board won't pay them and now players are asking for crazy things: i.e. I will only play this position. You must be willing to PAY PLAYERS that produce and sell players that cannot handle the task at hand. Unfortunately there is blame for all, including the fans too. When the Board won't pay the big players and a Manager has too much faith in the second rate bargain buys, then young, home grown talent cannot develop because they have no example except, "I'm on my National Team now, I need to transfer as soon as I can out of Arsenal." its a shame that can be overcome, I think Thierry and to some extent Sol Campbell understand better than others do. Players can still thrive under Arsene, but, they MUST work and they MUST stay. When you shoot, aim. When you pass, be precise. When you play, enjoy it like a child. That is how you stay focused and win games.
Posted 21:53 13th December 2012
Drew Dewsall (Arsenal fan) says...
Great article, I would never want Mourinho near my club. Yes I know he is a great manager but has there ever been a more contemptible manager in football? As you say Wenger was always derided for trying to build a team instead of buying one yet against Bradford it was Wilshire, the Ox and Gibbs who looked like the ones who really cared what was happening to the club. We need more players who know what it means to be an Arsenal player. What it really means!!
Posted 21:37 13th December 2012
Anji Molenko (Rayo Vallecano fan) says...
Jeff, do you think Wenger's stubbornness and reluctance to change pay structure/transfer policy has harmed Arsenal tremendously and is a primary cause for the loss of fantastic footballers such as: Cesc Fabregas, Samir Nasri, Robin Van Persie, Alex Song, Ashley Cole, who are all still all world class players who would get on any team sheet? That small list of players there sounds like a dream team. Surely his stubbornness is harming Arsenal Football Club.
Posted 21:29 13th December 2012
Arif Tezgel (Arsenal fan) says...
Breaks my heart to see Wenger like this!! i dont entirely blame him though... this team is good enough for fourth. my problem is how on earth did wenger think this team could win the league i will never know and thats what concerns me with him.
Posted 21:19 13th December 2012
Asa Easterbrook (Arsenal fan) says...
I still believe Wenger is above reproach, with the resources he uses Arsenal's achievements outsrip most of those around us each season. Yes he apparently has the money to spend and chooses not to, but I'd rather that than a succession of big money gambles that don't pay off. If we're going to go out and spend £100m we might still be left as 3rd or even 4th biggest spenders in the league. I don't want anyone other than Wenger and it will be a dark day in our history when he does decide to leave. Get it in context, we've gone out of a league cup most larger teams fans deride anyway, and we're sub par in the league so far this season, but 4th is still well within our grasp, and 3rd isn't a bad shout yet either.
Posted 21:18 13th December 2012
Allan Yinka (Arsenal fan) says...
The problem with Arsenal fans is dat they are being fed by the negative stories from the press and they just buy it!giant Killing does happen in in football! Havant and waterlooville beat Liverpool at home not too long ago and crystal palace beat man U last season! I still trust Wenger 100% and think his methods are Good, he us just unlucky and not apprieciated
Posted 21:14 13th December 2012