Kevin Pietersen produced an outstanding innings against South Africa at Headingley. It was a privilege to be there to witness it.
Then you hear the interviews afterwards and it quickly becomes apparent all is not well.
It's extraordinary that he would put his Test match career in doubt with coded messages that would both alarm the dressing room and anger the management.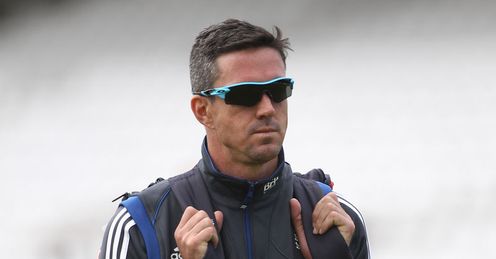 The selectors now have decisions to make. He's saying the next Test could be his last, but could the management now pre-empt that and tell him he's already played his final game?
Forget the hundred. Forget the individual. You've got to treat him as 'Player X' and if someone starts telling you when they want to play and when they don't want to play then it doesn't work.
Forget the hundred. Forget the individual. You've got to treat him as 'Player X' and if someone starts telling you when they want to play and when they don't want to play then it doesn't work.
Bumble
Quotes of the week
LIVE ON SKY SPORTS
England v South AfricaThird Test, day one
10.30am, Thu, Aug 16
Sky Sports 1 HD
Watch on the move with
Sky Go
Remember, Pietersen has a contract with the ECB, as many other players do. If all 14 contracted players started insisting on which games they wanted to play in it would be totally unworkable.
Let's draw a comparison with Manchester United. What would happen if Wayne Rooney told Sir Alex Ferguson he wanted to go and play for Inter Milan for six weeks? It just wouldn't happen.
The new contract is there for Pietersen and the lad needs to make a simple decision to accept it or not. Even if he declines it's not the end of the world. James Taylor doesn't have an England contract, but he's just played for the team.
It wouldn't be helpful if he didn't accept a contract, but he could still play as long as he adhered to the rules and regulations of the England team with regards to practice and preparation.
However, they need to know if he's going to sign that contract because they need to plan for the future. If they listen to what he's got to say and find they've got a player who isn't going to turn up then it might be time to bring somebody else in - and they may decide to do so straight away.
It can be done with great courtesy, but they may feel it's time to thank him for all his wonderful efforts and wish him well for the future. That's not a hard-line way of looking at things, it's a sensible way.
I would like to see Pietersen continue to play Test cricket, but I fully understand the management's stance.
Stumbling block
This is totally in Pietersen's hands now and the stumbling block remains the IPL. It is a wonderful competition, it pays players handsomely and it appears that he wants to maximise his earning power.
However, it encroaches on England's business. If the IPL was a shorter competition it would really ease the situation, but at the moment Andy Flower has nowhere to go except to try to protect the integrity of the England Test team.
I've heard it argued that "other teams" let their players do it. Well, for "other teams" read New Zealand and the West Indies - and look at the state of their cricket.
I've also heard people say that Sachin Tendulkar does it, but he's nearly 39 years old now. It's totally different.
The other question I would like answered is who is doing these negotiations? Who is actually in these meetings? I asked on Twitter and nobody could come up with the answer.
You would expect the player to be there, but not necessarily. When you get to this level you would also expect a financial person and the agent to be in attendance. I would like to know who these people are because that hasn't come out.
The only name that crops up is Adam Wheatley, the co-director of Enterprise Sports Management along with Pietersen himself. I'd love to see a journalist track him down and ask him a few questions.
I'll finish by saying I'm really sad it's come to this because Pietersen is a wonderful player and every time I've met him he's been very polite. People accuse him of all sorts, but I've always found him to be very amiable.
As it stands, he is going to miss out on a fantastic part of his life and that's really sad.
Talk of the Terrace
I'm pleased to report there was a full house for the first four days in Leeds and things got outrageous on the Western Terrace at times.
I understand it's not everybody's cup of tea. Some people might buy a ticket and look forward to studiously watching the game, so if you end up on the Western Terrace you've got yourself in the wrong place!
It's all about beer snakes and fancy dress over there and it's great fun. The most comical thing I've seen in ages was when Fred Flintstone, a banana and a security guard were spotted carrying out one of the Teletubbies...
The match itself was basically a stalemate and maybe England picked the wrong team. They obviously felt four pace men would do the job in those conditions, so left out Graeme Swann, but I think they mis-read the pitch. I've been to Headingley a few times this year and it spins; we saw that when Pietersen, who's no great shakes as a bowler, came on.
It wasn't the best of games, but we move on to the final match at Lord's where there has been results in recent times. I expect England to revert to a four-man attack with Swann coming back in.
And don't rule out Graham Onions. They keep putting him in the squad and he has every chance of starting. He's very accurate and he'll bring you wicket-to-wicket bowling, probing away at the South African batsmen.
So the selectors have decisions to make for Lord's, in more ways than one...
Comments (15)
Richard Edwards says...
The idea that KP can simply be dropped and 'easily replaced' because 'the team goes on' is a nonsense. Look at the difficulties England has had in finding adequate no 5s and 6s. Just how long would it take for a rookie newbie to get good enough to provide even something approaching the average that KP provides - let's say, early 40s compared to KP's 50-or-thereabouts - let alone his matchwinning (and series-swinging) prowess? Batsmen who can do it at Test level in the top 4 of the order are rare finds, let alone someone with the matchwinning X factor like KP. Bell, for a very very long time, nearly didn't make it in terms of being accepted as good enough (and look at just how good he is for periods, when on song!). Bopara is a flunkie for England (average in the low 30s or late 20s or whatever it is, is just not good enough). For every couple of others England have tried, they haven't made it. England basically only has 6 people who can bat properly at international level, including KP - Strauss, Cook, Trott, KP, our wicketkeeper Prior (who is much further down the order but bats quite well) and Bell although Bell is not always reliable and quite often in danger of being dropped unless he turns it round. The point here is - and it's a shocking truth - England just don't have any others than those 5 or 6. Take KP out of the equation and we are removing a massive cog - not only one of the only batsmen in England who makes our list of 5 or 6 adequate batsmen, but the one who can change games or series and quite frequently does so. How long till we found a replacement who is even approaching his calibre? it's not going to be within a few years - where's the miracle find going to come from? It might take 5 years till someone turned up who was good enough to be something 'approaching' KP, it might well take 10 years.
Posted 20:22 9th August 2012
Dave Gill says...
Just tell KP to start the car.
Posted 12:14 9th August 2012
Ameya Kale says...
I have been following cricket since i was a kid and have never skipped a game played in Mumbai. I really agree with bumble on the KP row. Its simple. You represent England. If there is an activity planned by the ECB to improve the test squad in anyway and if it overlaps with the IPL, it is KP's choice whether to choose to stick with the test squad or go for IPL. he should then be dropped from the squad and ECB should just move on. I am an Arsenal fan and have seen a lot of players leave, but the same logic applies to the England Squad; No player is ever bigger than the Team...
Posted 12:13 9th August 2012
Dave Gill says...
Good as KP is, on occasions, he is not bigger than the team. If he continues to think that he is, then there is only one answer, very familiar to Bumble,..........start the car!!
Posted 10:50 9th August 2012
Chris Oldfield says...
Great article Bumble. I have 2 comments, first one is that I would sack KP now great bat but cannot upset the dressing room. And secondly I was on the Western Terrace on sunday but it was only half full!. Don't know if you saw Bananaman or Captain America but I was with them!!
Posted 09:11 9th August 2012
Angsta Dave says...
England is his national team and the DD are a club side so the analogy is all wrong. It's like Rooney wanting to take a break from England to play for Man Utd which he has every right to do.
Posted 08:52 9th August 2012
James Willis says...
It would be nice to think it was like this - a simple matter of KP needing to accept or reject the ECB's set-in-stone terms and thus decide whether he is 'with them' or 'against them' (and therefore walking away). But the huge number of opinions on places like the Guardian blog should indicate there are a lot of people out there who are sympathetic to KP's position, and see it a different way. Let us acknowledge first of all that the management are the management - and in normal circumstances they have the authority that everybody thinks they should kow-tow to it. But clearly it is not quite like that in this case - or everybody would be anti KP's position. There is a feeling out here you see, Bumble, that the ECB management's position is a bit too inflexible, a bit too knee-jerk 'we can't accept any change to what we're offering because that's what we're offering in nature'. I think KP is someone who reacts very quickly and very contemperaneously - perhaps too quickly for comfort on the part of an employer, but, in fact, he is picking up on the key things of the moment. When he got sacked as England captain, it was for recommending that to move on, England should dispense with the services of Peter Moores. In the event, he was right: once Moores had gone, that is when England progressed as a team. But he got sacked because it was too much for the ECB management to handle so soon into his captaincy - KP was sharp, but uncomfortably so. Now, we have a similar situation: KP is raising a lot of pertinent issues, like the amount of cricket that England players play, and if players over the age of 32 should not be allowed flexibility over their appearances (a key point which conveniently tends to get left out of the analyses by critics of KP's position). These points resonate with other international cricketers - eg Australians have said they can't understand the ECB's inflexibility. But again it is uncomfortable for ECB.
Posted 01:11 9th August 2012
John Norman says...
Totally agree Bumble. It would be very sad if Kevin did not play test cricket again, but the England management cannot have different rules for Kevin. It seems to be a stalemate. England say they will decide when players play or rest; Kevin says he wants to decide for himself. I can't see it working if he is not contracted and plays occasionally by invitation. What I don't know is if this is affecting the dressing room. Is England's slight drop in standard connected to this on-going story?
Posted 23:41 8th August 2012
Kevin Urwin says...
There's no I in team as they say. There are two in his name. Rather than pull out of T20 at the beginning of the year he waits until the World Cup squad is established and into a programme and pulls out. Then instead of waiting until the end of the Test Series he raises dooubts before the last test. I have no problem in him earning the big bucks in the IPL but he needs to remember who put him in the limelight. International cricket is about the team and the country and he has let both down. Egotistical, selfish, pathetic. the selectors should have the guts to drop him now and get on with winning the test. When he fails he will put it all down to the pressure put on him anyway. Time to go
Posted 22:03 8th August 2012
Peter Broughton says...
Sparkling innings albeit very spasmodic and a complete absence of a team ethic. Enough is enough. The epitome of a "Plastic Brit.". Drop him now.
Posted 18:10 8th August 2012
Allen Swaine says...
I couldn't have put it better than Bumble. The one point that does irk me is that Pieterson should have kept his powder dry until after the 3rd test. There was no need for that press conference after the game at Headingley. It was highly unprofessional and divisive to his team mates and management. It's all about the Kevin Pieterson show with cricket being incidental. I have lost respect for KP as a person, as talented a cricketer he may be. South Africa must be thanking their lucky stars that they didn't have to manage him.
Posted 17:37 8th August 2012
Kai Sean says...
Bumble you mentioned IPL and it being stumbling block. And England cannot allow KP to do as he pleases. But you have failed to mention how ECB/counties are continuing to influence players from Ireland first they got Morgan now Rankin. You guys have big problems with IPL and yet don't seem to have any sympathy towards Ireland cricket. Ashley Giles who is ECB selector wanted Rankin to quit playing for Ireland, imagine if some IPL franchise asks any player to do the same. KP wants to do what is best for him and England should do what is best for them.Why bring IPL into picture.
Posted 16:51 8th August 2012
Pete Watson says...
KP - great batsman but sadly with a great big head. The team is always more important than the individual so maybe its time to say goodbye and KP can get another million or two in India.
Posted 16:41 8th August 2012
Allan Gobey says...
I've been a vociferous supporter of Pietersen since he was first caled up to the England team but he's testing my patience. I agree with Bumble he can't pick and choose test matches long term but Strauss did set a precedent when he missed a Bangladesh series. There might be a compromise to be had but one of the strengths of both Flower and Pietersen is that they DON'T compromise. I fear this does not end well.
Posted 16:29 8th August 2012
Matt L says...
I think the ECB should catch a wake-up, whoever decided to leave Swann out of the last match has lost the plot completely! It is a very short sighted view to leave KP out of the side, look at what happened to the West Indies when they left Gayle out of their side! I foresee the ECB sacking KP, ENG having a horrible performance in the T20 world cup, KP achieving top runs scorer of IPL2013 and the ECB and ENG fans begging him to come back. Its happened before with the South African politicians and it will happen again with the ECB, its just the type of character KP is, let him go at your peril ENG seletors!
Posted 15:51 8th August 2012