Wladimir Klitschko stands above every other heavyweight at the moment - but I feel he will be hit hard by his brother's retirement.
Although the Klitschkos have earned lots of individual success, they were always together and have been a team from their amateur days through to their multiple world-title fights.
That was a massive psychological barrier for the brothers' opponents to overcome; it was almost like you were boxing the pair of them as there were two Klitschkos at press conferences, in training and on fight nights.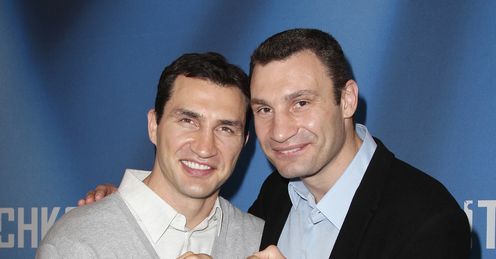 Now, though, the immovable object that was the Klitschko brothers has gone and it's just Wladimir flying solo, so I think his rivals will take confidence from that and believe they have a better chance of winning without Vitali peering down on them.
I reckon being a one-man band will take a bit out of Wladimir, who has done everything in the world of boxing and may now want to pursue some outside projects like his brother.
I can conceivably see Fury, who is young and concentrating on his boxing, becoming world champion this year.
Glenn McCrory
Quotes of the week
I think he SHOULD still be at the top at the end of 2014 but I am not certain that he WILL be.
Champion
With Vitali vacating the WBC title to move into politics, the door is open for someone to not only become a world champion but to become a big name and the next big star of the division.
Chris Arreola will fight Bermane Stiverne for the belt Vitali held but those two and the rest of the current heavyweights are all much of a muchness so there is a chance for someone to stand out from the pack.
And I think that man could be Tyson Fury.
I can conceivably see Tyson becoming world champion this year; he is young - at 24, he has years on the likes of Arreloa, Stiverne, Kubrat Pulev and Tomasz Adamek - while he is also strong, building a reputation and concentrating on his boxing.
Around the build up to his fights with David Haye - which, of course, were both cancelled due to injuries for David - Fury conducted himself excellently, showing character, humour and a desire to push on to new heights.
Dereck Chisora has turned over a new leaf, too - his improvement has really impressed me - but I would like to see his heavily-rumoured rematch with Fury put on the backburner as I want Tyson to fight the winner of Arreola-Stiverne.
Chisora has made a good comeback from his indiscretions but Fury was ready to fight a former world heavyweight champion in Haye and it wasn't his fault that that didn't happen, so I think he is slightly above Dereck at this time.
That would leave Dereck free to box Lucas Browne - a big, strapping, unbeaten Ricky Hatton-managed Australian, who has had words with Fury on Twitter and who we saw beat Richard Towers live on Sky Sports in November.
Personality
Elsewhere, we have three good, young American talents to keep an eye on in Deontay Wilder, Johnathon Banks and Seth Mitchell, especially Wilder, who seems to like portraying himself as a bad boy of boxing.
That personality will always get you noticed - not always for the right reasons, mind you - while he is big, tall, yet to lose and made very light work of Audley Harrison, so he will think he is right in the mix for a world-title shot.
I would love to see Wilder and Fury fight it out for world honours later down the line - once Wilder is known by more than just diehard boxing fans - because a match between two hungry, up-and-coming powerhouses is box office and deserves to be for a title.
For us British fans, though, Anthony Joshua's development will be intriguing
I think you can move him up pretty rapidly because as an Olympic champion he is laced with skills, but he is still a baby in heavyweight terms so I don't expect his people to be flinging him towards a world title too soon.
Yet, if you are good enough to win super-heavyweight gold in the Olympics you should not be too far away from fighting for belts.
Comments (9)
Peter Harrison says...
I would have to disagree with Glenn's assumption, that Wladimir will struggle to carry on the legacy. Firstly, his legacy has already been sealed. He has the 2nd most number of title defences in history. Second, he is all about the sweet science, the art of hitting, without getting hit. And third. There ain't a heavyweight out there who can beat him. As a Brit myself, I want to see the progression of heavyweight boxing. But the current lot, excluding Anthony Joshua, don't fare very well. Joshua, like Wladimir, is an Olympic Gold medallist, and an excellent amateur, and if he can take a piece out of Lewis, or Wladimir's book, then he will go very far. The Klitschko brothers have been excellent ambassadors for the heavyweight division. We all hear from the casual fans, that it's no longer 'entertaining'. However, on technical boxing ability alone, Wladimir stands tall above everyone else. And I guarantee, once the great Klitschko retires, you will see an even weaker era, a division where the alphabet belts are passed around like candy. And that's not a division I want to see. At least now, the belts are being held by a world class athlete, with an exemplary amateur pedigree. Long live Wladimir, and enjoy him while we can....
Posted 02:55 15th January 2014
Matt Hughes says...
I do not rate fury at all , who has he fought? He's another one of the typical British boxers who has a great record on paper but when it comes to the crunch he will lose badly , it's the brutal truth for those of you who think he will win a title! Boxing has turned bad over the years,boxing seems to be about building a good record by knocking out journey men and getting a shot at a belt, there seems to no proper ranking system it's about who offers up the most money,and there are to many belts in the divisions there should be one per divison, there is no passion to be the best boxer it's all about being the richest , quote me if I am wrong!
Posted 12:32 11th January 2014
Ben Lockwood says...
Can't agree with the three American prospects tipped here. Wilder definitely, but Mitchell and Banks have both performed really badly against each other and don't have the skills to keep up with the too six boxers in the division. I would have been tipping Perez over these two, and I still think Marco Huck is someone to be considered up at heavyweight. Chisora needs to go after Wladamir and leave Fury to go after the vacated title once it's found a home.
Posted 01:16 11th January 2014
Paul Keohane says...
In my view Tyson Fury is not in the running, he should not be in the top 15.........He hasn't got the hand speed or skill level to trouble Wilder.........Glenn, I agree with you about Wilder but I will go one stage further............Mark my words, he will be the next big name in the heavyweight division. Comments please.........
Posted 17:50 10th January 2014
Martin Dronfield says...
Its a sad state of affairs when Tyson Fury is tipped for the world heavyweight title, rewind 10 years, Lewis, Tyson, Bowe, Holyfield, it would have been a different story. Poor fighter in a poor age for boxing.
Posted 11:02 10th January 2014
Vincent Doyle says...
I think we will see Haye make a miraculous recovery from his shoulder injury now the WBC belt is floating about. Arreola will fight Stivern. Tyson will fight Arreola. Haye will fight Tyson.
Posted 09:40 10th January 2014
John Skinner says...
The only 2 real box office, up and coming heavyweights are Fury and Wilder. Would be good to see those two meet later on in 2014 with a title at stake!
Posted 19:37 9th January 2014
Adam Fox says...
Couldn't agree more with you Glenn. A good piece with a lot of food for thought on who should face who in eliminators for a wold title shot.
Posted 18:11 9th January 2014
Neal Morgan says...
I agree 100% with what you say, I personally think wladimir will only have 2-3 more fights before he calls it a day. Regarding the british scene, i think fury is 2 fights away from a title shot, he needs to get through his next fight (unnamed oppoent as of yet) . then he can fight the winner of Arreola-Stiverne the for the right to face wlad. I think joshua should be aiming for the euopean belt by the end of 2014, and all going good, push onto world level next year. I think chisora would give fury a good fight, most likley going to fury on points, but would like them both to challenge others in hope of a bigger rematch later on if they both continue to improve!
Posted 15:39 9th January 2014