As ever, you can follow all the Premier League action this weekend on Sky Sports.
We asked Soccer Saturday expert Paul Merson to look at the fixtures and give us his verdict on where the games will be won and lost.
He's taking a close look at the live games but this season he's also having his say on all of the other matches, too.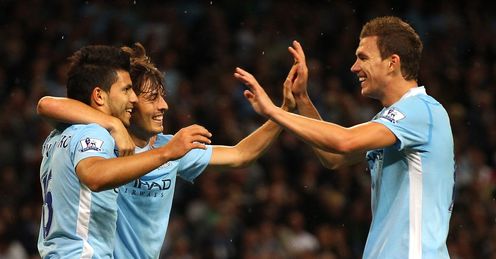 So read on for his shouts and don't forget to let us know your views in the comments box...
Ford Football Special: Man City v Everton
12.30pm, Sat, Sky Sports HD2
It wasn't a great surprise to see Man City slip up against Fulham last week.
It's hard work playing in the Champions League, as we saw last year with Tottenham, and it will take some time for them to get used to it, but they've been outstanding so far this season and I think they'll play much better against Everton.
I reckon Roberto Mancini will pretty much go with the team that started against Fulham because they'd been so good in the previous games. I know some other players came in and did well against Birmingham in the Carling Cup, but you should always go with your best team.
I don't think Owen Hargreaves will have a role to play in the league just yet. He's only played a handful of games in the last three years, so they shouldn't rush him back. He's done brilliantly to get to this position and it will be a great result for him and the club if he plays in 10 games this season.
City have had a go at teams everywhere they've gone and Edin Dzeko and Sergio Aguero are flying up front. However, as I've said from day one, I think they're a centre-half too short.
They should have gone and bought another top-class defender to play with Vincent Kompany. They'll stick with Joleon Lescott for now but, even with Kolo Toure coming back, they could be short in that area.
I watched Everton's game with Wigan for Soccer Saturday and with 10 minutes left it looked like a certain draw. They never looked like beating them, but then the subs came off the bench and won the game for them. You can't read too much into that win.
That result covered over the cracks and while I know they have a good record at Man City's new stadium, I just don't see them getting anything out of this one.
PAUL PREDICTS: 3-0
Super Sunday: QPR v Aston Villa
3.30pm, Sun, Sky Sports HD1
Without wanting to sound disrespectful, the likes of Joey Barton and Shaun Wright-Phillips are better than QPR, so you'd have to say the club have spent their money very well during the transfer window
They've brought in steady players like Luke Young and DJ Campbell, too, and even though they maybe needed another centre-half or two, they've given themselves a golden chance of staying up.
Let's not get carried away though. Staying up is still the aim; it's only a few weeks ago that they were getting smashed by Bolton at home so I don't think they can start thinking about Europe or anything like that. Neil Warnock will understand that.
I'm wondering who will finish all the chances they keep creating. Campbell did well for Blackpool last year and could do a job, but while Jay Bothroyd has the right attributes, I felt he went missing at Cardiff when the pressure was on last season.
Villa haven't lost a league game yet, but this is a big match for them. They've drawn four of their five matches and if they lose here it will be just one win in six. That's not a great return.
The pressure is on and it's vital that Darren Bent is fit. I don't see them creating too many chances and you need a natural goalscorer like him to put them in the back of the net.
They're strong at the back though and in central midfield, so I think they'll be the draw specialists this year. They'll get a result on Sunday, but expect goals; there won't be many 0-0 games at Loftus Road this year.
PAUL PREDICTS: 1-1
Monday Night Football: Norwich v Sunderland
7pm, Mon, Sky Sports HD1
I don't think it's right that people are saying Steve Bruce is under pressure.
They lost to their local rivals early, which has hampered the mood of the supporters, but I'm not sure what they want. Sunderland are a middle-of-the-table team and maybe if they were to get relegated - like Newcastle did - they would lower their expectations.
Sunderland are one of 10 teams that could go down this season, so their main aim should simply be to stay in the Premier League. They're definitely not a bottom three club, but I wonder if the expectations on the manager are too high.
Also, what chance have you got when your main striker walks out to play in the Middle East in front of 300-odd fans? I feel sorry for Bruce after Asamoah Gyan's actions, but I think he'll turn things around.
He's a good manager and I don't see how someone else could come in and do much better. He's brought in eight or nine players and they need time to settle, but I'm sure they'll get on a roll at some point.
We saw that last week. Who else is going to beat Stoke 4-0 this season? I know they'd just come back from a long trip to Russia, but that was still a phenomenal result for Sunderland.
In some ways this is a tough game for Bruce. The fans will expect them to win at Norwich and start moving up the table, but having played there early in his career, he'll know how tough it is at Carrow Road.
Norwich and the other promoted teams have done really well so far. They've looked at what Blackpool and Newcastle did last year and they've approached it in the same way.
We used to see new teams putting 10 men behind the ball everywhere they went, but now they are having a go at teams. Fair play to them for doing that - and they've reaped the rewards so far.
Norwich will highlight this as a game where they can get three of the 40 points they need, but Sunderland have better players and can shop in a better market. I expect an entertaining game.
PAUL PREDICTS: 2-2
The rest of the weekend's games
Arsenal v Bolton
PAUL PREDICTS: 2-1
Arsenal have let in 12 goals in their last two away games, which is atrocious. They're making too many mistakes and I'm afraid they're not that good any more. They don't pass the ball around like they used to and they were opened up by a League Two team in midweek, but Bolton are all over the place at the moment. I expect Arsenal to win, but not by much.
Chelsea v Swansea
PAUL PREDICTS: 3-0
It sounds strange to say it when they lost 3-1, but I thought Chelsea were outstanding against Manchester United. Swansea are passing it around more than anyone but haven't had the rub of the green, although they will take confidence to Chelsea after beating West Brom. Chelsea have a hard Champions League game at Valencia so expect some changes, but I think they'll win.
Liverpool v Wolves
PAUL PREDICTS: 2-0
Both of these teams were disappointing last week. Liverpool didn't look great at Spurs and had a hard game at Brighton in midweek, so this won't be easy for them. But I think they'll nick it because Wolves' confidence will be shot after two league defeats on the trot.
Newcastle v Blackburn
PAUL PREDICTS: 1-1
Unbeaten Newcastle have been the surprise packages so far and they gave Arsenal a lesson in defending on the opening day. However, this is a hard game for both teams and I think Blackburn will be very happy with a draw away from home, especially after that win against Arsenal.
Stoke v Man Utd
PAUL PREDICTS: 1-2
If you take away the Sunderland game, Stoke have been excellent this season. They drew with Chelsea, beat Liverpool and knocked Spurs out of the Carling Cup so this is a big test for Man United. Every throw-on will land on top of David de Gea so it's a big test for him, too. Chelsea and Liverpool should have won there, but Man United have got more of a cutting edge, so expect a tight win.
West Brom v Fulham
PAUL PREDICTS: 2-1
Now this really is a big game. West Brom are bottom of the league and have got to win this. Fulham had a good result against Man City last week, but had a long, hard Carling Cup match against Chelsea and lost, which makes a difference. I'm going to go for a home win.
Wigan v Tottenham
PAUL PREDICTS: 0-4
I think Tottenham are bankers for fourth place this season. They have a very good team and Emmanuel Adebayor and Scott Parker are two great signings. With Luka Modric, Gareth Bale, Aaron Lennon and Jermain Defoe in there as well, they look very strong. Wigan have done alright this season, but I think the pace of Spurs' strikers will rip them apart.
Follow Saturday's football on Soccer Saturday from 12noon on Sky Sports News HD and then see extended highlights on Football First from 8.25pm on Sky Sports HD2.
Comments (17)
Jake Woodthorpe (Newcastle United fan) says...
As a Newcastle supporter, the prediction for us, it's hard to tell if thats is right. They have to good attackers like Yakubu and midfielders like Emerton, but our defence is on fire this season. Coloccini is outstanding at the moment, goals left right and centre for him, and excellent tackling abilities. Simpson is good down the wing and i think stevie taylor could do with improvment, but he is premier league class. Ryan is unstoppable at the moment, also Jonas, Obertan, Tiote and Cabaye are clicking like lego at the moment. Ba needs a full game to get back to top class quality, and Leon Best is amazing. I think giving a half to Sammy Ameobi would give him a little match experience and willl score. I predict 3-1 to toon army because of the midfield quality. COME ON YOU TOON!
Posted 10:41 24th September 2011
Chris Mccarthy (Norwich City fan) says...
just a message2 the southampton player who wrote that southampton are good enough for champions league.... think you need a reality test lol only begginning of season norwich did it can you????
Posted 10:19 24th September 2011
Muhammad Kamran (Arsenal fan) says...
I dont know which lesson he is talking about newcastle teaches Arsenal on the first day Arsenal was outstanding that day. He is critcizing Arsenal too much. I dont like him. Totenham will struggle win against 9 men is not the same against 11 merson.
Posted 06:46 24th September 2011
B W (Tottenham Hotspur fan) says...
Don't forget Wigan won at WHL last season! I think this is a dangerous game for Spurs, still fresh off their high destroying Liverpool. Complacency kills.
Posted 17:10 23rd September 2011
Akash Gupta (Tottenham Hotspur fan) says...
wigan 0-4 spurs! thats not a surprise prediction for me! yes, spurs will surely be looking out for another clean sheet. plus adebayor is gonna look for a hat-trick this time. COYS
Posted 16:01 23rd September 2011
James Deane (Everton fan) says...
Paul, I think you're way out with that Everton/ Man City prediction. Watch out for the Toffees to stuff them tomorrow ! Everton win 2-1 COYB
Posted 15:57 23rd September 2011
Mr Neutral (Barcelona fan) says...
Mersons predicted some good outcomes, however i think the Man City game will be a hell of a lot closer than 3-0, City to scrape a win 2-1, and I think Stoke will go for the same tactics they did against Liverpool an get a 0-0 draw. Also sayin Spurs are bankers for 4th spot? Not a chance, okay they beat Liverpool as if they where a Sunday league team but i think over the course of the season Liverpool will be a lot stronger than them in the bigger games an think Liverpool will edge it, as for Arsenal and a 4th place finish if they dont get on their feat soon they can count themselves out.
Posted 15:31 23rd September 2011
Luqman Olamidare (Chelsea fan) says...
Chelsea is a good club with talented players but there is problem with our attackers. After having all posessions in 90 mins without good finishing, pls i want our strikers to shind their brains in the light of Drogba, Torres, sturidge, malouda(selfish boy), kalous etc. In tomorrow match, i want them to score 6 goals to nothingrrow match, i want them to score 6 goals to nothing
Posted 15:25 23rd September 2011
Sunil Bhat (Arsenal fan) says...
I can eat my own arm if Spurs win by that margin. Also, i think we have already dismissed Arsenal- ridiculous. Mark my words- come November and we all will be praising their style of play and saying who needs Nasri and Fab. Top 4 - defenitely yes. Title - No So yes they need to buy more in Jan to make sure that they are real title contenders. Just don't mention Spurs yet. Not at the expense of Arsenal - not yet Mersy babe
Posted 15:22 23rd September 2011
Lee Pickering (Arsenal fan) says...
As a Gooner living in the Wirral, my life has been a nightmare the last couple of months with Scousers, Evertonians and Mancs all giving me stick. I seriously hope that Arsenal can turn the corner this weekend but I have serious doubts that they will. A agree completely with Merse, why did we not sign Cahill when we had the chance. Why did we also wait until the last day of the window to do the majority of our business when it was obvious to everyone that Fabregas and Nasri were going? It is devastating to admit but AFC are now in the tier below the top 6 and will struggle to finish 7th this season. For the 1st time in years we will finish below Spurs and I cannot put into words how much that will hurt. To turn it around AFC need to get behind Wenger but he needs to reshape his support team. Bergamp should be bought in as his #2 and Bould should be promoted to the 1st team coach. We can't change the playing staff but a back room shake up may influence results until January where we can get the players we so desperately need.
Posted 13:27 23rd September 2011
Felix Nyanga (Manchester United fan) says...
i think man u will kill stoke, 2 -1 i beg to differ, i see a 4 - 1 or 5 - 1 nani is on fire i see him causing alot of fouls which will result in yellow cards and set plays which will result in plenty of goals for man u.
Posted 13:25 23rd September 2011
Mark Hyde (Everton fan) says...
Agree with the Man City v Everton result, but not the score. Be a closer 2-1, 1-0 affair. BTW, didn't West Brom also have a long hard Carling Cup match against Everton, which they lost? Kind of gets rid of that 'difference' really?!?!
Posted 13:11 23rd September 2011
Oyegbile Gabriel (Chelsea fan) says...
with a very impressive performance against Manchester United in the Premier League game and the good result from the young players that were introduced in Carlin Cup against Fulham. Chelsea will definitely continue in their good form against Swansea city on Saturday. Predicting Chelsea 5 Swansea City 1
Posted 12:37 23rd September 2011
Adam Spurs (Tottenham Hotspur fan) says...
4-0 to the Spurs Merse?! Nothing like setting us up for a big fall, especially when two games vs Wigan last season reaped a miserly one point. I'll take a scrappy 1-0 win or at worst a point up there anyday
Posted 12:34 23rd September 2011
Anonymous Anonymous (Wigan Athletic fan) says...
Merse has correctly predicted the Wigan score for the last 3 weeks. Hope it's not not the case tomorrow although i do think Spurs are a good team and now that Modric seems commited should finish fourth this season. As for Wigan i'd be happy with a draw for this game.
Posted 11:23 23rd September 2011
Daniel Ogden (Manchester City fan) says...
As i City fan i like you prediction, but im not so sure. We have the game against B M coming up, and tbh, Manchini's focus will be on that, and so will the teams. I think this weekend will finnish in a 2-2 draw. We dont know how to cope with all the games yet, which will be our downfall.
Posted 11:01 23rd September 2011
Spurs Lenny (Tottenham Hotspur fan) says...
Wigan 0 v Spurs 4!?!? Are you feeling ok Merse? It's nice to here you say nice things about THFC for once, although I think the game may be a bit tighter than you predict, 2-1 I to spurs I reckon. As for arsenal, god alone knows what will happen if they concede the first goal against Bolton. Wenger keeps talking about mental strength and belief, but from where I'm standing Arsenal look devoid of both.
Posted 10:37 23rd September 2011