At the end of last year, at the premiere of the film A Year In Yellow, which followed Bradley Wiggins throughout his, yes, year in yellow, Wiggins was interviewed on stage.
He was asked if he thought the film had captured the "real" Bradley Wiggins. "I don't know," Wiggins said. "I don't know who I am, really."
There might be something in this. He is famously contrary, contradictory and inconsistent. He appeared to demonstrate it again this week, when looking ahead to his big target, the Giro d'Italia, which starts on Saturday, then talking instead about the Tour de France and who will lead Team Sky - him or Chris Froome, or both.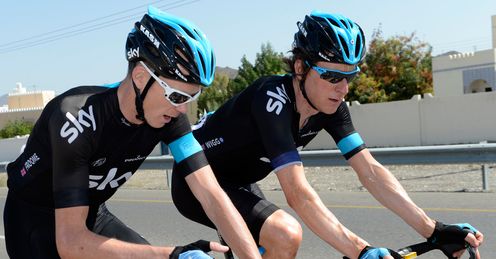 Contradictions are to Wiggins what confidence is to Mark Cavendish: part of his make-up. Before the Beijing Olympics he seemed to change his mind almost by the minute: it would be his last hurrah as a track rider; he was going to give the road a go; he had no plans to abandon the track.
The year before, when he left the Tour de France, he vowed he would never be back. As we all know, last year he won it.
If Wiggins wins the Giro then he will fancy a once-in-a-career shot at winning the double. If he loses the Giro, he will want to salvage his season at the Tour.
Richard Moore
Quotes of the week
Complaining about Wiggins changing his mind is like complaining that the sea is wet or the sun is hot. True, he would make a dreadful politician. But he is not a politician. He's a cyclist. (It is perhaps one of Lance Armstrong's legacies that cyclists are expected to be as Machiavellian as some politicians. But that was just Armstrong...)
Still, what should we make of Wiggins's assertion that, having said that the Giro is his priority in 2013, he wants to do the Giro-Tour double, and that he "believe[s] more than ever that I can win the Giro and the Tour this year"?
Well, perhaps, on this occasion, he is actually being consistent. He said the same in January - that although the Giro is his main aim, he believes he can be in the same shape for the Tour as he was last year.He also said back then that his coach, Tim Kerrison, believed a full recovery between the Giro and the Tour was eminently do-able, with the implication that the double is possible. It was something he and Kerrison discussed in Majorca in December, the night before BBC Sports Personality of the Year.
In an interesting twist, Froome is now coached by Kerrison, too. But Kerrison's job is not to get one of them fit to win the Tour; it is to get them both as fit as possible.
Is the team leadership something that needs to be resolved now? Froome clearly thinks so, because he released a statement just hours after Wiggins made his comments. "I have been reassured by the management at Team Sky that I have their full backing," Froome said, "and at no time has the leadership of the team been in question."
Froome's fiancée, Michelle Cound, has also offered a fascinating window into his thoughts on Twitter: "To those claiming that this Wiggins/Froome thing is some sort of publicity stunt, you are wrong," she said on Tuesday. Then: "I look forward to @TeamSky clearing up this mess (ASAP) #fedup."
I can understand Froome's point of view - he wants reassurance. And I can understand Wiggins's - he doesn't want to rule anything out, and to keep his options open.
Leading men
If Wiggins wins the Giro then he will fancy a once-in-a-career shot at winning the double. If he loses the Giro, he will want to salvage his season at the Tour.
And as for Froome, he might still feel that he is growing into the role of leader, and that his position is insecure. It is a team, remember, that was built around Wiggins when it was formed in 2010.
Wiggins's history with British cycling stretches back 15 years. He is the golden boy. This is another point, though Team Sky would never admit it publicly: that a second Wiggins Tour win would surely be "worth" more in publicity terms in Britain than a first win for the lesser known, Kenya-born, South African-accented Froome.
Maybe Wiggins, even though he is on this occasion being consistent, is indulging in some mind games. After all, he said in an interview on Sunday that he would "never forget" Froome's accelerations during last year's Tour, when he was supposed to be supporting him.
I don't think this question will decide who wins the Tour. The form he is in, Froome looks like he could win even with Wiggins riding against him. And there are another three or four riders who fancy their chances, who will currently be rubbing their hands with glee at the strife at Sky.
No doubt it is stressful for Froome, and for Dave Brailsford, and perhaps for Wiggins, too.
But for everyone else - rivals, fans and reporters - it is brilliant.
Comments (1)
Russell Lloyd says...
What is Froome's problem, they are pro sportsmen, its a team sport. Brailsford has already stated that if they both ride brilliantly but do not work together neither will win but if they ride competently and work together one of them should win. As Wiggo says, let the racing in the 1st couple of weeks sort it out, a clear acknowledgement that this years course suits Froome and was devised to go against the likes of Wiggins. Froome needs to stop airing his whinging through his girlfiends twitter feed and focus on getting himself ready for the Tour.
Posted 20:03 4th May 2013