Martin Tyler's stats and facts column is here!
Every week he will be here to offer you statistical gems to make your day, impress your mates and, on occasion, to settle the odd bet.
Sky Sports' voice of football and his back-up team of experts are here to answer your questions and queries on all things statistical and historical from the beautiful game.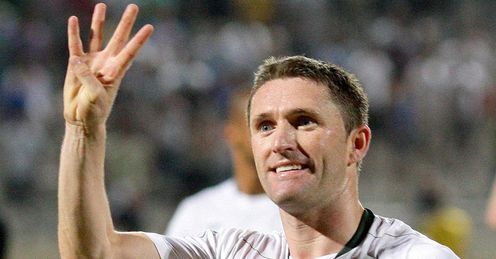 If you have spotted something from a game or have been stumped by a pub quiz question, simply email here and he will do his best to help.
Tyler's starting stat - Bridge building
Manchester United's defeat at Stamford Bridge means they have failed to win there in their last eight visits (three draws and five losses) - continuing their longest run without a win on any Premier League ground.
John Terry's goal was the first United have conceded from a set piece this season and if Terry does keep the goal, it will be his first in 21 games against United - and his first in any game since last February against Wigan. Meanwhile, after scoring in his previous five games Didier Drogba failed to extend that to six in a row - something he still hasn't achieved at Chelsea.
Since Stephen Hunt's goal for Hull at Stamford Bridge on August 15, Chelsea have now scored 26 goals without reply in all competitions. United were the ninth visiting team in that period to fail to score. An 11th straight home win for Chelsea also equals the club record set by Jose Mourinho - and with Wolves and APOEL coming up, one would expect that run to continue. But in football, you just never know!
THE TOP-TABLE TABLE
Hi Martin. With the Chelsea v Man Utd game on and the recent loss to Liverpool, I've been wondering is Man Utd actually the least successful team against the top four, out of the top four teams in the Premier League? If you took the results of Arsenal, Man Utd, Chelsea and Liverpool against each other as a separate league table, who would come out on top over the last few seasons? Regards, Andrew OLeary
MARTIN SAYS: We've calculated the "Big Four" league table based on all Premier League results since the start of the 2005/06 season and despite a few high-profile defeats, United are in fact joint top of the table, level on points with Chelsea - although they have played a game more. They have the most home wins in Big Four matches during that period, while Chelsea have picked up the most away points during that time. United have lost five out of their last six away games against their Big Four rivals and have only picked up one point in that period - at Stamford Bridge last season. Their last away win was at Liverpool in 2007.
Arsenal are currently bottom of this table, but having only played in one "Big Four" fixture this season, they do have games in hand on the rest.
Big Four League since 2005/06 season:
| | | | | | | | | | | | |
| --- | --- | --- | --- | --- | --- | --- | --- | --- | --- | --- | --- |
| Arsenal | 25 | 5 | 5 | 2 | 2 | 4 | 7 | 29 | 35 | -6 | 30 |
| Team | P | HW | HD | HL | AW | AD | AL | F | A | GD | PTS |
| Chelsea | 26 | 8 | 4 | 2 | 3 | 3 | 6 | 30 | 23 | +7 | 40 |
| Man Utd | 27 | 9 | 2 | 2 | 2 | 5 | 7 | 29 | 25 | +4 | 40 |
| Liverpool | 26 | 6 | 4 | 3 | 2 | 3 | 8 | 28 | 33 | -5 | 31 |
200-UP FOR RAFA
I heard someone saying that Rafa Benitez has got a better record from his first 200 league games than Ferguson or Wenger. I'm not sure if that's right so I thought I would write to you. Is it? Chris.
MARTIN SAYS: Rafael Benitez does have a better record than Sir Alex Ferguson and Arsene Wenger in that he has won more matches and picked up more points than either of those two - as you can see from the table below. However, you must remember that Ferguson took over a Manchester United team that was struggling at the time.
Record from first 200 league games:
| | | | | | |
| --- | --- | --- | --- | --- | --- |
| Ferguson | 87 | 60 | 53 | 43.5% | 321 |
| Manager | W | D | L | Win % | Pts |
| Benitez | 114 | 46 | 40 | 57% | 388 |
| Wenger | 111 | 53 | 36 | 55.5% | 386 |
The Liverpool website has also recognized Benitez as their second most successful manager after 200 games. Kenny Dalglish won 120 of his first 200 league games (60 per cent) so comes ahead of Benitez, but famous managers such as Bob Paisley (113 wins, 56.5 per cent), Bill Shankly (106, 53 per cent) and Gerard Houllier (101, 50.5 per cent) come below him.
It is also interesting to note that another famous manager who was brought in around the same time, Jose Mourinho, has an even greater win percentage. He didn't make it to 200 games so perhaps the comparison is not quite fair, but his 85 wins (and only 10 defeats) from 120 games gives him an impressive win ratio of 70.8 per cent.
GUNNER BREAK RECORDS
Dear Martin. Four more goals for Arsenal. Are we on course to become the highest-ever scorers in Premier League history? Dan.
MARTIN SAYS: Goals are up overall in the Premier League this season, but Arsenal are indeed leading the way. The Gunners have scored more goals in their first 11 games than any other team in Premier League history. If they keep scoring at their current rate of 3.27 goals per game, they will score 124 goals this season. Considering no team has yet scored more than 100 in a season, it is quite a record.
The highest scoring team in a 38-game season is Manchester United in 1999/2000, who hit 97 - but after 11 games they had only managed 27, nine fewer than Arsenal currently have. The highest previous totals after 11 games came from Arsenal in 2004/05 and United in 2000/01 who both managed 31 goals from 11 games.
However, scoring the most goals doesn't necessarily mean you'll win the league. Last season's highest scorers were Liverpool, while Arsenal have finished as top scorers on three occasions (from 2003 to 2005) - and only lifted the title in one of those seasons.
Top 10 highest scoring teams in a 38-game Premier League season:
| | | | |
| --- | --- | --- | --- |
| Arsenal | 2009/10 | ?? | 36 |
| Team | Season | Goals | After 11 games |
| Man Utd | 1999/00 | 97 | 27 |
| Arsenal | 2004/05 | 87 | 31 |
| Man Utd | 2001/02 | 87 | 28 |
| Arsenal | 2002/03 | 85 | 26 |
| Man Utd | 2006/07 | 83 | 26 |
| Man Utd | 2007/08 | 80 | 19 |
| Man Utd | 1998/99 | 80 | 23 |
| Man Utd | 2000/01 | 79 | 31 |
| Arsenal | 2001/02 | 79 | 24 |
| Liverpool | 2008/09 | 77 | 16 |
HE SHOOTS, HE SCORES...
Martin. During the Man U v Moscow analysis, Ruud Gullit said Michael Owen had become a 1 in 4 scorer, so my question is this: We often hear about strikers goals-to-game ratio but I was wondering who is the best striker in terms of goals to shots ratio? Could you do the top 10? It would be interesting to see the English strikers' return with a WC just around the corner....and I would like to see where Robin van Persie is. Keep up the good work Thanks, Marcus Glazebrook
MARTIN SAYS: The boys at Opta have looked into this for us and the stats make interesting reading. If you take strikers who have attempted 10 or more shots this season, the players with the best goals-to-shots ratio are Manchester City's Craig Bellamy and Sunderland's Kenwyne Jones. They have both had 14 shots this year and have both scored five goals. That means they have both scored with 35.71 per cent of their shots.
Tottenham's Robbie Keane is not far behind, while the Premier League's top scorer, Fernando Torres is fourth in the list. The leading Englishman is Gabriel Agbonlahor, who appears ahead of Darren Bent and Jermain Defoe - while Robin van Persie comes in 10th place having scored with just over 20 per cent of his shots.
Michael Owen does not make the top 10, arguably because of a lack of opportunity, but this is a very interesting question. As we are not yet a third of the way through the season, I look forward to revisiting this subject later in the season when we have a larger sample to look at.
Top 10 goals-to-shots ratio
| | | | |
| --- | --- | --- | --- |
| van Persie | Arsenal | 34 | 20.59% |
| Player | Team | Shots attempted | Goals to shots ratio |
| Bellamy | Man City | 14 | 35.71% |
| Jones | Sunderland | 14 | 35.71% |
| Keane | Tottenham | 17 | 35.29% |
| Torres | Liverpool | 30 | 33.33% |
| Adebayor | Man City | 13 | 30.77% |
| Agbonlahor | Aston Villa | 22 | 27.27% |
| Saha | Everton | 31 | 22.58% |
| Bent | Sunderland | 36 | 22.22% |
| Defoe | Tottenham | 27 | 22.22% |
NEEDING YOU
Dear Martin. I was watching West Ham the other day and saw Carlton Cole scored again... has he scored ALL their Premier League goals this season or what? How does his goals ratio to the rest of the side compare with anyone else in the EPL? Many thanks, Susie, Connecticut
MARTIN SAYS: Cole has scored 6 Premier League goals this season, 37.5 per cent of West Ham's total 16 goals so far. However, his goals ratio is not the highest in the Premier League. Top of the list is Louis Saha, who has scored 46.6 per cent of Everton's goals this season, followed by Darren Bent (40 per cent of Sunderland's goals) and Hugo Rodallega (38.5 per cent).
Below I have outlined how dependent each team is on the goals of their top scorer. These stats suggest Arsenal tend to share their goals out (Robin Van Persie has scored seven - but that accounts for only 19.4 per cent of their goals) - while Stoke are also sharing the goals out.
Highest percentage of goals from one player
| | | | | |
| --- | --- | --- | --- | --- |
| Stoke | Beattie / Etherington / Kitson | 2 | 12 | 16.6% |
| Team | Top scorer | Goals | Total goals | Top scorer % |
| Everton | Saha | 7 | 15 | 46.6% |
| Sunderland | Bent | 8 | 20 | 40% |
| Wigan | Rodallega | 5 | 13 | 38.5% |
| West Ham | Cole | 6 | 16 | 37.5% |
| Liverpool | Torres | 10 | 27 | 37% |
| Aston Villa | Agbonlahor | 7 | 20 | 35% |
| Chelsea | Drogba | 9 | 29 | 31% |
| Man Utd | Rooney | 7 | 23 | 30.4% |
| Hull | Geovanni | 3 | 10 | 30% |
| Portsmouth | Arura Dindane | 3 | 10 | 30% |
| Blackburn | Dunn | 4 | 14 | 28.6% |
| Burnley | Alexander | 4 | 15 | 26.6% |
| Tottenham | Defoe / Keane | 6 | 23 | 26.1% |
| Wolves | Craddock / Doyle | 3 | 12 | 25% |
| Fulham | Dempsey / Zamora | 3 | 14 | 21.4% |
| Man City | Bellamy | 5 | 21 | 23.8% |
| Birmingham | Bowyer / McFadden | 2 | 10 | 20% |
| Bolton | Cohen / Taylor | 3 | 15 | 20% |
| Arsenal | Van Persie | 7 | 36 | 19.4% |
ROBBIE'S RECORD
Hi Martin, love the column. I know you mainly deal with English and Scottish league or international questions, but i was hoping you could help me with this. I have a bet with a friend that Ireland have never lost when Robbie Keane has scored? I can't remember once. He has saved our bacon with last minute equalisers, more than I can remember, but have we ever lost? Wayne Kelly
MARTIN SAYS: We've been through the record books and you are almost right. Robbie Keane has scored 40 goals for Republic of Ireland and in the 33 games in which he has scored, Ireland have only lost once. That was on penalties to Spain in the 2002 World Cup when Keane scored a 90th minute equaliser. I was actually at that game, although I wasn't working that day and it was famous because Spain were reduced to 10 men in extra time - but Ireland manager Mick McCarthy didn't realise that David Albelda had gone off injured. You could argue that as the scores were level at full-time, Ireland have never lost a match over 90 minutes when Keane has scored, but in the Sky Sports stats department, a penalty shoot-out defeat counts as a defeat.
Ireland's record for games in which Keane has scored is 24 wins, eight draws and just that one defeat. A good comparison could be made with Michael Owen, who has also scored 40 goals for his country and coincidentally has also scored in 33 games. In those matches, England have lost three games in 90 minutes (against Romania twice and against Brazil), plus lost on penalties twice (against Argentina and Portugal) Owen's goals have aided 23 England wins and five draws. That puts into context how remarkable Keane's record is.
Tyler's teaser
Last week we asked you to name nine players who have played in the Premier League this season who share a surname with a current Premier League manager.
The answers are: Christian Benitez, Michael Brown, Wes Brown, Barry Ferguson, Joe Hart, Aaron Hughes, Richard Hughes, Benni McCarthy and James McCarthy. Some of you suggested Blackburn's Jason Brown - but he is yet to play a league game this season.
Click on the video for this week's poser and send in your answers using the feedback form below...
Comments (62)
Andrew O'leary (Manchester United fan) says...
in response to all the bickering about Man U and Chelsea's game recently... Even though i support Man Utd i have an objective point of view about the games they're involved in.... and i wish more of you were that way. Referees and cheating aside... neither team played well enough to win the game, having said that, Utd really raised their game and i see a big positive from their performance, they looked dangerous and could've taken the game. but i guess we'll have to wait and see the return fixture. Man U get some power up front.... and give Owen some games to settle in dammit!
Posted 08:21 17th November 2009
Jeff Alli (Chelsea fan) says...
Brandon C - Its interesting coming from a Manu United player that everybody cheats but them, the ref is bought. Is there nothing ever Man Utd gets away with?. I am curious as a Man Utd fan if you can see past your Man Utd colours and are fair. No it was not a foul, and Drogba did foul Wes Brown, has this never happened for Man Utd, isnt it the ref's job to call the play and players play to the whistle, how many Man Utd players tell the ref at that moment you got it wrong and i wasnt foul to extract a penalty, you should know first hand with Ronaldo diving and Wayne Rooney mini dives, or any team for that matter, absolute zero,how comes your players stay on the pitch with chest high tackles and two footed tackles and most other people get sent off. Mr Brandon C you need to be honest first before your a fan. You need to criticize and applaud your own team first before you right to criticize others. I can see you cannot be ref.
Posted 01:39 17th November 2009
Lewis S (Blackburn Rovers fan) says...
Taylor's Teaser: (8) Gerrard, Carragher, Finnan, Deco, Belletti, McCarthy, Salgado, Sylvinho. Santa Cruz and Bosingwa didnt play in the finals. Anelka and Kanu have won the Premier League.
Posted 01:17 17th November 2009
John King (Arsenal fan) says...
i came up with 10 for the answer to Tyler tease, santa cruz, salgado, Gerrard, Carragher, Finnan, Mccarthy, Sylvinho, Belletti, Deco, Bosingwa, and i thought maybe Jonathan Greening as 11
Posted 16:34 16th November 2009
Adam Shepherd (Aston Villa fan) says...
SURPRISE SURPRISE ! Another article prodominatley talking about the so called BIG 4, there are other teams in the premireship, would be nice to have a fairer look on the league.
Posted 14:44 16th November 2009
Brandon C (Manchester United fan) says...
I do find it funny how all I seem to see on these are valid points made, taken personally. Chelsea are cheats, not all of them, but quite a few. Terry's 'strength'... and ballack? don't get me started! but none the less, the comment I made refers to a lot of teams. this game was a prime example of man utd playing well, and fairly. Chelsea played a rubbish game, and as a result had to rely on foul play to get their goal. I've seen it before and this isn't so much a dig at chelsea, because I expect it from them. But if the ref's can't deal with matches where they're going to be put under pressure by blind chelsea players and 'passionate' chelsea fans who would kill for the pride of chelsea then just to state the obvious they shouldn't referee matches should they? not just this match - any match! try and think of this as a point about refs not (so much) about chelsea. mite help.
Posted 12:23 16th November 2009
Pete Jones (Burnley fan) says...
Excellent blog very well laid out indeed. I wish mine were as good as yours. Keep up the good work. Take a look a t mine and tell me what you think also http://ragnasuns.blogspot.com Take care and have a happy life. Pete
Posted 09:21 16th November 2009
Matthew Peffers (Cheltenham Town fan) says...
In response to Dr. Henry Killinger, I think we can go a long way to eradicating diving from the modern game. I was deeply disheartened to hear Eduardo's ban was taken out because I really thought that was the step forward for football. I don't care whether Arsenal managed to 'prove there was contact' or not, there still wasn't sufficient contact to clear him of deceiving the referee - what he was charged for. If you checked video evidence and handed out lengthy bans to players who can be proved to have dived to gain an advantage in a match, managers will be less likely to dish out large sums of money on proven divers, both for transfers and wages, and it'll promote honesty in the game...
Posted 23:53 15th November 2009
Saif Chowdhury (Chelsea fan) says...
showed who utd really are?? I think and I think chelsea beat united and abdi if u talk about playing better, arsenal deserved to win their match against united and yet they lost. brilliant column btw.
Posted 15:42 15th November 2009
Arham Khawaja (Liverpool fan) says...
Hi martin i read your column everyday and i am a Liverpool supporter and i would like to know your thoughts on Liverpool's poor start and how they can improve and what do you think the rumour that Rafael Van Der Vaart ( real Madrid ) is going to join Liverpool and how do you think he will help Liverpool if he came and if he will come is it because there is Kuyt and babel his international team mates
Posted 12:59 15th November 2009
John Clarke (Chelsea fan) says...
Just got back from Singapore. The world over United fans are like rats - your never more than 10 feet away from one, oh except when they lose. Abdi, grow up son, you lost but of course it was everyone elses fault except the United players. You all moan as much as your manager. Try and accept defeat with dignity.
Posted 07:05 14th November 2009
David Smith (Arsenal fan) says...
Why is no-one talking about evans' foul on drogba? that was the worst challenge I've seen since the eduardo one, but the difference is that evans' was clearly pre-meditated! Surely he should receive some sort of extra ban for that given the current climate
Posted 19:21 13th November 2009
Badeeb Mufeed (Liverpool fan) says...
I don't now why chelsea fans thinks they are bettre than man u ,Liverpool & arsenal they are still behind all especaliy Man u. how many times they won the PL, CL,afa cup, SC WC. Since Moriniho take over the club started shine up but they still have no HISTORY LIK THE rest All time results between Manchester United and Chelsea Manchester United wins draws Chelsea wins League 56, 41 38 FA Cup 8 1 2 League Cup 2 1 1 Other 4 1 Total 66 47 42 and keep ur mouth shut, u still behind Man U
Posted 09:57 13th November 2009
Luke Nunn (West Ham United fan) says...
to be honest with all of you, chelsea and man u wouldnt be anywhere near as great as they are now if there was a limit on money spent in the transfer market. what happened to grass roots? is there even going to be an english football team left by like 10 years time?! if there is you can say goodbye to the qualification let alone winning it. clubs like that have ruined football..... the prices of players are ridiclious now!!!
Posted 00:42 13th November 2009
Nick Hadges (Chelsea fan) says...
When we play Arsenal it will be one of the greatest games ever if both teams hold their form until then. There will be so many chances and qaulity passing. Looking forward to it as Arsenal are definatley the in form team, however against the big teams beautiful passing is not so easy and one thing we have had over Arsenal is physical power. The likes of Drogba, Anelka, Ballack, Lampard and Essien (plus the back 4) have been too strong in the past and that is how weve won. It will be tight and if Drogba can keep his scoring record against Arsenal going (8 goals in 4 match i think) that will help alot.
Posted 21:48 12th November 2009
Nick Hadges (Chelsea fan) says...
Typical United fans, Chelsea are cheats what a joke this guy seriously must be the biggest sore loser in England. The fact of the matter is we won and looked more dangerous in attack. When we went into the box Anelka ran at the Van der sar when Rooney ran into the box he ran away from Cech. Like i said before Hull City could have threw 10 behind the ball and it would have been the same score line. Face the facts United you couldnt beat a Chelsea team at their worst and whats worse is that United played their best game of the year and still could only generate 1 good chance.
Posted 21:38 12th November 2009
Fraser Powell (Chelsea fan) says...
Will Andrew - since the premiership began: Chelsea vs Man Utd Chelsea wins: 11 Man Utd wins: 10 Draws: 14 Suck on those stats
Posted 17:30 12th November 2009
Am A (Arsenal fan) says...
I think the players are Deco and Ballack.
Posted 16:55 12th November 2009
Bob Foster (Arsenal fan) says...
I have 7 names for this weeks teaser: Juliano Balletti, Deco, Benni McCarthy, Steve Finnan, Jamie Carragher, Steven Gerrard, Michel Salgado
Posted 16:33 12th November 2009
Bob Foster (Arsenal fan) says...
I have 6 names for this weeks teaser: Juliano Belletti, Deco, Steve Finnan, Benni McCarthy, Jamie Carragher, Steven Gerrard
Posted 16:29 12th November 2009