With the decade at an end, skysports.com has assembled its Noughties' Hot 100 - a century of stand-out sporting moments.
It covers all sports, but seeing as we have so many experts to call on, we asked our commentators and columnists to come up with their very own Top Ten from their sport.
And they have picked out one Moment of the Decade, their own personal highlight and why, from the decade - just scroll down to the bottom and watch the video.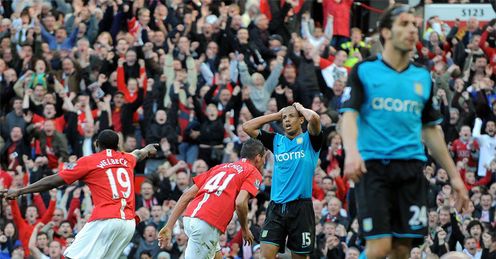 Here, football commentator Martin Tyler gives his his selection, in no particular order...
Beckham fires England to the finals - 2001
As David Beckham lined up to take that free-kick I remember being confident he would hit the target, because he'd taken six or seven in the game and had been getting closer and closer. It was just one of those moments when you thought it might happen, so you had a second to compose yourself before something very special... and it was "David Beckham big time!". It was clearly a very specual moment, the England captain taking his side to the World Cup finals with a fabulous goal on his own club ground. Greece also played very, very well that day and gave us a foretaste of what was to come at Euro 2004, but when Beckham stepped up you almost knew history was going to be made.
England hit Germany for five - 2001
This was also a very sad day for me, because it was the day that Brian Moore - who had helped me in so many ways as a commentator - passed away and I remember the change in the mood when I heard the news in the players' tunnel within 15 minutes of the final whistle. But before that, it was a pleasure to witness an awesome performance from England, particularly when Germany went 1-0 up. There is of course a traditional rivalry between the two nations, so to avoid defeat in Munich was one thing, to win was another but to do it in such style was just startling. The commentary position at the Olympic Stadium was the one I disliked the most anywhere in the world - I always said you were nearer to Stuttgart when sat there - but even that could not spoil a real storybook night for England.
Chelsea end 50-year wait - 2005
I am old enough to just about remember Chelsea's previous league title win under the very personable Ted Drake, but this came as a shock for Chelsea to win the title after so long. I suppose it being 50 years on, it was meant to be, but this was the first season under Jose Mourinho, the self-styled Special One who had his own individual approach, but was indeed special to work alongside. I very rarely go to press conferences, because they are for the written press, but I always used to go to Mourinho's just because you never knew what to expect! I wasn't there when they sealed it at Bolton, but did commentate on the game at Old Trafford when they were given a guard of honour by United, who then went 1-0 up. They won 3-1 at the end but I will never forget Mourinho being so energetic, so animated and practically grabbing his players and shaking them back into the game after that first one went in.
The miracle of Istanbul - 2005
I was working in Istanbul for SBS Australia but the year before working for Sky Sports, had seen Milan crumble against Deportivo La Coruna when they were 4-1 up after the first leg and got knocked out. So, at half-time I made a passing mention to that game, not for the life of me expecting it to turn into a prophecy! As a commentator you get a fair idea of the possible scenarios in a game and know the parameters but what keeps us all addicted to football is its ability to take us far beyond those parameters. When Steven Gerrard headed in to make it 3-1 I thought it might be on, but all of a sudden it was 3-3 and then, heading into extra-time, Liverpool had the psychological advantage. In the end it went down to penalties of course and although they are individual moments, you sensed this team was destined to win through. Jerzy Dudek didn't play many more games for Liverpool but in saving that penalty from Andriy Shevchenko made sure he left behind a legacy at Liverpool Football Club that will never be forgotten.
Argentina's pass masters - 2006
The greatest team goal I have ever seen. I bumped into Hernan Crespo - who laid off the final backheel - afterwards and asked if he knew just how many passes were involved and he had no idea. But he knew it was something quite special and it was a privilege to talk to someone who had just played a major part in one of the greatest World Cup goals ever. Football is a passing game, which we tend to forget sometimes in this age of athleticism and defensive technique, and this was a wonderful example. Argentina didn't just knock it around for the sake of it, they prompted and probed, started again when there was no way through before Esteban Cambiasson finally emerged to rifle the ball into the roof of the net. When they talk about football as the beautiful game, this is what they had in mind - and I was lucky enough to be there!
Macheda turns the title tide - 2009
Manchester United had just lost at home to Liverpool and away to Fulham and were on their way to defeat to Villa, which probably meant the title slipping from their grasp. Then, with half-an-hour still to play, Sir Alex Ferguson decided to put this kid, Federico Macheda, on the basis of a hat-trick against Newcastle for the reserves - a kid no-one had heard of. I remember on the morning of the game just checking, out of marginal interest, how to pronounce his name properly not thinking for a moment I would have to mention it, let alone scream it! Had it been a tap-in it would still have been screamed, but what followed was a Bergkamp-esque shot and a genuinely stunning moment; one of those defining moments in a season when you know you have witnessed something special. I still get the "Machaaaaaaayda" from Richard Keys every time I turn up to a United game and there's a chance he might be involved!
Arshavin's Anfield four - 2009
We had seen something like it a year or so before when Julio Baptista scored four at Anfield in the Carling Cup, but it was against a weakened Liverpool side - this was something else. It remains one of the greatest games I have ever seen but only the neutral fan was happy at the end of it all. It was very subdued down in the tunnel because both teams felt they had lost: Arsenal were 4-3 ahead in stoppage time and Liverpool knew those two points they had lost, probably cost them the Premier League title. I remember saying to Rafa Benitez if they won all their remaining games and Manchester United slipped up they could still do it, but in the end, they won 10 of their final 11 games, only lost two all season and still came second, so you could see how important it proved to be. As for Andriy Arshavin - he of the secret "shhhh!" - you never think of an opposing player scoring twice at Anfield, never mind four times!
Owen off the bench to win the derby - 2009
I have been lucky enough to see a lot of Manchester derbies down the years, but nothing has ever compared to this. I was working on the second game that Super Sunday, Chelsea-Tottenham, and was watching as it went 3-3 into injury time. You could see some of the Manchester City players thought they could go on and get the seventh goal of the game instead of just sitting behind the ball and claiming a richly-deserved point, but it wasn't to be. Some great games do finish all square but this took us to the extreme when up popped Michael Owen, who didn't exactly need to win the hearts of Manchester United fans, but became an instant hit. Scoring goals is the hardest thing to do in football and for Owen to keep his head and his composure to flick home the winner showed what he is all about. He'd had a pretty rough time at Newcastle and it was great to see Michael Owen all smiles again.
Kingstonian crowned champions - 2009
I started out my footballing life as a non-league player and for the last four or five years have been 'helping out' at Ryman League side Kingstonian. I must stress it is just helping out Alan Dowson and Mark Hams, which means doing whatever they can't and only when my work commitments let me - so thank heavens for Super Sundays! It is really a hobby, but Kingstonian is a famous old club and when they asked us to come and help out, I was delighted to get involved in the game again. Winning a match as a coach is a real thrill, but to win a championship is something very, very special indeed. It was the last Saturday in April and we needed a point against Dulwich Hamlet to win the league and were 1-0 down with 10 minutes to go when Dean Lodge equalised and then, with two minutes left Tommy Williams made it 2-1... and we were champions. They brought the trophy onto the pitch within 15 minutes and having seen so many professional players and coaches celebrate over the years, I can honestly say it meant every bit as much to all of us at Kingstonian. It was a real tear-in-the-eye moment and one I will never forget.
Martin Tyler's Moment of the Decade
Do you agree with Martin's choice? Let us know by filling in the feedback form below...
Comments (63)
Scott Parsons (Blackburn Rovers fan) says...
Arsenal's 2001/02 season was definitely the greatest achievement of the last decade but it is not a 'moment' so surely it shouldn't be in the list, nor should Liverpool's Champions League comeback, England's 5-1 drubbing of Germany, Kingstonian's League success, all of Arshavin's four goals or Chelsea's 2005 season. If Martin had chosen 'the final whistle' at Arsenal's last game of the season against Everton, Dudek saving Schevchenko's penalty in Istanbul, Heskey's 75th minute goal in Munich, Arshavin's 90th minute goal at Anfield, or 'the final whistle' at the games where Chelsea and Kingstonian clinched their titles then this list would make sense. But it doesn't.
Posted 17:54 6th January 2010
Darryl Peary (Arsenal fan) says...
Why are people so sour over Arsenal Invincibles??? Im sure it would be the other way round if it was your team... if it was another team i would give them the respect they deserve. like i do Liverpool for over coming a 3-0 deficit in Istanbul.
Posted 12:35 5th January 2010
Mic G (Arsenal fan) says...
I think all Liverpool and United fans complaining need to have a bit of humble pie get over it arsenal had the moment of the decade yes there was some luck and dodgy decisions go our way but who hasn¿t had some of these decisions, it don¿t matter what way you look at it achieving a season unbeaten is an amazing feat that may never again be achieved in my lifetime, this is not taking away from any of Man u or liverpools achievements either 5 cl trophies is amazing albeit only one was this decade the style of it was brilliant and United were deffo the most consistent team of this deacde but stop trying to belittle arsenals achievements, and any man u fans be-littleing it I seem to remember a t-shirt with a certain mr fergusons face on it taking a jibe at a certain mr wenger for even daring to mention the possibility of an unbeaten season before it ever happened I think that alone shows what kind of achievement it is so quiet up and applaud some shere class¿¿
Posted 11:48 5th January 2010
Trevor Linvell (Arsenal fan) says...
Arsenals invincible year was truly the greatest achievement of this decade! L dont think it will be achieved again in my lifetime! They were an outstanding team, the greatest ive seen on these shores!
Posted 10:24 4th January 2010
Chris O'mara (AFC Wimbledon fan) says...
I think Barnsley knocking Liverpool then Chelsea out of the FA cup a couple of years ago should be in the top 10 at least!
Posted 21:31 3rd January 2010
Adam Wright (Aston Villa fan) says...
istanbul 2005 3 nil down at half time say no more!!!!! As for arsenals 38 game season long unbeaten run has everybody forgotten CHASETOWNS fantastic cup run approx 10 divisions below arsenal . Must have been at least 39 (ish)
Posted 21:16 3rd January 2010
Steve Ricketts (Liverpool fan) says...
1) Istanbul - three nil down and what a comeback! Barcelona's masterclass against United should also be in there.
Posted 20:18 3rd January 2010
Nathan Ascott-jones (Manchester United fan) says...
Anybody think of the rooney goal v newcastle 2006? sheer class
Posted 15:11 3rd January 2010
Gurdev Moore (Arsenal fan) says...
Yeah it was a great pass from P.Viera in reference to 'Sean Corcoran (Manchester United fan)' . . . . . . Let me remind you of P.Vieras last kick for the club . . . . Against a little known Manchester Club in the FA Cup final on penalties . . .. . To win the CUP Not a bad way to make up for that pass hey?
Posted 13:09 3rd January 2010
Matt Pallett (Tottenham Hotspur fan) says...
I think that David Bently's 40 yard volley against the gunners in that 4-4 draw in the 2008/2009 season was great and that was the moment of the decade ! :)
Posted 12:47 3rd January 2010
Keith Simcox (Manchester United fan) says...
as we are on the subject of diving yes rooney did dive to end the run but as usual the arsenal fans are a bit blind at times like arsene wenger, do any arsenal fans remember robert pires dive against portsmouth when arsenal were losing 2-1 i know its hard to remember a specific one because he dived so often but just thought id throw that in there and before any arsenal fan reminds me i kn ow ronaldo was as bad for diving so there is no need to remind me
Posted 12:02 3rd January 2010
Ben Beaver (AFC Wimbledon fan) says...
AFC Wimbledon remained unbeaten for 78 league matches, breaking the english record. I know its non league but its an amazing achievement for a club thats only been around for a few years.
Posted 09:16 3rd January 2010
Dermott Donnelly (Arsenal fan) says...
ollie warrin or mr kettle talkin bout players divin van nistleroy rooney an ronaldo biggest divers in the game id like to hear wat u think of that??? good choice martin it just gets in ahead of liverpool in istanbul.
Posted 03:06 3rd January 2010
Ali Aktar (Manchester United fan) says...
the moment of the decade? i would say was when united won the CL finale against chelsea and the turning point, which was the moment OF THE DECADE, was when Terry hit the post and missed and then UNITED WENT ON TO WIN IT !!!
Posted 02:10 3rd January 2010
Gary B (Rangers fan) says...
Greece winning the Euro's has got to be up there, as does Zidanes moment of madness in the W.C Final and Porto in the Champions League (Just impresses me a team from one of European Football's lesser nations winning the Big Trophy!) Also Dean Windass in the play-off final....legend!
Posted 01:22 3rd January 2010
Nutter Nutter (Manchester United fan) says...
all the top moments in the premier league have come from the greatest team on the planet!!!!!!!!!!!! MAN UTD
Posted 00:52 3rd January 2010
John Kennedy (Hearts fan) says...
Gretna joining the Scottish league and going up 3 divisions aswell as ending up only losing on pens in the cup final before going bust
Posted 23:24 2nd January 2010
John Trasnman (Middlesbrough fan) says...
What about the great escape? First team to stop up after being bottom at christmas! Whilst not a moment, survival sunday certanly was, a superb thing to watch for anyone but the three that went down. And a testament to the premier league.
Posted 23:23 2nd January 2010
John Ashton (Manchester United fan) says...
Arsenals 'invincibles'? Easily the most over-rated achievement of all time. Success is rewarded in trophies and they won the exact same as what Blackburn did 9 years previous. And 12 draws? They'd have got the same points by winning 4 and losing 8 of them games. Would 'invincibles' get knocked out of the champions league on their own ground? Dynamo Kiev? Inter? Middlesbrough? Man Utd? Chelsea? All turned them over that season. The best teams of the decade - Chelsea 04-06, Man Utd 07-09 win the league AND other trophies.
Posted 22:09 2nd January 2010
Chris Clarke (Portsmouth fan) says...
1.Liverpool winning the CL final after 3 nil down at halftime 2.beckham free-kick against greece 3.west brom bottom at christmas and staying up arsenal 49 game unbeaten run no not for me because arsenal cheated a penalty when playing Portsmouth about the 5Th game of the season from a Robert pries falling over and winning a penalty.
Posted 21:32 2nd January 2010