Martin Tyler's stats and facts column is here!
Every week he will be here to offer you statistical gems to make your day, impress your mates and, on occasion, to settle the odd bet.
Sky Sports' voice of football and his back-up team of experts are here to answer your questions and queries on all things statistical and historical from the beautiful game.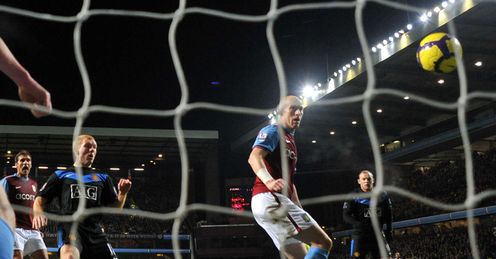 If you have spotted something from a game or have been stumped by a pub quiz question, simply email here and he will do his best to help.
Tyler's Starting Stat - Chiller Park
I covered Aston Villa v Manchester United for Football First at a freezing cold Villa Park on Wednesday, where Villa scored for only the second time in seven Premier League games. Carlos Cuellar's effort was also their first home goal in the Premier League since John Carew scored against Stoke 1-0 on December 19. They also conceded a league goal for the first time in five games, but as I shall discuss below, you cannot beat the Manchester United own goal jinx!
A few other individual stats: that was Richard Dunne 450th career game and Stewart Downing's 250th. Nani started five games in a row for United for the first time - but the second red card of his United career ensured he won't be starting a sixth!
A RECORD OF THEIR OWN
Hi Martin, I love the article. I was at that Manchester United game v Portsmouth this weekend and saw three own goals, saw Arsenal concede an own goal at OT also. My question to you is, which Premier League team has conceded and gained the most own goals this season and who has the record of most own goals since the Premier League began? Look forward to seeing your answers. Neil Brown, Manchester United fan
MARTIN SAYS: The three own goals recorded by Portsmouth on Saturday plus one more from Aston Villa on Wednesday takes the tally for the season to 10 goals in United's favour (although Michael Carrick may yet be awarded the goal that deflected off Pompey's Michael Hughes). Remarkably, "own goal" can currently be listed as United's second highest Premier League scorer this season behind Wayne Rooney. Their second highest goalscorer, Dimitar Berbatov, has scored eight in the league this season.
To answer your first question, United have clearly benefitted from the most own goals this season. As you can see from the table below, no team has had more own goals in their favour. I suppose it's little bit of a sign of pressure. The teams doing well tend to get the most own goal as they put balls in danger areas more often - and this leads to direct goal or own goals. It's interesting that the race for the Premier League's highest scorers is so tight. United currently lead with 62 goals (Chelsea and Arsenal have 61) - but where would they be without a bit of help?
The team that have conceded the most own goals this season is Hull City. Own goals from Ricardo Gardner, Andy Dawson, two from Kamil Zayate and Wednesday's own goal from Boaz Myhill means they have conceded five own goals in this campaign.
Thanks to our firends at Opta for the following information:
| | | |
| --- | --- | --- |
| 2009-10 | Own Goals Conceded | Own Goals Accrued |
| Arsenal | 3 | 3 |
| Aston Villa | 1 | 2 |
| Birmingham City | 1 | 0 |
| Blackburn Rovers | 1 | 2 |
| Bolton Wanderers | 3 | 0 |
| Burnley | 1 | 0 |
| Chelsea | 1 | 4 |
| Everton | 1 | 2 |
| Fulham | 2 | 0 |
| Hull City | 5 | 0 |
| Liverpool | 2 | 2 |
| Manchester City | 1 | 0 |
| Manchester United | 0 | 10 |
| Portsmouth | 3 | 0 |
| Stoke City | 0 | 1 |
| Sunderland | 2 | 2 |
| Tottenham Hotspur | 0 | 0 |
| West Ham United | 0 | 0 |
| Wigan Athletic | 0 | 0 |
| Wolves | 3 | 2 |
United have already accrued more own goals in a single season than any other team in Premier League history. Their current total of 10 beats the previous record, which was also held by United when they benefitted from six in the 1996/97 campaign. The most own goals in a single Premier League season are listed below:
Most own goals in a season:
TENMan Utd (2009-10)
SIX
Man Utd (1996-97)
FIVE
Bolton (2003-04)
Chelsea (2006-07)
Aston Villa (2008-09)
Liverpool (1993-94)
Sheff Weds (1993-94)
Man Utd (1997-98)
Chelsea 1999-2000
GUNNING FOR THE GUNNERS
Hi Martin. Love the column! We always hear about the great records Drogba and Rooney have against Arsenal. Whose is better? Cheers, Raphael (London)
MARTIN SAYS: Both Drogba and Rooney have enjoyed goals and wins over the Gunners in the past fortnight and as you suggest Rapahel, that is not an uncommon feat. Rooney famously scored his first Premier League goal as a teenager for Everton in October 2002 and has since gone on to score a further seven times in his 20 games against Arsenal in all competitions. He has won 10 matches against Arsenal (50%), drawing five times and losing five times.
However, Drogba has an even better record against Arsenal. Sunday was his 12th game against Arsene Wenger's men and his brace took him to 12 goals from those 12 games. Furthermore, Drogba is yet to taste defeat against Arsenal. He has recorded nine wins and three draws from those 12 fixtures.
What is really remarkable is Drogba hasn't scored a goal against Manchester United in 90 minutes - his only goal against them was in extra time in the 2007 FA Cup Final. He also only has one Premier League goal against Liverpool to his name. When playing in France Drogba actually followed Arsenal closely - as did his team-mates - because they said they felt an affiliation with the "Frenchies". But he certainly has it in for them now!
SINCE SCOLARI
Someone pointed out to me that it has been a year since Luiz Felipe Scolari was sacked by Chelsea. Can you tell me Chelsea's record since then and how it compares to our rivals? Would we have won the league if it started when Scolari left? Mart (Chelsea fan).
MARTIN SAYS: Below I have detailed how the league table would look if you include matches played since February 9 2009, the date Scolari left Chelsea. Since that date, Chelsea have picked up more wins and points than any other team.
They picked up 92 points from their first 38 games since his departure. In fact, 92 points would be enough to have won every Premier League season except 2004/05 when Chelsea themselves picked up 95 points from 38 games.
Top of the Premier League since February 9 2009:
| | | | | | | | |
| --- | --- | --- | --- | --- | --- | --- | --- |
| Team | P | W | D | L | F | A | Pts |
| Chelsea | 39 | 29 | 5 | 5 | 85 | 31 | 92 |
| Man Utd | 40 | 29 | 4 | 7 | 89 | 35 | 91 |
| Arsenal | 39 | 24 | 8 | 7 | 91 | 42 | 80 |
| Liverpool | 39 | 23 | 7 | 9 | 78 | 37 | 78 |
| Tottenham | 39 | 20 | 9 | 10 | 64 | 40 | 69 |
| Man City | 38 | 6 | 9 | 11 | 63 | 50 | 63 |
| Everton | 38 | 15 | 13 | 10 | 56 | 45 | 58 |
| Fulham | 41 | 16 | 9 | 16 | 47 | 43 | 53 |
| Aston Villa | 38 | 13 | 14 | 11 | 46 | 43 | 53 |
| Stoke City | 37 | 13 | 12 | 12 | 40 | 42 | 51 |
DOWNS AND UPS
Dear Martin, Should Manchester United win the Premier League this season, would Michael Owen be the first player to win the Premier League the very season after being relegated from the Premier League? Mitchell Queenland Australia.
MARTIN SAYS: We can think of plenty of players who have tasted both relegation heartache and title glory during the Premier Legaue era. The likes of Kanu, Joe Cole, Damien Duff, Nicky Butt, Michael Carrick, Teddy Sheringham, Henning Berg, Dennis Irwin, Dwight Yorke, and Alan Smith have all done that. But none of those players won the league in the season after being relegated, which as you point out might be achieved by Michael Owen this year.
However, Owen would not be the first, as one of his Manchester United team-mates has already done so. Goalkeeper Thomas Kuszczak was part of the West Brom squad that went down in the 2005/06 season, but was signed on loan by Manchester United in the following campaign. He made 13 appearances for United in 2006/07, but only six in the league as United went on to claim the title. However, following special dispensation from the Premier League he was awarded a Premier League winners medal.
GOALS FOR MANY CLUBS
By my counting, Kevin Phillips has now scored for five clubs in the Premier League - Sunderland, Southampton, Aston Villa, West Brom and Birmingham. Is this a record? Have any other current players scored for more clubs? Glen.
MARTIN SAYS: While Kevin Phillips has scored for all of the clubs you mention, he never scored a Premier League goal for West Brom as the club were in the Championship throughout his time at the Hawthorns. So he has scored for four Premier League clubs.
The most clubs any player has scored for in the Premier League is six, a record held by five men:
Les Ferdinand scored for Leicester City, Newcastle, Tottenham Hotspur, West Ham, Bolton and QPR.
Marcus Bent scored for Charlton, Everton, Ipswich, Leicester City, Crystal Palace and Wigan.
Craig Bellamy scored for Liverpool, Manchester City, Newcastle, West Ham, Coventry City and Blackburn Rovers.
Nick Barmby scored for Liverpool, Everton, Leeds United, Middlesbrough, Tottenham Hotspur and Hull City.
Andrew Cole scored for Manchester United, Manchester City, Newcastle, Blackburn, Fulham and Portsmouth.
FERGIE'S S EXPRESS
One for the Man Utd fans. Can you name a full team of players to have played for Man Utd under Alex Ferguson with their surname beginning with the letter S? Gary Walsh (Everton fan)
MARTIN SAYS: We have had some fun with this one. Here is our team, set up in a 4-3-3 formation plus a substitutes bench.
1. Schmeichel
2. Sivebęk
3. Silvestre
4. Shawcross
5. Stam
6. Strachan
7. Scholes
8. Sharpe
9. Solskjaer
10. Sheringham
11. Saha
Bench: Sealey, Spector, Stapleton, Michael Stewart, Simpson
Can anyone beat that team? Let us know your thoughts.
Tyler's teaser
Hit the video for this week's tricky teaser. Send in your answers to Martin's question using the feedback form below - and don't forget to keep your own questions coming in...
Comments (14)
Phil Cotter (Everton fan) says...
Hi martin, great column as usual, after watching Everton's 2-1 win at home to Chelsea i was wondering when the last time Chelsea were beaten after going ahead against Everton? and against when the last time they where beaten by anybody after going ahead? thanks
Posted 13:30 12th February 2010
Callum Dawn (Sheffield Wednesday fan) says...
sum good questions!!!!!! do managers do better at the start of there job at a team or once they have eased into things . . .???
Posted 10:21 12th February 2010
Austin Omondi (Arsenal fan) says...
Martin Tyler when it comes to football commentating you are second to none. i take the view that this is one of the most difficult jobs but you make light work of it by keeping us entertained throughout the 90 min with your amazing facts, a deep understanding of the game, and most of all a punch in your delivery with lots of humor too. we love you here in kenya
Posted 05:35 12th February 2010
Carlos Leal (Manchester United fan) says...
Wow!!! That's blog is amazing, in brazil not have statistics about the "PL"... Congratulations, it's nice!
Posted 23:34 11th February 2010
Carlos Leal (Manchester United fan) says...
Wow, that's blog is amazing... in Brazil not have statistics about "PL"... Congratulation
Posted 23:33 11th February 2010
Richard Allwood (Liverpool fan) says...
hi martin, since manutd have had 10 own goals in their favour, what position would they be in if the own goals never counted
Posted 20:10 11th February 2010
Stephen Uzell (Manchester United fan) says...
a man united fan who loves debates about football and also keen on snooker and horse racing especially cheltenham festival and love champions league knockout stages
Posted 18:04 11th February 2010
Barrie Jackson (Manchester United fan) says...
Hi Martin Going down the same old street I suppose about foreign players in the Premier League, but watching last night's game between Arsenal and Liverpool before Theo Walcott came on there was only one English player in the 22 who kicked off (Steven Gerrard). Has this happened many times ?
Posted 17:20 11th February 2010
Ben Drotleff (Arsenal fan) says...
What everyone's saying about arsenal not winning the league, I can understand, look at the fixture list!! Arsenal were 11 points behind Chelsea in December and 9 games later overtook them into first place. There are 12 games to go and we are only 6 points behind!. So we have more games and are fewer points behind than before. Sure it will be a great achievement after being written off twice but we're Arsenal. I think that we can still do this because Chelsea and Man U still have to play each other, at Old Trafford, and they both still have to play: Spurs! Man C! Liverpool! as well as Man U going to Everton and Chelsea to Villa!! Man U have 3 of these away while Chelsea only 2 away and they are difficult games. After our win against Liverpool on Wednesday night Arsenal would only have to go to Spurs and play Man C at home, also Stoke and Birmingham away, but I think that Arsenal can go unbeaten from now to the end of the season, with maybe 2 draws and 10 wins, so I also feel that, like Wenger, the title will be won with less than 85 points. In fact try the BBC sports predictor program thing, with my predictions I get: 1ST Chelsea 82 points GD +56 2ND Arsenal 82 points GD +52!! 3RD Man U 80 points GD +52 4TH Liverpool 71 points GD +32 5TH Spurs 70 points GD +32 6TH Villa 70 points GD +28 7TH Man C 69 points GD +25 8TH Everton 57 points GD +11 So Arsenal come close but in reality it might be better!.... or it could be much worse! Also I think that with the teams above could create a "big eight" next season as all of them should be able to get their acts together and play at their best next season. Does everyone agree? Thanks! Come on you Gunners!!
Posted 16:25 11th February 2010
Rufus Stanglin (Arsenal fan) says...
hi, i just wondered of all the french players that arsene wenger has signed im sure that wenger has bought a french player of each position in the team. can you name the strongest possible team of french players to have played for Arsenal under Mr Wenger. im sure the squad would be strong enough to beat the france national team. thank you
Posted 16:22 11th February 2010
Ryan Lea (Fleetwood Town fan) says...
looking at how drogba has scored against arsenal so many times which player has had the best ratio for scoring against opposition clubs. and has anyone ever scored against every premier league club in a season.
Posted 14:39 11th February 2010
Tom Stanford (Oldham Athletic fan) says...
very intresting martin but i think that man utd have been very lucky this season espically with a few own goals being scored in the last minute.
Posted 14:35 11th February 2010
Rob Greene (Manchester United fan) says...
Here's one:- We see Drogba has a great record against Arsenal, but which player has scored most goals against Chelsea in the Premier League?
Posted 14:24 11th February 2010
Frode Kippe (Stoke City fan) says...
I may be wrong with some of these, but I'll guess at... Danny Fox Leighton Baines Ryan Giggs Matty Taylor Danny Murphy Andy Dawson
Posted 13:54 11th February 2010