Martin Tyler's stats and facts column is here!
Every week he will be here to offer you statistical gems to make your day, impress your mates and, on occasion, to settle the odd bet.
Sky Sports' voice of football and his back-up team of experts are here to answer your questions and queries on all things statistical and historical from the beautiful game.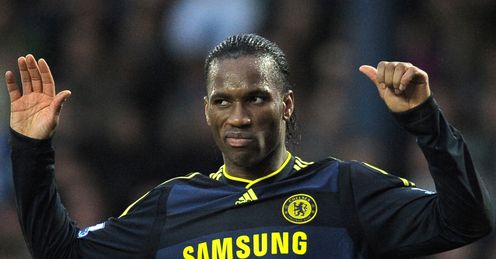 If you have spotted something from a game or have been stumped by a pub quiz question, simply email here and he will do his best to help.
Tyler's Starting Stat - United's home fortress
I was at Old Trafford on Sunday to see Manchester United's first win against Liverpool for two years, a result which almost certainly confirms they will finish above their rivals for the 17th time in 18 Premier League seasons.
Liverpool became only the sixth of 16 visiting teams to score at Old Trafford in the Premier League this season and the first since December 12. Fernando Torres was just the eighth visiting player to score a league goal at the home of the champions following Andrey Arshavin, Gareth Barry, Craig Bellamy (twice), Darren Bent, Kenwyne Jones, Matt Taylor and Gabriel Agbonlahor. It was only Liverpool's 13th away league goal this season, of which Torres has scored six. Surprisingly after two away goals at Tottenham and Bolton, Steven Gerrard has not scored away in the Premier League since August.
At the other end, Rooney scored his 130th goal in 277 Manchester United appearances and his 25th goal in 23 games (all competitions). However, it was only his second goal against Liverpool in 16 games; the previous one was a winner at Anfield in January 2005.
Meanwhile, Park Ji-Sung scored only his third goal of the season in his 100th start for Manchester United. However, those goals have come against Arsenal, AC Milan and Liverpool so United supporters will be very pleased with his return.
RUN-IN MEN
Hi Martin. As we come closer to the end of the season, it is quite clear that while the title race is very closely fought, Manchester United still need to drop points for Arsenal and Chelsea to have any hope. Which of the top three (Arsenal, Chelsea and Man United) has the easiest run-in till the end of the season based on the number of points won against the teams they are due to play? Thanks, Arjun Kudva (Man United fan)
MARTIN SAYS: This is hugely hypothetical, but if Manchester, United, Chelsea and Arsenal were to replicate the results against their run-in opponents from earlier in the season, then the end of the season would look like this:
MAN UTD:
Bolton - Won 2-1
Chelsea - Lost 1-0
Blackburn - Won 2-0
Man City - Won 4-3
Tottenham - Won 3-1
Sunderland - Drew 2-2
Stoke - Won 2-0
ARSENAL:
Birmingham - Won 3-1
Wolves - Won 4-1
Tottenham - Won 3-0
Wigan - Won 4-0
Man City - Lost 4-2
Blackburn - Won 6-2
Fulham - Won 1-0
CHELSEA:
Portsmouth - Won 2-1
Aston Villa Lost 2-1
Man Utd - Won 1-0
Bolton - Won 4-0
Tottenham - Won 3-0
Stoke - Won 2-1
Liverpool - Won 2-0
Wigan - Lost 3-1
A repeat of those results would spell bad news for Chelsea as they are yet to play two teams who beat them earlier this season - Aston Villa and Wigan. On this basis, the Blues would finish third - however it would certainly be a surprise were Wigan to win 3-1 at Stamford Bridge!
I noted at the weekend that apart from a trip to Sunderland, United do not have much travelling to do. Their other away games are at Bolton, Man City and Blackburn. However, if the results are replicated then Arsenal and United would both finish on 85 points - but Arsenal would narrowly take the title on goal difference:
| | | | | | | | | |
| --- | --- | --- | --- | --- | --- | --- | --- | --- |
| | P | W | D | L | F | A | GD | Pts |
| Arsenal | 38 | 27 | 4 | 7 | 96 | 41 | 55 | 85 |
| Man Utd | 38 | 27 | 4 | 7 | 87 | 33 | 54 | 85 |
| Chelsea | 38 | 26 | 5 | 7 | 86 | 35 | 51 | 83 |
BLUE-SING A LEAD
Dear Martin. I've just watched the Blackburn v Chelsea game on Sky TV and yet again Chelsea failed to hang on to a lead. This has happened against Everton and Man City lately, which is unusual because usually Chelsea win games when they score first. My question is this: how many points have Chelsea dropped from winning positions this season? How does this compare to the seasons we won the title under Mourinho? Chris Dicks (Chelsea fan).
MARTIN SAYS: Chelsea have led in 26 of their 30 games this season, but they have only won 20 of those matches. The other six were as follows:
Lost 2-1 v Aston Villa
Lost 2-1 v Man City
Drew 3-3 v Everton
Lost 2-1 v Everton
Lost 4-2 v Man City
Drew 1-1 v Blackburn
So far Chelsea have dropped 16 points from winning positions this campaign.
This contrasts heavily with Chelsea's title-winning seasons. In 2004/05 Mourinho's Chelsea took a lead in 30 games and only failed to win once. That was a 2-2 draw against Bolton.
In 2005/06, Chelsea took the lead in 31 games and only failed to win twice: a 1-1 against Charlton and a 1-1 draw against Villa.
So while Chelsea have dropped 16 points from winning positions this season, they only dropped six points in those two seasons combined after taking a lead. They also never lost from a winning position; something they have done on four occasions this season. Chelsea supporters will also be worried that they have let leads slip in three of their last five games.
OVERLOOKED TWENTY-SOMETHINGS
Hi Martin, I was thinking about Darren Bent's recent goal scoring exploits and his lack of England appearances. I would like to know who was the last Englishman to score 20+ league goals in a World Cup year and then not go to the tournament (excluding players who couldn't go due to injury)? Danny Greeves (Manchester Utd fan)
MARTIN SAYS: A number of people have sent in this question this week, so how can I not answer this for you? In the Premier League years, only one other Englishman has scored 20 goals in a World Cup year and not gone to the finals (when England have qualified) - and that was Alan Shearer in 2002. But of course, he had retired from international football by then and was not available for selection.
So the last time an Englishman scored 20+ top flight goals and wasn't selected was 1990 when both Matt Le Tissier and Kerry Dixon scored exactly 20 goals. Neither were called up for Italia 90 by Bobby Robson.
As you can see from the table below, the likes of Tony Cottee, Mick Harford and Joe Royle all scored 20 goals without going to a World Cup. Furthermore, Pop Robson scored 22 goals in 1970 and Tony Hateley scored 27 goals in 1966 (four more than Geoff Hurst that season) - and neither of those two players were even capped during their careers (although Ton's son Mark did go to the 1986 World Cup).
Before 1966, multiple players scored more than 20 goals so here is a list of Englishmen to have scored 20+ goals in a World Cup year and not gone to the tournament (when England have qualified) since 1966:
| | | |
| --- | --- | --- |
| Year | Player | Goals |
| 2002 | Alan Shearer* | 23 |
| 1990 | Matt Le Tissier | 20 |
| | Kerry Dixon | 20 |
| 1986 | Mick Harford | 22 |
| | Tony Cottee | 20 |
| 1970 | Joe Royle | 23 |
| | Pop Robson | 22 |
| 1966 | Tony Hateley | 27 |
| | Mick Jones | 21 |
* Retired from international football
EU BEAUTIES!
Dear Martin, Amazing column... I would like to throw a trivia along with the ever growing list of questions for ya!!! I have heard so much about Italian Serie A being called as boring and EPL to be the best league. Not to mention, the Spanish league as well. Just wanted to know, which league has produced most goals in a season in the last 10 years. Shank Krish (Manchester Utd fan)
MARTIN SAYS: Shank, the simple answer to your question is La Liga! In season 2008/09, a striking tally of 1,101 goals was scored in the Spanish top-flight with Barcelona leading the way, eclipsing the previous best total since the turn of the millennium of 1,095 goals, scored in season 2000/01. More than a thousand goals have been scored in the Premier League four times since 2000/01 - those campaigns being 2001/02, 2002/03 and 2003/04. The feat was also achieved in 2007/08. Over the same period the highest return from a single Serie A season is 991 goals, in season 2005/06.
However, there were only 18 teams in Serie A up until 2004/05 so a fairer way to compare the leagues is on a goals-per-game ratio. Check out this table:
| | | | |
| --- | --- | --- | --- |
| Season | PL goals (goals-per-game) | La Liga goals (goals-per-game) | Serie A goals (goals-per-game) |
| | | | |
| 2009/10 | 844 (2.795) | 723 (2.678) | 743 (2.562) |
| 2008/09 | 942 (2.479) | 1101 (2.897) | 988 (2.6) |
| 2007/08 | 1002 (2.637) | 1021 (2.687) | 970 (2.552) |
| 2006/07 | 931 (2.45) | 942 (2.479) | 969 (2.55) |
| 2005/06 | 944 (2.484) | 936 (2.463) | 991 (2.601) |
| 2004/05 | 975 (2.566) | 980 (2.579) | 960 (2.526) |
| 2003/04 | 1012 (2.663) | 1015 (2.671) | 816 (2.667) |
| 2002/03 | 1000 (2.632) | 1016 (2.674) | 789 (2.578) |
| 2001/02 | 1001 (2.634) | 962 (2.529) | 806 (2.634) |
| 2000/01 | 992 (2.610) | 1095 (2.882) | 845 (2.761) |
| TOTAL | 9,643 goals in 3,722 games (2.591) | 9,790 goals in 3,690 games (2.653) | 8,877 goals in 3,414 games (2.600) |
The good news this season, Shank, is that Premier League fans are getting more goals per game this season than ever before. You're also getting more goals per game than La Liga and Serie A supporters - so make sure you enjoy it!
NON-BRIT BOSSES
Hey Martin. In this day of age of talking about young British managers my question is out of the current Premiership teams which teams have never had a non-British manager. I know my beloved Manchester United haven't. Scott Sunderland (Manchester Utd fan)
MARTIN SAYS: I need to correct you Scott, because Manchester United have had one non-British manager. The Irishman Frank O'Farrell managed the club from 1971 to 1972 and remains the only manager from outside Britain in their history.
The Premier League club that have clearly never had a non-British manager in their history is Birmingham City. All of their managers have come from either England or Scotland - although the likes of Owen Coyle (who was born in Scotland but played for Republic of Ireland) and Mick McCarthy (who was born in England but also played for Republic of Ireland) rather complicate the issue.
Clearly the side that have had the most non-British managers are Chelsea, who can boast three Italians, one Portuguese, one Israeli, one Brazilian and two Dutchmen in their history.
Non-British managers of the current 20 Premier League clubs:
Arsenal: Arsene Wenger
Aston Villa: Jozef Venglo, David O'Leary (Ireland)
Birmingham: None
Blackburn: Johnny Carey (Ireland)
Bolton: Owen Coyle*
Burnley: Owen Coyle*
Chelsea: Gianluca Vialli, Ruud Gullit, Claudio Ranieri, José Mourinho, Avram Grant, Luiz Felipe Scolari, Guus Hiddink, Carlo Ancelotti
Everton: Johnny Carey (Ireland)
Fulham: Jean Tigana
Hull City: Jan Mølby
Liverpool: John McKenna (Ireland), Gerard Houllier, Rafael Benitez
Man City: Sven-Göran Eriksson, Roberto Mancini
Man Utd: Frank O'Farrell (Ireland)
Portsmouth: Velimir Zajec, Alain Perrin, Avram Grant
Stoke: Gudjon Thordarson, Johan Boskamp
Sunderland: Mick McCarthy**, Niall Quinn, Roy Keane (all Ireland)
Tottenham: Ossie Ardiles, Chris Hughton (Caretaker, Ireland), Christian Gross, Jacques Santini, Martin Jol, Juande Ramos
West Ham: Gianfranco Zola
Wigan: Roberto Martinez
Wolves: Mick McCarthy**
* Born in Scotland, played for Republic of Ireland
** Born in England, played for Republic of Ireland
SWING LOWS FOR BOLTON
Hi Martin, Last weekend Bolton thumped Wigan 4-0, but the England rugby team failed to win. This always seems to happen, that when both teams are playing on the same weekend that one or neither of them will win. Is this true? James Allen
MARTIN SAYS: We've looked into this for you James after both Bolton and England (rugby) lost this weekend. I can confirm that on the last 13 occasions that the England rugby team and Bolton Wanderers have played on the same weekend, one or both of the sides has lost. The last time they both won on the same weekend was November 8 2008 when England beat the Pacific Islands in an Autumn international and Bolton won at Hull.
The last time Bolton won a Premier League match and England won a Six Nations match on the same weekend was February 10 2007 when Bolton beat Fulham and England overcame Italy.
I've also checked out the greatest day in England's rugby history for you. On the same day that England won the World Cup in 2003, Bolton won 2-0 away at Leeds United. I'm sure that was a day of double celebration for you, James!
Results when England rugby and Bolton play on the same day:
| | | |
| --- | --- | --- |
| Weekend | England rugby | Bolton |
| Mar 20, 2010 | Lost v France | Lost v Everton |
| Mar 13, 2010 | Drew v Scotland | Lost v Wigan |
| Feb 27, 2010 | Lost v Ireland | Won v Wolves |
| Feb 14, 2010 | Won v Italy | Drew v Tottenham |
| Feb 6, 2010 | Won v Wales | Drew v Fulham |
| Nov 21, 2009 | Lost v New Zealand | Lost v Blackburn |
| Nov 7, 2009 | Lost v Australia | Lost v Aston Villa |
| Mar 21, 2009 | Won v Scotland | Drew v West Brom |
| Mar 15, 2009 | Won v France | Lost v Fulham |
| Feb 7, 2009 | Won v Italy | Lost v Everton |
| Nov 29, 2008 | Lost v New Zealand | Won v Sunderland |
| Nov 22, 2008 | Lost v South Africa | Won v Middlesbrough |
| Nov 15, 2008 | Lost v Australia | Lost v Liverpool |
| Nov 8, 2008 | Won v Pacific Islands | Won v Hull |
Tyler's teaser
Fill in your answers to Martin's teaser using the feedback form below - and keep those questions coming in!
Comments (29)
Yuveer Popat (Liverpool fan) says...
Hi Martin, Please could you inform me as to how many penalties per game have been awarded between Manchester United and Liverpool in their recent history. Perhaps my memory is bad, but it seems like there's always been a penalty given every time the two teams meet. Thanks!
Posted 11:37 30th March 2010
Ben Devonshire (West Ham United fan) says...
Hi Martin, With West Ham taking on Everton this weekend and Louis Saha's seemingly love for scoring goals against us, i was wondering who has the best goal scoring record against the Hammers in the Premier League? Historically, Saha loves to score against us, as does Michael Owen and Kevin Davies. Which of these has the better record though? And how does this fit in with the average in the league?? Cheers Ben
Posted 10:38 30th March 2010
Bryan Bryan (Manchester United fan) says...
@John Brennan " Also has there ever been a season when players of another nationality have scored more goals than Englishmen?" Seriously what kind of a pathetic question is that? Please stop wasting Martin's time. Does the name Cristiano Ronaldo, Thierry Henry and Ruud van Nistelrooy ring any bells? Come on you call yourself a United fan? How ignorant.
Posted 12:00 26th March 2010
Ugochukwu Ezeakum (Arsenal fan) says...
Hi martin im a fan of ur column and i'll like 2 ask why vermalean will b serving only a one match ban cause i thought d penalty 4 straight redcards were 3 match bans
Posted 08:24 26th March 2010
Zami Romm (Liverpool fan) says...
Hi Martin, this season i have seen a high amount of own goals, especially in Man Utd's favour. I would like to know whats the most amount of own goals that a team has beniffited from in a season and secondly if Man Utd had not been aided with all their own goals, what would their league position be currently? Thanks, looking forwrd to hearing the answer!
Posted 06:42 26th March 2010
Michael Mills (Arsenal fan) says...
Hey Martin! A lot of people seem to underestimate the importance of Essien in Chelsea's midfield. With him, I am sure Chelsea would have oercome Inter Milan.Can you tell me how many games Chelsea have won with and without Michael Essien.
Posted 05:39 26th March 2010
Rayz Maynard (Manchester United fan) says...
Hi Martin. My question revolves around the length of injury time being played. I'm noticing an ever increasing trend in how much time is being added on after the 90 and my guess is that the Man United v Man City clash at Old Trafford where there was 6 minutes added on started the trend. For instance, the man u vs liverpool match had 5 mins of injury time, which puzzled me considering the lack of injuries, fouls and general stppages in the second half. So my question is can you get an average of the amount of injury time added on 1...year on year and 2....since the infamous 6 minutes at old trafford. I would be really interested to see the stats on that. Rayz
Posted 22:13 25th March 2010
Adam Stewart (Manchester United fan) says...
Martin !!! I like reading your facts every week and i think i have a very interesting question which you will be interested in just as much as me. After watching Man United keeping possession for quite a while and stringing a lot of passes together before Park Ji-Sungs winner, i started to wonder which Premiership team has kept possession for the longest amount of time before losing the ball or scoring in a match. Or indeed, which team has managed to string the most passes together? My prediction would be Arsenal because of the way they play football. Thanks Martin!
Posted 19:09 25th March 2010
James King (Everton fan) says...
Hi Martin! was woundering if you could tell me what the league would look like since the start of december, i think everton would be in the top 3 challenging for the title.
Posted 17:21 25th March 2010
Dan Worrall (Manchester United fan) says...
Love the column Martin!
Posted 14:19 25th March 2010
John Brennan (Manchester United fan) says...
Hi Martin Love the column and find something interesting every week. My question is with Rooney, Bent and Defoe all high up in the scoring charts this year what percentage of goals in the Premier League have been scored by Englishmen? Also has there ever been a season when players of another nationality have scored more goals than Englishmen?
Posted 12:38 25th March 2010
Phil Sharples (Chelsea fan) says...
I wish people like Andrew Lilley would crawl back under the stone they have recently vacated. I dont suppose a Man Utd player ever has comitted a worthwhile foul in his career? Oh, and respect - coming from a Man Utd fan, thats priceless!
Posted 12:05 25th March 2010
Freddie Davis (Sunderland fan) says...
Hi Martin. I have two questions concerning our star striker Darren Bent. Firstly, is his incredible goals ratio this season (i.e. proportion of club's goals scored by one player) likely to set a new Premier League record? And where would Sunderland be in the league if you subtracted Bent's goals from every game we have played this season? I suspect it would be optimistic to suggest we would be out of the relegation zone...
Posted 10:28 25th March 2010
Donald Wotherspoon (Liverpool fan) says...
The article on British Managers raises the issue of successfull managers. The nationality and without doubt the non prescence of English born managers in the Premier League is a thought provoking subject The last time the League was won by an English Manger was when Howard Wilkinson managed Leeds . The ratio of Scottish born Managers in the English league also asks questions on thye required make-up of personality required. I s there something lacking that hinders the English players from going on to manage teams successfully
Posted 08:00 25th March 2010
Aschalo Aschalo dereje (Arsenal fan) says...
Hi Martin! U made great column.i think the fixtures after now will follow this pattern.if that is gonna be true,the gunners r gonna be champions.
Posted 06:58 25th March 2010
James Rackie (Manchester United fan) says...
Alrite Martin, as an avid follower of United of more than 15 years, I couldn't help but notice a little trend we've got going on in Europe at the moment. That is we have appeared to have won our last 6 away matches at Porto, Arsenal, Besiktas, CSKA Moscow, Wolfsburg and Milan respectively, not including the final defeat to Barca as it was held at a neutral ground. My question therefore is, is this a Champions League record or even an European record that United currently hold and are hoping to extend at Munich this Tuesday. Cheers m8 ;)
Posted 00:55 25th March 2010
Andrew Lilley (Manchester United fan) says...
So Chelsea win 5-0 against Portsmouth. Big surprise! What concerns me is that that they are begining to to 'throw their toys out of the pram' based on what I have seen on Football First this evening. Two cases of assault if ever I've seen them were perpetrated against Portsmouth and yet again, spineless refs refuse to deal with each situation on its merit? The 'attack' on Tommy Smith was out and out violence by the Sturridge and I hope the FA show some backbone and don't 'fudge it' aka Gerrard's assault against the same team! No wonder Avram Grant is unable to understand what is fair and what is not, when his team are being targeted by the so called 'Big Boys' for 'Special Treatment'! Chelsea are rapidly becoming 'stress heads' because the wheels have fell off down Moscow Way. Even if Man U don't win the title this year, I will be over the moon if it is Arsenal who take the crown, because what Chelsea are trying to do and who they are doing it to, as no part in football, but what else can be expected of a so called team who are led by by an Italian manager who has 'previous form' in relation to this type of football! We will see you on Easter Saturday at Old T and it can only be hoped that we give you a taste of your own medicine and re-dress the balance for teams like Pompey!!!!!!!!!!!
Posted 00:18 25th March 2010
Martin Cass (Newcastle United fan) says...
With Bentley Scoring With Basically His First Touch (Against Fulham)After Coming Off The Bench, I Was Wondering Which Players Have Scored In The Quickest Time After Being Brought On?
Posted 22:00 24th March 2010
Jeremy F (Arsenal fan) says...
Hi Martin, I was thinking about recent penalty incidents and I was wondering how many penalties each of the perennial top four (Arsenal, Chelsea, Liverpool, and Man U) have won whilst playing each other over the last decade. I would be interested in knowing both total penalties won, and number of penalties won while playing each of the other teams. My guess is that Man U has the most total! Thanks!
Posted 21:00 24th March 2010
Sahil Sampat (Arsenal fan) says...
Hi Martin, I happen to follow your column avidly every week and I enjoy it as much as your commentary. However, being an Arsenal fan, I have unfortunately noticed that Arsenal's match against a 'Big Four' opposition with Martin Tyler doing commentary is not the best combination for Arsenal as far as the result of the match goes. Is there any substance in the question or is it just my imagination? Can you please provide me with the stats and results (Big four matches only) as to how Arsenal fare when you are providing commentary for the game as opposed to when Rob Hawthorne is. Can you compare this with how Manchester United fare in the same scenario. Thanks for your time. PS: it's an absolute pleasure to hear your voice in Arsenal's games irrespective of what the stats say. Cheers mate :-)
Posted 18:20 24th March 2010