So the Gulf Swing is over for another year and it can reflect on a wonderful four weeks of golf on four quality golf courses. My only disappointment was that during the weeks of Bahrain and Qatar, there was a lack of atmosphere.
Golf is young in these quarters and the game will continue to grow. As more and more people take up the game and have an interest in it that will change in the years ahead.
The month produced top-drawer winners in Martin Kaymer, Paul Casey, Thomas Bjorn and after an amazing final round at the Majilis course in Dubai, Alvaro Quiros, more on the delightful Spaniard later.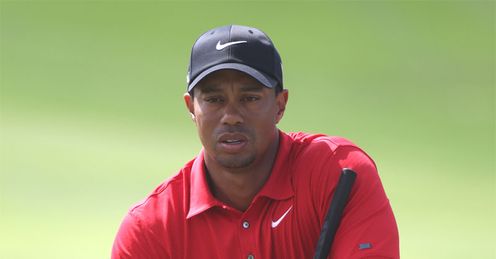 The focus in Dubai was the rehabilitation of the former number one, Tiger Woods. Disaster is a strong word and I don't think it should be overused, but it often is.
The first day produced a wonderful finish with Tiger at odds with his game. A last-hole eagle reminded us of his brilliance as he turned a possible 76 into a very creditable 71.
In the final round at the 12th green, Tiger Woods stooped to an all-time low. Quite simply it was the most degrading moment I have experienced in the game.
Ewen Murray
Quotes of the week
The world's top three had been drawn together for the first time on the European Tour. They teed off at 8am on Friday and I wanted to see that because I may never get the chance again. I also wanted to see it as a fan, so rather than my car take me to the media centre, I had it take me to the gates where the fans entered the course.
I left the hotel at 6.30am and at the gates, I saw many mums and dads holding their children's hands. For the youngsters, it was like Christmas morning. They were going to see their idol in the flesh. Many had dressed in their golfing clothes with the "swoosh", just like Tiger, emblazoned across their shirts.
I'm not ashamed to admit it, but their excitement reminded me of when my father used to lift me over the turnstiles at Gayfield Park in Arbroath to see my team take on a Forfar or a Stenhousemuir in the Scottish Second Division. I was as excited as they were, and five hours later, they were not disappointed.
Tiger had shot 66 with three birdies on each nine and was in a whisker of the lead. I only watched for five holes before on-air time beckoned and the rest I watched with you on Sky Sports.
Undesirable
At the second hole, Tiger's 11th, a poor tee shot was greeted with the release of expectorant from his lips and I thought and said at the time it was undesirable. Thankfully the wind from the Arabian Sea felled the gob wide of the camera and the cameraman. That was nothing to what happened as the week grew older.
At lunchtime, I went to the range as I was more than a little flummoxed by the new swing Tiger has had since his alliance with Canadian coach, Sean Foley. I simply wanted to understand it better than I was.
Some 36 yards away, the same children were watching Tiger's every move. In their hands they had a cap, or a programme or just autograph books they wanted him to sign. They stood there waiting patiently watching Woods, Kaymer and Westwood practice.
They could not even see Tiger as his agent, Mark Steinburg who is never far from Wood's shadow, stood behind him with the golf bag obscuring everyone's view. Lee left first and signed every one of the articles. Kaymer left next and did the same handing out the odd golf ball to the beaming recipients... then horror!
Flanked by six security guards who made the Kray Twins look like Morecambe and Wise, Woods slipped off his golf glove, and a shiny black car appeared. In stepped the agent and Tiger and off they went into the desert. I looked at the kids' faces and remembered the odd disappointment I had as a child and my heart melted.
There were faces that displayed they had been betrayed, there were tears and there were angry looks from the mums and dads who had their children up at the crack of dawn promising them that this day was going to be a special one.
There was of course more to come. In the final round at the 12th green, Woods stooped to an all-time low. Quite simply it was the most degrading moment I have experienced in the game. Having left a 25-foot putt four feet short of the hole, as he bent down to mark it, another spurt of phlegm was released which landed a few feet away on the putting surface.
Unacceptable
There were four groups behind him and the deposit could clearly be seen on the green. Quiros, playing two groups behind him would be unaware that his second putt was just inches from the splat.
I could go on, but what's the point? The one thing I would say on my own behalf here is that I'm privileged to comment on the best tournaments in the world and I felt at the time I should not have to have made the comments I made on air, but if I didn't, then I would not be worthy of being in the position I'm in.
Had I ignored it, I would be as guilty as the perpetrator. My sadness is that Woods has given me, like you, so much enjoyment and thrills down the years, but his actions in Dubai were totally unacceptable to everyone - including the game of golf itself.
I thought of the embarrassing press conference in Ponte Vedra, a year ago this Saturday, at the headquarters of the PGA Tour when Woods did not have the courage to face the world, just a few family members and his mum were present. "Humility" and "better person" were mentioned on more than one occasion. What ever happened to that promise? For the record, his press conferences in Dubai could only be described as dire.
Woods has a long way to go before his game is anywhere near where it was and whatever criticisms can be made of other areas of his life, his work ethic remains an example and inspiration to all.
But on Sunday in the United Arab Emirates, a country that has paid handsome dividends for his services, he stooped to depths that simply should never be reached. He was paid a reported three million dollars for his performance last week. Surely he has to do better than he did?
What a comparison to Phil Mickelson. Phil has had, I would imagine, a torrid time in the past two seasons through no fault of his own. The illness of his charming wife Amy and his mum have had must have been hard to deal with. Yet Mickelson went to Shanghai and during his four days there spent an hour every day in the sponsor's hospitality suite and another hour signing autographs. He even learned to write his name in Chinese.
Irreparable
By the end of the week, the fans no longer wanted his signature; they just wanted to walk alongside him. He smiled his way down the fairways and like the Pied Piper, the fans followed with smiles as wide as China. Phil is the people's hero, he has humility, he has decency and he has manners, just like the greats of the game have had down the years.
We will have to wait and see what happens now, but Wood's behavior in Dubai might well have done irreparable damage to the one time golden boy of our sport.
On a brighter note, the win of Alvaro was thrilling. His fifth victory on tour was nerve-jangling and his final round included an eagle two and an eagle one and a triple bogey! Alvaro is a special talent and because of the way he plays, there will be highs as well as lows, rather like Arnold Palmer during his career. He has the natural ability to go to the very top of the sport and I would not be surprised if he manages to do that.
His next event is the first world golf championship of the season and no one will relish facing him in the Accenture Match Play. The Middle East Swing is now firmly cemented in the world golfing calendar and the place to play golf in January and February is where the East meets West.
By the way, as I have mentioned them, Arbroath can't stop scoring goals at the moment and they are top of the Scottish third division. Happy days!
Do you agree with Ewen? Is a fine enough for the former world number one? Let him know by filling in the feedback form below...
Comments (96)
John Mckay says...
what is it with these american golfers, tiger, dustin johnson, and steve the spit marino they have no respect for the course, the playing partners and the game of golf if the us pga dont act soon i will turn off the coverage as i dont want spitting in my lounge
Posted 23:07 27th March 2011
Andrew Kenneally says...
On this point of spitting, though Ewen's article covers much broader behaviour than that, I grew up playing golf, and as such like anyone lucky enough to have done so will realise the importance of etiquette on a golf course. This involves no 'strangling of one's natural tendencies' but simply the expectation that one behaves in a manner respectful to one's playing partners and thus upholds the tradition of the game. Golf is a sport or game where one walks around in ordinary clothes - there is no sprinting around diving in muck, expending big reserves of physical energy, etc - overall all pretty mild physical activity. Now if when walking down a street with people all around, including of course women, you spit whenever you feel like it means you have no respect for those other people, as most people would find this with reason a disgusting sight this doesn't bother you, in which case you are either very arrogant or ignorant or more likely a mixture of both. Behaviour on a golf course is expected to be at least as high as when on a street as anyone who knows anything about it will know. In line with this you will never have witnessed the likes of Nicklaus, Watson, Els, Faldo, Seve, etc spitting as part of their normal behaviour on a golf course. For Woods contrarily to spit as he has been doing so publicly for so long means he has no respect for his playing partners and the watching public - they are on some lower plane and of no consequence. This behaviour is relatively recent, was not how he conducted himself earlier in his career, and so one can only conclude is a manifestation of the hardening of his personality following all his success in the game.
Posted 09:41 17th February 2011
John Hill says...
Ewen, agree with your comments regarding Woods, there is a petulance there that¿s unbefitting to such a star of the game. Problem is, people tune in to watch Woods, he¿s a big draw, particularly with all the hype and circus that surrounds him after his fall from grace last year. Whatever drives him (Nicklaus¿s major record?) will not go away, but I can see frustration creeping into his game, mainly with the new swing changes he¿s trying to bed in. Seve is a prime example of how this can go wrong, he was one of the most naturally gifted golfers in the world, but took too much advice and ended up with a head full of counteractive swing thoughts that tore his game apart. I hope he gets it back, but is he trying too hard?
Posted 02:18 17th February 2011
Alan Dickson says...
Although I totally agree with Ewan;s comments on the disgusting behaviour of Tiger, I find it difficult to restrict this to golf. Have just watched the Arsenal gane and counted at least 15 players who cleared their throats on the pitch during the game. Surely this is just as bad and should be banned form all sports.
Posted 22:14 16th February 2011
John Harrity says...
It is amazing that no sports writer has anything bad to say about the former number one golfer until he is no longer number one. Even though his downfall was of his own making, why wasn't he taken to task before? If Tiger's spitting was sooo not etiquette, then how disgusting was Sergio's spitting directly into the cup a year or two ago. And I don't remember him geting so much flack. I guess the only way one's behavior can escape scrutiny is to not excell at your sport.
Posted 14:16 16th February 2011
Jason Bowers says...
I would consider myself to be as big a Tiger fan as anyone and would defend him to the end however even I have no defence for the spitting actions and lack of autograph time (although the latter is nothing particularly new). All that said anyone who believes Lee Westwood to be the model pro and excellent advocate of world number 1 think again. Lee finished rounds 2 & 3 badly with bogeys on the last, fair enough you're not going to be all smiles when a round ends like that but his interviews post rounds to Tim Barter and David Livingstone were border line rude and ignorant. Did anyone else note the comment Mark Roe made in commentary a few weeks back (cant remember the tournament) but he was speaking about Kaymer and how he wouldnt expect Martin to change in anyway whatsoever the day he inevitably becomes number 1 in the world 'unlike others in that position...' Didn't Mark used to work with Lee on his short game? 'Used' being the key word, now there havent been that many world number 1's so it doesnt take a genius to work out he was referring to Westwood. I liked Westwood up until recently, not so much anymore.
Posted 13:57 16th February 2011
Roger Mcdermaid says...
Ewen is spot on with his comments . I only go to Open practice days now and usually see the said " cheetah " out at 6 am practicing with Mark O Meara.Why Marlk asociates himsellf with this piece of low life I do not know .To me he goes out early to avoid the kids and never signs their autograh books . Civility costs you nothing but he hasn`t one scruple in his bird brain head . He`s vastly overpaid and has the mannners of the gutter .Shows you the kind of upbringing he had . I`d like to add at St Andrews on a lovely Tue practice morning Ernie Els was ahead of the cheetah .Not only did he sign autographs on every tee he even posed with spectators for a photo .Ask the guy at the 13th tee .Says it all for me .
Posted 11:06 16th February 2011
Sam Baldwin says...
What Woods has done in the sport has transformed the game, no doubt at all. He is the best player of the modern era and I feel that nobody would argue that. The problem now is he is runing all the good work, wins and performances with arrogant, immature and general stupid behaviour on, and off, the golf course. I was his greatest fan, staying up to all hours to say I've watched him win this and that but now I'm watching a man with a weird looking swing, swearing and spitting all over the place and a man that looks like he's falling apart. The fall from grace must be close to impossible to deal with but what annoys me most is that he is still grabbing all the headlines. Leave him out of the reports, comment on the winners not the losers. I actually feel sorry for Tiger because to fall so very far must be extremely hard to deal with.
Posted 10:56 16th February 2011
Philippa Hilbert says...
Absolutely right to speak out aginst spitting. Completely support Ewen Murray's comments. Well done & let's hear more criticism of this disgusting habit.
Posted 10:53 16th February 2011
William Paige says...
I agree entirely with Ewen... for many years I have surprised my friends by protesting at the premature assertion that TW is the greatest golfer ever and by doubting whether he would beat Nicklaus' 18 majors, what price my opinion now? His course manners have always left a lot to be desired and it is to their discredit that virtually all commentators were apparently blinded by the results and unable to bring themselves to criticise until his final fall from grace. And finally even if he were eventually to beat Nicklaus' 18 that alone will not make him the greatest ever ... remember that JN was competing throughout his career with several of the all time greats of golf: Palmer, Player, Watson and Ballesteros... TW has not had consistent competition of that calibre except perhaps the delightful Phil Mickelson who hopefully has another 2 or 3 majors in him and is a credit to the game.
Posted 08:39 16th February 2011
Jesse Waters says...
This kind of article is not what we want to read in any relation to the game of golf.Iam sick of this tiger bashing in all its forms.We should be talking about the golf and the fantastic tournament not making mountains from molehills on these small instances.I find not his spit disgusting but the manner in which this article is written to once again try and and have a go at the great man instead of showing appreciation and gratitude.He received his slap on the wrist now move on or is it time for more Faldo bashing ?which also is quite tiresome.Tiger Woods sets the standards in his behaviour on and off the course hes done so much for the game...
Posted 05:00 16th February 2011
Jim Corbett says...
Congratulations Ewan for speaking out against Wood's appalling behaviour. Can we highlight the other culprits as and when they continue to spit? Jim Furyk, David Duval are two that spring to mind.
Posted 23:34 15th February 2011
Erwin Rancole says...
To say that Tiger Woods is the greatest player ever is just so misguided. He is not even close to Jack Nickalus, in golfing ability, personna, or overall importance to the game. And, though they were before my time, I suspect that he trails other greats such as Ben Hogan and Bob Jones in these respects, as well. Tiger has been given many passes by the golfing media because he has been such a cash cow. Controversy seems to have that effect. He has been let off the hook by the media even for his disgraceful, immoral behavior which was revealed in 11/09, even to the point of being cowed into not asking any pertinent questions when they have the opportunigy. So his boorish, despicable behavior continues -- ala Dubai -- even as his golfing ability has greatly waned.
Posted 23:07 15th February 2011
James Bromley says...
Ewen, I agree it wasn't good, however this has been blown out of all proportion because simply it is Tiger Woods. There really is an element of double standards when you look at other golfers and there tantrums both in the past and in recent weeks and yet this is the one that is highlighted? This also answers your Autographs criticism that overlooks the fact that if Woods did actually sign every autograph he would be signing all night because although people may not like it he is infinitly more popular and sought after than any other golfer and possibly sportsmen on this planet.
Posted 23:02 15th February 2011
Isobel Williams says...
I fully support the all that Ewan Murray has said on T Woods dreadful behaviour. I hope that Mark Roe and David Livingston have had the courage to add their support. Fines don't hurt Tiger. Is it not time for the Tour to start adding one or two strokes at the end of each round where he is known to have been spitting or swearing. What an example to junior golfers around the world.
Posted 20:17 15th February 2011
Paul Foreman says...
Well written and absolutely on the money Ewen, Mr Woods needs to remember he isn't bigger than the game of golf. I for one am tired of his antics and am sick of hearing about him. He needs to show a bit of class like our current number one who we all should be proud of Lee Westwood. Your best column so far, keep up the great work on Sky.
Posted 19:24 15th February 2011
Mike Graves says...
What a joke the Tiger Woods "witch hunt" is. Is there one rule for golf & another for football,regarding the issue (on or off tv) of spitting in public during playing ? How is it that no one on Sky has ever raised this critical observation before? I do myself see this as a regular occurrence at most football matches on tv or Sky, without a single comment being made. Lets clean up this disgusting habit at once please. As a tennis player I have never see it happen in my sport. thanks Mike
Posted 18:48 15th February 2011
Andrew Boyd says...
Great article. Woods is a total disgrace and I have very little time for him anymore. But if his golf does not improve fast, sponsors will soon become tired of his petulant interviews and smart comments. The game is far bigger than him, and he has made himself look very silly. How can you compare him to Palmer, Player and the great Tom Watson. Woods should be carrying Toms clubs and finding out how a true sportsmen conducts himself.
Posted 18:11 15th February 2011
Mick Downes says...
Huge respect for Ewen, unquestionably the best commentator on the game in the business, but some issues with his handling of the affair. With regards to spitting on the golf course, I think Tiger has rather dug his own grave...the problem, as Ewen has pointed out regularly, is that Tiger only seems to spit after a poor shot which is always immediately picked up on because everyone is waiting for a reaction. Consequently, it should be seen for what it is: a disappointing, petulant response from someone who should know better. Spitting itself should not be the issue; everyone does it, whether they'd admit it or not. To call it the lowest of the low is simply hyperbole, and I would expect Ewen to agree. Woods is not a criminal. Despite this, his behaviour on, around and off the golf course has been extremely disappointing, especially over the last 12 months. If ever he needed someone to bring him back to reality, it is now. We've all heard the complaint of how if Tiger signed every autograph requested of him, he'd never get off the course but he has to wake up to the fact that Phil Mickelson (who has become arguably more popular than Woods, most obviously in the US) does precisley that without complaint. His interviews and press conferences are pathetic, with neither journalists or broadcasters being given the time of day. Before the scandals, there was always indications that Tiger Woods was a reasonably civilised, courteous man, with a very good sense of humour that occasionally revealed itself to the public (Ian Poulter "World number 2 and Fed Funk/Annika Sorenstam banter at the Skins game spring to mind). If he could just give a little more of himself and face up to the responsibilities of who and what he is, I still believe he could win back public favour.
Posted 18:10 15th February 2011
Me Me says...
Actually, has anyone ever asked Tiger why he spits, maybe he is so highly strung and full of nervous energy and when his adrenaline comes down (normally after a bad shot) his mouth just gets full of water and he doesn't know what to do with it. It is actually a lot of spit. He'd probably choke if he tried to swallow it. Maybe he should carry a little spit bag or stop play so that he can find a discrete bush somewhere?
Posted 17:24 15th February 2011