All of the focus was on Le Golf National last week and having won the bid to hold the Ryder Cup of 2018, this magnificent layout once again proved a stern test for those who made the journey to Versailles.
The more you see of this course the more you warm to it and down the years, it has become a venue that commands the respect of the players. If this tournament was a dress rehearsal for seven years' time, it passed the test with flying colours.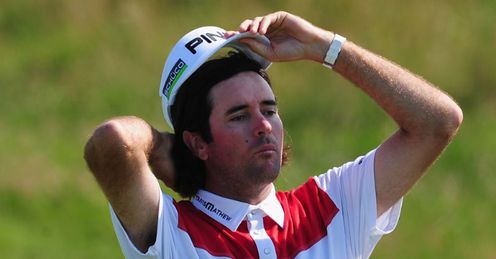 With many of the big names missing the cut, an interesting mix of players had the chance to take home the impressive first prize of half a million euros and along with that, an invitation to the Bridgestone in Akron and the HSBC in Shanghai.
France is enjoying and embracing their success with big plans for the years ahead and they got the fairytale ending they so much wanted.
Bubba, or should I say by this time, Blubba, broke all of the codes and ethics among professional golfers. No one is more important than anyone else. His behaviour wasn't just naughty, it was embarrassing.
Ewen Murray
Quotes of the week
LIVE ON SKY SPORTS
Barclays Scottish Open
10.30am, Thu, Sky Sports HD1
John Deere Classic
8.00pm, Thu, Sky Sports HD2
Watch on the move with
Sky Go
How to
remote record
In Thomas Levet, they have a worthy champion. Thomas spent many hours presenting and backing the 2018 bid and after 20 years of trying to win his national title, it arrived at the age of 43, a whole 23 years after winning the French PGA Championship.
I often spend time with Thomas in the United States as he presents the commentary for French television in the majors and World Golf Championships. He is always cheery and a good companion. I know how much he wanted that title and I'm sure he will treasure it for the rest of his career.
Our guest on Sky Sports last week was Jean van de Velde, who was convinced his countryman would win. Their celebrations are more than likely still in full flow and I don't blame them.
Be careful what you wish for
Like the majority, I was looking forward to Bubba Watson playing on the European Tour for the first time. His game is different. He never tries to hit straight shots, they all have varying trajectories, he has never had a coach and he is very talented.
For too long now, the American players have been loathed to travel the world which many of them believe starts in San Francisco and ends in Miami.
With two wins on his home tour already this year, I applauded Mr Watson's decision to spread his golfing wings and bring his own unique brand of play to Paris. However, the phrase "be careful what you wish for" sprung to mind over the first two days of our tour's oldest championship.
Following a 74 in round one: "Ah miss ma home". Fine, we all miss our homes at some time on our travels, but having added another 74 to miss the cut by four shots, Watson's outburst was childish and downright stupid:
"This is not a tournament, there are cameras and phones going off every minute despite signs on every tee saying they are prohibited and there is no security. This never happens in America and I'm never coming back to play here because this is not what should happen. I'll play in the Open only because it's a major."
How gracious of him to consider that.
Having sulked after round one, he had a chance on the Friday to put right what he said on Thursday, but he chose to dig a deeper hole. My own thoughts at the time were that he was perhaps embarrassed at his play, disappointed not to have made a better fist of his first event, and yes, the different culture may have proved a test for him.
I thought the media reaction was a mountain out of a mole hill until I heard about the courtesy car.
"I'm not sharing with another player, ah want ma own car." Pathetic.
The player he was to share the 15-minute journey from the luxury hotel to the golf course is a two-time winner on the European Tour, his name is S.S.P.Chowrasia from India.
Like his fellow countrymen, Jeev Milkha Singh, Shiv Kapur and Joyti Randhawa, SSP is a gentleman of impeccable manners and a credit to his country and the sport.
Bubba, or should I say by this time, Blubba, broke all of the codes and ethics among professional golfers. No one is more important than anyone else. His behaviour wasn't just naughty, it was embarrassing.
Unsavoury
The truth about his unsavoury outburst last week is the fact that the French National course is a proper test of golf.
Tee shots fall into bunkers rather than onto them like so many do on the PGA Tour. Errant shots are penalised by thick rough, not the acres of semi he is used to week in week out and he had a bad two days playing wise.
He is not the first player to suffer that experience. That's golf, it happens and there is no shame in missing the cut.
It has been reported that Mr Watson has signed a contract to play in the Scandinavian Masters the week after the Open and I have no doubt, like the Open de France, there would be a financial incentive to do so. The fact he has stated he will not play again on our Tour obviously puts that in doubt.
If I was in charge of what is a top event in Stockholm, I would tear the contract up. I'm sure there are pictures and posters of Mr Watson in Sweden promoting the event and the official programs will have been printed which will include his profile, after all the event is just two weeks away and planning takes many weeks, if not months.
Sweden has been a wonderful supporter of our Tour for decades and they are a very important part of it. They don't deserve to have a character like Bubba Watson as a guest in their country and quite frankly, our Tour does not need the headlines he created last week in Paris.
I should say at this time he has apologised to the Tour for his bad manners, which is welcome, and as I've said before, everyone deserves a second chance.
Should he make the journey to Sweden, let's hope he has learnt from this sorry state of affairs and let's hope one of his letters of apology is sent to S.S.P. Chowrasia.
New ground
Another American, the Texas Open champion Brendan Steele, played in his first European event and before leaving Paris went to the various hospitality pavilions and thanked all of the sponsors for their invitation and kindness, something Phil Mickelson has done so well on his travels in recent years.
Steele looks a fine player and hopefully we will see him again on this side of the pond. A top seven finish first time out was impressive and his last nine holes of just 30 shots on Saturday was the best of the championship.
This week the tour breaks new ground as the Barclays Scottish Open moves to the delightful Castle Stuart course by the shores of the Moray Firth.
Situated just two miles from Inverness Airport, this course is in its infancy yet it looks like it has been there for centuries.
The surrounding countryside vistas are among the best Scotland has to offer with the
Black Isle across the water and further north the majestic Skibo Castle and the much-loved links of Royal Dornoch.
It's the last chance for the players entered for the Open to get their games in shape for Royal St. Georges and I think they will welcome the chance to play on a links course ahead of the year's third major championship.
The course is quite generous off the tee, but the green complexes are tight and a top-class short game will reap handsome dividends.
Loch Lomond has provided a superb venue over the last few years and who knows, we may return there in the future.
In the meantime, enjoy the top quality golf and the stunning views of the highlands.
Comments (17)
Hilary Hillier says...
Bubba reckoned that US fans are better behaved. However, I've noticed on the coverage that the amount of hollering, and those infuriating shouts of "in the hole" sometimes almost before the golf ball is struck, and certainly on the player's downswing, have become a regular feature of the US tour. Far worse than anything they experience in Europe, in my view, and particularly bad at the US open. Let's hope the UK crowd, as usual, show them how it should be done in Sandwich.
Posted 21:31 9th July 2011
Garey Howard says...
MR MURRAY WHAT ARE YOUR THOUGHTS REGARDING PROS WHO DO NOT REMOVE THEIR CAPS AFTER A ROUND YOURS SINCERELY GAREY HOWARD
Posted 14:04 8th July 2011
Brian O'sullivan says...
Hi Ewan, Go easy on poor Mr Bubba. We all know that the world of golf and its patron saint Mr Johnny Millar starts and ends over seas on US PGA Tour. Everything else is inferior. Seriously though this just further confirms the point that some top sports men including some golfers are to spoilt on a weekly basis to feel the need to give anything back to the game. Mr Bubbas ears must have been cleared by his rare flight over from the states because we all know the American golf fans while enthusiastic are not exactly quiet! I just hope that when Bubba returns from over seas he will reflect on his behaviuor and grow up. The French Open is great event and is full of history. Keep up the good work Ewan. Thanks, Brian
Posted 14:00 8th July 2011
Keith Webster says...
Ref Bubba Watson ... well said, Ewen Murray. This lad needs to examine the manners and behaviour of some of his truly great compatriots, not least those of Tom Watson. He, along with Nicklaus, Mickelson and the late Payne Stewart, to name but a very few, could teach the spoiled, insular and unmannered Bubba several valuable lessons about golf and decent human behaviour. I hope he is mature enough to ensure his apologies reach the correct target.
Posted 11:17 8th July 2011
Stuart Crews says...
Hi ewan,just heard you speak about olly winning the british boys,i have just had my uncle stumpy tell me that he won it at glenbervie not brunsfield,hope this is helpful,thanks again,love the coverage of castle stuart,keep up the good work, Cheers stuart crews
Posted 11:14 8th July 2011
Gerry Kelly says...
Ewan, I fully agree with all your points. Let's face it, Bubba isn't the 'brightest bulb in the box'. That said, it's no excuse for bad manners. I really do chuckle at all this nonsense about cameras and phones. I recall a story told by Jack Nicklaus' son at the Masters I think, when Jack was concentrating so hard that he must have been the only person on the golf course not to hear the impact of a car crash which happened on a nearby driveway. Mr Montgomery take note! Perhaps Monty would have won a major if he stopped taking notice of all that was going on around him! I would like to know the real reason why Mr Watson would not share a courtesy car with SSP. If I was to hazard a guess, I would say that the American golfers are pampered beyond belief, and this was quite simply beneath Mr Watson to share. I hope for Mr Watson's sake that he's got a bit of a reality CHECK...............or should I spell it.. ' reality CHEQUE!
Posted 23:16 6th July 2011
John Hill says...
Hi Ewen, the Bubba Watson affair just proves the insular approach that many (not all) American Tour players have towards their tour and the game in general. This has been proven out by Europes continuing dominance in the current world rankings. Watson had a poor couple of days on the golf course (happens to all of us), unfortunately his comments and behaviour make news, he (and his handlers) should know better. Would love to see Monty and Darren Clarke have a good week at the Scottish.
Posted 08:52 6th July 2011
Ian Walsh says...
I think this article doesnt do a great golfer justice, what about all the charity work he does? he's not one of the most popular golfers on the planet for a reason, not a mention of the several englishmen like ian poulter who have said derogaory things about the american tour and abused many cameramen, even former ryder cup captain colin montgomerie often had a dig at the cameramen.... it happens to all golfers, get over it
Posted 22:19 5th July 2011
William Croome says...
Was Bubbas game good enough for European golf, or perhaps he is conscious of the fact that these people from the Emerald Isles keep nicking his silver. Something was surely getting to him, his comments did him no favours. Perhaps a few more sily videos for you tube will put things right.
Posted 11:15 5th July 2011
Blubba Flopson says...
Bubba is just being a "bubba". If he had as many brains as his yards he hits a golf ball maybe he would talk some sense.
Posted 22:07 4th July 2011
Al Ebson says...
First of all, Ewen is spot on. Secondly, Since when has Bubba Watson become a "top" draw at european events? What is so special about him? I can name you 20 other Americans who i'd rather have in Europe then this sorry excuse for a golfer. The guy is an emotional wreck, if hes not crying (literally) then hes complaining about something/someone. In the words of Ewen "..He never tries to hit straight shots, they all have varying trajectories.." Hell, if we want to see a player like that just go watch the legend that is Ian woosnam after a few drinks the night before a tournament!
Posted 18:14 4th July 2011
Gerry Ryan says...
The attitude displayed by Bubba is that of a spoiled brat who will never threaten our European dominance during the course of his career. Great news that one of the leading American players of this era just hasn't got what it takes.
Posted 17:55 4th July 2011
Michael Blatchley says...
Great artice Ewen, I've got to say I think a lot of the new crop of Amercian players are "one trick ponies" who struggle on harder courses. The exception to that rule is Nick Watney, very talented and successful and I think its no coincidence when taking into account Butch Harmon is his coach. I think a long period of European dominance is just starting reminscent of the 1980's, however I also think that if Tiger swallowed his pride and returned to Butch Harmon coaching another 4 majors would surely follow.
Posted 15:31 4th July 2011
Roby Williams says...
Bubba proves he is no gentlemen, babyish behavior, somehow a real looser! I tought GOLF was reserved to gentlemens only, anyway the way he swings at the ball he will not be around for long, and it will be just good for the game...
Posted 15:08 4th July 2011
Jac Mills says...
This is the first time I have read your column, and it is right on target. Your name suggests you are a Scot, and a well-mannered one at that. Bubba's comment was inappropriate, unnecessary and, frankly, rude. Rest assured he will be hearing from the golf commissioner here. It was not as bad, though, as the incident I saw on TV within the past couple weeks when a certain Scandinavian player smashed a club into the ground after an errant shot, breaking the club, cutting his hand. Both players acted like spoiled brats, regardless of origin. Maybe they should have merely grumbled, like Andy Murray, and blamed anything but themselves for their poor performance. Sound good to you, Ewen?
Posted 13:13 4th July 2011
Walter Reid says...
Great article Ewan, far to many pampered golfers in the world. As well as the fantastic prize money they play for they also receive great treatment off course. Given Bubba's a first class good aul southern yokel are there racist undertones to him not wanting to share with SSP, it will be interesting to hear if he apologises to him
Posted 13:02 4th July 2011
C Flor says...
I think you're a little harsh here Ewen. Granted, his comment re: sharing a car was totally uncalled for, his comments re: cameras and phones is totally defendable. These guys are playing at the top level, why should they be distracted by phones and cameras every minute during the round. It doesn't happen in the states so why in Europe. That to me is a bigger flaw, than the comments Bubba has made.
Posted 12:39 4th July 2011