Ryan Rhodes makes his long awaited return to the ring on Friday Fight Night against Luca Messi in the first defence of his European light middleweight title.
It is almost eight months since Ryan knocked out Jamie Moore in a thrilling match at the Bolton Arena to win the belt.
He was a real underdog going into that fight. I, like many other people, thought Ryan Rhodes' world class days were behind him. I didn't think he would beat Moore and I was even more convinced when I was sat at ringside.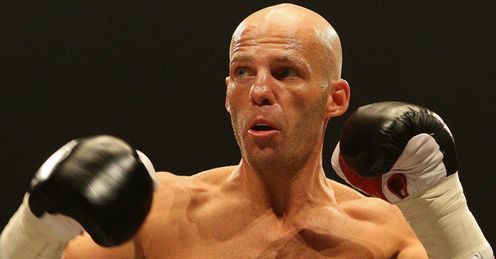 He tore up all the plans you would have expected him to go in with, he stood with Jamie and produced a world-class performance.
Ryan's new promoter Ricky Hatton has described him as 'world-class' and if he continues to box like that then there's no question about it.
Rhodes had hoped his next fight would be for a world title but unfortunately that's not to be.
Ryan's new promoter Ricky Hatton has described him as 'world-class' and if he continues to box like that then there's no question about it
Jim Watt
Quotes of the week
LIVE ON SKY SPORTS
Ryan Rhodes v Luca Messi
European Light-Middleweight Title
10pm, Fri, Sky Sports HD1 & Sky Sports 1
Online with Sky Player
Click
here
to remote record
Provided he hangs onto his European title - which he should do - hopefully his next fight will be for a world title. The WBC look kindly upon the European champion.
Nothing special
Looking ahead to Friday Fight Night I hope Ryan's learnt from his underdog victory over Moore not to take Messi lightly.
There is nothing special about Messi (36-8) and any time he has stepped up a level he has lost, but Ryan (43-4) shouldn't take him lightly.
However, having said that, his title should be safe on Friday night. Messi's recent opponents haven't been very good and they have obviously been looking after him to try and manoeuvre him into a title fight, which they've managed to do.
If Messi was good enough to beat Ryan Rhodes we would have seen that by now - he is 35 - and we would be raving about him, but we're not.
For Ryan it is also a homecoming fight. He is a Sheffield boy and he is certain to get a good reception.
He has always been good to watch, he has a good style, is never involved in messy or untidy fights, he is a sharp puncher and I'm really looking forward to it myself.
Future
Ryan is at a good stage in his career now. It has been a long career but now he doesn't worry like he did when he was younger. At his age - 33 - every chance you treat like your last chance.
He hasn't had too many wars, too many punishing fights, so he is still relatively fresh. He is so relaxed and because of that he is really boxing well and showing some great form.
There's a possibility the WBC belt could become vacant after the champion Sergio Martinez stepped up and beat Kenny Pavlik at middleweight.
If he decides to stick at that level then Ryan is pretty high on the rankings so it is not out of the question he could be fighting for the vacant title.
If he has to fight Martinez then he certainly wouldn't be favourite but if Martinez vacated then he would have a chance against other contenders like Julio Cesar Chavez jnr - who is ranked number one, though nobody knows why - or Antonio Margarito.
But if you're going to box for a world title you will be against someone who can fight. Hopefully Ryan Rhodes will get that opportunity soon.
Comments (3)
Adam Whiteley says...
Nathan Mcallan, while i agree with u that he should have too much for messi, i think rhodes would be beaten up by margarito, he's a little bit too much technically for rhodes, regardless of straps or not, i think he would be a bit too quick for him, i dont think he'l' over power him, rhodes is strong, i jus think margs would be a bit too clever for the likes of rhodes at present. but i hope im wrong
Posted 18:25 21st May 2010
Nathan Mcallan says...
Great article Jim. I agree that Rhodes should take this fight comfortably, and I can see him beating Chavez easily if given the opportunity. I'd fancy the scrap with Margarito though. That could be a barnstormer, and Margs didn't look good in his last fight. Whether that was rustiness or just his psyche after wrap-gate I don't know, but I think Rhodes could take him! And Tom Gray, Sibbo was a legend! He was great mates with my brother!
Posted 14:27 21st May 2010
Tom Gray says...
Hi Jim Great article. That was a nice dig in the direction of Chavez. Junior has Duddy at 160 next and will probably be punched back down to 154. I would love to see Ryan get a hold off him! Let's hope Rhodes catches a break and gets a shot at a WBC title. It would be awesome if he could accomplish his dream but I don't want him in the same zip code as Sergio Martinez. You'll be happy that I'm still catching people left and right with the Tony Sibson sucker punch:-) Take Care Champion. Peace!
Posted 23:00 20th May 2010