This is a sad day for cricket but a necessary one.
Sad in the sense that two cricketers will possibly end up in jail after being found guilty of conspiring to fix parts of a Test match, necessary because the verdicts should act as a strong deterrent to others tempted to cheat.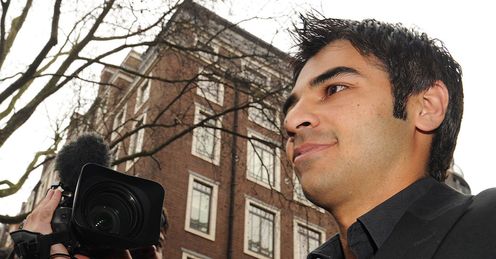 Butt, Asif, Amir found guilty - full story
There have been rumblings about misdoings behind the scenes for nearly two decades now and the game needed something strong - like a life ban or jail term - to stamp out all forms of illegitimate enticement.
My only message to all cricketers out there is 'don't get involved, right from the start'.
Nasser Hussain
Quotes of the week
There is no room in any sport for doubt about whether what the players are doing is above board because sport, by definition, is unpredictable.
Everything must be on the level otherwise spectators will always wonder if the amazing feat or outstanding game they're watching is genuine or manufactured.
Given the nature of the evidence on show at Southwark Crown Court, I would have been worried if this verdict had gone the other way and the jury had said 'not guilty' because it would have sent out entirely the wrong message.
If it had, there would be young cricketers out there who no doubt would be thinking 'crikey, you can get away with it so long as you get a good lawyer'.
If the reward for fixing outweighs the risk of being caught, then there will always be those willing to chance their arm - particularly if they are not getting paid much by their cricket board.
Taking the wrong road can start with the smallest of things; people ringing you up in your room and asking what the weather is like or if you know any team news.
From there it can snowball into something much more sinister; 'will you bowl one no-ball in the third over or a wide in the fifth and bat a maiden in the seventh'.
My only message to all cricketers out there is 'don't get involved, right from the start'.
If you ever get that initial phone call or illegal approach, turn the other cheek and report it to the authorities, because once you are 'in' you're pretty much 'in' for life.
Personally, I think the International Cricket Council is doing a good job of educating our young cricketers about this danger.
There was a procedure in place even during my playing days; I remember being invited to a talk from the anti-corruption unit in South Africa that talked us through the procedure and explained how people operate and what goes on behind the scenes.
What they've not been quite strong enough on, in my view, is actually throwing the book at people when they have good, strong evidence.
That's why we needed today's strong verdict to say 'look, it's not just down to the ICC; it is now a criminal act to cheat in any sport, including cricket'.
Banning a player for a year or letting them slip away into retirement is no longer acceptable.
Earlier this summer I remember Steve Waugh revealing that no less than 56 cricketers had reported illegal approaches from bookmakers in the last year - a lot more than we or the ICC ever thought - and proof that the issue was not simply going away of its own accord.
You might never wipe match-fixing out completely but that doesn't mean you shouldn't make a good, strong attempt to kick it out of the game.
It's absolutely paramount that when someone bowls a no-ball in the first over or a wide in the last over that people in the crowd aren't sitting there thinking 'I reckon he's been paid to do that'. That situation is simply unacceptable because it tarnishes everything.
Rather we must protect the integrity and vagaries of the game. These verdicts are the next step in achieving that aim.
Comments (5)
Ben Ward says...
Why cant we restrict what bookmakers can allow people to.bet on in the UK? This is one of the easiest forms if spotfixing aa it only requires one player out of 11 to be corrupted to happen. Its more likely a cricket player to be persuaded by big amounts of.money than most sports as they earn alot less. i cant see it ever stopping until restrictions are made on what can be bet on...ie.no balls wides otherwise how will it ever stop?
Posted 13:55 3rd November 2011
Mathew Leonard says...
I think best decision would be if they go to jail. They should be punished for what they did. The upcoming youngsters will not even think of doing that.
Posted 10:13 3rd November 2011
Mike Singer says...
Throw the book at them.However Pakistan have been involved for years and nothing was done about it..To South Africas shame,Hanse Cronje fell victim,but there were others involved and some cricket boards turn a blind eye when it comes to there own players.I question results even from the last World Cup. Right now South Africa has a crooked board,which is trying to whitewash itself.Unfortunately the IPL,with all its money,is too much of a temptation for some players and who knows what is going on with bribes there. Cricket needs a thorough investigation and this cancer of corruption must be removed.
Posted 03:57 3rd November 2011
Suresh Raina says...
Definitly needed to be punished, fair enough. But Hishan said something?? Suresh Raina was pointed out by some one. Oh hang on, it has to be from Pakistan.
Posted 22:24 2nd November 2011
Ahsan Zafar says...
I think this issue needs to be responded to in the fiercest possible way.Not only do hard working individuals pay to see these cricketers play but they also get conned and hoodwinked in the process.It is disgusting how greedy, callous , and selfish the individuals are. Ad to this the shame they bring to the name of their country!
Posted 17:52 1st November 2011