Sky Sports' Spanish football expert Guillem Balague looks at this week's Sky Live La Liga games.
If you've got a question for Guillem, send it to skysportsclub@bskyb.com.

Real Madrid v Hercules
Zaragoza v Valencia
Villarreal v Sporting
Racing v Real Madrid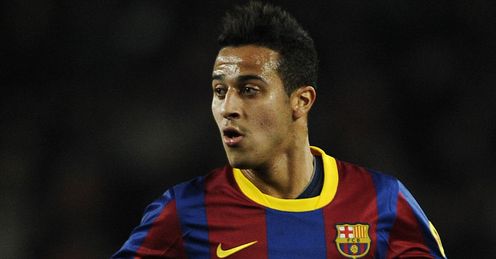 Real Madrid v Hercules
6.55pm, Sat, Sky Sports HD3
For those of you who want to put money on this game, you could do a lot worse than back Real Madrid to win by a large margin. Hercules, when they play away from home, actually play worse because they can hide - something they can't do in front of their own fans. They are not playing as a team at present - they are simply a bunch of individuals, which makes them incredibly vulnerable. It's not all plain sailing at Real either. As I said on Revista, Jose Mourinho would opt to leave Real Madrid in the summer if he had to make a decision today because he feels he is going one way and the club another; he feels as if he has to fight against the tide. I'll explain what I mean further in the next few weeks.
Zaragoza v Valencia
9pm, Sat, Sky Sports HD3
Valencia have become efficient and now that they have a strong team personality they are developing that through victories; they've notched up nine wins and only one defeat - to Barcelona - in their last 13 league games. With that run in mind, you have to back them to keep performing. Interestingly, Unai Emery has not renewed his contract yet because the club feels it is good that he is kept on his toes. I have no doubt that he will stay, however.
Villarreal v Sporting
5.55pm, Sun, Sky Sports HD1
Villarreal have been disappointing, especially away from home; once or twice a season the level of the team seems to drop. You can't blame that entirely on pressure because there are enough experienced players in the squad to demand more of everybody; equally, there is no pressure from the media or from the fans. From that perspective, it is an easy place to play and live. But you do have to factor in the Europa League and the fact that they don't sufficient strength in depth to compete on all fronts. That's why they have been hit and miss in the league.
Sevilla v Barcelona
7.55pm, Sun, Sky Sports HD1
It's interesting that the current suggestion coming out of Sevilla is that Gregorio Manzano may stay if he takes them to the Europa League. I think those leaks are just a way of hiding the real situation at the club, which is that those in charge feel that they need a different brand of manager in charge. They want to go back to basics and the old philosophy that helped nurture the talents of Sergio Ramos and Dani Alves and start bringing new players through, because they feel that they are punching above their weight.
Guillem answers your questions...
Got a question for Guillem? Then send it in here or use the feedback form below, and then look out for his answer next week.
LOAN INTEREST
Hi Guillem. Big fan of your column. My question is related to Keirrison. Barcelona spent a fair bit of money on him, 15 million euros, and loaned him straight to Benfica. He seems to have moved around from club to club, not really performing. Does he have a future at Barcelona? He is still young, and his goal-scoring record before joining Barca was very good, but with the likes of Pedro, Villa, Messi and Bojan what chance does he have? Alex M.
GUILLEM SAYS: You're obviously well-informed, Alex. After spending all that money on Keirrison, I think the plan was to sell him for double that because he looked a fashionable player at the time. But it has backfired on the club. It was the same case with Henrique, from Brazil, who is now on loan at Racing; they paid too much for him so selling Keirrison would be a way of recouping some of that money.
WANTED MAN
Hi Guillem! As a Barcelona supporter i have grown tired of the Cesc saga. I feel they should let him stay at Arsenal. As an alternative why don't they go for Borja Valero? That guy is damn good. I watched them playing Madrid at the Bernabeu and he tormented them. I don't even know how they lost that game. Borja is at the peak of his career and he will come cheap compared to Cesc. I know he is a product of Madrid but the way he plays is similar to Barca. What do you think? Xolani Mkhize (Barcelona fan)
GUILLEM SAYS: Valero will be a wanted man in the summer, Xolani. I think Barcelona will go for him if Arsenal don't accept 40-45m for Cesc; he would be the perfect player to bring a bit more creativity to midfield. But Barcelona may face competition from Chelsea and it would be great to see him partner Fernando Torres at Stamford Bridge.
CLOSE TO PERFECT
Hi Guillem I'm a big fan or yours and was wondering if you think Tito Vilanova will become manager when Pep moves on, and if he does how do you think he would do? Also I love the way Thiago Alcantara plays and I'm looking forward to him being in the first team next year and I was wondering if you know anything about his future as in whether he is planning on committing to Barca or will he be the sort of player that moves around a lot? Thanks from Dan
GUILLEM SAYS: I think Tito Vilanova will always be with Pep Guardiola because they work perfectly together. Pep has got a strong personality, while Tito is more shy but they share the same passion, beliefs and philosophy so they have to work together even if Pep goes abroad - which I think he will at some point. Meanwhile, people are saying that Thiago Alcantara is better than Xavi, Cesc and Iniesta. For me those three players have got something extra to offer on top of their natural ability - namely, mental strength. The one doubt I have about Thiago is that too often he likes to focus on himself instead of thinking more generally about the team. If he improves on that and becomes stronger mentally then he could be the superstar of Spanish football in the next 10 years. So watch him closely.
Comments (22)
Ade Akula (Manchester United fan) says...
Hi Guillem, Man Utd definitively need a creative midfielder. DO you think that they can get Kaka given that he is unlikely to play with Ozil in good form. Plus how do you call the second classico
Posted 07:31 12th March 2011
Sudipto Chakraborty (Manchester United fan) says...
The force has taken the Premier League makes one think English teams are favourites in almost every field where they play. It was thus in Tottenham San Siro and returned to England victorious. Now you have finished the job in London and certainly proved you are really great..
Posted 04:06 12th March 2011
Tadhg C (Barcelona fan) says...
Sorry Guillem but if you think ADRIANO is a new star of football your completely wrong I support Barcelona watch them everyday but NO Adriano is not a star and never will be
Posted 23:13 11th March 2011
Nigel Robinson (Arsenal fan) says...
hi guilem, who is better xavi or cesc, lots ot people have different views, what is yours
Posted 21:11 11th March 2011
Mark H (Manchester United fan) says...
Hi Guillem, given that Barcelona will probably go for Fabregas in the summer again, i was just wondering what are the chances of United getting Busquets? There was a rumour awhile back about it.
Posted 19:58 11th March 2011
James Mccormick (Liverpool fan) says...
Hi guillem keep up the great work. In reference to Fergal Hannon's comment above, does he not realise that the premier league is not what it used to be? The reason why possibly more teams can challenge this year is because all the top teams in england are so weak. Yes with lots of money they will reinforce next year and be stronger, but that's all it is...money. If villarreal were in the premier league and had constant funds they would be challenging, as for valencia. All the premier league is money and most teams have a poor style of football.
Posted 16:35 11th March 2011
Michael Nolan (Manchester United fan) says...
Hi, im a big fans of yours you talk alot of sense, in this day and age i think the premier leage is alot better and more exciting and each game is never predictable compared to la liga which there is only two great teams, dont get me wrong they have alot of best players in the world but the premier leage is class, united till i die......
Posted 15:54 11th March 2011
Alec Wilson (Liverpool fan) says...
Hi Guillem, Firstly I would like to say how much respect I have for your honesty and accuracy in your assessments on football matters and with your frequent discussions with different football fans through your Skysports column. I am a die hard Liverpool fan and as you would expect I am very intrigued, if not a little sceptical about the forthcoming transfer window as our squad is in dire need of some speed and width! One player that is constantly linked with us is, Ashley Young, one player I really have high hopes for and think would be perfect solution to our left midfield. Andy Carroll would be the perfect 'target man' for Young and I believe we would be able to guarantee him a starting role in the squad unlike UTD, Chelsea, Man City and Tottenham for that matter. It will be intersting to see where he ends up this summer! However, the media has been stating that he has his heart set on UTD, how much of that is true in your eyes? Best Regards, Alec.
Posted 15:06 11th March 2011
Peter Banda (Real Madrid fan) says...
I can assure you that Mourinho is not going anywhere!!!
Posted 14:58 11th March 2011
Darren Mccann (Barcelona fan) says...
Xavi. in your opinion Guillem is he the greatest midfielder ever? or greatest player for spain? when a watch football at 15, 16 or 17 i just wanted to rush with the ball and try beat the world. but since watching xavi and iniesta for the last 3 years i have changed the way i play just the influence i have had from the one player is crazy. i love messi, ronaldo, drogba but when i see xavi he just seems to be so calm at anytime in midfield and what an inspiration for the youth of spanish football right now.
Posted 13:05 11th March 2011
Zidane M (Barcelona fan) says...
HELLO GUILLEM Great column as ever I wanted to ask if you think that this current Barcelona side can go on to be even better than it is at this current time? I watched the game on Tuesday night and it was incredible that this side play the game with such authority, passion, strength and guile. I have been a Barcelona fan for 30 odd years now and I never tire of watching Barca play, as I have many of Barca's greatest triumphs on DVD which I have compiled. I think that this summer will be interesting to see who they will buy to make this side even better, and I hope that Dani Alves will sign a new deal to keep him at Barca for many years to come, as he keeps on stating that he wants to remain in Barcelona
Posted 12:33 11th March 2011
Owen P (Chelsea fan) says...
Hi Guillem, my question is about Borja Valero, who i have just watched playing against Bayer Leverkusen. He's having a great season and will probably leave at the end of the season, i was wondering if you think that he would succeed in the Premier League? I don't think that Barca and Real have room in their team for Valero, with all the midfielders they have, and as a Chelsea fan, think that he would be perfect for Chelsea, as they really need a creative midfield passer. The way he keeps the ball reminds me of Xavi, though he is very attack-minded which is what chelsea are looking for. Would Valero be interested in playing in the Premier League? and how much money do you think Villarreal will want for him? Thanks.
Posted 12:12 11th March 2011
Stephen Evans (Liverpool fan) says...
What do you think of the chances that benzema and jeffren come to the premiership, I was convinced villa would go to arsenal or man united before barca, so i'm unsure whether I believe those two players will come to england
Posted 10:08 11th March 2011
Zidane M (Barcelona fan) says...
HELLO GUILLEM I AM A MAD BARCA FAN, HAVE BEEN FOR AROUND 25 ODD YEARS NOW. DO YOU THINK THAT THIS CURRENT BARCA SIDE BE THE BEST AROUND FOR MANY YEARS TO COME CONSIDERING WE HAVE A FEW 30 SOMETHINGS IN IT. I DO BELIEVE WE NEED TO PURCHASE WISELY IN THE SUMMER, BUT IT HAS BEEN AN HONOUR TO SEE SUCH QUALITY FROM THIS BARCELONA SIDE. THEY DO MAKE THE GAME SO MUCH PLEASING ON THE EYE, AND IT IS A PRIVELIDGE TO WATCH IT WEEK IN AND WEEK OUT THE CURRENT SIDE IS IS DEFENDING & PLAYING BETTER THAT THE SIDE THAT WON THE GLORIOUS TREBLE NOT SO LONG AGO. BUT ON THE WHOLE IT WOULD BE INTERESTING WHO THEY WILL BUY THIS SUMMER, AS MANY NAMES HAVE BEEN MENTIONED SUCH AS FABREGAS AND SO ON
Posted 09:19 11th March 2011
Fergal Hannon (Manchester United fan) says...
Hi Guillem, I always have a great interest in your opinions on Revista Del La Liga and consistently keep an eye on your column. I don't mean to be dragging up old ghosts but I feel that you pay too much heed to certain statistics in comparing the La Liga and the English Premier League. You know what they say about statistics? Can be made to fit to any situation. When I look at La Liga I see that Barcalona, certainly world's best team, perhaps ever and Real Madrid to be hot on their heels in the coming seasons with a great manager and millions galore. Though you previously brought up Valencia winning the League 6 or 7 years ago, realisticly they haven't recently nor will they, with the loss of Villa and Silva, be challenging. With the influx of players to Madrid and the rise of Barca do you really see any team even coming close to the two in the near future? If you look at the Premier league, Spurs in the champions league, Arsenal were a good touch away from progress, Chelsea and Man Utd are the only teams with a hope against Barca unless Madrid have made spectacular some Mourinho magic after their last Clásico. Man City are in a similar position to Real in that they will only go up in the future and a, somewhat sporadic admittedly, return to form for Liverpool. All things considered there are 6 teams in with a shout for the title next year in England. Wheras the gap in Spain only grows. Sir, you cannot honestly argue looking at the dropped points of Barca and Real Madrid which seems only likely to diminish next season that the La Liga has a more consistent strenght than the Premier League. The Malaga situation was a prime example against Real. Most teams in Spain don't believe they have a chance aginst the top 2 but with the likes of Wolves defeating Man Utd, you cannot deny shock results are less surprising in England. As is said "Lies, d*mned lies, and statistics"
Posted 01:36 11th March 2011
Suhail Azhar (Barcelona fan) says...
Hi guillem i am a barcelona fan and i was wondering what is the reason for the big hype around the premier league that they say it is very strong and every game is like a final i guess it is more competetive only because the top teams are weaker now but la liga too is strong but the top two get more points because of the quality and how to make this league as popular as the english league so that its coverage increases as last year we from the indian subcontinent were deprived of la liga which was very frustrating thank you
Posted 15:01 10th March 2011
Jordan Macpherson (Rangers fan) says...
Hi Guillem, great column. I was wondering that real madrid have lots of attacking talent they always leave on the bench, when they play weaker teams in la liga I do not think they need 2 holding midfielders although it does bring stabability to the club. Their tactics did not work against barcelona, so do you think its a case if you cant beat the barca style join it? I believe madrid would be much more effective by playing kaka and ozil alongsing alonso with 3 in the middle as they are good at keeping possesion, and have a forward 3 of ronaldo, benzema and di maria. Do you believe this formation would be more successful? thanks, Jordan.
Posted 14:50 10th March 2011
Chris Ketley (West Ham United fan) says...
Hi Guillem, you have written alot recently about Borja Valero and how he was a product of the Real Madrid academy, I was just wondering what other top performers in La Liga Real Madrid have let slip through the net? Do they just not have the talent in their youth academy compared to Barcelona or is it simply because none of these youngsters are given a decent chance? Thanks, Chris
Posted 12:40 10th March 2011
Cem Takaci (Barcelona fan) says...
Hi Guillem, I just wanted ask about the situation sourounding Bojan. Do you beleive that he should be sold, as there are some reports linking him to Liverpool. Or do you beleive that he should be loaned out, due to lack of first team football. As he does seem to be getting sad/angry with it, and the loan may help him to improve and me more of a stronger asset to Barcelona. Cem Takaci (Barcelona fan)
Posted 02:00 10th March 2011
Nikhilesh Ganesh (Real Madrid fan) says...
Hi Guillem I'm a big fan or yours and was wondering if you think Real Madrid can beat Barcelona at Santiago Bernabéu? Will jose's home record be intact ??
Posted 17:39 9th March 2011