Predicting one Real Madrid v Barcelona game is hard enough, but trying to forecast what will happen over the next four games is practically impossible.
If we apply that old cliché about it being a marathon not a sprint to the next 360 minutes of football to be played between these two old enemies, then the question we should be asking is: "Which of the two sides is in the best shape to go the distance?"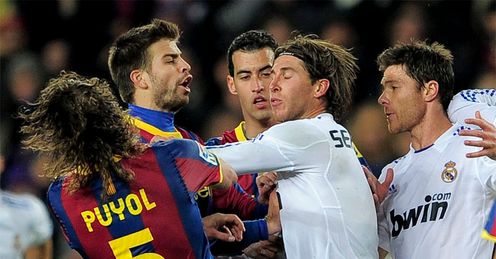 Lets take a look at how the strategies, squads and coaches are shaping up to try and work out who'll be the last man standing in three weeks time...
Strategy
We're talking about two opposing ideologies here - not the socio / political this time - but of two contrasting footballing philosophies: with one side more committed to rigidly sticking to their particular ideals, the other more pragmatic in their approach.
LIVE ON SKY SPORTS
Copa del Rey Final
Real Madrid v Barcelona
8.30pm, Wed, Sky Sports HD2
Watch online with Sky Player
How to remote record
Let's face it; we know how Barcelona will play: their possession-based game starts up front, with the forwards contributing to an organised attack that becomes the first line of defence when they lose the ball. Everyone knows their position with the ball and is ready to defend the moment they are without it.
They will play the opening league game at the Bernabeu in the same way as they play every other game, the only way they know how: aiming to dominate the opposition, impose their game upon their rivals without changing formation to accommodate the opposition.
And, as Xavi has admitted privately, they aren't just going there to win, but to show the world their superiority.
Real Madrid, on the other hand, quite happy to be seen as overcoming the odds: behind in the league and less fancied than Barcelona, they are ready to roll up their sleeves and do what it takes to win.
They won't care about demonstrating their superiority or adhering to a style: just winning. In contrast with Barça, their football starts at the back, with the defence providing the platform for their play.
That could even mean that Jose Mourinho will use three centre backs in the first game at the Bernabeu, with Pepe in between and perhaps slightly in front of the two conventional central defenders.
Mourinho learned his lesson at the Camp Nou in the 5-0 defeat when he tried to go toe to toe with Barcelona, attempting to impose their own game on the homes side as if they were visiting any team.
At that time, Madrid were top of the table and after a few short months building a side, felt that they could go out and play their own game against Barcelona. That won't happen again and if that means prioritising stopping Barcelona, focusing on breaking up their opponents game first, that Mourinho will do what needs to be done.
Mourinho has proven in the past that he has the blueprint for frustrating Barcelona and he will have a plan for every game. Barcelona will more or less approach all four games the same way. Will the same plan work for times in a row? Or will the side that mixes things up and springs the odd surprise come out on top?
Squad
These are four games like no other and the players will undergo greater physical demands than in say four regular league games against lesser sides. Fatigue, injuries and the constant pressure will take their toll.
Madrid appear confident and on a high. The defeat to Sporting Gijon has been quickly forgotten and all the talk coming out of their camp is of their new mental strength, resilience, hunger, and how they are improving by the week.
The squad has been boosted by players returning from injury: Kaka is back at just the right time and for the first time all season, Mourinho finally has the three centre forwards he wanted with Karim Benzema, Emmanuel Adebayor and Gonzalo Higuain available.
Pep Guardiola has more or less gambled on having a very small squad and has rarely used the Barcelona B team players at his disposal and players like Andreu Fontas and Nolito have scarcely been seen in the way that we thought they might this season.
Even Thiago has hardly featured and if he is called upon in these next four games, the lack of playing time could be an issue because he is a player who needs to be on form and confident to get him having a positive impact on games, otherwise he tends to pass the ball sideways too often and even give it away carelessly.
The over-reliance on a small group of players may be taking its toll: Barcelona haven't been quite as aggressive without the ball in recent weeks and this is key to their play, because when they fail to recover the ball quickly in the opposition half, they leave gaps in their own half and Madrid's quick counter-attacking players especially, will be able to exploit that.
That situation is exacerbated by their injuries as well, with the ongoing mystery over Carles Puyol's return date and Eric Abidal's long-term absence adding to their problems at the back.
The shortage of personnel has resulted in nine different centre-back combinations this season and any Barcelona fan who saw Gabriel Milito's lack of concentration and poor positioning against Almeria will be worried about the centre halves coping with Madrid's attacking movement and pace.
Whether it is fatigue or a drop in motivation levels, we saw in the recent game against Almeria how Barcelona lacked rhythm and intensity, especially in the first half when they put little of their usual pressure on their rivals.
That changed when they went a goal down, however, and the issue could be more related to motivation than exhaustion: meaning we may see them at their sharpest in these games against their bitter rivals.
And before I'm accused of writing Barcelona off: they're top of the table; still winning football matches; Lionel Messi is still breaking records and mastering the role of a false striker; they have improved upon last season's weaknesses by learning how to stretch the opposition defence and their movement in the final third has greater variety.
Managers
Looking at all four games, the manager who makes best use of the psychological aspect of the game could come out on top: and you'd have to say that in this area, perhaps Mourinho has the edge.
There is far greater pressure upon Pep Guardiola than Mourinho right now - or perhaps, putting it another way - the Barcelona manager is showing the signs of feeling the strain of any pressure far more than his opposite number in Madrid.
Pep has been looking tense lately and appearing irritable in front of the media, even making uncharacteristic slip-ups when talking to the press (he recently mistook the quarter-final against Shakhtar for a semi-final in a recent press conference).
The pressure on the Barcelona coach as been coming from all sides; there are tensions bubbling away beneath the surface at the club and incidents like the coach's recent public criticism of the president's brash prediction at a charity event that Barcelona would beat Madrid 5-0 at the Bernabeu hints at some discord.
Guardiola also feels that he's not getting the protection or support from the Barcelona media that he perhaps deserves. The Catalan press have always been quick to criticise and the opening game is critical: Pep knows he must win this weekend at the Bernabeu and will go all out in the first round, knowing that a defeat will trigger a wave of pessimism from the local media.
This is in stark contrast to Mourinho who is currently enjoying the full backing of the press in Madrid: and the Special One is using every weapon in his unique artillery to fire verbal shots at Barcelona through the media.
Mourinho knows how to get under the skin of his opponents better than any other manager and although Barcelona have wisely managed to avoid engaging with Madrid in any media combat so far, the war of words that will inevitably take place in the next three weeks once the action begins on the pitch could well prove influential.
Not that Mourinho has it all his own way. His speciality has always been in building an incredible bond and team spirit amongst his players, but the Madrid dressing room aren't quite behind him in the way they were at Chelsea or Inter Milan.
Key players, like Sergio Ramos have challenged his authority by suggesting transfer targets, while others - according to one newspaper - have apparently mocked Mourinho behind his back over his revelation that he has dreamed of winning the title.
Some players are concerned about the lack of tactical preparation dedicated to attacking play. However, his team are disciplined, hard working and organised - as you'd expect - and in the next three weeks, it is highly unlikely that Mourinho will not put some of the lessons learned from that humiliating defeat earlier in the season to very good use.
I doubt the outcome will be anywhere near as one sided after these fascinating four games.
Comments (38)
Andy Shaw (Barcelona fan) says...
Barca have won the last five matches against RM in the league so another win is on the cards. Then in the copa del rey we will be beat them 2-1, 2-0 or 3-1. In the away champions league match Barca will probably lose or draw (we do have an awful away record under pep in the champions league) but in the home match we will thrash them because nobody beats us at the Nou Camp!
Posted 16:17 15th April 2011
Jamie Workman (Chelsea fan) says...
Barcelona will win the league match, Madrid will win the cup final, Madrid will then win the first leg of the Champions League tie but then Barcelona will slaughter Madrid 4-0 in the second leg.
Posted 16:03 15th April 2011
Siyavuya Zamxaka (Barcelona fan) says...
wonderfull column as always...I think Madrid have a better chance of winning the Cup game in all of these 4 games. This is because Mourinho can play any system and not worry about how they get the result. with regards to the champions league, i think barca will edge the tie as they have the advantage of playing the second leg at the Camp Nou. I feel like Barca should play youngsters like thiago, Fontas etc with the no-so-regular first team players like keita and Affelay. this will give xavi and company some rest ahead of the other more important three games...what do think about that? another Question: what has happened to Milito's form? everytime he plays he looks out of sorts and costs the team goals!
Posted 14:25 15th April 2011
Mustafa Riaz (Barcelona fan) says...
I think Barcelona will win all four ties. Why? Because FC Barcelona is superior in every aspect of the game. I disagree with the statement that Mourinho has a mental edge over Guardiola.. has he already forgotten the 5-0 humiliation by the mighty Catalans? Messi is breaking every goal scoring record in the book and the rest of the team is as brilliant as usual. Xavi the masterclass at the center with the flamboyant Iniesta. The only worry for FCB is the absence of the captain, Carlos Puyol. I still haven't forgiven Ronaldo for misbehaving with Guardiola. I will still spit in the face of Sergio Ramos for physically assaulting the great Xavi and Puyol.
Posted 14:15 15th April 2011
Khumbudzo Dzivhani (Arsenal fan) says...
i believe the great foursome matches are a gift to footballing fans across the globe. Mourinho is an exceptional coach and his CV can back it up, but unlike inter or chelsea he hasnt had the support required within his first season. and i hear that guardiola is also feeling the strain, therefore this result of all these games will be 50/50. i cant see barca winning 5-0 again
Posted 11:14 15th April 2011
Sam Agona (Arsenal fan) says...
Madrid have the chance to win but they will have to do it in an ugly manner...that is it! If they try Barca's way, they will get slaughtered again.. Mour knows this so well, I trust him.. Xholani, Barca B cannot play in the La Liga even if they won, regulations bar it from playing in the same League with its parent Barca A....unless Barca A get relegated (dream on...)....
Posted 10:46 15th April 2011
Mupati Game (Real Madrid fan) says...
Its obvious that Madrid wiil win all four matches and this will prove the world that Madrid isv better than barca....with ozil,ronaldo,carvalho and not forgetting the fantastic coach Mr Mourinho, everything is possible.
Posted 10:10 15th April 2011
Ivan Trabalon (Barcelona fan) says...
@Xolani Mkhize: Barcelona B can't promote in Primera. The next Year Barcelona B will play in Segunda.
Posted 10:02 15th April 2011
Sam Agona (Arsenal fan) says...
Madrid have the chance to win but they wil have to do it in an ugly manner...that is it! If they try Barca's way, they will get slaughtered again.. Mour knows this so well, I trust him.. Xholani, Barca B cannot play in the La Liga even if they won, regulations bar it from playing in the same League with its parent Barca A....unless Barca A get relegated (dream on...)....
Posted 09:09 15th April 2011
Steven Dos santos (Arsenal fan) says...
barca will win three and lose one
Posted 09:04 15th April 2011
Donkey kong Kong (Real Madrid fan) says...
I suppose Real Madrid might win! For two reasons. First of all they are playing home so that will make the players confident . Madrid are a stronger team.
Posted 08:35 15th April 2011
Oscar Cyprian (Barcelona fan) says...
The way Barca pley and the wey Real pley is impossble for Madrid to beat best club in the wold in this four match..
Posted 08:26 15th April 2011
Shane Gonzales (Real Madrid fan) says...
Guillem once again, great article. No doubt that this Real Madrid is a very different team than the one we saw lose to Barca 5-0 having played so many games together and with the best coach in the world having time to really shape his team. I am not sure why people havent been discussing Adebayor and his addition of strength and height. I don't believe Barca has anyone on defense to stop such a power player especially in the air. Also his recent form has been outstanding. Do you think Adebayor is going to be the key player in these upcoming mathces?
Posted 07:46 15th April 2011
Ade Akula (Manchester United fan) says...
The key is when is Puyol back. Barca are definitely over-reliant on a small core of players. There are no match winners on the bench except Keita so to win, they need Puyol or Abidal back. Based on play ands skill, Barca will win it all but they are really short on personnel and that may be the problem.
Posted 07:35 15th April 2011
John Earwaker (Liverpool fan) says...
Liga - Draw Del Rey - Real CL 1st Leg - Barca CL 2nd Leg - Barca That's how I see it. The key to the whole series is injuries, bans and form, some players are already going to be missing on these lines. Without a doubt these games will be lost or won in midfield and I would pick out two face-off's which the outcome of will prove crucial. The first is Alonso v Mascherano and the other Messi v Ozil. Mascherano has come into the Barca side more regularly and added some steel, this confrontation of the two former Liverpool players is likely to be EXPLOSIVE, don't be surprised to see a red card or two there, overall I think Monster Masch' will prevail. In the other I think Messi will be the victor, mainly because I've noticed that Ozil has had a drop in form of late, why we don't know, it could be carrying a knock or that a long campaign coming after South Africa is taking it's toll. Thanks for another great article from Sky's best reporter. Rafa at Real Madrid next season. YNWA96
Posted 07:24 15th April 2011
Themba Tambo (Liverpool fan) says...
I am an ardent Liverpool and Barcelona fan...Its amazing how suddenly the Mourinho fans are suddenly seeing weaknesses in Pep's style of management...and how they are prescribing "a long term illness if he continues to go toe to toe with Mourinho".... and in terms of him being overpowered psychologically by Mourinho...how he is the best manager ever...rubbish!!! Lets look at what Mourinho and Pep achieved in their first 3 years of management and then decide who has achieved more...its not even a contest as far as I am concerned. I do somehow agree that Barca have of late looked a bit flat, but I think that having achieved what they have in the last 3 seasons and the fact that they are still in the running for the trebble, one is bound to understand. Nonetheless, having said that, the el classico brings new and different energies to both sides....just like in any other derbies all over the footballing world...just have a look at what happens when Liverpool take on Man U...they can lose to Blackpool the one weekend but they will play like champions when they come up against Man U...and least I say that Barca know how to beat Real. So to those Madrid fans who want to judge Pep, please do so after the 4 games and I don't think I need to remind any of you that Barca are 8 points ahead of "the greatest coach" and his team in La Liga. Barca are the best team in the world at the moment and until Real does something to unseat them....just shut up and enjoy watching football being played the way it should!!!!
Posted 07:22 15th April 2011
Prince Smith (Newcastle United fan) says...
Xolani, it wont be the 1st time it will happen. it happened in 1954 and they werent allowed into the 1st division since they are a nursery club for FC Barca. so yeh once again they will stay in the segunda division and everything will be exactly as it is now...
Posted 22:41 14th April 2011
Ramesh Parajuli (Real Madrid fan) says...
I think Jose mourinho is waiting for champions league, real madrid is already out of title race in la liga. Copa del rey is not to important. This four games are totally unpredictable but real madrid is running better than barca in champions league. They just take three goals and they are still unbeaten. So I think real madrid have slightly more chance to qualify for wembly.
Posted 20:51 14th April 2011
Poland Old poe peabody (Arsenal fan) says...
lots will be said, tactical plans, side plots will be mentioned, Messi vs Cronaldo etc ,psychological war fare will be thrown in there, usually when this is mentioned Mourinho is always seen as having the upper hand,evidence will be put forth, but I think game one will still boil down to who ever works the hardest will win the game, the problem is the first game might be a stalemate,it might be a score draw and this makes everything more interesting, I fancy Real on the Champions league tie,as I think they will not lose at home, but I think the whole series will rest on the Copa del rei final next week and whoever advances to the Champions league Finals. All said and done I fancy Barca as, they just work harder than everybody else.
Posted 19:52 14th April 2011
Xavi Iniesta (Celtic fan) says...
barca all the way. it wont be as easy as the first el classico game of the season but they should still get it. also to answer a few other questions... of Barcelona B win segunda the will not be promoted, as all teams that have a B team playing in a lower leave have an agreement that means that the cant have 2 teams in the same division. also i how can anyone think that guardiola is buckling under the pressure when its mourinho that is loosing games and seems to have conceeded la liga already? visca el Barca!
Posted 19:27 14th April 2011