Amid all the fanfare of Liverpool reaching Wembley, it's worth pointing out that in years gone by the League Cup would have been so low on the agenda at Anfield that it would have been not worth considering.
Even now I don't think it is Liverpool's - or John W. Henry's - top priority; the money the club has spent means that qualifying for the Champions League is a must. At present that looks unlikely although it's just possible that they can use the Carling Cup as a springboard.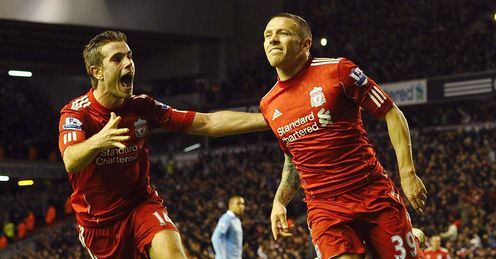 Liverpool's recent home record remains a concern and it's probably just as well they didn't have to beat Manchester City to go through. So Liverpool supporters shouldn't get too carried away but it's great that their club has finally made it to the new Wembley.
Cardiff await them - another club with a higher priority, as the success of Swansea means it is even more essential for Cardiff fans that they reach the promised land of the Premier League.
Bellamy hasn't played every game for Liverpool this season by any means; I dare Kenny not to start him on February 26!
Jeff Stelling
Quotes of the week
Sky Sports Fantasy Football
Play Fantasy Football against Jeff Stelling each win for the chance to win great prizes.
Pick your team
.
Play Super 6
Think you know your football? Predict the scores for six matches for the chance to win £100,000. It's free to play and you could land the jackpot.
Play now

Transfer Betting
For all the latest transfer odds on the key targets in the run up to deadline day visit skybet.com. There's a
free £10 bet
for new customers.
Manager Malky Mackay has done a fantastic job so far, guiding the team to third in the Championship and with Southampton fading (or so it would seem), Cardiff are sitting pretty.
I hope the final doesn't distract them from their league ambitions. I don't think it will - from their perspective it is a wonderful opportunity to win a trophy. It should be a great occasion for them.
Cardiff have nothing to lose and people certainly shouldn't write them off - Liverpool most of all.
I'd point anyone who does in the direction of Arsenal, who were massive favourites to win last year's final against Birmingham, but came up short.
I expect Cardiff, who are 9/2 to win, to give a good account of themselves. I don't think the result is done and dusted; I'm expecting a close game and a terrific one too.
Special
Liverpool's best signing in the summer by a million miles was Craig Bellamy; Jose Enrique has done well but Bellamy is the one who lights the red touch-paper when he's performing.
As Kenny Dalglish rightly said after Wednesday night's game, if City have got any more like Bellamy that they don't want then send them along!
Bellamy has been a terrific player at every club he's played for; of course he can have an argument in a telephone box, but it's the fact that he is such a powder-keg that makes him so explosive on the pitch.
Now he has the chance to play against his hometown club (had circumstances been different he might have been playing for them) and it's bound to be a very special occasion for him indeed.
Bellamy hasn't played every game for Liverpool this season by any means; I dare Kenny not to start him on February 26!
Malky Mackay was watching the game for Sky Sports at Anfield last night and I'm sure his biggest concern now will be 'what the heck do we do about Bellamy?'
Flak
I wonder what Andy Carroll was thinking this morning?
He finally appeared on the pitch in added-on time and this is without Luis Suarez in the team! Meanwhile Dirk Kuyt can't hit the proverbial barn door at the moment.
Kuyt hasn't scored in the Premier League since May and still Carroll can't get on for more than a handful of minutes.
It must be a very depressing time for him. Sometimes we forget he's still a young man who is away from home. He desperately needs a run in the team, ideally in front of Steven Gerrard.
He's unlucky in the sense that he's not the only one underperforming for Liverpool. Charlie Adam should thank his lucky stars that people are pointing the finger at Carroll because after a bright start his form has tailed off dramatically. I could say the same of Stewart Downing recently.
Instead it is Carroll who seems to take all the flak. I might be in the minority but I'm one of those who believes he will score goals - whether he does at Liverpool or not, that remains to be seen.
Yes he's a bit raw but if you asked most centre-halves in the Premier League if they would rather play against Kuyt or Carroll, most of them would say Kuyt.
Appalled
My sympathy doesn't extend to City's Mario Balotelli, who missed the game as his four-match suspension began. I heard his agent say beforehand that Balotelli might leave the country if he received such a punishment; well, so be it.
Balotelli has done a lot of charming things while he's been here - a lot of great stories not to mention the eccentric incidents. Without a doubt he makes great copy.
But I thought the incident with Scott Parker was absolutely horrendous. The second I saw it, I was appalled because Parker could have ended up seriously hurt.
Of course, City should have been down to nine men by the time Balotelli stroked home the winning penalty. People keep saying Balotelli is a fantastic player but I've yet to see much evidence of that on a consistent basis.
I wouldn't be surprised if City off-load him at the end of the season because they need someone who is more reliable.
Referee Howard Webb said he didn't see the 'stamp' and consequently the FA banned Balotelli retrospectively but in my view it shouldn't matter whether the referee sees the incident or not.
We have to change this ridiculous ruling that a referee's decision stands if he sees an incident and reacts there and then, because when a decision is blatantly wrong it should be changed!
The game shouldn't be about protecting referees - it should be about having a fair and reasonable outcome to football matches; cynical, malicious, foul play must be properly punished whether or not the referee has seen it on the day or not.
The fact that Joleon Lescott has escaped a ban for what, to my mind, was a clear elbow makes me think I must be watching different matches to everyone else!
Catch Jeff and the boys on Gillette Soccer Saturday at 12pm this Saturday on Sky Sports News HD, channel 405.
Comments (15)
Wil Ni (Wrexham fan) says...
If the ref did not see the Baloteli incident, WHY?, he should of seen it. What was he focusing on to miss such a bad tackle. For his failure to see it and act accordingly he should also be punished. Bad referee's cost the game credibility, if the FA suspended or banned refs for a few matches maybe they would buck their idea's up
Posted 14:09 30th January 2012
Tariq Odeh (Arsenal fan) says...
I cannot stress enough how right you are about the whole aspect of making the game fairer, Basketball last season introduced technology into the game, making football possibly one of the only sport not using technology to overturn decision's and make things right. There are countless false offside calls, goals, fouls, false reds that actually cause a turn for the worse in a game, in terms of fairness and a final result, FA need to do something about that ASAP if you ask me!
Posted 11:59 29th January 2012
Aaron Gudgeon (Liverpool fan) says...
I agree with Jeff - The League cup should NEVER be a priority or a barometer of success for LFC. The bare minimum we must achieve this season is top 4......anything less is shameful. The hoohar surrounding Andy Carroll is irritating as a red fan, the constant criticism is not justified and he deserves time. He needs to be judged after two full seasons. If anyone should be embarrassed and disappointed with their performances and non-value for money then its Downing. He is vastly over rated and so mediocre it makes my teeth itch with frustration. KD was lauding the fact he has made more crosses than anyone in the Premier league, but frankly who cares ? He has not scored and has not made an assist either ! Stats mean nothing (unless they are goals), as his make out like he is competent when he clearly is not. I could stand out wide and boot the ball aimlessly into the box, for far less money !! The difference between my feelings for Carroll and Downing are that Downing is an established Premiership player and international......Carroll is only young. Overall the season has been disappointing so far, but there is a long way to go. I see us sneaking 4th, but only because Arsenal and Chelsea are mediocre too. YWNWA
Posted 22:53 28th January 2012
Steve Foley (Tottenham Hotspur fan) says...
I'm sick of Spurs being on the bad end of decisions that have directly affected the outcome in several games this season. what with disallowed goals for offsides NOT. blatant penalties not awarded to us and equally blatant no penalties given the other way. I reckon that at least 3 of our draws should have been wins which is 6 valuable point we've been robbed of by the men in black. it needs sorting. fat consolation we get a retrospect ban at City.
Posted 17:31 28th January 2012
Ken Jones (Manchester City fan) says...
Yes Lescott a red card you say. Watch most matches & you will see players flinging arms about. But you won't see players trying to gouge eyes out. But did you not see Peter Crouch? I for one did.
Posted 02:55 28th January 2012
Josh Darnbrook (Leeds United fan) says...
Jeff you are a legend, i agree that if a decision is seen by the FA and is seen as a deliberate offence then they have the right to penalise that player despite whether the referee has seen the offence or not. What annoys me is that no one is questioning the players who are committing these disgraceful acts. To mention a few Joleon lescotts deliberate elbow, Balotellis' stamp/kick. Crouch's poke in the eye. Are these players not ashamed of what they have done. Especially when it is replayed and shown in detail. Forget fining players FA needs to be more ruthless.
Posted 18:58 27th January 2012
Nigel Burton (Manchester City fan) says...
i quite agree with Jeff that when a decision is blatantly wrong it should be changed. So how does that apply to Micah Richards so called deliberate handball that Phil Dowd saw as him raising his arms to full stretch above his head when actually his right arm was lower than shoulder level and his left arm was at head height AND THE BALL WAS DEFLECTED OFF HIS LEG SO NOT DELIBERATE HANDBALL. More fuel to the arguement for in match video referees.
Posted 15:30 27th January 2012
Peter Barr (Manchester City fan) says...
What happens on and off the pitch should be dealt with fairly and consistantly.If Ballotelli was dealt with after the match(ref said he didnt see the incident ,but pictures show him looking straight at it) THEN WHY DOES THE SAME NOT APPLY TO LAMPARD (leg break tackle at Wolves)Rooney ,forearm smash at Stoke?Either these are all to be erradicated or the F.A.is an ass.Which one is it?
Posted 15:27 27th January 2012
Alexis Wolfe (Tottenham Hotspur fan) says...
Re: Mario Balotelli and Joleon Lescott Thanks for this Jeff. It is a depressing relief to get some somewhat rare, clear, sensible, morality applied to football. I dread to think of youngsters, or anybody else for that matter, watching the actions of Balotelli and Lescott and thinking that what they did was acceptable. It is a shame for the sport and a shame for both Tottenham and Manchester City.
Posted 14:53 27th January 2012
Mark Thompson (Liverpool fan) says...
Nice article - Bellamy is LFC's best signing under KD by far, RB should never have sold him in the first place!! The LFC midfield has been mis-firing all season - never thought I would be saying that we have seriously missed Lucas. Football needs a shake up - all games should be watched on video, and what the referee misses (or gets wrong) should be dealt with by the FA. The FA has been known as "F*** All" for way too long - sorry, I forgot, they do have their use when Rooney gets himself sent off being a complete pr**k - and it is about time this was changed. Ref's make mistakes that cost managers their jobs in some cases, but they are not answerable to anyone. Should a game be replayed if a penalty is wrongly given - how about Stoke v Villa was it last year - if my memory is correct a foul was 5 yards outside the box yet a penalty was given??? If we are going to televise games, scrutinise every decision and incident, and pay so called "pundits" to waffle on about them, then we have to use it to sort things out. Stop the cheating and diving and help refs - do something instead of just talking about it. Lets face it, CL and PL places are worth millions to clubs, and a ref's decision, or "lack of visibility" could affect someones livelihood. Remember, football is not just life or death, it's more important than that.......
Posted 13:35 27th January 2012
Adam Johnson (Liverpool fan) says...
steven gerrard is a true scouser we wouldnt of won the game if we never had him and all the fans behind us he has got the team spirit he never gives up and craig bellamy was a massive signing but the main thing about the final is we have suarez back and the match on saturday will be good evra will prove why he claimed suarez of being racist because he cant get to him
Posted 12:42 27th January 2012
Reno Diamonte (Manchester United fan) says...
Good write Jeff and I agree with it wholeheartedly. I suppose when a team hasn't tasted success in any competition for quite a number of years, then, winning "any" cup, will do. But as you said, it is only the Carling cup. I doubt very much if Liverpool (assuming they will beat Man United) progress any further in the FA Cup. Yes, Liverpool played well against Man City but there were quite a few spells, in the game, where their passing was questionable. And one major decision went in their favour. Liverpool fans should not expect anything more than winning the final of the Carling Cup, IF they do win it.! As for the Champions League, they've got no hope. As a Man United fan, I hope it will be a good game for both teams. If someone gave me a choice of winning this cup tie or the 3points in our next meeting with Liverpool, I will settle for the three poionts. But I do agree with you, Jeff, as for Liverpool, it is only the Carling Cup.
Posted 09:02 27th January 2012
Alex Pickup (Manchester City fan) says...
'We have to change this ridiculous ruling that a referee's decision stands if he sees an incident and reacts there and then, because when a decision is blatantly wrong it should be changed!' - By those rules then they should not have had a penalty as it was a wrong decision at Liverpool, can that be changed?
Posted 08:37 27th January 2012
Iain Young (Manchester City fan) says...
I hope your sense of retrospective fair play extends to Johnson being punished for a 2 footed challenge on Lescott. Or perhaps, Gerrard's penalty being struck off, after an unfair penalty award ? I suspect it doesn't, it is much easier to jump on the passing bandwagon and have a pop at Balotelli. He has made some poor challenges, and let his Club down, but he is a tremendous talent. Mancini's job is to nurture the good side, and dispel the demons. The chances are that the self righteous, myopic press will have convinced Mario not to bother staying in the UK.
Posted 16:51 26th January 2012
Matthew Corner (Sunderland fan) says...
Mr Stelling, I am a fan of yours, but you couldn't be more wrong about two little things. Balotelli has undoubted class, he really is a quality player, would waltz into united or chelsea's team. Secondly, "Andy Carroll will score goals", not a chance, how you can pay that much money for a lad who has had half a season of premier league action. People saying he need more time/oppurtnity - he's into double figures this season for appearances, yet his goal tally is still woeful. Recently he has been given more starts, due to Suarez and you can't help but think that the reason KK is now reluctant to start him in even the biggest games is because perhaps he has realised that this lad is second rate, and doesn't show any signs that he is going to improve?
Posted 16:22 26th January 2012