Do the so-called big clubs get favourable treatment at home?
I suspect your response to that question depends on who you support. Sir Alex Ferguson has rejected it as a theory and personally I don't think it holds much water either.
I honestly don't believe that a referee officiating at Old Trafford thinks 'oh my god, it's Manchester United, I daren't give a penalty against them'.
Fairness
I'm sure every fan can recount any number of times they feel their side has been hard done by and tally up the points they've 'lost' as a result, but ask yourself how many times your club has benefited.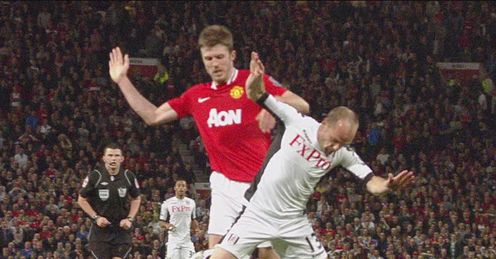 Also, consider how much time your team spends in the opposition's half because it stands to reason that the more dominant your team is, the more decisions (hopefully right ones) you are likely to get.
Teams like United and City spend so much time camped in their opponent's half and penalty area that sides often crack under the pressure and make rash decisions.
sometimes players - like Lionel Messi, for example - are so good that you are going to get a lorry-load of decisions in your favour because the only way to stop him is to foul him!
Jeff Stelling
Quotes of the week
Sky Sports Fantasy Football
Play Fantasy Football against Jeff Stelling each win for the chance to win great prizes.
Pick your team
.
Play Super 6
Think you know your football? Predict the scores for six matches for the chance to win £100,000. It's free to play and you could land the jackpot.
Play now
Indeed sometimes players - like Lionel Messi, for example - are so good that you are going to get a lorry-load of decisions in your favour because the only way to stop him is to foul him!
Inevitably, people use the number of penalties conceded or awarded as a barometer of fairness.
I've been looking at the statistics and in all competitions United have scored seven penalties and conceded two, while City have scored six at home and had two scored against them. There is not much difference.
I didn't see Monday's match between Fulham and United, in which Danny Murphy was denied a late penalty, but when Gary Neville, who is as red as they come, says it was a clear spot-kick and Sir Alex says as much himself, it very obviously was.
But it happens to the best of teams too. Barcelona should have had a clear penalty against Milan when Alexis Sanchez was brought down but there was no favouritism there; but then they were the away team!
This whole debate began when Patrick Vieira said that United, like most major clubs in Spain and Italy, benefited from favourable treatment at home.
Even though he later claimed his words had been taken out of context, I'd love to know your thoughts on the issue. Just fill out the feedback form below...
Twists
United's victory over Fulham adds more fuel to what is turning into a fantastic title race. I reckon there will be some funny results between now and the end of the season. By no means is it settled yet.
I hate Sir Alex's favourite phrase - you know the one I mean - and I refuse point blank to use it, but it is certainly that time of year.
On the one hand it's hard to see where United will drop points but then I don't see Monday's trip to Blackburn as a gimme. Rovers are desperate for points and they've already proven once that they can beat United.
Looking further down their fixture list they've got Everton later in April and then they go away to Sunderland on the final day of the season, games in which they could equally slip up.
I think there are still plenty of twists and turns to come, just as there will be in the race for third and fourth.
I know Arsenal fans are looking down on Tottenham fans right now with a certain amount of satisfaction, being 10 points ahead, but none of Spurs' remaining games are against teams in the top seven.
Moreover, Arsene Wenger set my alarm bells ringing - particularly in regard to my fantasy team - by saying that now's a good time for Robin van Persie to have a rest.
Meanwhile, everybody seems to have forgotten about Newcastle who are suddenly level with Chelsea, five points behind Spurs; what a story that would be if they could somehow finish fourth.
Personally, I don't think they've quite got the squad but last week against West Brom the trio of Papiss Cisse, Demba Ba and Hatem Ben Arfa were absolutely fantastic.
Cohesive
I got a close-up view of Chelsea on Tuesday in Benfica.
They were awful against Spurs on Saturday in a game you felt they really had to go and win and never looked likely to.
But Roberto Di Matteo made a huge, bold team selection by leaving out Frank Lampard, Didier Drogba, Michael Essien and played players who have barely even been on the fringes - Salomon Kalou and Paulo Ferreira. But what a fantastic job the team did.
We - Glenn Hoddle, Jamie Redknapp, Graeme Souness and myself - sat in amongst the fans behind the Chelsea dugout as we didn't have a studio position from which we could watch the game from.
It gave us an interesting perspective on a couple of things. It was noticeable that every time Chelsea attacked or did something decent, all of the substitutes were up on their feet, together as one, and they looked very much like a unit. There was a lot of back-slapping, high-fiving and things right throughout the game. Throughout the game they looked like a cohesive group.
I thought it was a tremendous all-round performance. Fernando Torres was good, Ramires was immense - his work-rate was unbelievable.
But I couldn't for the life of me work out what Raul Meireles was up to.
As a former Porto player, Meireles was public enemy No1 in the eyes of the Benfica fans, but he didn't help the situation by one jot by doing everything in his power to incite the crowd.
Chelsea had virtually silenced the home fans by their performance - which is exactly what they wanted - until Meireles made a gesture towards them that had them climbing up the walls. Thereafter he appeared to goad them at every opportunity.
Don't get me wrong - he played well enough - but if I was his manager I would have been furious with him for his actions.
Consistency
You certainly knew that Di Matteo was calling the shots. Once he'd made his team selection he was instructing, instructing, instructing from the sidelines throughout the game; it was perfectly obvious who was making the calls.
Whether he's in pole position to take on the job full-time, though, I just don't know. It would make sense, I guess, if they continue to do well but before we get carried away let's remember they didn't do well against Spurs and, in my view, they didn't do particularly well against Manchester City either.
This weekend they travel to Aston Villa, who are short of firepower and short of confidence, and Chelsea should have them for breakfast. But will they go there and win comfortably? I don't know, because there is no sense of consistency and that in itself might determine whether Di Matteo gets the job long-term or not.
Join Jeff and the gang for Soccer Saturday, from 12pm on Sky Sports News HD.
Comments (5)
Julian Bradshaw (Manchester United fan) says...
I don't think big clubs don't get any beneficial treatment from officials at all, at home or in general, and the statistics back this up. Also, Mr Viera has made a few comments about United in the last couple of weeks, and we've seen before where a manager will make a comment about refereeing decisions to try and make refereees think 'hold on, if i give this it'll be all over the media that (insert club) get special treatment'. He's also called United desperate for bringing Scholesy back...if bringing a player like Scholesy back makes United desperate, what must City be to even consider letting that rat Tevez pull on their clubs shirt again? Mr Viera himself might get a game if they get any more desperate!
Posted 07:35 30th March 2012
John Verne (Everton fan) says...
I think teams do get preferential treatment often at home matches. The fans can be very intimidating during high intensity matches at the end of season and that can influence referees. Even top level refs like Webb give MUFC far too many penalties at home. I would like to see Gary Nevilles thoughts on the perceived preferential treatment Manchester have been given in recent years.
Posted 22:28 29th March 2012
Simon Coram (Wigan Athletic fan) says...
And i'm pretty sure as a wigan fan the good decisions do not balance out the bad ones, there is a bias towards the big teams as the referees (either conciously or sub-conciously) know which team they want to referee for next time and which club is most likely to still be in the league come next year. Its ridiculous to suggest big teams don't get more decisions, look at the parallels between Conor Sammons red card at old trafford this season (recinded) and Wayne Rooneys elbow on James Mccarthy the other season (not even a yellow). That wasn't even at old trafford!
Posted 18:49 29th March 2012
Gerald Cavaliere says...
Man United and Ferguson have had favourable treatment for years and now its begining to show, not for the first time I may add, bring back the Busbys,Revies, Shankleys, etc who thought any form of cheating and diving was unprincipled which led to natural respect not the media orientated false respect we have today.
Posted 17:46 29th March 2012
Ian Young says...
I remember the off side goal scored by Drogba that gave Chelsea the title a couple of years ago at Old Trafford, I also remembers this season Newcastle got a pen again at Old Trafford that was a great tackle by Ferdinand. my opinion is that most work out in the end but not all, the Drogba one will never work out as Chelsea won the prem with the help of that one directly.
Posted 17:42 29th March 2012