It's a terrible shame to see Aston Villa where they are.
As the manager, Alex McLeish is getting a lot of stick and it has now got to the point where owner Randy Lerner has had to publicly back his man.
Since he arrived in 2006, Lerner has invested a huge amount of money into the club but, speaking as an outsider, I think he still has some questions to answer in regards to Villa's transfer policy and their subsequent slump in the table.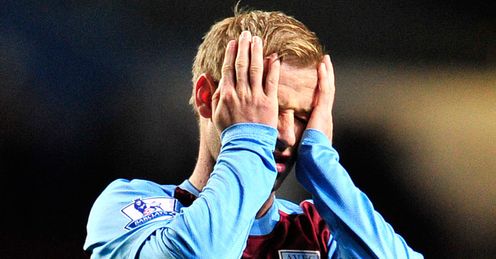 When you look at the out-going transfers and compare them to the incoming deals, the club surely must have made a handsome profit.
In July 2011 Stewart Downing moved to Liverpool for around £20m; the summer before that, Ashley Young headed off to Manchester United for £17m and James Milner was bought by Manchester City for £26m - a tidy sum.
If the kids are the future, I'm afraid there are going to be some horribly hard times before the good times return.
Jeff Stelling
Quotes of the week
Sky Sports Fantasy Football
Play Fantasy Football against Jeff Stelling each win for the chance to win great prizes.
Pick your team
.
Play Super 6
Think you know your football? Predict the scores for six matches for the chance to win £100,000. It's free to play and you could land the jackpot.
Play now
Rewind another year and City signed Gareth Barry for £12m, while the sales of Craig Gardner and Zat Knight realised £3m and £4m respectively.
On top of that there have been potentially big-earners going off their books - the likes of Nigel Reo-Coker, Brad Friedel and John Carew.
To summarise, there have been some transfer fees coming in and some big names off the wage bill while last summer they spent a combined £13m on Shay Given and Charles N'Zogbia after splashing out £18m on Darren Bent in January 2011.
So where has the rest of the money gone? Why has Alex McLeish not had more financial backing?
I remember him saying a few weeks ago 'you never know, there may be a big transfer signing coming in during the summer transfer window'. Well, I'm afraid that Villa need more than one big signing to improve their recent track record.
As things stand their sellable assets are Bent and, to a lesser degree, Gabriel Agbonlahor; with the best will in the world they are not going to stay at Villa if the club is relegated.
So if things look grim now, what are they going to look like in a few months' time?
Future
Villa's team isn't an eye-catching one at present.
On Tuesday their line-up included plenty of youth - Eric Lichaj, Nathan Baker, Chris Herd, Andreas Weimann, Marc Albrighton - and Barry Bannan came off the bench, as did Nathan Delfouneso.
If you haven't heard of Daniel Johnson, Derrick Williams, Jack Grealish or Samir Carruthers - all of whom were on the bench against Chelsea last month - you are not alone because none of them have started a Premier League game.
If these kids are the future, I'm afraid there are going to be some horribly hard times before the good times return.
So perhaps Alex McLeish isn't doing too bad a job with both hands tied behind his back. People are quick to accuse him of being desperately defensive but I'm not sure what alternative he actually has.
Villa have endured some misfortune along the way.
Stiliyan Petrov's battle against leukaemia has deprived them of an assured, experienced and inspirational leader, while without Darren Bent's goals they are desperately light up front.
As I said on Soccer Saturday a couple of weeks back, Robbie Keane did a good job for them in the early part of the year but it was like putting a sticking plaster over an open wound in the sense that it disguised their problems and the need to buy someone on a permanent basis who could score the goals that would maybe keep them up.
Mire
Looking at Villa's remaining games, I fear for them. They've got West Brom away, Spurs at home and Norwich away. Quite frankly, they might not get another point this season.
The Baggies would take great delight in helping to send Villa down and confirming themselves as the No 1 team in Birmingham, Spurs still have Europe to play for while Norwich are, on the face of it, strong at home and will want to finish what has been a fantastic season for them with a flourish in front of their own fans.
It's a horrific prospect for Villa, particularly with all of the teams around them picking up points; they are right in the mire and it's hard to see how the can turn it around without investing heavily in the team in the summer. I guess then we'll see how interested Lerner still is in the club.
My message right now for Villa fans is be careful what you wish for. Alex McLeish is a good man and a good manager; even if he suffered the ignominy of a second successive relegation, I don't think it would be a total indictment of his managerial abilities.
If he did go, there would be no shortage of candidates to replace him because Villa remains a big club. However a lot of water has flown under the bridge since those glory days in Europe.
They seemed even further away on Tuesday when I watched Chelsea clinch a place in the Champions League final at the same time as Villa were losing at home to Bolton and dropping ever nearer to the relegation places...
Join Jeff and the gang for Soccer Saturday, from 12pm on Sky Sports News HD.
Comments (13)
Calvin Gross (Aston Villa fan) says...
One of the big assumptions here is that the Villa fans hate 'Eck because he's a former Blues manager. That's not completely true. Many of us were willing to give him a chance, but this season has been an absolute failure. I expected a completely mid-table finish, and I don't think that was unreasonable. We're not going to be a top-6 side again anytime soon, but we have at least a mediocre team this season that should be able to garner more than just 7 wins. I admit, it was foolish for the Villa fans to vociferously protest Houllier. We played attractive football, and our biggest problem was finishing the chances we created. Now we create almost no chances at all. Of course, selling players like Young (summer 2011 not 2010) and Downing hasn't helped, but we have a least half-decent replacements in N'Zogbia and Albrighton. But for some reason known only to the gods, he plays Heskey on the wing. Heskey is a decent player who doesn't deserve much of the criticism he receives, but he's a centre forward. Is he going to be beating a fullback with his speed? Tracking back to help defend? Putting in good crosses? His managerial record here is worse than with the Blues, and I don't think many people would argue they had a better squad than we do now. In the end though, I blame Lerner for this. The sudden cessation of money, the signing of a hugely unpopular manager whose tactics are completely opposite what we and the team are used to, and a complete lack of honesty have all discredited him. None of the Villa fans know what he wants. We keep hearing these claims that we're "trying to get back to Europe," but his actions don't support that. At this point, I almost wish we would get relegated so we can completely sort things out and rebuild from the bottom up.
Posted 16:41 26th April 2012
Gary Arthurs (Aston Villa fan) says...
Jeff, on what basis is Eck a good manager? Not his track record definitely (but possibly his popularity amongst media and other "football people". He does indeed seem a very personable man.) Please publish McLeish Premier League statistics (around 135 games I think?) which I am sure you have to hand at Sky. Then consider he previously came third in a 2 horse race in Scotland. He has produced the worst home record in Villa's history and his football style is ineffective in the PL. Dwight Yorke (who does know a bit about football and Villa) stated on Sky that Villa should not be in their current league position with players at the club and I agree. We have seen a "finished over the hill" Chelsea squad respond to the skills/personality of DiMatteo which would seem to demonstrate that managers can and should have a positive effect when taking over. Eck also spent around £17m on Given N'Zogbia and Hutton. "His" players, but while Given is a reasonable replacement for Friedel the other 2 have not performed. One might also question the wisdom of bringing an injury plagued, albeit talented but unlucky, Jenas on loan but it might have come off. It really is nothing to do with Eck's "previous job" but more about what he did there in having taken our them down twice in 3 season. (Accepting he won a trophy) Jeff, you may want to reconsider your view when looking at the facts of Eck's PL statistics and past performance. That said the current demise of Villa is the responsibility of Mr Lerner and Paul Faulkner who have made dreadful decisions and totally ignored the views of their paying customers when inviting Eck across to VP. As Mick McCarthy said at the time - Eck must have thought he'd won the Lottery - get current club relegated but get offered job at neighbours. Mick must be expecting "the call" to take over at The Hawthorns anytime now!!! :-)
Posted 16:38 26th April 2012
Craig Moore (Aston Villa fan) says...
I'm sorry, but where do all these so-called 'expert' pundits get their ideas from regarding Alex McLeish being a good football manager? His CV as a manager certainly does not lend itself to him being classed in the 'good' bracket: 1 - 3rd place finish with Rangers in 05/06 (a league with only 2 teams!) 2 - 10 matches without a win with Rangers 3 - Relegated twice in 3 years in charge of Birmingham City 4 - Worst home record in Aston Villa's 138 year history Ok, he won some trophies with Rangers, but who hasn't when they have been in charge of an old firm club? Apart from that, he has a below average record as a manager. When we were trying to appoint a new manager after Houllier, our club chief executive (Paul Faulkner) issued a statement saying the number 1 priority was that the manager should have a "proven premiership track record". Therefore, in my opinion, McLeish was lucky to be given an interview let alone the actual job. In any other walk of life, if you haven't got the skills to do the job, you don't get the job. I don't quite understand what is so different about the recruitment process in football management?
Posted 16:34 26th April 2012
Joe Lloyd (Aston Villa fan) says...
........ and another thing what has Mc'leish got against Jean Makoun ? from day one he sent him away on a seasons long loan deal . Surely with the injury and illness problems our squad has had this season , having him back to the squad for another try would have been the best thing to do. How can someone stick with heskey yet not be prepared to give an international with champions league football another chance
Posted 16:33 26th April 2012
John O' shea (Aston Villa fan) says...
A good manger really is he? He has only won 15 games out of the last 72 games in the Premier League. His terrible tactics, his constant playing of Heskey in midfield. The way he sets up the team of settling for a point at home and not to lose by a big score away. He has only won 7 games this season, 4 of them at home. Its just not good enough. Every Villa fan wasn't happy when he was appointed last June but we gave him a chance. What was Randy Lerner thinking?
Posted 16:22 26th April 2012
Scott Peacock (Aston Villa fan) says...
Totally disagree there Jeff. A poor manager with poor tactics, yes he is a nice guy, but that shouldn't be an excuse. We've got the scored the 2nd least amount of home goals in the league and have only won 4 at home. We've been unlucky with injuries, but it doesn't hide the fact that we don't go at teams and at least go for it. If we lost games when we've attacked and tried, then the fans wouldn't mind. But it's the total opposite, once we score we sit back and let teams come at us. And don't write these kids off yet. They will make you eat your words.
Posted 16:10 26th April 2012
Joe Lloyd (Aston Villa fan) says...
Some valid points made there ! , in my opinion the game against WBA is our best chance for points and although we are absolutely rubbish at the moment during derby matches form can sometimes go out the window. I believe we have been" hung out to dry" by lerner and co , if you look at Blackburn , Wigan and QPR they have people who can score goals , with the villa we are seriously short of forward options and during the january transfer window we took a loan signing when lerner should have freed up money for another permanent striker to help push us up the league! Cmon lerner tell us the truth wheres the cash gone ? why did oneil quit and what can you provide for the future ?
Posted 16:08 26th April 2012
David Lewis (Aston Villa fan) says...
You've made some really good comments here Jeff. I agree that losing Barry, Milner, Young and Downing in the space of 3 years has had a massive impact at the club, but why on Earth was McLeish appointed? I feel that the money issues lie with Lerner, but the manager appointment and signings fall under the responsibility of Paul Faulkner, Lerner's right hand man. As I said, why was McLeish appointed? 3 years in the Premier League, 2 relegations with our rivals, and a very ugly 9th place finish. In what way would this guy 'stop a sinking ship'? I agree he has had nothing to work with. Steve Bruce was sacked after a poor run with Sunderland, but MoN with the same crop of players has ensured the safety of the club. I think Lerner and Faulkner need to carefully consider their position in the club, as i fear that my once great club will go under, and we will be left with nothing if we get relegated to the Championship. I love the Villa, but McLeish just has to go, sorry.
Posted 15:35 26th April 2012
Errol Wright (Aston Villa fan) says...
with all due respect to your thoughts on this matter Mr. McLeish inherrited a team that should no way be in the position we are currently in and if he wasnt so negitive when he had a full squad available we would'nt have the issue of relegation now
Posted 15:10 26th April 2012
Sati Bhogal (Aston Villa fan) says...
Everyone is entitled to an opinion but on this occasion you are wrong...the man is complete imbecile and should never have been put in charge. His style of football is negative and that is why we find ourselves in this postion, we should have had points in the bag when we had a fully fit squad...but here we are in a relegation battle. His past record speaks for itself, relagated twice with B'ham and Rangers finishing third in what is a normally a two horse race. Even with the squad he has now we should have been safe by now....he needs to go and to take his two sidekicks with him. He has failed his task and as Lord Sugar say.....you fired!!
Posted 15:05 26th April 2012
Jim Witton (Aston Villa fan) says...
McLiesh has for long time been known as a negative manager, that has not changed this season, yes we have seen some big names leave, but then as you pointed out, he has also had money to play with. Shay Given, class act, but then he has spent the best part of £10 million on Nzogbia whom we all know about his temperament, AMC star signing you might say and yet he has spent the vast majority of the season on the bench, Alan Hutton probably the worst full back I have seen in my 10 years as a season ticket holder, £4 million when we already had 4 other players who could play the same position, surely he could have invested this money in a strong commanding midfielder which we have been crying out for? Jermaine Jenas or ¿glass knees¿ whom cost a million for the season and we are still paying his wages, Robbie Keane, class act for the 6 games he was here yet Everton went and spent the same figure (600k) on Darren Gibson who would walk into our midfield at present and has experience at the highest level would of proved vital. Combined he has spent a large sum of money, and bar Given I don¿t see much of a return for the best part of £20 million that has been invested, a figure David Moyes could only dream of at Everton. A good manager? A good man I can accept but most certainly not a good manager. Two relegations at Birmingham, about to relegate us and finished 3rd in a two horse race in Scotland, these are just a few damming facts and along with his negative style of play I fail to see how he can be classed as a good manager, especially considering when he commands a £2 million a year salary, the 20th highest managerial salary in Europe. The one thing however I do agree with is that we probably won¿t get another point in the last 3 games which will inevitably result in our relegation, and as the press are now starting to realise, Alex is not a very good manager McLeish out.
Posted 15:01 26th April 2012
Paul Simmonds (Aston Villa fan) says...
Probably three relegations in four seasons, came third in a two horse race in Scotland, Villa's worst home record in the history of club. What exactly makes McLeish a "good" manager?
Posted 14:56 26th April 2012
Dean Palin (Aston Villa fan) says...
Cmon Jeff, have you actually watched any Villa matches this season? Good manager? Not a chance, he plays one dimensional, defensive football and he's not even any good at that. People can talk of injuries all they want, but he was still below par before Bent, Dunney & Petrov went out. He's not got a clue. Playing hutton on the wings against Spurs - whats that all about? Yeah he's had a bit of bad luck, but it must have been the 4th relegation of this mans carrier, and finishing 3rd in the SPL with Rangers too!! Face it - he's out of his depth!
Posted 14:54 26th April 2012