Manchester United will be heading into this game with an air of caution as 0-0 is a very delicate scoreline.
You've not got an away goal as a safeguard and when you're the home team you can suffer from over confidence and believe that the job is already done. And then one good moment from the opposition and you're chasing the game.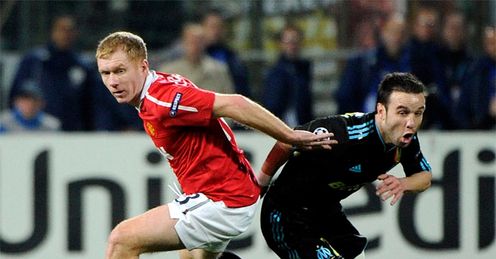 So Sir Alex Ferguson will be making sure his side are completely switched on because Marseille are certainly capable of giving United a scare. They are not the best team left in the competition but they are full of physical and athletic players. And they're not bad travellers, either.
I remember they beat Liverpool 1-0 at Anfield in the 2007/08 group stage and they have also claimed some good victories away from home in this year's competition; 3-0 at Spartak Moscow and a 7-0 thumping of MSK Zilina.
Marseille are not the best team left in the competition but they are full of physical and athletic players. And they're not bad travellers, either.
Phil Thompson
Quotes of the week
LIVE ON SKY SPORTS
UEFA Champions League
Manchester United v Marseille
7.00pm, Tues, Sky Sports HD2 & Sky 3D
Bayern Munich v Inter Milan
7.30pm, Tues, Sky Sports HD4 & 4
Real Madrid v Lyon
7.00pm, Wed, Sky Sports HD2 & 2
Those clubs aren't up to United's level but it proves that Marseille know what it takes to play - and win - on the road. United's unbeaten home record this season is under legitimate threat.
With Rio Ferdiand still missing, Chris Smalling looks likely to partner Nemanja Vidic in central defence. He has proved a capable stand-in but Marseille probably will be targeting him.
They are a big side with the likes of Souleymane Diawara and Stephane Mbia at the back, while Gabriel Heinze is also very good in the air, and United are a pretty small team in comparison. You'd think that overpowering their hosts will be one of Marseille's main plans.
Spark
However, Didier Deschamps will be delighted to have playmaker Mathieu Valbuena - who came on as a late substitute in the first leg - back to full fitness and if he gets time on the ball, he could create some problems for United.
He scored the goal when Marseille beat Liverpool, but he has come on leaps and bounds since then and has blossomed into a top player. They rely on him for direction from the middle of the park and he could provide the spark that Marseille lacked at the Stade Velodrome.
It will be interesting to see if Paul Scholes starts; he and Valbuena are alike in stature, they play similar creative roles and both have a goal in them - they could have a really intriguing battle. Scholes is suspended for the next two league games, so I do suspect he will play from the off.
It was great to see Antonio Valencia return from that horrific ankle break against Arsenal at the weekend and he got a 45-minute run out that will do him the world of good. I think Sir Alex will want to wrap him up in cotton wool, so I don't see him starting. But if it's 0-0 going into the second half and United need an injection of pace and guile, he could be that man.
Nani has also been declared fit and I'd be surprised if he didn't start, because no-one gives United width like him. He's got that nasty gash on his leg and that will need monitoring and probably a lot of protection, but he is a match-winner and Marseille won't want to line up against him.
But whatever side Sir Alex selects should be good enough to secure United a place in the quarter-finals.
THOMMO'S VERDICT: I think United will go through, even though it could be tricky. I don't envisage Marseille going for goals from the kick-off; they'll probably play 4-5-1, try to stifle United and then hope to score through a set-piece. United, though, have become experts at doing enough in Europe and they should win the game by the odd goal. I'll say 1-0 or 2-1, and United to maintain their record of never having lost at home to a French side.
Comments (16)
Chris Plaster (Arsenal fan) says...
I think Man Utd will go through tonight, and hope they do too. As an Arsenal fan I hope they progress in this tournament and fail right at the death. Also hope they have a long drawn out FA cup semi. The more games they play the more likely the injuries / suspensions will come. This will allow The Arsenal to pass them and win the Premier League. 4 Competitions down to 1 in 13 days, yet this is the one most Gooners want to win!
Posted 19:12 15th March 2011
Brendan Cosgrave (Stoke City fan) says...
Straight forward win tonight. A goal in each half will see off the french out fit English teams shouldn't be over concerned about teams abroad,let them worry about us !
Posted 17:53 15th March 2011
Dana Curtis (Manchester Utd) (Manchester United fan) says...
ha ha ha listen to you arsenal fans saying united will get knocked out you are just envious and its alll sour grapes out of 3 competions in 13 days,
Posted 15:56 15th March 2011
Brian Brain (Arsenal fan) says...
Good luck to United tonight I hope that they get the result they need and go through to the 1/4 finals
Posted 15:11 15th March 2011
Augustine Mtaki (Arsenal fan) says...
It is anyones game tonight if Man U can get two goals ahead of Marseille the task will be done for Manchester because they can defend well but if they go to the last quarter of the second half things might change for Man U
Posted 14:17 15th March 2011
Jason Brown (Manchester United fan) says...
Love the Arsenal fans saying United will crash out! Sour grapes? Just because your season has crashed and burned doesn't mean ours will. Marseille will score, but will have to get more than one if they will have a chance of going through as I feel United will score at least two.
Posted 14:15 15th March 2011
Adu Joy (Manchester United fan) says...
United to go through. Rooney with berba upfront will do the trick. hope fergie gets this right. 3-0 or 4-1
Posted 14:07 15th March 2011
Dejan Vidic (Manchester United fan) says...
Why are there arsenal fans commenting on here ?, your not in this competition anymore, in fact your not in any competition anymore once you draw with west brom this weekend, au revoir
Posted 14:07 15th March 2011
Conor Blake (Manchester United fan) says...
COME ON UNITED!!!!!!!! UNITED TO WIN 3-0
Posted 13:43 15th March 2011
Tom Douglas (Arsenal) (Arsenal fan) says...
Man U to crash out!!!
Posted 13:05 15th March 2011
Malcolm Prosser (Manchester Utd) (Manchester United fan) says...
Remember the 7-1 slaughtering of Roma? Can just see another game like it tonight. Nani
Posted 12:59 15th March 2011
Anthony Campbell (Manchester United fan) says...
i just keep think about the game against monaco when the away leg was 0 - 0 and david trezeguet scored in the second leg and utd drew 1 - 1 am abit worried. i hate drawing the away game 0-0 the away goal is so important.
Posted 11:30 15th March 2011
Preston Matanda (Manchester United fan) says...
I see Man U going through with just a goal that will be scored in the 2nd half
Posted 11:28 15th March 2011
Rob Brassel (Manchester Utd) (Manchester United fan) says...
I beleive that united will win 2-0.The game could prove to be crucial for their run in for rest of season.Confidence fom this game will go a long way to winning the title. Berbatov and Rooney to start a goalscoring spree!
Posted 10:43 15th March 2011
Dumisani Mvula (Arsenal) (Arsenal fan) says...
I don't see Man U passing through Marseille, and it will be hard for Rooney to score. I can see Marseille kicking oMan U out of the Champions League.
Posted 10:21 15th March 2011
Barrie Jackson (Manchester United fan) says...
Hope you're right Phil but I have to admit I always get nervous about your predicitions and especially where Man Utd are concerned!!
Posted 10:17 15th March 2011