I've thawed out at last!
It's totally understandable that there were no spectators at Chester-le-Street because it was absolutely freezing. It can't have been much fun for the hardy souls who did make the effort.
People have said these games were played because of television, but that has absolutely nothing to do with it. When the TV deal was put on the table, the ECB decided how many Test matches and one-day series were to be played. The ECB decides the product, the broadcaster just bids for it.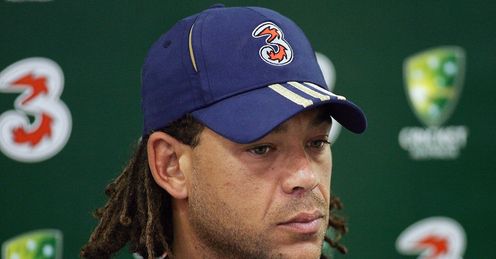 I was fortunate to be in the best commentary box in the world, so the cold wasn't too bad. Personally, I think Durham's fabulous and it's about time that a deep and meaningful Test match was played there. They get Zimbabwe and Bangladesh, but if they had decent weather for a decent Test they'd fill the ground every day.
The facilities are fantastic and I'd like more opportunities to stay in the Victoria Pub too. Five real ales on tap, roaring fires, sandwiches, a tapas restaurant over the road and bar staff who were mad as badgers. Absolutely brilliant! There's no recession going on in there!
One-day contest
I'm heading off to Leeds for the start of the one-dayers and I think we'll see far more energy from the West Indies in this contest. This is their strong suit and they'll fancy themselves.
I also notice Nathan Hauritz is included, so there's no spinners.
Bumble
Quotes of the week
LIVE ON SKY SPORTS
England v West Indies
First one-day international
10.30am, Thu, Sky Sports 1 & HD1
I'm looking forward to England continuing their upward spiral. They had a little bit of luck in winning in the West Indies, but now they've got three matches to impose themselves again and I'm looking forward to a good performance. But it will be tough.
I didn't think Ian Bell would come back and I'm not so sure about that one. He will want to prove himself to the selectors, but after two Test match wins in a row the top six is pretty settled. He's now got to wait for an open door if he wants to get back into the Test team.
There's no Graham Onions in the one-day squad, which is a surprise, but I hope we see Tim Bresnan with a bat. He's a proper player - and you could definitely call him an all-rounder.
He's only 24, though he looks a lot older, and we've already seen he bowls at 86mph, but he also scores centuries for Yorkshire. With a run in this team he'll show his worth because he didn't get much of a chance to bat in the Tests.
I think this series is too close to call. Headingley, Bristol and Edgbaston are all venues that suit England, but you can't write off the West Indies.
Symonds surprise
I'm very surprised that the Aussies haven't picked Andrew Symonds. He's a top player.
I can't understand why they'd pick Shane "sicknote" Watson ahead of him. He's the Darren Anderton of cricket and there's no way he'll survive an Ashes summer.
I'm quite sad to see Symonds left out because I'm a big fan, he's one of the best one-day cricketer in the world and England's players will be glad that he's not there. He's a matchwinner.
I also notice Nathan Hauritz is included, so there's no spinners.
Make no mistake, they will be very aggressive and competitive, but they ain't got Gilchrist, McGrath, Warne or Hayden so I think it's a good time to play them.
I've said all along that I think England will win the Ashes. It will be close, but on home soil we are the better team.
If you're looking for the team with the ability to consistently take 20 wickets then that's England in my opinion.
Bumble answers your questions...
Send your questions to Bumble by filling in the feedback form below. Or you can mail them in by e-mailing skysportsclub@bskyb.com
JEEPERS KEEPERS!
David. I've been thinking about Paul Collingwood stepping in as wicket-keeper. Will England have decided he was the stand-in keeper before they started or was it a case of the team deciding when Prior got injured? Has this ever happened to you in a team you've played in? Thanks, Chris
BUMBLE SAYS: It's happened to me plenty of times and I've probably gone behind the stumps myself, but I don't remember anything about it. Paul Collingwood borrowed the gear and he'll have stuck his hand up because he's a terrific team man and a Jack of all trades. The number one priority in a wicketkeeper is that you've got to be mad - just like a goalkeeper in football. But I really enjoyed watching Colly do the job because it was hilarious. Some of his takes were so comical and I was killing myself laughing.
THE THRUST OF IT
I wonder if you realise the meaning of the gesture from Fidel Edwards to James Anderson after taking his wicket? It has been noted Fidel is a wrestling fan and this was the gesture known as the "crutch thrust" made infamous by a group known as D-Generation X. Should the officials take action against Fidel? Best regards, Jonathan Mason
BUMBLE SAYS: Yes, we do know what it was. Somebody else emailed in, so that makes two of you. Let's move on. I've got nothing to say about it except that there's nothing wrong with a good old-fashioned handshake.
Comments (5)
Letshego Seane says...
i don't think england should get ahead of themselves just a month ago they were struggling against a very poor west indies team. they have won the tests at home but you can't compare beating the west indies to beating australia. the aussies are a better team and they will beat england comfortably. england are getting too excited about beating the worst team in test cricket. england are not as good as what everyone makes them out to be. australia should have picked symonds but everyone is forgetting the fact that clark and lee are coming back to boost australia. england dont have a chance. sorry!
Posted 00:16 26th May 2009
Des Richards says...
I find the dropping of Symonds very surprising,and can see it back firing on the Aussies big time. England to win the test series comfortably, lets say by at least two matches. As for the ODI's 4-1 to England with ease.
Posted 07:36 25th May 2009
Warney Shane says...
England get a series win against a pitiful west indies team and you guys think they can beat or even compete with Australia... are you guys having a laugh? Ill give you 5 comparions between the teams that will be telling in the upcoming series... 1) Australia have the bowling attack to consistently take 20 wickets in a test match... ie johnson,lee,clark,siddle etc. England have a bowling attack that can consistently take 20 wickets in a hypothetical test cricket world made up by Lloyd and Willis... ie Sidebottom, Anderson, Onions and Swan etc. 2) Australia have got a host of world class batsmen, ie Ponting, Clarke, Hussey. England have got a a host of world class new ball blunters... ie Cook, Bell, Strauss. 3) Australia have a new allrounder who bowls gentle medium pacers and averages around 25 with the bat... England have Paul Collingwood 4) Australia have replaced Gilchrist with another destructive wicketkeeper/batsmen in Brad Haddin. England have replaced Alec Stewart with a whole host of ordinary keepers to finally settle with a Batsmen that can keep a little... ie "Dropped By" Matt Prior. 5) Lastly this has nothing to do with comparsions but a closing statement. Imagine how many Australian cricketers would have an OBE in the last 25 years if the queen handed them out like in 2005. Im thinking the value of one would most likely probably deteriete.
Posted 00:39 23rd May 2009
George Ridgewell says...
Dear Bumble, as a long term suffering pom living in OZ i sincerely hope you and the England team do not underestimate the Aussie squad picked for the up coming ashes tour.They may not have the big star names of previous Australian teams but they will still be very difficult to beat.Andrew Symonds does not deserve selection on current form and really has only been a part time test match bowler throughout his career. I am looking forward to a warm pint and a pork pie and hopefully an England win.
Posted 03:35 21st May 2009
Mikel Shearer says...
Come on now, I doubt England will be jumping for joy at the aussie ashes squad. Especially with the rise of young Phil Hughes who is an exceptional talent, and has proved he can play in english conditions! Shane Watson may be a walking injury but on his day he is just as lethal as Symonds. Your point about having no spinner is duely taken, Hauritz is not brilliant. Maybe would have chosen Krezja who took 8 wickets on debut in India! However, the pace attack is becoming top notch, Mitchell Johnson is superb with bat and ball. Siddle is an angry individual and will provide some spark and proper rivalry! Watson (if fit) bowls mid 80's and is one of Australias best all rounders on his day!
Posted 16:39 20th May 2009