Ricky Hatton is back out in Las Vegas preparing for another crack at the pound-for-pound title.
In the build-up to May 2 you can follow the Hitman's every move with his exclusive fight diary on skysports.com.
Scroll down for Ricky's final entry as we take you right behind the scenes...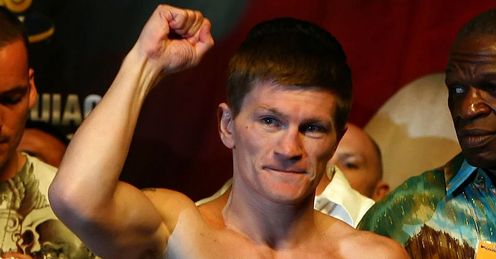 Friday, May 2
Well, this is my last entry.
I woke up to all kinds of rumours about me and Floyd on the internet. Some even suggesting that Floyd and me had split.
Well for the record we have not split and Floyd was at the weigh in with me and he will be in my corner come fight time. I don't know where these rumours get started.
I know what I have to do and trust me, I will be do it. Expect a war. I don't see this fight going the distance and I expect to win.
Ricky Hatton
Quotes of the week
Apart form the actual fight the hardest part is making the weight. I have done it so many times now that I know what to do and today was no exception.
You lose weight overnight when you go to sleep and I woke up bang on target. The toughest part of the weigh in is the hanging about until you step on the scales.
I went down the MGM Grand Arena and did the pre-fight interview for HBO with Jim Lampley, Emanuel Steward and Larry Merchant. After that I had a check-up with the doctor, and then the weigh-in.
Unbelieveable! The place was rammed and if it's possible I think there were more than the Mayweather fight. I heard that 25,000 Brits have travelled over for the fight. That's amazing, it makes me very proud.
I made the weight first time bang on 140lbs. After the weigh-in I re-hydrate and start putting my weight back on. I do this with recovery drinks and food and then it's back to the apartment for a big feast with all my team. By the time I get in the ring I will be about 151 to 154lbs.
After dinner we played cards and the last meal of the day was a pizza before retiring for bed.
The fight is less than 24 hours away now and all that remains now is to get in the ring and do the business. I know what I have to do and trust me, I will be do it.
Expect a war. I don't see this fight going the distance and I expect to win.
Finally thanks to you, the fans, for your continued support.
Lets have it.
Ricky Hatton.
Comments (3)
Ric Bische says...
This is a fight that is very close to call, Paquiou is a legend in boxing but i think if Ricky can get to him and work the body i expect him to win, If Manny keeps him at arms length then it will be a long nite for Ricky, I think they both have warrioir mentality and at some point it will be a slugfest, If that happens i expect Ricky to be too big and strong..It has the making of a great fight possible one of the greatest..I cant wait, There's only 1 Ricky Haton..
Posted 02:48 3rd May 2009
Zeeshan Hanif says...
Hatton to win round 6! come on ricky!
Posted 23:37 2nd May 2009
Gari Jones says...
I wonder what Pacquio will wiegh come fight time, does he need to lose much or any wieght for this fight. I have said that Pacman will take it round 11 but I would like to see Hatton victorious Good Luck Rick. one more thing if hatton is to split from Mayweather after this fight Freddy Roach would make an excellent if not ironic replacement.
Posted 23:37 2nd May 2009