Hollywood has long been a place where dreams have been made and broken. Millions of wannabees have come and gone; so few are remembered by the infamous stars on the boulevard.
Amir Khan has seen Muhammad Ali's star, and he also witnessed the recent influx of British film talent being rewarded on Oscar night, just minutes from his home away from home. This seriously committed young sporting hope craves his own success. In fact it burns deep inside.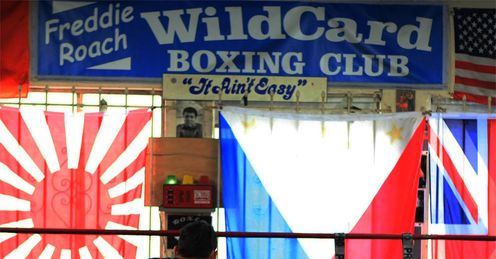 At the crack of dawn every morning, Amir Khan is awake - as he continues his intense mind and body preparation towards the biggest challenge of his boxing life.
Bolton's former Boy wonder has long had pressure on his shoulders - from unfair expectations as a teenager during the Athens Olympics, to professional scrutiny, and stinging criticism at any stumbling block. Khan's been pilloried for a supposed glass jaw, and even dismissed as a failure, despite only losing one professional fight in four years.
Freddie Roach is now telling me that Khan will not just shine against Barrera, but will go on to become a brilliant world champion. Maybe this time I should take note. He certainly wouldn't have thrown Amir into rounds and rounds of sparring with Manny if he didn't think he could handle the heat.
Adam Smith
Quotes of the week
Khan seems to have always been a target, part of the good old British system where we build them up, only to knock them down again. Are most folk out there just wishing this intriguing journey will end in tears?
Whether it does or not may be decided sooner rather than later, as Team Khan have taken a serious gamble. Rather than gently and safely re-building from that stunning setback against Breidis Prescott, they have accepted a match against a true great of the sport.
Any mention of Marco Antonio Barrera in the boxing world is met with enormous appreciation; his name alone brings a certain menace; his face a cold, calculating harshness.
Approachable
Yet Amir Khan has been fighting battles all of his life; his parents nearly lost him as a baby and again as a child. Then he chose boxing, and now at 22, he craves more of the unexpected and the unknown. Amir's amiable, approachable and some say even sweet in nature; but don't underestimate the steely resolve and natural strength of this frighteningly dedicated athlete.
Khan looks sensational in his training headquarters on the edge of Vine and Hollywood. He is about to finish his intense six-week session in and around Freddie Roach's Wildcard Gym, before completing the run-up to March 14th's Manchester mega-match, back in his native North West.
His tight-knit family and huge support system surround him as always. Father Shah is an ever present; Mum Falleck prepares the meals, brother Haroon -himself a talented amateur has been out here for quality sparring - one of the very reasons Amir chose LA. His best friend Saj, uncle Taz and manager Asif have worked tirelessly alongside; even his little sister Mariyah has been around, brightening the scene with her cheeky charm.
This second camp has seen the crucial boxing team become more like family too. Freddie Roach, the most sought-after trainer anywhere, of course spearheads it. Freddie lives for the sport, for polishing gems and making real stars. Showing us his basic apartment that backs on to the walls of his gym, you get the sense that Freddie would do all this for free.
He is woken every morning by the sound of the pads. Hundreds of fighters have come from around the globe to make their boxing fame and fortune, and Freddie Roach ignores the ravages of Parkinson's disease, to work his magic with each one of them daily.
Freddie was doing exactly that on Christmas Day. He had just had the perfect double present, after his new charge Amir Khan returned superbly against Oisin Fagan, and his tour de force - Manny Pacquiao - stunned Oscar De La Hoya. Roach told me exactly what was going to happen to the Golden Boy; and even though it was Freddie, I still didn't believe him.
He is now telling me that Khan will not just shine against Barrera, but will go on to become a brilliant world champion. Maybe this time I should take note. He certainly wouldn't have thrown Amir into rounds and rounds of sparring with Manny if he didn't think he could handle the heat.
Exceptional
Roach told me: "Amir is the quickest lightweight I have ever seen. Quicker than Manny. He's unbelievable."
Khan's conditioning coach Alex Ariza added: "He's the best athlete I have worked with since the late, great Diego Corrales. The kid is just exceptional."
Amir has been put through savage tests; the most fierce being two sets of 200 vertical steps set hundreds of yards apart up the cliffs of Santa Monica. I was encouraged to try the sprint out once, safe to say my legs were in complete agony for the remainder of my stay! Amir does this routine 10 times. Pacquiao can only manage five or six.
Ariza has re-structured the Khan frame, thickening the legs to help punch resistance and he's removed bulk from the upper body, to free Amir's arms for the fast combinations the team believes he needs to dismantle Barrera.
All of this prepares Khan for lengthy afternoon sessions in the Wildcard. He's been sparring with unbeaten Russians, aggressive Filipinos, and once more with hardened Irish-American prospect Dean Byrne.
Dean has worked all over the world with grizzled former champions like Lovemore N'Dou, to established stars like Pacquiao, Juan Manuel Marquez and Oscar De La Hoya, to the bright young things of tomorrow such as the remarkably talented Yuriokis Gamboa. He is utterly convinced Khan will become a World Champion.
Hours are being spent on tactics: Roach knows that Khan needs tremendous speed of foot, ring movement and intelligence to win this big fight.
Freddie knows Barrera well - he trained Pacquiao to deal with the Mexican twice. He says that it was his decision to take the Barrera fight at this time.
Knowledge
Freddie has brought in a familiar face to add knowledge and experience. The maverick former world heavyweight champion Michael Moorer has had tough times, but Freddie has given him a way back - a serious gym role, and a sofa to sleep on.
Moorer has always given it straight, and he is working specifically on how Khan moves in and out of range. Michael told me: "There's still a way to go. He is over-eager, but he listens. And he's one hell of a fast fighter."
You keep hearing the same message: speed kills - and Khan has it in abundance. He says he feels quicker and better than ever - and is utterly convinced that he will come through this moment of truth.
"The critics have tried to destroy me. I will prove to them - and even some of my own friends who worry about this match - that I will beat Barrera," Khan told me.
Amir doesn't care if he wins on points, or by stoppage; Alex says the fight won't last six rounds. Yet Freddie, more the realist, told me he was still a little uneasy. Confident yes, but wary that one lapse in concentration will mean the end.
"One mistake - just one," Freddie said. "And Barrera will knock him out."
It's that dangerous. After a few relaxing games of pool, which seemed to give Amir more trouble than any round he'd completed in sparring. Lights went off at 9.30pm. I left with a sense of excitement. Is another British star set to rise out of Hollywood? For an exclusive look into Amir Khan's camp, tune into Sky Sports 1, this Friday Fight Night.
It's a packed one as the Beijing Olympic Bronze medallist Tony Jeffries begins his professional journey, on a terrific card topped by Rendall Munroe's fascinating re-match with Spanish puncher Kiko Martinez.
It's a big weekend for us, as we move from Barnsley to Birmingham on Saturday, for an eagerly awaited show, headed by Matt Skelton's heavyweight clash with Martin Rogan. It's the night when three of our finest recent amateurs all turn over; Billy Joe Saunders, Frankie Gavin and Olympic Gold medallist James DeGale, are hoping to really set British boxing alight.
So to conclude, the word from LA is that Team Khan are vowing a star performance when they get home. Next week I'll report from the Mexican base of Khan's most fearsome opponent yet, the outstanding Marco Antonio Barrera.
Can Freddie Roach master another win over Marco Antonio Barrera? Just how much influence will he have on events on March 14? Let us know by filling in the feedback form below...
Comments (12)
Reece Carter says...
Something doesn't add up here. Why is Barrera coming to the UK to take on an up and coming fighter? Something fishy is going on with Frank Warren too. He likes to sheild his fighters until they get a world title shot or until he knows he can make a few million out of them. So why take a gamble and fight Barrera?? There is no question in my mind that Warren has had some inside info here, and that Barrera has some sort of problem. Whether that be a niggling injury that can be exploited or just something he has heard through the grapevine which has tweaked his interest. Warren wouldn't take this massive gamble otherwise. Something here isn't right!!
Posted 17:25 3rd March 2009
Kenneth Burrows says...
Roach is only making his "one mistake" remarks to keep Khan focused. But focused or not, it's going to be another big fall from grace for the lad. Because let's face it, if Willy Limond and Micheal Gomez can deck him, MAB is going to send him straight back into Prescott-la-la land.
Posted 21:24 2nd March 2009
Hugh Mcloone says...
No one can deny that Khan cant take a shot, in earlier fights he was nearly taken out by shots from non punchers, however im certainly not a Khan hater and would love to see the lad go on and prove his doubters wrong. I think this fight depends and how well Khan has sorted out his defence and tactics ,and even at that if Barrera has come to fight it could be a long hard night for the lad but if it all comes together for Amir he should be able to pull it off. As for picking Barrera as an opponent in the first place, putting Amir in at the deep end , its either going to inspire him to go on and win and prove he is World class ,World champ material , or if he loses then maybe himself and the rest of us may have to accept he is never going to be the boxing prodigy we belived him to be.
Posted 12:51 28th February 2009
Mat Eves says...
Its gonna be a hard fight for Khan but a fight he can win with his speed, power and now better footwork. However, F Roach says on this page 'one mistake and Berrera knocks him out' that doesn't sound to me that he thinks Khans chin is up to the job, should make for an exciting fight, good luck Khan, give him hell and keep em hands up and chin down
Posted 19:44 27th February 2009
Carl Barraclough says...
I'm just being realistic, I don't like that in this country we build people up on a pedestal and then knock them down. I prefer to let the boxers fists do the talking and so far Khan has nowhere near lived upto the hype. He has been floored too many times in his fledgling career by has beens and never weres such as Gomez and Limmond. I just can't see him being the best in the World, I think he may get a World title but he will be nursed to it and the fighters will be hand picked. Every true champion needs to be able to take a punch cos no matter how hard you work on your defence some fighters will hit you on the button now and again. The problem with Khan is that when he gets hit flush he simply goes down. He's a younger version of Audley Harrison, not as talented as his words would have us believe, no heart and no chin. Barrera will wear Khan down and the knock him out. Barrera is not renowned for being a knock out artist but he doesn't have to hit Khan too hard to knock him out.
Posted 16:26 27th February 2009
Roger Robert says...
Give the lad a chance instead of witting him off all the time...everyone is questioning his chin over one fight...freddy roach the finest coach alive a true legend maker has clearly stated that he cant give Khan a new chin but he'll teach him how to protect it...this was clearly seen in the fagan fight...The boy is hungry and ambitious and ready to put british boxing back on the map...all the people criticising him now will be the one chanting his name when he finally becomes a WORLD CHAMP!!!instead of being glory hunters, better support the lad....GO ON LAD DO IT FOR BRITAIN!!!!
Posted 11:31 27th February 2009
Garry Pietras says...
Khan is a great prospect with vast potential but I think he will have to dig deep against a fighter of Barrera's caliber. The guy has been in with some of the biggest names in the sport and come out on top. I think that experience will edge the fight in Barreras favour especially in later rounds I say Barerra on points
Posted 21:51 26th February 2009
Carl Barraclough says...
What is all this rubbish that Prescott would have knocked anyone out with those shots? The truth is that a decent fighter wouldn't have let him throw them shots and a half decent fighter would not let them land on the chin. You wouldn't see Hatton, Manny or Floyd get hit by them shots in the first minute of a fight. Yes Khan is fast, yes he can be over eager but also yes he has the worst chin in boxing. I won't lie there is a slim chance that Khan might over power Barrera but a bigger chance that the wise old baby face assasin will bide his time and take Khan out. If anyone thinks Khan will be a dominant world champion they better stop watching the sport, he's over hyped and soon he will be overwhelmed, again.....
Posted 21:08 26th February 2009
Billy Killen says...
Its hard to predict this fight because on paper it looks so much of a mis-match.. if it were Barrerra 8 years ago or even 3 years ago khans name wouldnt be aloud to be mentioned in the same sentence as him because the man is a legend to boxing......But Frank Warren being the crook that he is has pulled something out of the fire here, hes got a marketable fighter a legend in his own right to try and re-establish one of his main pedigrees. Lets weigh up the tape here, Barrera hasnt fought in while ,the last time he fought he didnt look a shade of himself and reverted to brawling and was outclassed, hes stepping up in weight. As for Khan hes young, hungry, determined to prove the critics wrong and has bags and bags of speed, the saying goes that speed beats power every time on the distance, on this evidence alone it looks like game over, not until u mention the fact that khan has the chin of a 14 year old. and so the question remains, Will khan step up to the plate? what barrera will show up? has roach finally got the best of khan? the list goes on,, my prediction is that because of youth, style, speed and hunger i predict khan in round 9 and if not def on points, (not because i like khan i do believe hes over-rated)because there is to much at state here for the bolton lad to lose, hes got potential and no ones doubting that, but how much? and how far can he go with it? there is only one ricky hatton
Posted 14:44 26th February 2009
Jamie Mcmillan says...
I think that Amir Khan is a great talent he has good skill, great speed of hand and has shown he has got power at times, he seems very professional and humble and seems really dedicated to his family, he is a very determed boxer his career has really sky rocketed and his profile is ever growing. Having said that I think this fight is a big risk to his career and after getting knocked out in his last fight you would have thought that his manager, background staff and promoters could have chosen a more sensible fight to ease him back in to action, Barrera is WAY out Amir's league and I think that this will be a hard boxing lesson for him as he hasn't had to fight anyone with Barrera's skills and experience yet. I hope Im wrong because as I said at the start he is a great talent and imagine what this would do to his career if he won, but is this a gamble worth taking at this stage of his career? I say NO and I think this will turn out to be a case of "bitten off more than you can chew" Barrera will be too good and will defeat a brave Khan in 5rounds. Good Luck though Amir go and prove me wrong!
Posted 14:42 26th February 2009
Yaseen Yousaf says...
Freddie Roach is a quality trainer. He knows how to beat Barrera. It's all about what Khan does and whether he sticks to the game plan. It's obvious, he's got to dance all night, box on the back foot, hit and not be hit. He's bigger, stronger and faster than Barrera. However, you can't put muscles, strength and endurance on your chin. Even Freddie Roach has said that one mistake will lead to his fighter getting knocked out. Barrera has had more knockouts that Khan has had fights. I'm sure the Barrera camp will be doing their homework and exploiting the Khan weaknesses: his chin and trying to get inside and pound the body. This is why this fight is so interesting and a great match up. Having said all that, I think Khan will prevail because he's faster and speed kills. He's also very attentive and I think he will stick to the game plan and possibly score a TKO in the later rounds.
Posted 11:19 26th February 2009
Russell Thomas says...
Of course this is a gamble for Amir, I hope Frank Warren has given this one more thought than Prescott! However let us recognise the many skills Amir has... speed, footwork and head movement etc. The main obstacle to him winning is that innate drive to stand still and fire off combos. against Barrera this will end in defeat. To win this he has to keep moving, dominate the ring and use his physical advantages in height and reach. This plus his speed and natural talent I believe can see him through... come on Amir!!!!!!!!!!
Posted 08:25 26th February 2009