The Wild Card Boxing club rests above a downtrodden launderette, adjacent to The Vagabond Inn - one of the more shady motels in Hollywood.
Freddie Roach's gym though is absolutely buzzing. Hundreds of new members have signed up in recent weeks: actors, singers, prospects, former fighters, keep-fit fanatics, even schoolkids of all shapes and sizes. Here lies a strange assortment of folk and when you walk past 'Big Rob' who guards the premises, you get a rich life experience.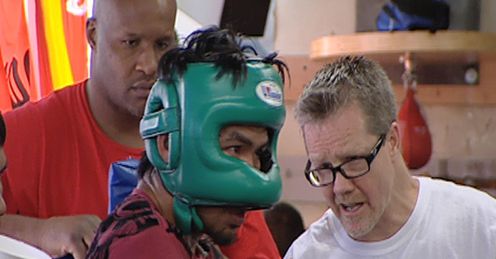 There's Columbo, a chirpy one-eyed fella, who was a street drifter. He begged Freddie for a job, so he has been cleaning the gym. When Columbo sees a chance he dons the pads as an 'alternative' coach.
There are old pros like Larry Musgrove - who used to spar with Marvin Hagler - and the biggest name is the former world Heavyweight champion Michael Moorer - who squandered millions. Freddie has given Mike a way back, a job as his assistant, and a sofa to sleep on. It's been working well for three months now. Even a more legendary Mike - Tyson - has apparently inquired about working alongside one of his old trainers.
Freddie Roach has studied so many Hatton fights that he is 'sick of them'. He actually has a soft spot for Ricky, and I think he'd loved to have trained him. He just feels he has the better man in Pacquiao. Freddie Roach really lives and breathes boxing.
Adam Smith
Quotes of the week
HATTON v PACQUIAO
MGM Grand, Las Vegas
Saturday, May 2
Live on Sky Box Office, Ch743
Live on Sky Box Office HD, Ch 752
Call 08442 410888

The atmosphere here is extraordinary: the gym opens from 8 to 8, even on Christmas Day. There is never ever a quiet moment... in fact it's marginally insane!
There are all sorts of accents and languages to be found - flags from so many countries hang from the walls - alongside an amazing collection of boxing memorabilia.
Strongest
On account of Freddie's ties with Steve Collins, the extremely amiable and down to earth Hall of Fame trainer has long had a close connection with us. He opens the doors wide whenever we are in town. In fact it's been so regular lately that Freddie wonders if I've seen more of him than my wife!
Many Irish and Scottish fighters have come here to find their fame and fortune. Dean Byrne and Craig McEwan are among the serious hopes at the moment. There's a certain Englishman called Amir Khan, who's due back in a few weeks and who has been drawn to the hive of activity - where you just have to fit in. Spars are infamously tough, reputations mean nothing, it's really a case of only the strongest survive.
There are loads of current Filipinos like AJ Banal and veteran Gerry Penalosa in the eclectic mix. The popular old Penalosa challenges formidable young puncher Juan Manuel Lopez in a few weeks.
The main reason they are here is because Manny Pacquiao joined forces with Freddie some eight years ago. It has been a close-knit and absorbing partnership, which has delivered a string of world titles, thunderous displays, and monumental upsets through the divisions.
Emmanuel Pacquiao has come a long way. The son of a vegetable farmer, he sold bread and cigarettes barefoot on the streets of Gensan and Manila as a child, while street fighting for a few pesos. Today he stands as the most famous Filipino in the world. When he fights, the country literally stops and there is virtually zero crime. Manny is also a leading recording artist and movie star! He's even more popular than the President!
Whenever he heads home, millions greet him, and his personal entourage of nearly 80 includes crack rangers to protect his safety. As he has become more of a global attraction, many people are needed around him even in America. From managers to lawyers to bodyguards to drivers to chefs, they all have roles to play.
Ballistic
His most trusted lieutenant is Buboy Fernandez,his childhood mate, who's like a twin brother... and has been his assistant trainer for years. Nonoy Neri prepares all the food - Manny's addicted to soup, rice and chicken mixed with malunggay and tinola.
Top dietician Terry Toms works closely with personal nutritionist Nonoy - who can convert her facts and figures into Manny's favourite Asian food. Terry works for Alex Ariza's conditioning team, which also includes researchers from UCLA like Andrei Macias, who does the risk analysis of all Alex's physical work. This largely focuses on plyometrics and explosive ballistic training,
Manny is up early in the morning to run be it high in the Hollywood Hills or sprint work at the track, or laps of LA's Pan Pacific Park. He finishes with an incredible array of floor exercises. We counted more than 600 sit-ups in all types of body positions in a matter of minutes.
Manny then rests, sleeps and watches fight videos, before his punishing afternoon sessions at the Wild Card. Manny trains here for three hours straight and when I say three hours, I mean three hours non-stop!
Floyd Mayweather remains the most dazzling talent inside a training camp that I've ever seen, but Pacquiao is without question the hardest working. It's draining to even watch; round after round on the balls, bags, pads, skipping - anything. More abdominal work, more rounds; Manny usually completes an astonishing 43x3 sessions - with little water. Alex worries about it at times, and occasionally Freddie says 'day off' - do nothing. But Manny doesn't like that much!
Over-training hasn't proved to be a problem yet - and he never seems to pick up injuries. Manny Pacquiao is just used to very, very, very, hard work. He pushes discipline and dedication to the limits. Yet he of course excels on the boxing side. Days in camp alternate between sparring and pad work.
We saw him spar with Urbano Antillon - a 25-0 decent, young prospect who knocked out Manny's brother Bobby in a round. Pacquiao also worked with an interesting figure in one-time Scottish hope Gary Young, who has re-located to America to try and re-ignite his career. It was good to see Gary, who has been working in a psychiatric ward to help supplement his boxing and get by.
Super-fast
His new Stateside team thrust him forward as a sparring partner for Pacquiao. We witnessed four torrid rounds that he suffered against the quickfire southpaw skills of the world's best. It was painful to watch, but Gary stuck in there - and was very, very brave.
It was one of the most one-sided spars you'll ever see; that's the harsh reality of the Wild Card Gym, where the sparring can be more exciting than actual big-money fights. No-one gets an easy ride.
Hopefully Gary will have learnt from his harsh 15 minutes. It was a pure example of the levels in boxing. Gary was an excellent amateur and is no slouch. He was just not good enough to deal with the super-fast Pacquiao - who one felt was holding back.
I watched a fascinating hour and-a-half of Freddie working the mitts with Manny; side-to-side movement, plenty of quick body shots, leverage, rhythm, uppercuts, and of course speed. Freddie has studied so many Hatton fights that he is "sick of them".
He actually has a soft spot for Ricky, and I think he'd loved to have trained him. He just feels he has the better man in Pacquiao. Freddie Roach really lives and breathes boxing.
Michael Moorer kept piping in that Manny's right hand will win this fight. He stands behind Freddie so that he can see things from a different angle - especially analyzing the foot movement. Pacquiao was zipping in and out ferociously. He's in excellent shape, because he's been training for weeks - partly due to his passion for basketball, which he plays daily while out of camp.
Competitive
Manny is serious at work, but all smiles out of the ring. A family man with four children (two boys and two girls), everyone says he is so humble and I really felt it through our time together. He gives so much back to the Philippines. Last July there was a terrible typhoon in his homeland, and Manny gave thousands to the victims.
More money will go to his entourage in the build-up. Once again Manny is challenging them to lose weight - about $1,000 a pound - and Alex Ariza won $13,000 last time. Team Pacquiao are also having a darts competition for a big prize: Manny is fiercely competitive and he was gutted that he lost to Ricky in The New Inn pub when in Britain!
Most of England will be rooting for Hatton of course; but judging by Manny's phenomenal reception at the Manchester press conference, pockets of Pacquiao supporters around the country will be cheering on their own hero come May 2. The demand for Pacquiao autographs and photographs out in Hollywood is so much that they restrict this to Saturdays at the Wild Card.
Last week, 250 people turned up, so instead of signing photos, Manny invited them all to be extras in his latest music video! Pacquiao might want to be a rock star, but he's a boxing king first and foremost, and he intends to keep that career shining very brightly on May 2.
It was wonderful being around Team Pacquiao - thank you for your terrific hospitality - and I'm sure we will be back with Freddie again soon. Manny looks virtually primed and ready now. Next week it's Ricky's turn to be scrutinised - I'll be reporting back from Hatton's camp in Vegas.
Comments (4)
Thomas Holt says...
Great blog Adam, you don't need anyone to carry your laptop/notepad/pen do you? Really looking forward to the fight. Have tremendous respect for both fighters, both will leave it all in the ring which means we are all in for a real treat. Too close for me to call, will Hatton be able to hurt Manny earler in the fight? Will this be the fight Ricky's lifestyle (I am not criticising, good luck to him I say) between fights catches up with him going in against such a quick fighter, so many ifs. One definite though, two fantastic ambassadors for both the sport and their respective countries. Good luck gentleman!
Posted 16:58 15th April 2009
Zloc Zloc says...
Hatton needs to hurt Pac Man early; if Hatton can handle his speed I think he's got a great chance
Posted 13:17 15th April 2009
Billy Killen says...
Another great article Adam. I'm starting to grasp from reading this article alone why Pacquaio is such a role model/ icon for many Filipino's; his generosity and good heart is very hard to come by in this day and age and this man deserves every tag or title he's earned on merit alone. To get an insight of his family dedication and his gruesome training routines is very interesting to myself or for any other fight fan. I consider myself to be a Ricky Hatton fan and want Ricky to win desperately, but the way in which Pacquaio presents himself and how he represents his country, I feel for the nation of fans that could potentially be heartbroken come May 2nd. This fight is to close to call - my heart says Ricky and my head says Manny. Roach is a master tactician and Mayweather Snr is a defensive genuis and they are both paired with two of the world's most iconic boxers and peoples' champions, so I'm gonna stick with my heart tho and say that because Mayweather will have taught Hatton to fight more on the outside than usual, slowly bullying his way into the inside where he will do the damage that will win the fight. Good lucky Ricky and Manny, i think there could be a friendship blossoming after the fight... does Manny like Guinness?
Posted 12:05 15th April 2009
Luke Smith says...
Best blog anywhere bar none. Everyone says that the bigger man should win, but Pacquiao seems to be so quick and skilful I fear for Ricky on this one...
Posted 17:26 14th April 2009