British boxing ends 2010 on a high with four world champions and a series of young upcoming stars.
David Haye, Amir Khan, Carl Froch and Ricky Burns are our quartet of belt holders, while the likes of Nathan Cleverly, Kell Brook and James DeGale are poised to follow their lead next year.
Internationally it has not been so busy, with the multi-million-dollar megafights few and far between. Manny Pacquiuao continues to amaze us all, the brothers Klitschko continue to dominate at heavyweight and Sergio Martinez made a name for himself.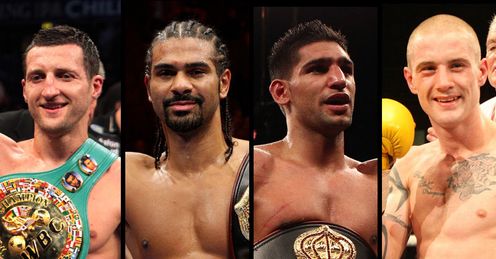 Click here for the boxing year in pictures
Juan Manuel Marquez again showed age is no barrier, but Floyd Mayweather boxed just once and we're still no clearer to finding out whether he or Pacquiao is the best on the planet.
Here, Sky Sports' head of boxing, Adam Smith, picks out his heroes and highlights from the last 12 months... and Audley Harrison even gets a mention!
Fighter of the Year
DOMESTIC: Amir Khan- Yes, Carl Froch was fantastic against Arthur Abraham but he also lost in 2010, while David Haye wasn't able to shine because of his opposition and Ricky Burns was a great story but nothing can top what the boy from Bolton has achieved. He made his American debut in New York against Paulie Malignaggi and looked good, putting in a really mature performance against an experienced and awkward guy, but that blockbuster with Marcos Maidana really cemented Khan's place in the sport's elite. I don't think any of us expected what happened that night in the Mandalay Bay and fewer still will forget it. I would have liked to have seen him fight maybe one more time in 2010, but the two he did get in were very, very good.
INTERNATIONAL: Sergio Martinez - This is a guy we knew over here from those couple of fights with our own Richard Williams in 2003, but he still came from nowhere in 2010 with that win over Paul Williams. No-one wants to fight the Punisher, but Martinez pressed for his rematch and when it came produced something astonishing to go from zero to absolute hero. Before that he also out-pointed Kelly Pavlik and it is hard to think of a guy who has had two harder fights over the last 12 months. Manny Pacquiao beat Joshua Clottey and put on that masterclass against Antonio Margarito, Wladimir Klitschko barely put a foot wrong, Vitali Klitschko didn't and Juan Manuel Marquez produced yet again, but Martinez doesn't have the same promotional backing.
Fight of the Year
DOMESTIC: Ricky Burns v Roman Martinez - The best on British soil had to be that world title win in September. Back in May Ricky was struggling against part-time ice cream salesman Youssef Al Hamidi, but that night against the number one in the world he found something special. No-one really gave him a chance but he was down in the first round yet got up, came back strongly and out-boxed a guy we all thought would do a job on him. Gavin Rees' British lightweight title win over John Watson was brilliant action and one I want to see repeated in 2011 for sure; Gary Sykes and Andy Morris served up something different with great action and a furious, frenetic pace and unluckily for Morris again, his defeat by Anthony Crolla was also a real treat. And don't forget George Groves getting off the floor to stop Kenny Anderson - and light the touchpaper for a 2011 showdown with James DeGale!
INTERNATIONAL: Amir Khan v Marcos Maidana - I have been ringside for a lot of American fights for Sky and this was right up there with the very best. I thought we would be in for something great, in terms of Khan's performance, but what we got was a great fight. I have watched it back three times and it was as good as we thought at the time. It had a sensational start when Maidana was down in the first, it see-sawed all the way through, we had that dramatic 10th, which reminded be of Holyfield-Bowe and you just didn't know who was going to win all the way through. How he made it through the 10th and then the 11th, I don't know! It was Khan's Vegas debut and it had all the hallmarks of Naseem Hamed v Kevin Kelley in terms of an American launch. Elsewhere Floyd Mayweather turned it on against Shane Mosley, Juan Manuel Marquez and Michael Katsidis continued to entertain and gave us all what we knew they were capable of, Carl Froch's win over Abraham in Finland was a great performance as was Toshiaki Nishioka's win over the brave Rendall Munroe. And of course, Manny Pacquiao against Antonio Margarito was a brilliant exhibition.
Knockout of the Year
DOMESTIC: Audley Harrison v Michael Sprott - He has rightly been slated for his performance, or lack of, against David Haye, but surely that sensational 12th-round right that did for Sprott was THE KO of the year over here? Harrison was losing, was injured and all Sprott had to do stay out of the way, but he got caught in the corner and then came what literally turned out to be the million-pound punch. Ian Darke's commentary was certainly the most dramatic of the year. Other mentions must go to Ashley Sexton's first-round obliteration of Usman Ahmed which was just scary; Enzo Maccarinelli being floored by Alexander Frenkel on the Magnificent Seven bill (it should've been stopped before, mind); the sweet hook that won Stephen Foster Jnr a European title; Carl Dilks sparking Carl Drake and Sam Webb's late KO of Martin Concepcion.
INTERNATIONAL: Sergio Martinez v Paul Williams - Not only my international fighter of the year, but the knockout as well. It came in the second round of what was supposed to be a tough rematch and it came after Williams had been forcing the issue. Both fighters threw lefts at the same time, but Martinez's landed flush on the chin and The Punisher was out before he'd even hit the floor, face-first. The other one that stands out was Dmitry Pirog's fifth-rounder against Daniel Jacobs for the WBO middleweight title. Jacobs was the Golden Child, the Golden Boy's big hope and had been fast-tracked, but he was taken out with a massive right on the ropes that knocked him out cold and left him needing treatment.
Trainer of the Year
DOMESTIC: Billy Nelson - This is normally a tough one to call but this year I have no doubts. Billy is the man behind Ricky Burns' rise and also the man behind John Simpson's brilliant comeback win over Martin Lindsay that closed our year here on Sky Sports. Billy has done a fantastic job with both fighters but will never get the headlines. He is one of those unsung heroes of boxing, but was the trusted sidekick of Peter Harrison when he took son Scott to the world title and is a hard, old-fashioned trainer. He believes in a lot of sparring, his fighters are always there and his Glasgow gym must be a fantastic place to be these days.
INTERNATIONAL: Freddie Roach - This is even clearer; the Wild Card supremo would scoop anyone's awards for his 12 months. Not only did he mastermind those two Manny Pacquiao wins, he has resurrected Amir Khan's career. I do think Alex Ariza deserves a huge amount of credit for his role in it all as well because he doesn't perhaps get the attention he should. But he is the one responsible for re-structuring Khan's body and putting him through the hard graft. Then, when it comes to putting a gameplan in place, Roach has proved himself a master again.
One to watch in 2011
DOMESTIC: James DeGale - Regular readers of my blog will know just how much I believe in James and he showed us all how good he already is with that classy display against Paul Smith. To become the British champion in only his ninth fight says something, but I wouldn't put it past him becoming a world champion within the next 12 months. We're still not sure how hard a puncher he is or whether he is going be thrilling entertainment in every fight, but I have heard good things about his chin and we already know he has wonderful skills, looks good, and is a real family guy. He is great with the media as well and I truly believe he has the X-Factor. Joe Selkirk is another I'm expecting big things from, but want to see him fight more, while wouldn't it be a wonderful story if Matthew Hatton could follow in his brother's footsteps and become a world champion? Watch this space!
INTERNATIONAL: Saul Alvarez - You can't miss this kid, even outside the ring. He is Mexican, but looks Irish with his shocking ginger hair, and would do either nation proud! He is only 20 yet has already had 36 pro fights (one draw) and his slate includes recent wins over light-welterweight names Lovemore N'dou and Carlos Baldomir. He already has the WBC's silver world title, and the full version must surely follow. I also like the look of Jose Benavidez, another young light-welterweight with Bob Arum, who spars with Amir Khan in the Wild Card camp. He is, like DeGale 9-0, and from what I have seen, another very, very good fighter.
Gripe of the Year
DOMESTIC: Audley Harrison - He has been slagged off for his showing against David Haye and rightly so. It was his big chance and I don't doubt he had a plan in place, it's just a shame he never used it. Only Audley will know what happened that night but what made it more disappointing was that he played his part in building it up to the boxing event of the year. The build-up was brilliant, it was a proper occasion; it's just a shame the same couldn't be said about his performance.
INTERNATIONAL: Mayweather-Pacquiao - I think I am as disappointed as everybody that this fight never happened in 2010 and at the time of writing doesn't look like it's ever going to. Pacquiao has of course signed to fight Shane Mosley next and with every new fight Mayweather gets further and further away, which is a real shame for the fans and a real shame for the sport. Mayweather also has plenty of legal issues to deal with and we know Manny is not going to go on forever, so I am starting to wonder whether we will see the two best fighters of their generation in the same ring.
And finally
It's been a great year for boxing on Sky Sports and it promises to be even better next year. Ringside is back on January 13 and we are again comitted to bringing you the best action both at home and abroad. It has been a strange year on the world scene with not too many huge fights and a fair few of the established names perhaps past their best, but over here in Britain 2010 was a remarkable year.
To end it with four world champions is something special and I love the way our three soldiers, David Haye, Amir Khan and Carl Froch, all support each other and go to each other's fights. Those three will be at the forefront again in 2011, of that I am sure. Ricky Burns is perhaps a level beneath them but what a story he provided and what a boost for boxing in Scotland, where we always get a warm reception and where they do love their champions.
Behind those four we have another crop coming through and I am sure Nathan Cleverly, Kell Brook, James DeGale and maybe one or two others will be knocking on the world-title door over the next 12 months. I'll finish with a quick prediction: when I I sit down to do this again next year, we will have six world champions.
Comments (21)
Rob Macphee says...
If Rendall Munroe gets another crack at a world title fight this year we will have 7 world champs to read about in 12 months time!!
Posted 18:20 3rd January 2011
Barnaby Taylor says...
Carl Froch was true boxer of the year, if the super six was broadcasted on sky, he would of been, Froch has proved much more than any other british boxer this year. maidana was a good win but khan nearly lost and he looked ugly through the fight and paulie been beaten up by everyone. lol
Posted 22:48 1st January 2011
Mike W says...
Why Froch/Kessler is constantly overlooked is beyond me. Khan/Maidana was great, as was Marquez/Katsidis but Froch/Kessler was like Gatti/Ward I... it was an epic battle until the last seconds. Schoolboy error, missing that out.
Posted 14:53 1st January 2011
Leighton Cullen says...
I do hope Sky show more fights from the US it is a shame that we dont get to see some more of the new talent in the US. I would hope that Sky will show the Bradley v Alexander fight next month with the chances of Khan fighting the winner you need to profile these fighters. Also it was a joke that SKY did not get the Super 6 television rights to show all of Frochs fights and the other fights in it you have missed out on some great nights with Froch. Anyway onwards and upwards hopefully 2011 will be jamed packed with boxing from both the UK and Overseas.
Posted 18:26 31st December 2010
Dave Budge says...
@ Ryan Boylan, to think Pacquiao (a small Welterweight) could beat Martinez (a full blown middleweight) with ease is borderline madness. every man has their limits and as great as Pacquiao is, that's just a step too far. To say Martinez doesn't have speed either is ridiculous as his main attribute is his speed and boxing skill. that's why Pavlik was trying to chase him down all night but ended up getting his face sliced to bits by Martinez sharp counter-punching. Martinez was robbed last year against Cintron (who needed a really long count and favourable judging) and Williams who he decimated in 2 rounds this year with a punch he had landed 12 times in those 4 minutes, that wasn't power that was all about timing, speed and boxing skill. Martinez deserves to be fighter of the year and he is definitely top 3 p4p, he is a genuine World Champion in an era of protected tinketholders and we should be grateful for that. it would be nice to see others follow his example of being prepared to face the best for the glory of being hailed the best and not just for the £££. Don't get me wrong Pacquiao is the best p4p at the moment but that doesn't mean he has superman abilities even if he seems like he has at times. Pacquiao's handlers would never let him in the ring against Sergio
Posted 16:01 30th December 2010
Dave Budge says...
@ Ryan Boylan, how can you say Martinez is not top 3 p4p?? and to say he is slow is ridiculous, his spped is the main weapon in his arsenal and his power isn't his main attribute. he has around a 50% KO ratio, the punch that took Williams out was all about timing! Martinez beat Kelly Pavlik and decimated Paul Williams who was meant to be the most avoided man in boxing. he is the Undisputed 160lb Champion, what more do you want in an era of trinketholders and protected fighters? Martinez is a great fighter and deserves every accolade he gets, the fact that last year he got robbed against Cintron and Williams doesn't make him a bad fighter who's just had a good year, maybe you should do some research before expressing such a foolish opinion
Posted 15:50 30th December 2010
Sean Beatty says...
The running theme in the comments on this piece so far has been the excellence of Carl Froch who in my opinion is Britian's pound for pound number 1 ahead of Haye and Khan. It annoys me to hear part-time fight fans saying the current generation aren't a good as Calzaghe, Benn, Eubank and Collins. Utter Nonsense!!. In my living memory there has been no British fighter that has undertaken Froch's schedule of back to back fights against genuine world class fighters, NEVER. Appreciate it if my comment is posted as im a sky subscriber and took the time to comment.
Posted 18:08 29th December 2010
Dave Budge says...
Loved your round up of the year's action Mr Smith, and i'm very glad to see Sergio getting the recognition he truly deserves from the sport after a torrid 2009 that saw him robbed in 2 major fights vs Cintron and Williams. His performance against Pavlik after the 8th round was that of a pure Champion's heart. Amir Khan has had a good year, the fight with Malignaggi is still something i'm not ready to give him too many props for as Malignaggi has been proven to be a level below on numerous occasions now. I believe Froch truly deserves more recognition for what he is doing, the consistent level of competition he is facing puts con men like David Haye to shame but each to their own. I believe Froch retired Kessler, Kessler wasn't daunted by the fact he would have to rematch Froch in the semis after he had to rely on somewhat generous judging for his victory, not saying it was a robbery though! I think Ricky Burns' performance was real Rocky stuff. i think we have a very bright star in James DeGale and as disliked as this young man is, his talent is undeniable. it has bbeen a great year for British boxing fans to brag about, here's to their continued success as well as Sky's continued coverage of the sport when other broadcasters shun it so we must be thankful for that! Just please please please get The Cobra on Sky because after the Super 6 is over, big fights at 168lb and 175lb still loom for him. i install a lot of faith in a man that installs as much faith as Carl Froch does in himself. please Sky, all i want for xmas.......
Posted 16:06 29th December 2010
Andrew Edge says...
Hi Adam, I just wanted to say that over the years I have enjoyed watching and listening to your boxing commentary. I think you are fast becoming the main man to succeed Mr Reg Gutteridge. Your whole boxing team seems to be in such harmony and I look forward to 2011 with great interest, well done you are doing a great job. Best regards Andrew Edge
Posted 09:22 29th December 2010
Ryan Boylan says...
@ Rob Mudriczki... How in gods name was frenkals ko of maccarinelli better than sergio martinezs over paul williams? Williams didnt get up after martinez caught him with that sweet left... whereas macca did!!! In saying that im not sure why anyone thinks martinez would beat pacman!! Sure hes got power but hes as slow as they come and pacquiao would destroy him!! Care to give your view on that adam? And if you can explain to me how martinez is near the top of the p4p rankings... he had 1 or 2 good years!
Posted 13:11 27th December 2010
Quinstonn One says...
Nice blog Two things I'm not sure I agree with though Adam. The first thing is Carl Froch is doing something in boxing that NOBODY does these days and that is accept tough fight after tough fight; he's an old school warrior. Pascal/Taylor/Direll/Kessler/Abraham - Johnson. If he comes through that he then has to face Ward. 7 in a row. All fighters that are in their prime. (with the exception of Johnson) but he's still a dangerous veteran Where's the tune up? Who does that these days? Khan is a bit of a golden boy, yeah he beat Maidana who is rugged and powerful but very one dimensional.I expected Khan to beat him (skills pay the bills) I expect Tim Badley (excellent fighter) to beat Devon Alexander, so Bradley will probably be Khans next opponent, if he beats Bradley I'm a believer but not before. Pacman amazes me in a way in terms of speed etc but he fights guys coming off of career ending losses that looked bad in their last fight, with the victories being glorified as if he's beating these guys in their prime. The last guy he fought in his prime gave the boy life and death Juan Manuel Marquez. Now he chooses Shane Mosley who looked BAD his last two fights. Not amazing. P.S I have spent my time to post my thoughts and contribute to the discussion, plus am a sky subscriber - is it possible that for once my comment be posted? Thanks in advance & Merry Xmas to all.
Posted 13:56 26th December 2010
Stuart Nicholson says...
floyd mayweather will NOT fight manny pacquiao.He has far too much to lose and he knows it.Manny has ben beaten manny has been knocked down.floyd is the pretty boy and knows that 1 defeat on his record will be a disaster.if the fight does not happen i hope floyd gets the respect he deserves for what he has given boxing.but i also hope that he gets remembered for not fighting the p4p champ because he knows it is a bridge to far
Posted 09:55 26th December 2010
Robert Argent says...
I have to disagree with Adam Smith as to why Amir Khan has been given the nod to fighter of the year. Walking through Malignaggi as he was predicted to, a guy with absolutley zero punching power, Khan did what everyone knew he would. Credit to Khan for beating Maidana as I had Maidana pre-fight handing Khan his second loss, but he came through it. Carl Froch should have been given this mark, even if he lost to Kessler, it was a very very close fight and a contender for fight of the year. Then against Abraham he gave a one sided beating on a guy who people thought were going to knock out Carl. There has not been a world level fighter dominate such a dangerous fighter since Jeff Lacy was dismanttled by Calslappy. Froch just gets the nod for me, he has had nothing but wars in his last 5 fights and continues to march on. Like I said all credit to Khan for beating Maidana and Malignaggi, but Carl even with the loss I believe proved more.
Posted 09:25 26th December 2010
Mark Broderick says...
I have to agree entirely with both gripe's...but I would go a little further on the Harrison issue. He is a disgrace to the sport and showed a complete lack of humanity by not hanging up his gloves. How anyone would ever pay (infact I wouldnt go if it was free) to see him is a mystery. And lastly, the one side of boxing which lets itself down continually is the politics and the corruption. In any other sport in the World we would get to see the best 2 in the World compete as a mandatory match up. Only in the farcical world of professional boxing are we begrudged the opportunity to witness what would surely be fight of the decade.
Posted 14:36 25th December 2010
Rob Mudriczki says...
The best knockout by far was Alexander Frenkal against Enzo Maccarinelli.
Posted 11:06 25th December 2010
Dan Bentley says...
mentions of munroe please,he travel over to asia,and had to fight the best in the division,coming up short,but showing he could compete on the top level,he will surely get a title vs another opponent with a title soon. haye,khan,froch and burns are all on the unification trail,i woud LOVE if they all went undefeated and became undisputed champions for GB. hayes hardest part is getting the klitschkos to agree a deal,he beats both by ko/tko with his speed,movement and counter punching. khan can unify vs alexander/bradley,hes easily the best in divsion,and why hes not ranked no 1 i do not know!. Froch can win super six if he sticks to gameplan and outboxes johnson,and he will shock the world beating up and outboxing ward,froch should be ranked no 1 for his run of tough fights,fighting all over,he deserves sky and national recognition.he beats,johnson,ward,bute and pascal,maybe he and calzaghe will fight in uk next year. burns looks good,with great heart,i hope he can improve even more too. i think degale v groves will be great to watch.both can go on and win titles once the super six guys are gone. brook,cleverly also look promising.
Posted 08:17 25th December 2010
Tom B says...
Nice article, a touch predictable. Only one question, please put the Cobra on sky sports, the man deserves recognition!
Posted 22:50 24th December 2010
John Gardner says...
Can't disagree too much with these views, Enjoyed seeing the knockout top 10 on the Ringside programe. Just wondering how it is judged. Just that i thought some of the others were better. I always think when a fighter goes facedown the effect looks more spectacular.What i'd like to see is the best human hoover KO's - by which i mean after a guy goes down from a body shot and then almost mops the ring apron with his head. Out of interest - could anyone tell me what's happening with Ryan Rhodes ? He was showing the best form of his career in his recent fights but have heard nothing about him recently
Posted 21:22 24th December 2010
Chris turner says...
Hey sky sports - Make sure you put Carl Froch on for 2011 or you will regret it, Pascal vs Froch on ITV had 5 million viewers in 2008, and the viewers who pay the subscription bills every month will miss out on watching the complete cream of british boxing in 2011, Haye , Khan, Burns but no Froch? Parading him as the champion he is and you did not even show his last 4 fights which have got massive buzz ,response and is at the elite level. We demand Froch fights on Sky sports for 2011!!!!!!!
Posted 17:59 24th December 2010
Paul Cook says...
I'm sorry but other than the Khan fight it has been a disapointing year in boxing just down to the fact the fights everyone wanted to see Manny vs Mayweather and haye vs one of the Klitschko's did not happen these are the fights we want the best of the best in the ring together not the past there best fighters that most have been fighting
Posted 13:26 24th December 2010