Transfer deadline day is one of the busiest days of the year as deals are done up and down the Premier League.
And skysports.com has again secured the services of a man who has been on both sides of the transfer fence to run the rule over the day's major moves - Paul Merson.
The Soccer Saturday pundit will be here to give us his perspective on the signings, rejections and rumours doing the rounds as Premier League clubs try to reinforce their numbers before the window closes.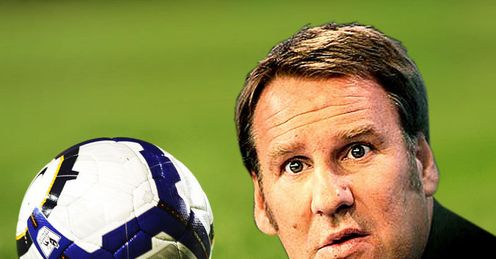 skysports.com's Transfer Clockwatch
Here's the Magic Man's verdicts on what we've seen...
The big late deal
ROBBIE KEANE TO CELTIC

I was shocked when I heard about this one on Monday evening. I thought someone like Aston Villa would have gone for Robbie Keane. Some of the higher-profile Premier League clubs are crying out for someone like him. I don't see it as a good move for Robbie at all. He'll play every week and he'll score some goals, but he's hardly pushing himself. More players are leaving Celtic than arriving and I'm sure he'll be too good for that division. Everyone who goes up there is!
Done deals
ADAM JOHNSON TO MAN CITY

I like Johnson, every time I've seen him at Middlesbrough he's done well, but doing it in the Championship is completely different to the Premier League. As a young lad he should want to play football and I just wonder where he would play at Man City. I hope he sat down with his agent and his family to decide if he'll be happy there. He's surely not going to play ahead of the likes of Bellamy and Petrov - and he'll be under severe pressure if he gets their places. He might just be another body at City and could go four years without kicking a ball. I'd be surprised if that went through.
BENNI McCARTHY TO WEST HAM

Not too sure about that one. He hasn't done it at Blackburn and I don't see how he's suddenly going to come good. I liked him, but he's gone off the boil now. I wouldn't be too happy about that one if I was a West Ham fan - one minute they were talking about Ruud van Nistelrooy and now they're getting a striker who can't get in the Blackburn team.
MIDO TO WEST HAM

That's not for me. I don't think there's a player that's had more clubs than Mido and that tells you something isn't right. If you're a good player and you don't cause problems, then it's very rare that you'll go to more than a couple of clubs in your career. That would rest my case. Bad deal.
ARAUJO ILAN TO WEST HAM

I probably wouldn't take him either. West Ham are a team in a real relegation battle and he'll be coming into a ruthless league. If they could have got somebody like Ruud van Nistelrooy it would have been ideal because he's proven he can do it at this level. West Ham would be better off going out and getting someone who has produced in this league before. You might as well give someone £100,000 a week to keep you up rather than signing people for £40,000 on four-year-deals and getting relegated. They'd have been better off with someone like Benjani.
ALAN HUTTON TO SUNDERLAND

That one surprises me because I don't think Alan Hutton can defend. I think he's a very good attacking full-back but I don't see him as an out-and-out defender. At the moment Sunderland are slipping into trouble and they're letting in goals for fun. For me, he isn't somebody who's going to tighten that up at all.
ASMIR BEGOVIC TO STOKE

This one surprises me because I don't mind the two goalkeepers at Stoke. They're both decent, so I don't understand why Tony Pulis wants to bring this lad in. He's a good goalkeeper but is it worth spending the money when they've got good players in that position already?
VICTOR MOSES TO WIGAN

This is a good deal. He's unpredictable, nobody knows him and for the next three or four months he will catch people cold. He scored a goal against Plymouth that not many other people would have scored and I reckon he could catch people out in the Premier League. I still fear Wigan could go down this season, but I like this signing.
DIOMANSY KAMARA TO CELTIC

That shocks me. I thought anybody from the lower end of the Premier League would have him. Every time I watch him he's a threat; he's quick, strong and awkward and there aren't many strikers better than him at the lower end of the Premier League. I'm surprised Fulham have let him go out on loan, but I'm even more shocked no Premier League teams have come in for him.
STEFANO OKAKA TO FULHAM

Fulham do need to strengthen up front, but Italian football is so different to English football. Will he be able to adapt during a six-month loan spell? We've seen how long it has taken for Alberto Aquilani to settle in at Liverpool and I just wonder how long it will take Okaka to fit in at Craven Cottage.
NICKY SHOREY TO FULHAM

He's Steady Eddie is Nicky Shorey. He;s a decent full-back and he won't let you down. In fact, I'm surprised Aston Villa were so willing to let him go out on loan. They need a squad, especially after what happened last year when things went a bit pear-shaped. It might have been idea to keep him because you can't have enough players when it comes to this run-in.
Ones that got away
BENJANI TO SUNDERLAND

This would have been a good deal and I'm surprised more teams haven't gone in for him. He's not a natural goalscorer, but he'll run all day long and the fans will buzz off that. If you've got another striker around him to score some goals then he could prove to be a really good signing.
ARUNA DINDANE TO BLACKBURN

He'd have been a good signing. He's unpredictable and he doesn't know himself what he's doing sometimes. If he doesn't know then defenders don't and it's hard to defend against him. Sam Allardyce knows what he's doing though. Blackburn won't go down because of him.
ROMAN PAVLYUCHENKO TO BIRMINGHAM

I'd take Pavlyuchenko if I could get him. The goal he scored against Leeds was phenomenal and that came from a lad who hasn't been playing much. Birmingham needed a goalscorer or else they could fizzle away. If they do slump down to 15th by the end of the season, that's still a good result for them but some fans will be thinking they can push forward now. I'm sure they'd have taken Pavlyuchenko all day long.
SCOTT LOACH TO TOTTENHAM

I like him and I reckon that would have been a good deal for everybody concerned.. Watford needed the money and I think it would have been a good move for the kid as well. He'd be grateful to be at Tottenham and he'd learn his trade. David James was always a no-go for Harry because he needs to play football to go to the World Cup - and I couldn't see him getting a game ahead of Gomes.
STEPHEN HUNT TO WOLVES

This would have been an interesting deal for both Hull and Wolves. He's the top scorer for Hull and it would be dangerous to let him go, but it wouldn't surprise you if he didn't score another goal this season. He's not a natural goalscorer, but he does give you 100% every week and £5million was a generous fee for him. But if I was Mick McCarthy, I'd have spent that on Victor Moses instead.
JAMES BEATTIE TO FULHAM

He could have done well for Fulham, he'd do well wherever he went. He works his socks off, he's always a handful and he just wants to play football. As long as he stays fit he would be a player who could play well for most teams. He wouldn't get in front of Bobby Zamora at the moment, but Andy Johnson's not always fit and after letting Kamara go I could understand why Roy Hodgson was thinking of bringing him in.
DAVID JAMES TO... ANYONE?

I think he's the best about. If he doesn't play for England at the World Cup I don't think we'll win it. He needs to be playing every week and I think he needed to find a club that were a bit more stable than Portsmouth at this moment in time.
Comments (101)
Craig Hunter (Rangers fan) says...
now were ten points clear and celtic with no games in hand wel win the league and wil win the old firm matchat ibrox andn maybe draw the wan it celtic park , mowbray dosnty know what hes doin g for celtice got rid of haf the celtic team and brought in players that have never been heard of before , keane is a good player but hel score goals and do well but come the summer hel be away back tae spurs with some goals with celtic but no medals so celtic are spending lots of money on his wages for what to maybe finsh 2nd in the spl because mind hibs have a game in hand over them with 2 points behind them and the dundee utd are there also so for celtic its not looking good for them with trophies , am suprissed that weve stil got davis,bougherra,mcGregor, boyd,thomson because of our money worries but weve stul got them and prob the best players in the spl rangers are goining for the treble this seasson and our 53rd title moan the gers!!!
Posted 14:22 4th February 2010
Danny Coates (Wolverhampton Wanderers fan) says...
The boss has only brought loan players no better than the ones we hae already got, Steve Morgan has promised the money and we hae brought nobody, their has to be some older pro's we could of brought in the stable a fairly young side a few old and steady heads would do wonders at Wolves, and Hunt would of been a mistake I think, been better going for Moses for that money, I think we will stay up but by the skin of our teeth, but after the dumping in the cup, I have more nerves than ever. This transfer window could of been a lot better for us.
Posted 21:20 3rd February 2010
Mitchell Burack (West Ham United fan) says...
I just want to know what gives anybody the right to criticise why we signed these Strikers? We tried Eidur and Ruud but they both clearly rejected us because what would their careers look like if they were seen as great footballers not being able to stop a football club being relegated. As a strong hammers fan I think these signings were good and important because it stops Nouble from playing up front by himself waiting for Cole to be subbed on or join him, it also shifts the pressure off of Coles shoulders because we have all been waiting for him to get back from injury and score goals but you never know with Carlton Cole. i think this gives us decent striking options with decent strikers to play and sit on the bench, overall I think its damn right rude that this guy just says all these signings are bad because if he didn't sign any of these guys we'd only have Nouble, Cole and Franco (when he returns) and that's not enough especially if one of them gets injured again. SHEESH give West Ham a break for once!!!!!
Posted 20:01 3rd February 2010
Aaron Dawber (Liverpool fan) says...
Why have we not got rid of Babel, also why is benitez not starting aquailani more frequently, he does know he cost 20 million pouds. Where is our David Silva and David Villa We was suppost to buy last year?
Posted 19:53 3rd February 2010
Patrick Mc laughlin (Leeds United fan) says...
Robbie Keane will probably do well at parkhead,he has to,if not he;s finished.To be honest i think tony mobray is out of his depth,He got rid of the wrong players.there is a few well below average players in the celtic first team that should not be there.Celtic need players in the calibre of paddy mc court what a player and what a steal.Celtic have to get this man fit,he runs the show when he plays,style and swagger beats players at his ease,and his end product what can i say fantastic.Good luck celtic but sorry to say the league title is all but gone this campaign.
Posted 17:39 3rd February 2010
Mark Short (Rangers fan) says...
Just like to say that There is no way Sunderland will go down you cant look past three from the bottom four, Portsmouth are a goner and I believe Wolves are too. Its out of Burnley and Hull for other place but with Burnley losing Coyle I do fear for them. I disagree with the Alan Hutton comments he was excellent for Rangers and not just against SPL opposition, Franz Beckenbaur named him in his list of most promising youngsters after some superb performances in the Champions League and UEFA Cup for the Gers, as well as being great for Scotland. He had a very bad injury and I think Spurs haven't really given him a chance. He's much better going forward than defending but I think yous geordies will eat your words and he'll turn out to be a real capture. Im surprised Keane didnt have more interest from English Teams obviously you wouldnt want tyo loan him to Villa, Liverpool (not likely) or city but he'd have been perfect for Fulham (johnson injured), birmingham (tried signing loads of strikers) or the likes of Sunderland. I can see why he followed his heart to Celtic but he's kidding himself on if he thinks he's gonna win medals cos Celtic will get sweet FA this year. Rangers & Chelseaa for titles and hopefully City get 4th. Congrats on Hibs getting Alan Gow, I feel sorry for the lad deserved a chance at the Gers
Posted 15:22 3rd February 2010
Rab Kerr (Rangers) (Rangers fan) says...
Yes Celtic have had alot of business this window with some great signings and i know celtic fans will say that a team will take time to gel and that Mowbray is building for the future, but alot of signing are loan deals until the summer and surely when u buy quality players like this you would expect them to be able to get a result against kilmarnock wether they have played together or not. Most of my mates are Celtic fans and patience is wearing thin. Mowbray must stay aha we welcome the chase!!
Posted 13:07 3rd February 2010
Danny D (Arsenal fan) says...
I cannot believe wenger did not buy any players in the transfer window, we have alot of players that are just not good enough, and i dont think they know what the club means to its supporters. I think we needed a striker and a midfielder. someone like chamkah would have been good and i think patrick v would have been good person for the dressing room
Posted 11:23 3rd February 2010
Vince Whirlwind (Birmingham City fan) says...
Call me a stupid yank. I've only been watching closely for a couple of months, but I think some of the top teams ( top 6 ) in the Premier League are scared of Birmingham City. Seems they've got a solid defense and could move up if they got some offense but no one would trade with them for a striker. Now that they seem to have the money no one wants to let them disturb the status quo.
Posted 02:45 3rd February 2010
Pedro Fawcett (Blackburn Rovers fan) says...
I have to say i am delighted Blackburn got rid of Benni MCcarthy he just got so lazy and thought he should demand to play. With Niko coming through and starting to look a good bit of buisness in the summer Benni leaving for 2Mil is a blessing. He didnt want to play the football he was told to and apparently went out clubbing the night before the carling cup semi final so says alot about his attiitude. Although he has something to prove so maybe he could be a good signing?? Would of liked to see Blackburn get a striker but Sam knows that we have prospering talent and that we have to much about us to go down even without Benni Mccarthy who has only scored 1 league goal all season.
Posted 23:13 2nd February 2010
Mark Short (Rangers fan) says...
I think Robbie Keane is a great signing for Celtic, a truly brilliant bit of business and I know for a fact all us Gers are jealous cos we cant sign anyone but the fact is we're now ten points clear with no games in hand for Celtic and a huge lead in goal difference. Even if we lost both remaining old firm games we'd still be too far ahead and we wont lose the Ibrox one. Its Rangers for the title, the league cup definitely and hopefully the Scottish Cup to bring us the treble. Celtic getting Keane and Kamara etc is good for them but a little to late and n way Keano at 29 will stay around he's here to get goals and get a move to another prem team. Maybe if he won some medals it may have kept him here longer but he wont, as for West Ham I think they've done well with their signings they're at the wrong end of the table and arent gonna get world class players but Mido and McCarthy are both decnt and although I haven't heard of the other guy if he's got Brazilian caps he can hardly be a mug. I think they'll stay up no probs and anyway £1k a week for Mido is unbelievable
Posted 22:21 2nd February 2010
James Ridley (Sunderland fan) says...
It's funny reading all the newcastle fans comments about sunderland.. jealous cz they're playing the likes of scunthorpe and doncaster week in week out and beating then wooooo big deal give yourself a big pat on the back ya geordie muppets... and sunderland are playing and beating teams like arsenal and liverpool. we'll finish a respectable mid table this season now we've got our main players back fit and with suspensions and kick on next season! enjoy your game against cardiff haha
Posted 21:40 2nd February 2010
John Howell (Celtic fan) says...
Re: Keane for Celtic. If you're a Celtic fan and you want the chance of silverware then this move makes good sense. Sure English teams outside the top of the EPL may have bigger crowds and more money than the other SPL teams but they offer no silverware and little more than mid table mediocrity. Merson and Beagrie have never played at any level in Scotland so what exactly either of them knows about the subject. Everyone knows that the EPL relies on hype and the glitzy off the field lifestyle of its players and their wags to hide the fact that the majority of EPL clubs have no more hope of winning the EPL title than their spl counterparts.
Posted 21:37 2nd February 2010
Dave Quinn (Blackburn Rovers fan) says...
What you are all failing to realise is that Merse's comment about Mido and his many clubs was not claiming he or any player of several clubs are BAD players. What he is saying is that players who cannot settle at one club and move around rarely do the job for most of the clubs they play for. Perfect examples would be the like s of Anelka - who didnt really settle until Bolton and Chelsea, and Keane - Who only ever played his best for Leeds and Spurs. So if the likes of Mido and Keane CAN settle at Celtic and West Ham then great, but there is a greater worry than normal because of their past experiences. Great Point Merse!
Posted 19:04 2nd February 2010
Matt Doyle (Wolverhampton Wanderers fan) says...
As a Wolves fan im quite encouraged to see that the clubs around us haven't really strengthened in quality, and have just added to what they've got. West Ham being the prime example although in fairness not much money has been shelled out. Its a pity we didn't sign anybody. Id liked to have seen Robbie Keane come back to Molineux. I certainly think it would be a bigger challenge for him to help us stay up than to score goals in the SPL! But maybe he's gone there to score week in week out. Well done Celtic, you've got a great deal!
Posted 16:46 2nd February 2010
David Ambery (Sunderland fan) says...
To David and Brian the 2 Geordies. You really do make my day coming on here and trying to give us stick. Your club is a joke and the laughing stock off English football. After Ashley took yous down and basically booted you idol IE shearer out the door yous went mental but he just hides away and yous been so guliable forget all about it so what does he do comes back into the seat and changes the name of your stadium making you the laughing stock off football but yet again because yous are sitting on top of the second tier of english football thats enough to keeps yous happy. you can not even persuade players from the championship or league 1 IE Moses and Beckford to joins yous. But if Sunderland signing Alan Hutton is enough to make yous think that your club is on the up then best of luck. No the wonder Ashley is staying there and milking yous dry with guliable fans like yous kicking about. As for us going down not going to happen and i will be the first to admit that it will not be because we safe ourselves but simply because there are 3 teams in the league that are so bad just like last season.
Posted 16:37 2nd February 2010
Michael Coombs (West Ham United fan) says...
Why, oh why, do people come on these sites and spout off what a terrible purchase/loan their clubs have done. Give the players a chance, then if they dont take their chance, you can have a go. For my sins I am a big west ham fan, and feel that we cant buy a goal, the midfielders are not chipping in, our strikers have been injured, leaving poor old Nouble alone and unwanted. I was at the Villa away game where he had a few chances, but no support from the midfielders. I agree with the earlier comment, we need to change our style, 2 up front, for me Mccarthy and Cole, with Mido coming on, he has scored goals before, and wants to prove he is not a faliure. Give the boy a chance! COYI!
Posted 16:30 2nd February 2010
David Nagle (Blackburn Rovers fan) says...
lets just see where blackburns transfers get they wont go down but wil battle to stay up bit of comp for midfield now might inspire some creative play from there
Posted 16:14 2nd February 2010
Gaz Sefton (Everton fan) says...
Im glad Everton have not signed anyone other than Senderos and Donavon on loan, both of whom have already made impressions. We needed someone else in at the back and front as distin and Jo havent really done anything for us. I think once Jag's is back, that him and Senderos will make a great centre back pairing. If we could secure both players on a perminent basis at the end of the season, i think it would be the only signings needed (unless we get everyone injured again!!!!) As for other teams, i think Arsenal need an out and out striker, Man Utd need a consistant Right back and Liverpool need to go into administration, if only for my own amusment. moan about that kopites!
Posted 16:02 2nd February 2010
Lee Casells (West Ham United fan) says...
west ham really needed someone with firepower to keep us up mabe we should of signed someone with more experiencein this league hpefully they can do something for the cub but i jst dont see it happening
Posted 14:40 2nd February 2010